Now that the clerks have completed their all-night reading of the 628-page COVID-19 relief bill, senators are poised to push for approval this weekend.
Beyond providing additional stimulus payments and unemployment benefits, the $1.9 trillion package would channel money to state and local governments.
City and town governments in Berkshire County stand to receive $41 million, with $33 million heading to Pittsfield.
Other allocations include $1.26 million for North Adams, $790,231 for Adams, $733,405 for Williamstown, $685,163 for Great Barrington and $643,727 for Dalton, according to the office of U.S. Rep. Richard Neal, D-Springfield.
The Berkshire allocations make up about 1.1 percent of the total $3.73 billion in aid to local governments in Massachusetts. The estimated 124,944 people in Berkshire County account for about 1.8 percent of the 6.89 million people in Massachusetts as of 2019.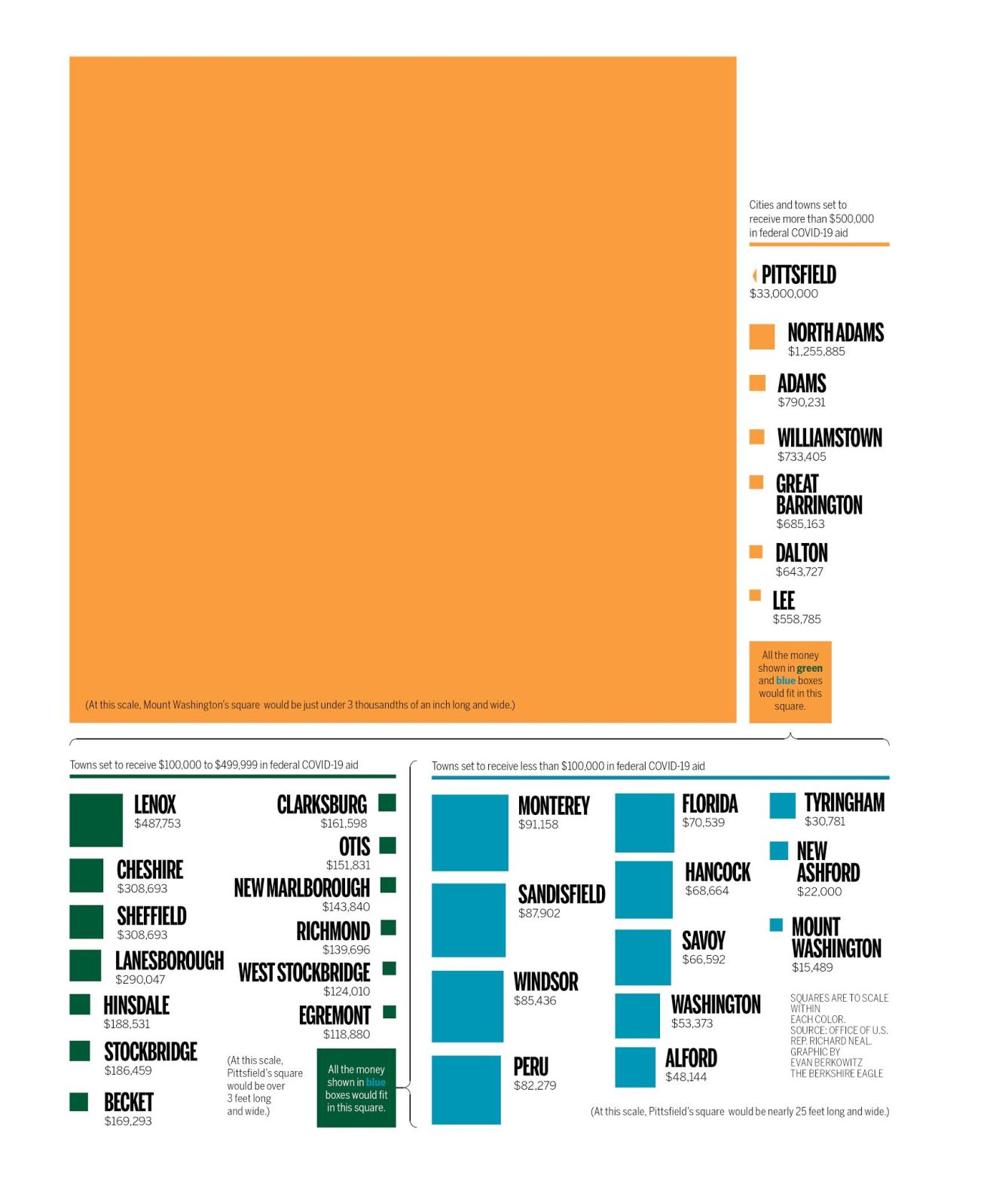 The money, which includes $4.55 billion for the state government, aims to fill budget gaps caused by coronavirus pandemic-related declines in tax revenue. The money distribution is tied to a largely population- and income-based formula, said Neal, who represents the Berkshires in Congress.
"We believe that many of the costs that state and local governments had to bear were a result of what happened with the pandemic," said Neal, who added that more than 1 million public employees in the U.S. have been laid off during the pandemic.
Governments would have spending flexibility, but Neal said he wants to retain a focus on pandemic budget gaps.
"This is to strengthen the bottom line for cities and towns, and I don't want people taking the money and saying that they're cutting taxes or shoring up pensions and calling it good management," said Neal, who chairs the Ways and Means Committee.
Along with sending $1,400 stimulus checks to most, the bill would extend unemployment benefits and expand several tax credits.
Despite distributing direct payments, the U.S. has not guaranteed a portion of workers' wages, as some other governments have.
A plan to raise the minimum wage to $15 over four years, included by the House, failed in the Senate on Friday. Also as of Friday, Democrats were expected to reduce the size of emergency jobless benefits from $400 to $300 weekly, but extend the benefits another month.
House leaders are prepared to take up the minimum wage increase in separate legislation once the plan passes, Neal said.
The Senate began debating the plan Thursday, with a final vote possible over the weekend. Neal said he does not expect state and local aid allocations to change in the Senate, after the House passed its version last Saturday.
Democrats want to send the legislation to President Joe Biden before March 14, when unemployment benefits are set to expire.