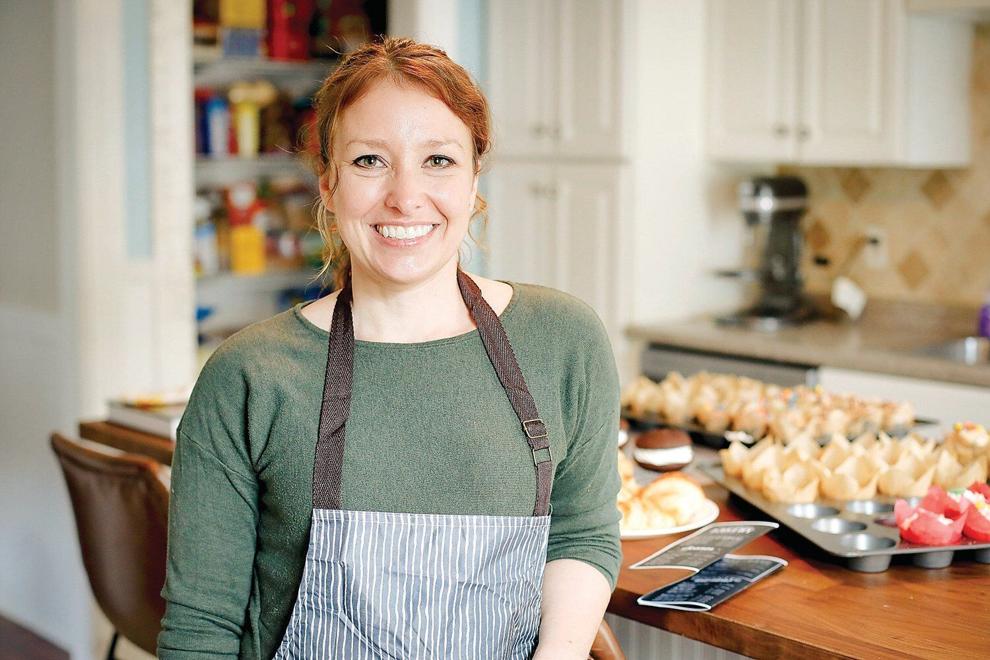 ADAMS — Neighbors in Adams successfully defended the shire. The Shire Cottage Bakery, at least.
Though it has operated as a home business since August, Jessie Kratz's enterprise at 1 Upper Linden St. still needed a special permit to be street legal.
She won that last week, in part because neighbors rallied to her side after another person raised questions about traffic during a Zoning Board of Appeals public hearing.
That means customers now hooked on her wide variety of baked goods, including the Fluffernutter cupcake, are in the clear.
Jessie Kratz fills a piping bag with buttercream frosting at home in her kitchen where she runs her business, The Shire Cottage Bakery, in Adams.
The ZBA voted unanimously to grant Kratz the special permit. But, it asked her to provide a designated parking spot for customers and to limit her Sunday hours to 7 a.m. to noon. The bakery can operate from 7 a.m. to 7 p.m. other days of the week.
Fred Meczywor, whose mother lives on Upper Linden, said the bakery has caused some congestion on the small, dead-end street. He cited the narrowness of Upper Linden itself.
"I would classify it more as a glorified driveway," he said. The street is three blocks east of Route 8, south of downtown.
But, others joined the session by telephone or videoconference to encourage the ZBA to allow Kratz to keep baking.
"I don't believe it's a fair rendering of what is actually happening," Jean Rice, of nearby Daniels Court, said of traffic concerns on Upper Linden.
"I've seen no problems with their situation. I think they're doing a wonderful job and controlling it well," said Garry Labonte of 33 Edmunds St.
Judith Boulanger told ZBA members she has lived in her home at 31 Edmunds St. for 40 years.
"I have had no problem whatever with traffic," she said. "If we had a raceway going down Upper Linden Street, I would be concerned. That is not the case."
Allen Mendel, who lives on Daniels Court, said customers who come to pick up baked goods pull in and stay for only a few minutes.
"I feel that the permit should be granted to this party," Mendel said. "It's actually a service to our town. If you haven't tried it, please do."