PITTSFIELD — Seeking to "reimagine" the role of lieutenant governor, state Sen. Adam Hinds will focus on addressing inequalities that have widened during the COVID-19 pandemic.
Hinds, 46, a Pittsfield Democrat who joined the Senate in 2017, formally announced his campaign for lieutenant governor Wednesday morning, in front of Pittsfield City Hall.
Citing growing racial, economic and regional inequalities, Hinds said his campaign would feature proposals to make child care universally accessible and affordable, expand access to housing and jobs, and improve public transportation, including through providing fare-free options.
"It's my sense that given this moment, the role of lieutenant governor can be a center of gravity for rethinking and redesigning our systems and our institutions and really leading an all-of-government approach for doing that," Hinds said. "I have a background of bringing people together to take on big challenges, and that position, actually because of its flexibility, allows you to do that."
In the Senate, Hinds chairs the Committee on Revenue and the Committee on Reimagining Massachusetts: Post-Pandemic Resiliency. He points to his time leading the "reimagining" committee, which released its first report last week, as proof that he has the skills to help Massachusetts rebuild from the pandemic.
Hinds feels that the state has not acted aggressively enough to confront climate change, rising housing costs and wage stagnation, among other issues.
"It's clearly time for a different approach," Hinds said. "And so, here's my question: Are we going to recognize that we can only do that if we fight for every corner of the commonwealth? And that's one reason we're starting in Western Massachusetts."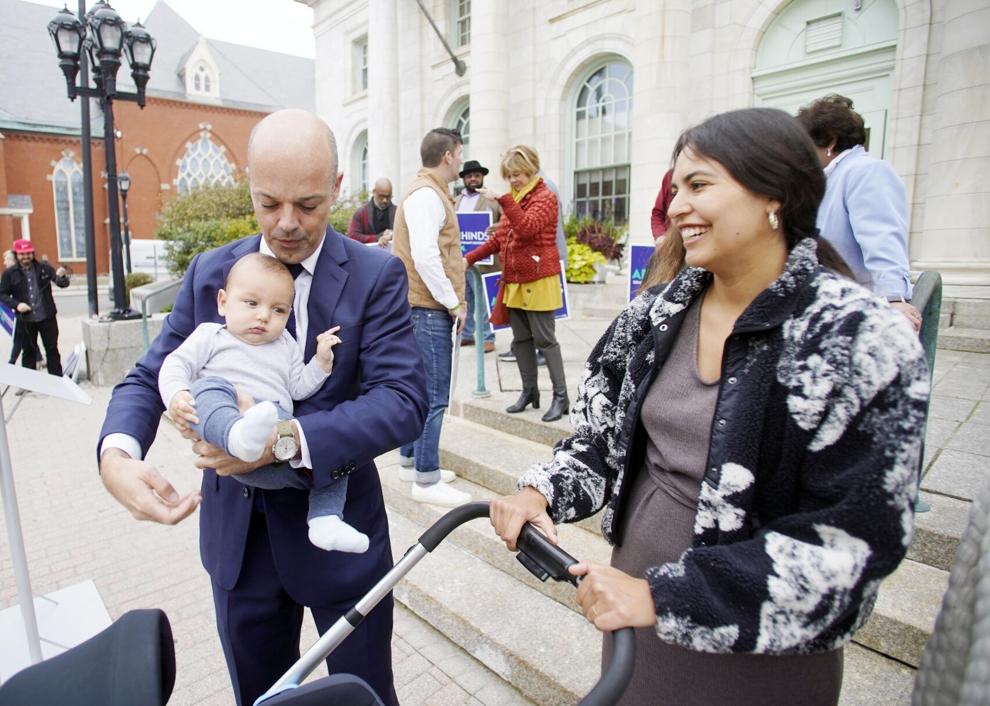 More than a dozen community members stood behind Hinds during his announcement, including author Ty Allan Jackson, Register of Deeds Patricia Harris and Pittsfield Director of Cultural Development Jennifer Glockner. Also joining Hinds were his parents, and Alicia Mireles Christoff — Hinds' wife and an associate professor of English at Amherst College — carried 4-month-old Rafael Fernando Hinds in a stroller.
The only other sitting lawmaker seeking the Democratic nomination for lieutenant governor is state Rep. Tami Gouveia, D-Acton, who entered the race in June and has centered her background in public health.
With Hinds set to leave the Senate, state Rep. Paul Mark, D-Peru, is expected to pursue the seat.
Representing the 52 cities and towns of the Berkshire, Hampshire, Franklin and Hampden district is Hinds' first stint in elected office, but he had experiences working on political campaigns far earlier.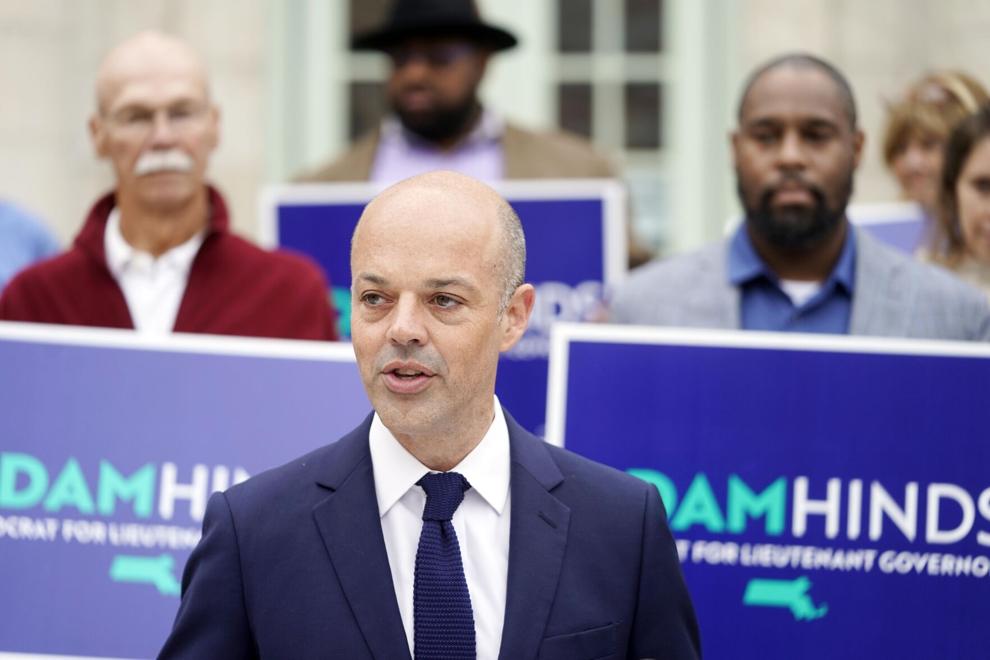 Hinds worked on the 2000 reelection campaign of U.S. Rep. John Olver and the 2004 presidential campaign of John Kerry before heading to work for the United Nations in the Middle East for nearly a decade. The Buckland native returned to Western Massachusetts in 2014 to become founding director of the nonprofit Pittsfield Community Connection, and he served as executive director for the Northern Berkshire Community Coalition before running for state Senate in 2016.
From his time in the Senate, Hinds referenced his work to secure funding for transportation improvements and support for school districts with declining enrollments, as well as for local projects such as the Berkshire Innovation Center and the Greylock Glen outdoor recreation center.
A former Pittsfield state senator, Ben Downing, also is seeking higher office in 2022. Downing is pursuing the Democratic nomination for governor, along with state Sen. Sonia Chang-Díaz, D-Boston, and Harvard University political theorist Danielle Allen.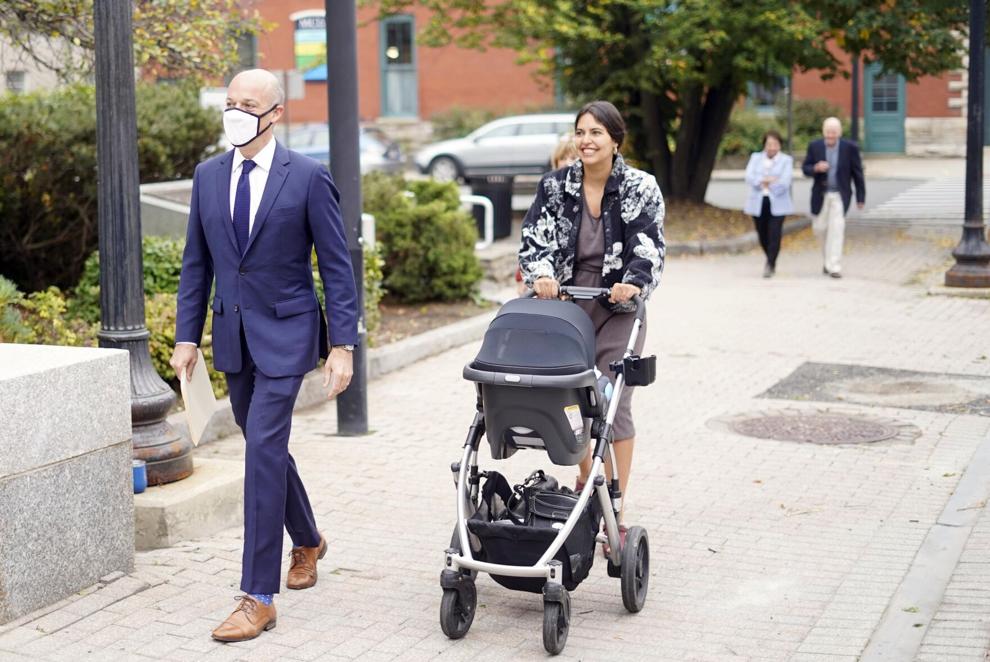 Republican Gov. Charlie Baker has not said whether he plans to run for reelection, and Attorney General Maura Healey, a Democrat, has said she will announce this fall whether she plans to run for governor.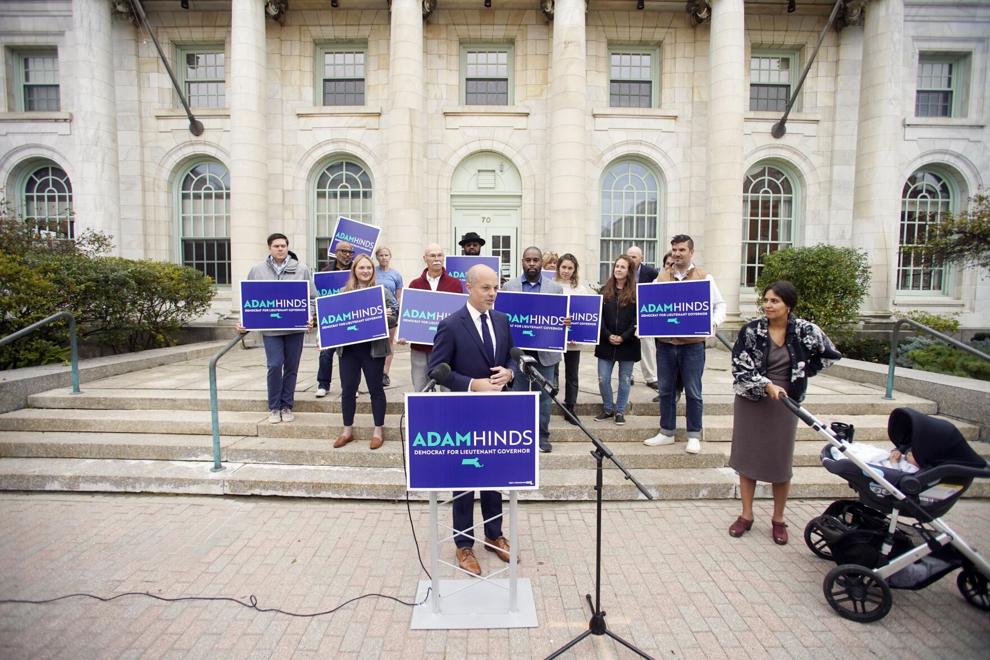 The race ahead
Both Hinds and Gouveia, the two sitting lawmakers who have announced runs for lieutenant governor, have positioned themselves as progressives. Bret Bero, a Boston businessman, and Scott Donohue, a Melrose Democrat, also have said they are running, although more Democrats are expected to jump in if Healey runs for governor.
Hinds has the early edge in fundraising, reporting nearly $174,000 in his campaign account at the end of September. Gouveia reported just below $32,000, Bero had around $167,000 and Donohue reported no cash on hand.
The week she launched her campaign, Gouveia unveiled endorsements from five lawmakers, including state Sen. Jamie Eldridge, a high-profile progressive who, like Gouveia, is an Acton Democrat.
In a visit to Springfield, Hinds received his campaign's first major endorsement. State Sen. Adam Gomez, D-Springfield, elected last year in a progressive challenge, called Hinds "the sort of transformational leader Massachusetts needs."
Other lawmakers have offered positive comments without endorsing publicly. Berkshire County state Reps. John Barrett III, D-North Adams; Tricia Farley-Bouvier, D-Pittsfield; and William "Smitty" Pignatelli, D-Lenox, all have said they see Hinds as a strong candidate.
State Sen. Jo Comerford, D-Northampton, called Hinds "highly effective" in their collaborative work on priorities such as supporting rural schools, building passenger rail networks and expanding broadband and cell phone access.
"He's been a rural champion since I got in the building," Comerford said.
Former North Adams Mayor Richard Alcombright is supporting Hinds, who was executive director of the Northern Berkshire Community Coalition and, later, a first-term senator toward the tail end of Alcombright's time as mayor.
"He still stands for and fights for everything he ran on [for Senate]: climate, housing, child care, transportation — those are really the critically important issues to him," said Alcombright, who called Hinds "a great people person."
Alcombright also has endorsed Downing, Hinds' predecessor, for governor.
The Democratic and Republican primaries are scheduled for September 2022, but candidates first must receive at least 15 percent of votes at the state party convention to get on the ballot.