You may have already seen a graphic artist's mashup of American politics in 1964 and 2020, featuring both Vice President-elect Kamala Harris and the shadow of a little girl named Ruby Bridges.
In the image Bria Goeller recently created, Harris strides down a sidewalk, work satchel in hand. Instead of her own shadow, the wall behind her shows a silhouette of Bridges, the girl made famous by a painting Norman Rockwell created for Look magazine.
In the original, Bridges is escorted by federal marshals on her way to an elementary school in New Orleans, where she became the first black student at a tumultuous and dangerous time in American life. Bridges, who went on to a life of political activism, became a symbol of courage, and yet innocence, in that decade's push for equal rights and equal opportunity.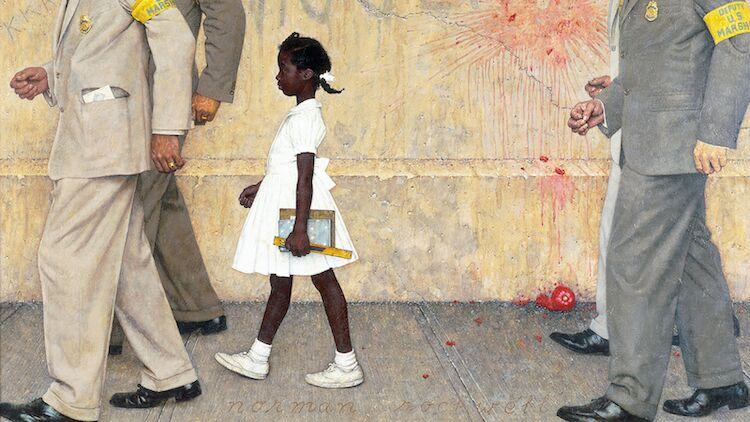 The painting in which she walks, "The Problem We All Live With," is on view now at the Norman Rockwell Museum and is featured in a fall exhibition called "Imagining Freedom."
Laurie Norton Moffatt, the museum's director and CEO, said that Harris, like Bridges, walked her way into history. "She walks in the footsteps of the Suffragists, of Ruby Bridges, and so many others, like President Barack Obama, who broke barriers," Norton Moffatt said in a statement. "Often against a tide of fierce racist rhetoric and physical threats to their lives."
Bridges is a trustee emerita of the museum. The painting can be seen by purchasing timed advance tickets to the museum that are available online at NRM.org.
Goeller created her piece as an homage to two women breaking barriers. It is being marketed through Good Trubble, an African-American design firm. Norton Moffatt said Goeller's work captures an exciting moment of change "to measure today's pivotal shift."
"Visual images are powerful markers of history, and it is remarkable that of all the artists in America's history, Norman Rockwell now imprints two key moments in America's stride toward social justice, she said.