DALTON — When he and others painted the names Biden and Harris on a wall of hay bales last week, letter by letter, Dicken Crane knew their outsized political message would get noticed.
Little did he know.
Images of those 19 massive bales, both intact and ablaze, have since reached around the world, after news of Friday's suspected arson, first reported in The Eagle, triggered a wave of news coverage and social media debate.
A farmer in western Mass. built a Biden-Harris sign out of stacked one-ton hay bales ("Let someone steal these," the farmer said.) Less than a day later, one of his neighbors burned it down. It took firefighters 45 minutes to put out the fire. https://t.co/ipzkGHffBv

— Ellen Barry (@EllenBarryNYT) October 11, 2020
As of Monday, a story in The Hill, purveyor of inside-the-Beltway angles, had been shared 46,444 times.
A story in the Washington Post attracted more than 630 comments. Coverage on Reddit, which bills itself as "the front page of the internet," made the fire a top topic over the weekend. That helped bring 200,000 page views of the original story in The Eagle.
Crane's burning hay bales became a growing medium for arguments over who should be elected president Nov. 3, Biden or President Trump.
(tncms-inline)1315435851288129538[1](/tncms-inline)
A Dalton man, Lonnie Durfee, is expected to answer a charge Tuesday in Central Berkshire District Court of burning personal property. The bales burned in a field off Route 9 near Crane's Holiday Brook Farm. No one was hurt.
(tncms-inline)1315383328539848704[2](/tncms-inline)
An Associated Press story about the blaze appeared in news publications and websites around the U.S., including the Los Angeles Times, and in England, according to a search of Google News.
Many publications with national reputations wrote their own stories, including the Boston Globe, USA Today, Fox News, Newsweek, New York Daily News and Washington Times. Papers in England that carried the story included the Sun, the Daily Mail and the Independent.
As expected, the headlines drew people eager to blame one side of the other for burning campaign signs and, more broadly, for poisoning politics. Many took to Twitter to assign blame or celebrate resilience.
(tncms-inline)1315711992859107336[3](/tncms-inline)
A unnamed reader of the Washington Post story called the Dalton fire "a parable for our time."
"If you can't persuade others to join your view of the world — just burn the 'effer' down to the ground. That seems to have been Trump's MO all these years. Our destroyer-in-chief has taught his minions well."
An apparent Trump supporter answered: "99% of the political sign damage [is] committed against Trump supporters ... the reason this made the news is because it is so rare that a Biden sign is actually damaged."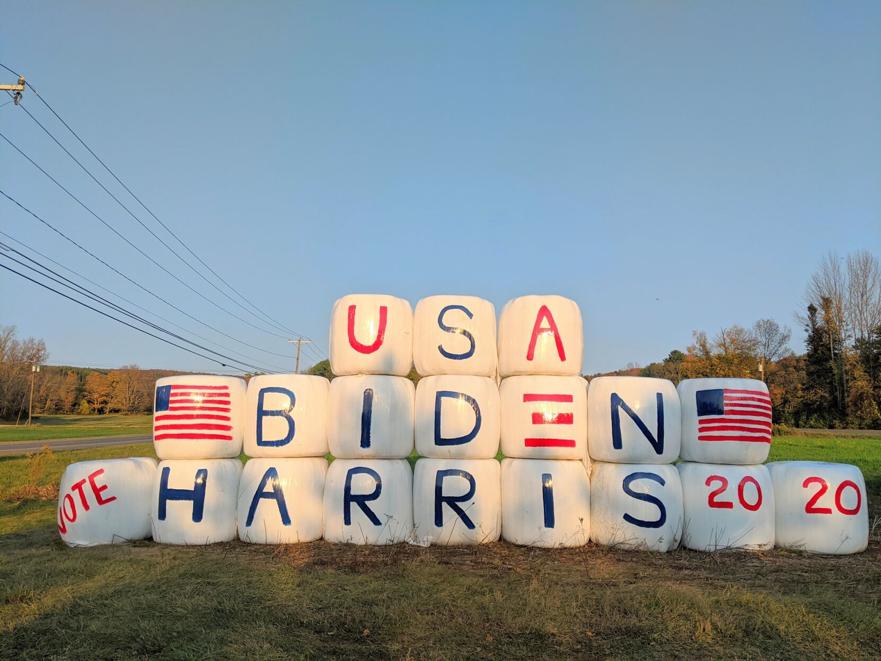 On Reddit, countless of posts offered freewheeling speculation about the fire, including the suspect's history and picked at ideological scabs of all sorts. The topic hit No. 2 on the site over the weekend. Many Reddit comments sorted themselves into a familiar two-party divide.
"Setting things on fire is more in line with the Democrats M.O.," one post read.
The national papers sought to connect the Dalton fire with similar acts around the country.
"Weeks away from Election Day, the blaze is the latest ugly episode illustrating an especially charged campaign season," the Washington Post offered, "even in suburban cul-de-sacs and quiet country roads like those in Dalton. In 2020, political yard signs are devolving into a charred symbol of the country's polarization."
In the Daily News, that "nut graph" — journalism's term of art — read this way: "The incident is the latest of campaign-related vandalism to occur. In September, a 'suspicious' fire destroyed a Trump supporter's garage in Minnesota. Also in September, a Democrat donkey sculpture in Maine was set on fire. In October, Michigan township employee needed 13 stitches after slicing their hand on razor blades on a booby-trapped Trump sign."
The Fox News report online provide a factual account. Midway through, it jumped over a link to another story on the site with the headline, "BIDEN DEPUTY CAMPAIGN CHAIR DEFLECTS COURT PACKING QUESTION, SAYS IT'S REPUBLICAN DISTRACTION."
In Nebraska, a Scottsbluff radio station posted a text version of the story, filing it under "agriculture."
Like the old parlor game, as the story was passed from one ear to another, it occasionally became lost in translation, particularly in terms of Massachusetts geography. One publication referred in error to Crane's "Vacation Brook Farm." Another misspelled the suspect's last name. And another gave the wrong date of his arrest.
Given the ridiculousness of one account, it's apparent that a low-grade transcription service was used to turn an audio story into a word version, producing this: "Crane stated the thought to assemble the huge show happened after different space indicators in assist of Biden's marketing campaign have reported stolen."
As he fielded interview requests from far and near, Crane told The Eagle over the weekend that his decision to construct "the huge show" reached farther than he dreamed.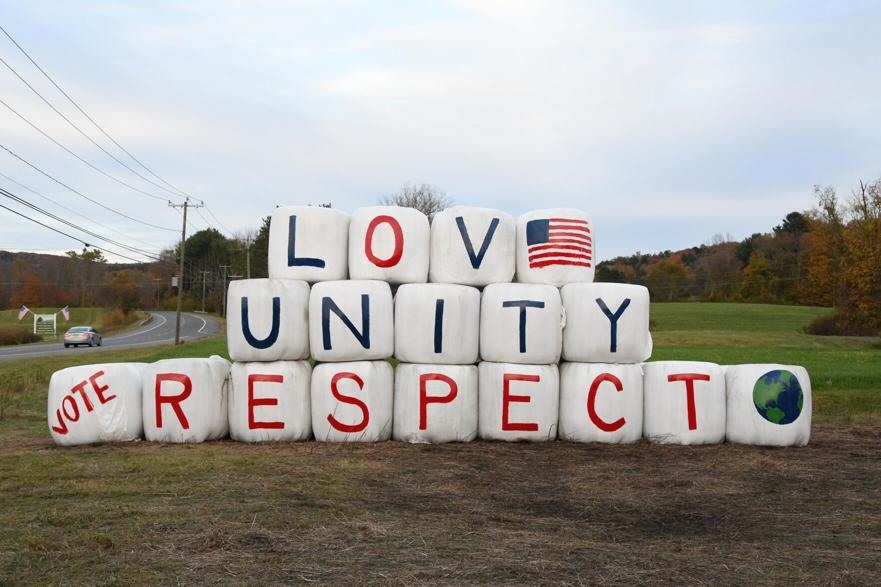 "We see this is having a louder voice than we ever anticipated," he said.
"The story got picked up by almost every news service and it was much of a surprise," Crane said. "We've received so much support and there are so many people that wanted to help."
That help included donations through two different GoFundMe pages. As of 7:30 p.m. Monday, the drives had raised $3,146.
"We're hoping there is a good way to pour that desire to help into good places," Crane said. "There is a lot of need out there greater than ours. We really appreciate how people are feeling, and we're going to channel it where it can do the most good."
Jake Mendel contributed to this report.