NORTH ADAMS — Emanuela Bunt managed to corral seven of her loved ones into the North Adams walk-in vaccine clinic on Thursday.
"They went right in, it was so great," she said. "When they're vaccinated, I want them all to come over, go on the trampoline, go in the hot tub, and we won't have to worry. Anyone who's vaccinated can come!"
Bunt had struggled to book an appointment early in the process and ended up getting her vaccine more than a month after she became eligible. She was relieved that she could bring so many people she cared about to Thursday's clinic and get them vaccinated at the same time, without any hassle.
Her son, Robert Bunt, was among the soon-to-be vaccinated. Even with some of his family and friends still hesitant, Robert had no doubt that he wanted the shot, in part thanks to his own frightening brush with COVID-19. Earlier this year, he had taken care of his girlfriend after she and his son had tested positive, an experience that left them eager to protect themselves.
"I thought it was a good idea," he said. "And my son can't get the vaccine because he's only 9. So I got it for him."
On Thursday, after being shepherded through the line at the St. Elizabeth of Hungary Church Parish Center, he was pleased with his decision. His only disappointment was that he had not managed to convince a certain friend to get vaccinated too. As he waited his 15 minutes, Bunt made a note to try again.
As vaccine supply has surged and demand dipped, local vaccine coordinators have flipped the script. Rather than looking to the state for more supplies, the team has now begun to look across the county for arms, removing as many barriers as possible in order to vaccinate more families like the Bunts.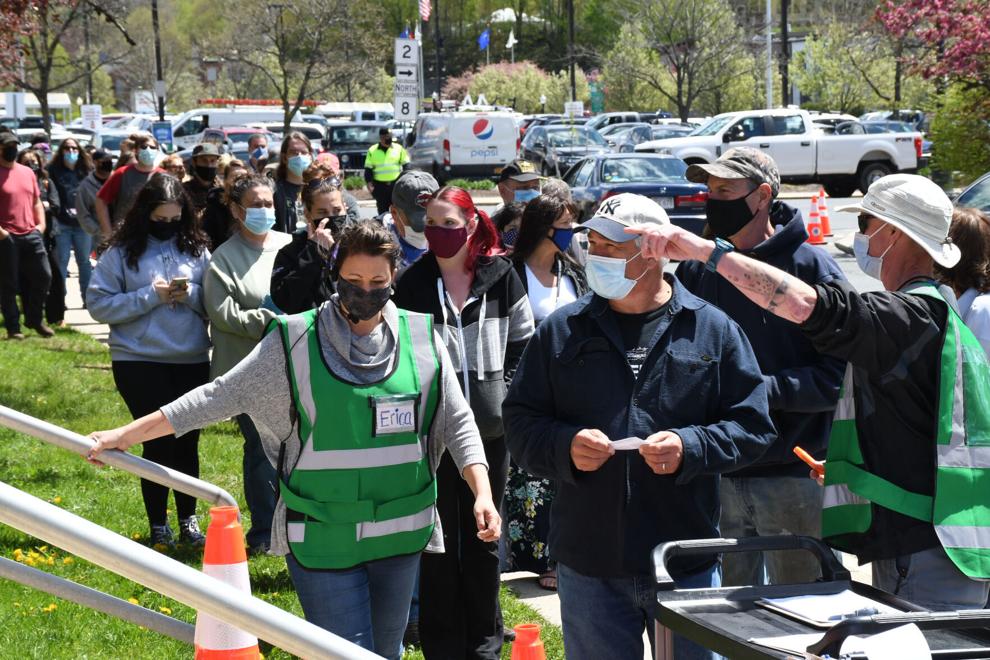 As vaccination rates climb – 56 percent of Berkshire County residents have received at least one shot – word of mouth about the efficacy and safety of the vaccines appears to be drawing more people out of the woodwork.
At the North Adams clinic, more than 262 people walked in for a shot, a volume that surprised clinic organizers, who had set aside 300 doses but had expected far fewer takers. Another 177 walk-ins received shots at Berkshire Community College in Pittsfield, said organizer Leslie Drager, where a line stretched out from the field house to the street. Both locations also had vaccines for people who had preregistered.
In North Adams, several people who attended the walk-in clinic told The Eagle they had initially opposed vaccination but changed their minds, spurred on by family members or friends and the ease of the clinic. Others had struggled to book appointments, or had just decided recently to get the shots, in anticipation of events, like concerts, where they might be required to show proof of vaccination.
The result was a clinic filled with young and old recipients along a wide spectrum of enthusiasm – some giddy, others apathetic or nervous. Almost everyone at the walk-in clinic who spoke with The Eagle had a friend or family member who was postponing, or refusing, the vaccine.
At the start of the clinic, recipients waited in a long line around the building, while inside the space buzzed with energy, as families chatted away the wait times, and friends recognized each other. After months of managing largely silent and routine clinics, clinic organizer Amalio Jusino said it was the most vibrant scene he had witnessed.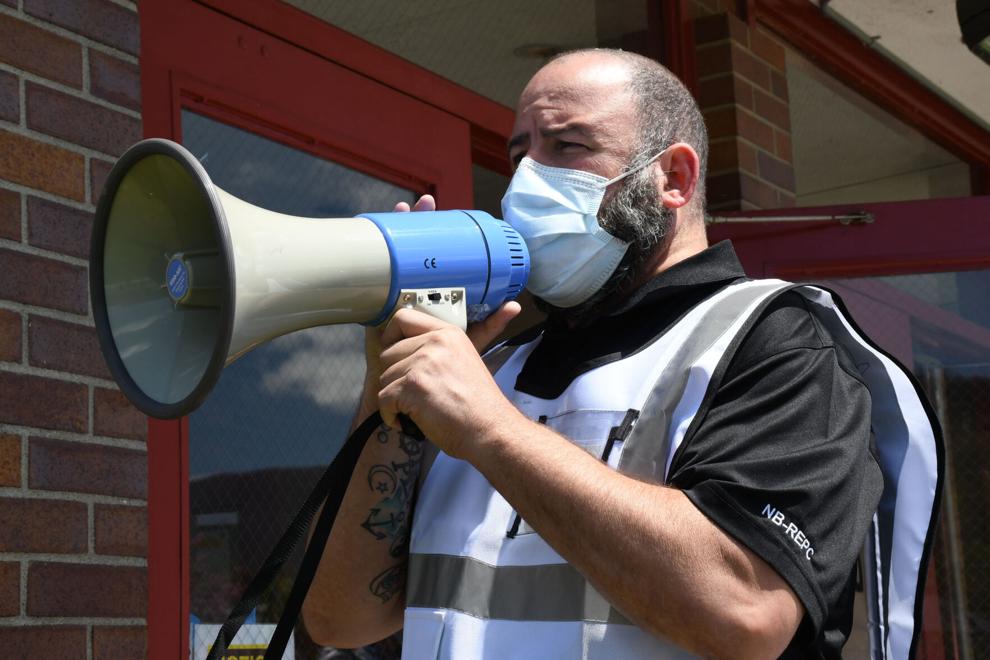 'Let's just do it'
"We definitely weren't expecting that many," he said. "But, this is awesome. No complaints."Even though the clinic's success came as a surprise, Jusino had suspected for some time that there was demand for a walk-in option.
Last week, just as empty appointment slots began to spark concern among vaccine organizers, he had seen a notice online about walk-in appointments. There were no walk-ins at his clinic then, and he panicked that people might show up based on misinformation – but the outpouring of excitement online gave him an idea.
He suggested a walk-in clinic to other leaders in the Berkshire Vaccine Collaborative, who had been mulling the same concept. "We want to get creative," he said. "And I saw how many people were commenting online. I thought, 'If they'll go to a walk-in clinic, let's just do it.'"
The St. Elizabeth clinic saw more than twice the number of participants than the walk-in clinic the day before at Great Barrington, a disparity that could be explained, in part, by lagging vaccination rates in North County.
According to state data based on zip codes, just 45 percent of residents from North Adams, Florida and Clarksburg have received at least one dose of the vaccine, well below the rates of 60 and 70 percent in several South County towns, including Lenox and Stockbridge.
Part of the difference may be due to the eligibility requirements that kept the vaccination campaign focused on older residents until mid-April. People 50 years and older make up 40 percent of the North Adams population, compared to 58 percent in Lenox, according to state data.
Even within age groups, however, parts of North County appear to have fallen behind. Stockbridge, Richmond and Lenox have vaccination rates around 60 percent for the 20-29 year old group, compared to just 23 percent for the same age group in North Adams, Clarksburg and Florida.
While reports from other states have linked socioeconomic status to vaccination rates, Berkshire Vaccine Collaborative leaders said they were not sure what had caused the disparities in local rates. They pointed out that North County residents who received a shot in Vermont during Phase One would not show up in the Massachusetts data, potentially skewing the numbers.
"Otherwise, it's one of the things we are trying to get a handle on now that we've moved from those who were eager to get vaccinated to those who have complicated lives or are a bit more uncertain," said Laura Kittross, director of the Berkshire County Boards of Health Association. "While we have made efforts all along on trying to make it possible for anyone to get vaccinated ... we will need to do more targeted outreach as we figure out where these pockets of unvaccinated people are."
Jusino said he would be open to more walk-in clinics, especially since he ended the day with 400 unused appointment slots. The Pittsfield clinic also ended up with unused vials.
"We need to get to a younger age group, and we could definitely give it another try," Jusino said. "Especially as people talk about it more, the social media buzz happens, more people get interested."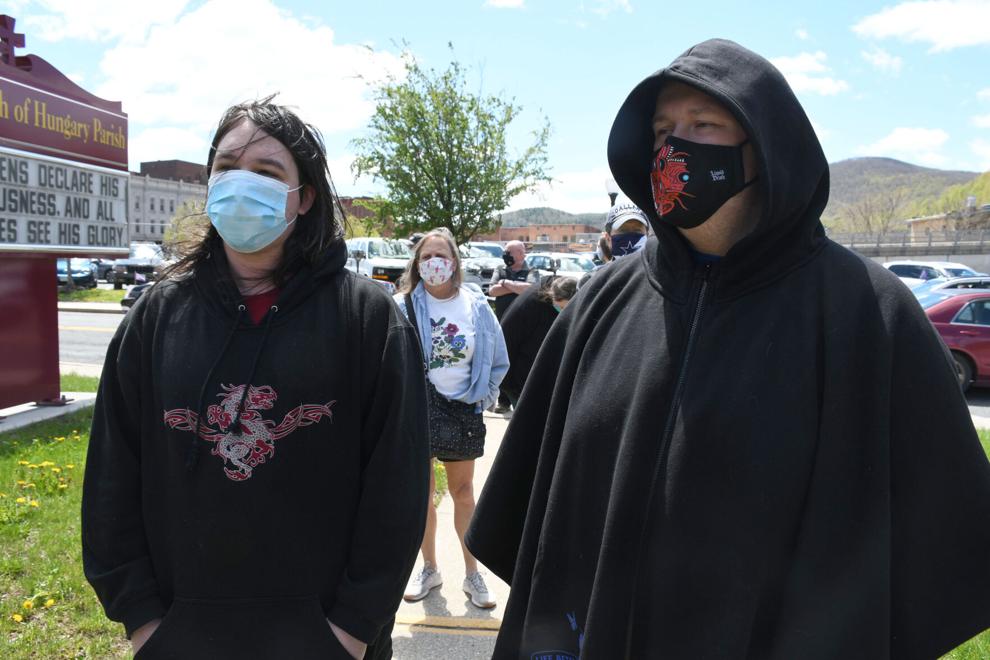 'A good sign'
A glut of 20-somethings showed up at the walk-in clinic on Thursday, many motivated by the idea of keeping their parents safe, with siblings and friends in tow.
Mitch Gavazzi, 27, heard about the walk-in clinic from his grandmother. "She told me that I don't have go through all of it, I can just get the shot right away," he said. "I figured I'd do it, better safe than sorry."
At first, Gavazzi had hesitated because of everything he had heard about side effects. Then, a few of his friends got their Pfizer vaccinations, with no symptoms except sore arms.
"I'm still a bit iffy about it, but I'm doing it for my family," he said. "If I get the side effects, I guess I can deal with it."
Evan Gardzina, 24, also showed up at his family's recommendation. Even though he already had an appointment booked, Thursday's clinic gave him a chance to get his shot sooner – and bring along a couple of his loved ones.
"My mom said, 'Do you mind bringing your boyfriend and your sister?'" he recalled. He was happy to have the company, just as he has been glad to see more and more of his friends getting their first shot in the last few weeks, even as he worries about national trends.
"There are so many people refusing it," Gardzina said. "I just read that herd immunity might be impossible."
As daily vaccination rates fall nationwide, consensus has grown among scientists that the country will likely fail to meet the "herd immunity" threshold. That means the virus may continue to circulate at low levels for the foreseeable future, a manageable but persistent threat.
In Massachusetts, where hesitancy rates are low, some experts have suggested that the state will fare better than other parts of the country.
For Gardzina, just seeing a long line of people waiting for a dose boosted his spirits. He works in theater, and the bustle outside the clinic felt like a signal that the Berkshires might be able to reach a high enough rate of vaccinations for life – and the stage – to go back to normal.
"It's a good sign," he said, with a glance back at the people lined up along the sidewalk.
Just behind him, Roger and Theresa Ott of Adams waited for their turn, decked out in a Dallas Cowboy mask (his) and flamingos (hers).
The Otts had been dead set against the vaccine, ready to wait at least a year, if not longer, before they would consider getting vaccinated. Theresa, who says she never gets the annual flu shot, wanted more data on the COVID-19 vaccines. Roger had similar hesitations.
The push they needed came from a friend who works as a respiratory therapist. "I was stark against it," Theresa said. "But my friend, she works with the victims, she's the one who's helping them breathe. She told me how much damage COVID does to you. You don't realize what it does to your body."
Hearing that was enough to convince her that she should get vaccinated. Without a computer, however, she found booking an appointment impossible, and she was relieved to see a notice in the paper about walk-in clinics.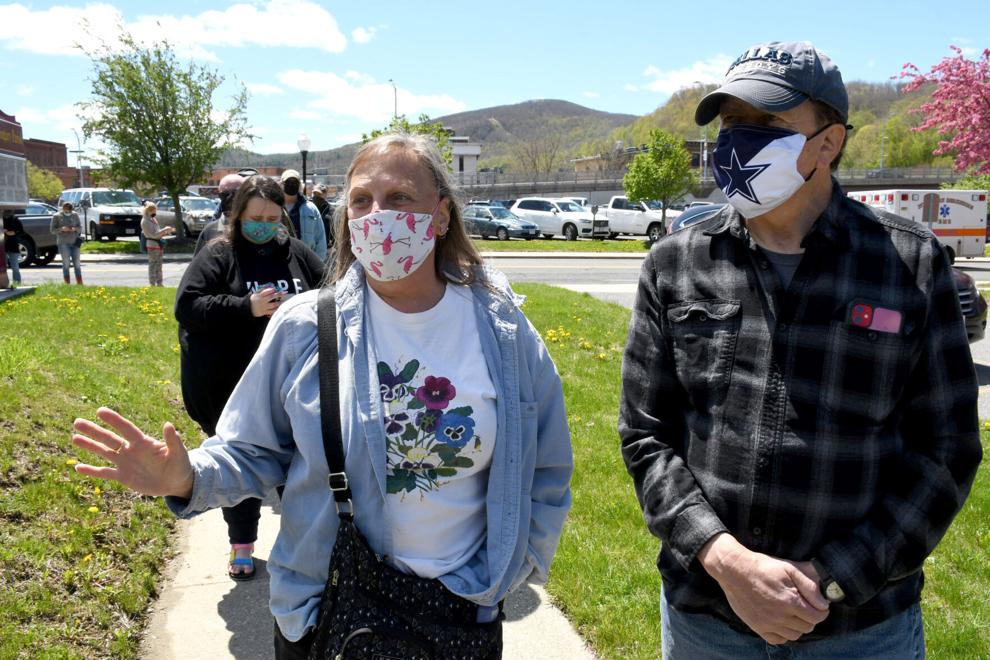 Theresa and Roger are an exception in their family. Most of their relatives are still waiting, they said, and their son was surprised they would consider getting the vaccine.
"I don't know, but I think a lot of people are scared of it," Theresa said. "They don't trust the government."
For her and her husband, though, the vaccine means more travel, family visits free from worry, and no more missed holiday get-togethers. "Last year was really difficult," she said. "This year is a little easier."