LENOX — For the second time in her life, Judy Ryan has a front-row seat to a life-changing vaccination campaign.
The 83-year-old, now a resident at Kimball Farms Nursing Care Center in Lenox, vividly remembers working as a nurse when polio ran rampant in the mid-20th century.
"Babies would come in, in 12 hours they couldn't move, and not 12 hours later they were dead," she remembered. "We were just thankful to God there was a vaccine, that we didn't have to face our future in an iron lung."
Decades later, on Monday, Ryan became one of the first nursing home residents in Berkshire County to receive the COVID-19 vaccine. And her shot could not come soon enough. As she waited for CVS pharmacists to come to her room and administer the first dose, she remained staunchly unconcerned, even giddy that she soon might be able to spend time outside again.
"Why should I be nervous?" she asked. "I'm not pregnant. I'm not fully dilated!"
By the time the vaccine arrived, Ryan already had recovered from COVID-19, with almost no symptoms throughout the illness. The vaccine, she told The Eagle on Monday, would give her certainty that she would not get sick again. It also would give her a chance to see her family.
"I'm very happy I'm still here," she said. "I never want to go through this again."
Relief on the horizon
Vaccinations began at long-term care facilities across Massachusetts on Monday, kicking off a campaign to inoculate many of the state's most vulnerable residents, and the staff who care for them, in just over a month. Walgreens and CVS are administering the program across the country, using federal money and vaccine doses out of each state's allotment.
In Berkshire County, pharmacists administered vaccinations at Lee Healthcare in Pittsfield and Kimball Farms on the first day of the program.
The early clinics come on the heels of devastating losses. More than 70 people have died in county nursing homes since the pandemic began, the vast majority in recent months as two separate outbreaks killed 15 residents at Kimball Farms and 41 at Hillcrest Commons Nursing and Rehabilitation Center in Pittsfield.
Though the worst appears to be over, Kimball Farms recorded an additional case over the weekend — yet another reminder that staff cannot let down its guard.
But, the prospect of widespread immunity brings relief, said Kimball Farms Administrator Bill Kittler.
"Before today, I didn't actually think this day would come," he said. "It's the beginning of the end of a very long road, for all nursing homes."
After Kimball Farms, vaccinations at Berkshire Healthcare Systems facilities will pick up again Saturday at Mount Greylock Extended Care, according to the company. Most county nursing home residents and staff who want the vaccine are expected to receive both doses by early February, before the state's first vaccine rollout phase comes to an end.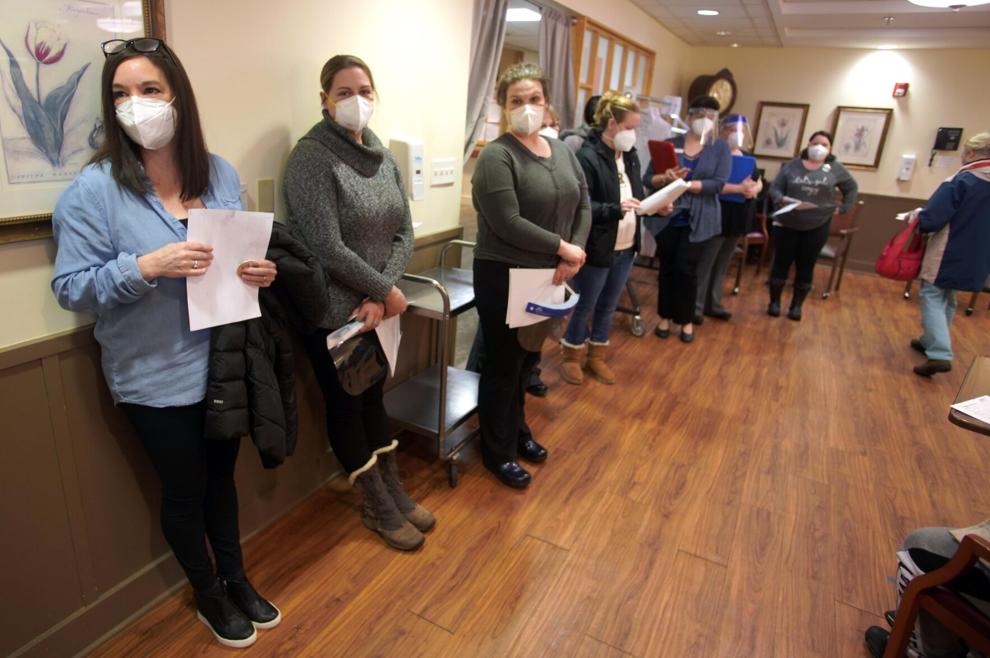 Residents and staff who have survived COVID-19 will be vaccinated at the same time as those who never were infected, though people who currently are testing positive will not receive the vaccine.
'Which side do you want to be on?'
Kimball Farms staff who had agreed to be vaccinated — that is, about 60 percent of employees, the facility said — began to file into the building by midmorning. Glancing at each other over N95 respirators and surgical masks, they sat quietly around the facility's abandoned dining room and waited. Some filled out forms as others preemptively attached a green-and-white "vaccinated" button to their shirt.
Technical issues stalled the CVS staff as it struggled with Wi-Fi and insurance information. After a half-hour delay, the clinic kicked off.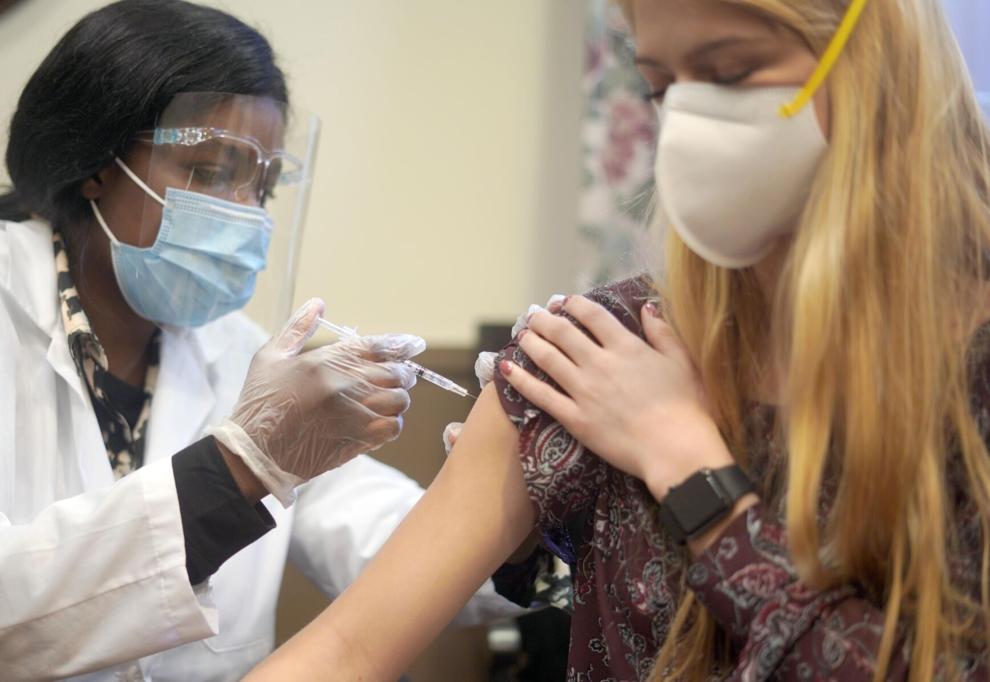 As a haphazard line began to form, Taylor Hoffstedt, a certified nursing assistant, jumped up and eagerly volunteered for one of the earliest doses.
"I'm really excited, really grateful," she told The Eagle. "I've got a lot of hope for the future."
Hoffstedt said she had spent the past nine months afraid that she would pass the virus to her parents at home, her patients at work, or her peers at nursing school. She was ready to get back to normal — she missed playing volleyball at college, and she did not want to lose any more residents.
"It's been really high stress, very tense," she said. "This is a big weight off my shoulders."
Like other staff, Hoffstedt had some trepidation about being an early vaccine recipient. But, employees who spoke with The Eagle were more excited than afraid, and they suspected that many colleagues who had refused the vaccine would change their mind in a few weeks, when CVS returned for follow-up doses.
Laura Lipoufski, though, had no reservations.
"You're taking a risk either way," she said. "Which side do you want to be on? I would rather have the vaccination."
Lipoufski works as director of dining services at the facility. Over the better part of a year, the pandemic upended her job — and her world. In her personal life, she watched relatives struggle through and survive COVID-19. At work, she supervised a staff that had to wear full protective gear to clear dirty trays, as residents fell ill and died.
"It's been hard to lose them," she said. "I related to them through what they ate. He was the guy who ate sour cream and applesauce, you know? She ate celery and cream cheese. You get to know them, like family."
Patti Gaylord also was thinking about those residents. As a nurse in a long-term care unit, she remembered watching patients who tested positive get wheeled into the COVID-19 unit, always unsure whether they would come back.
"I love my residents, and it's tough to watch when they get it," she said. "You don't get to hold their hand when they're dying … it's heartbreaking."
The holidays only compounded her sense of loss. Each year at Kimball Farms, she said, staff buy gifts for residents. This year, several of the people on her list caught the virus and died before Christmas.
After losing so many residents, though, she was grateful for the extra layer of protection the vaccine would give her.
"I don't want to be laid up with this," she said. "I want to start building up immunity."
With fewer than 3,000 people vaccinated so far in the Berkshires, many of the Kimball Farms staff became the first in their family, and wider social circles, to receive a dose.
Not so for Albert Ingegni III, the facility's vice president of housing. He was vaccinated Monday afternoon, along with the staff; not long after, just down the hall in her room at Kimball Farms, his 94-year-old mother was vaccinated, too.