The coronavirus pandemic that has suppressed the nation for most of the past year couldn't silence a countywide celebration Sunday heralding the Four Freedoms advocated decades ago by a former president.
More than 200 people gathered via a Zoom presentation, organized by the Four Freedoms Coalition, to embrace the four entitlements that President Franklin D. Roosevelt espoused 80 years ago. During the online event, local, state and national political figures called for equality and justice for all Americans, while singer Wanda Houston, drummer Jerome Edgerton, and the duo of singer Natalia Bernal and guitarist Jason Ennis inspired those watching with their music.
One of the Four Freedoms — that of freedom of speech — not only includes the spoken word, but the right of all Americans to have a voice at the ballot box. That was most evident during the November presidential election, when voters cast ballots sending Joe Biden and Kamala Harris to the White House as president and vice president, respectively.
"[Wednesday's] inauguration symbolizes a new and hopeful chapter in our nation," Pittsfield Mayor Linda Tyer said.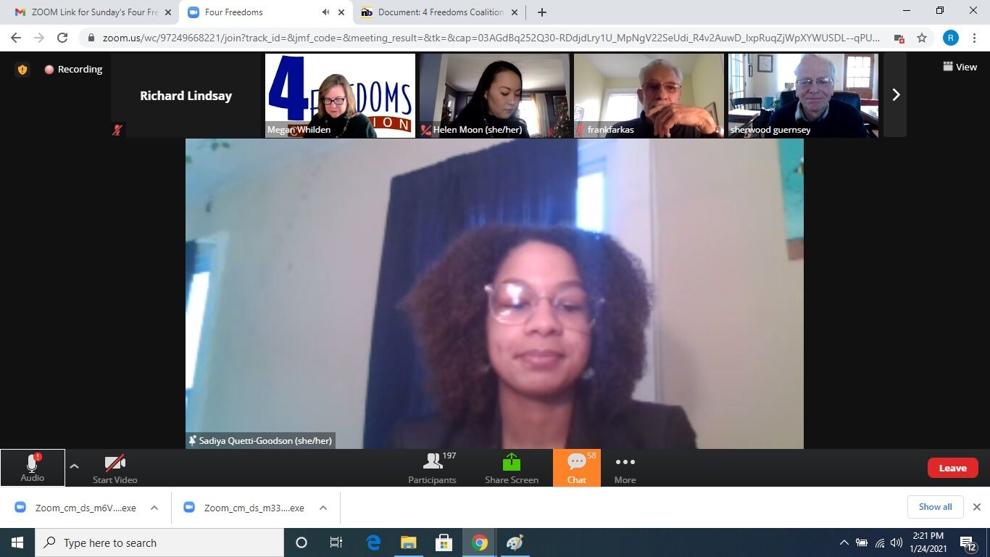 Many voters of color feared going to the polls, according to youth activist and Pittsfield High School senior Sadiya Quetti-Goodson.
"Voter suppression is still alive," she said. "It's important the power [that] elections hold in this country."
State Sen. Adam Hinds, D-Pittsfield, called on everyone to demand of their elected officials change that will preserve the Four Freedoms.
"There's nothing more American than to create equal opportunity and equal justice for all of us," Hinds said.
The coalition typically draws hundreds of people in mid-January to march in downtown Pittsfield, ending at an in-person gathering. The debut event four years ago drew 2,000 people. The coronavirus pandemic forced the event online this year.
The Four Freedoms Coalition — it was formed in December 2016, the month after Donald Trump was elected president — is a nonpartisan, diverse collection of more than 150 community groups, nonprofit organizations, businesses and elected officials working to unite the Berkshires against bigotry and prejudice and reaffirm American values, as outlined in Roosevelt's speech.
During his State of the Union address to Congress on Jan. 6, 1941, Roosevelt cited Americans' right to freedom from fear, freedom from want, freedom of speech and freedom of religion.
Dennis Powell, head of the Berkshire chapter of the NAACP, noted how the Four Freedoms weren't enjoyed by all 80 years ago. Only until the Civil Rights Act and Voting Rights Act of the 1960s became law did people of color move closer to the birthright of equality.
"Humanity starts at birth, and so do our Four Freedoms," Powell said.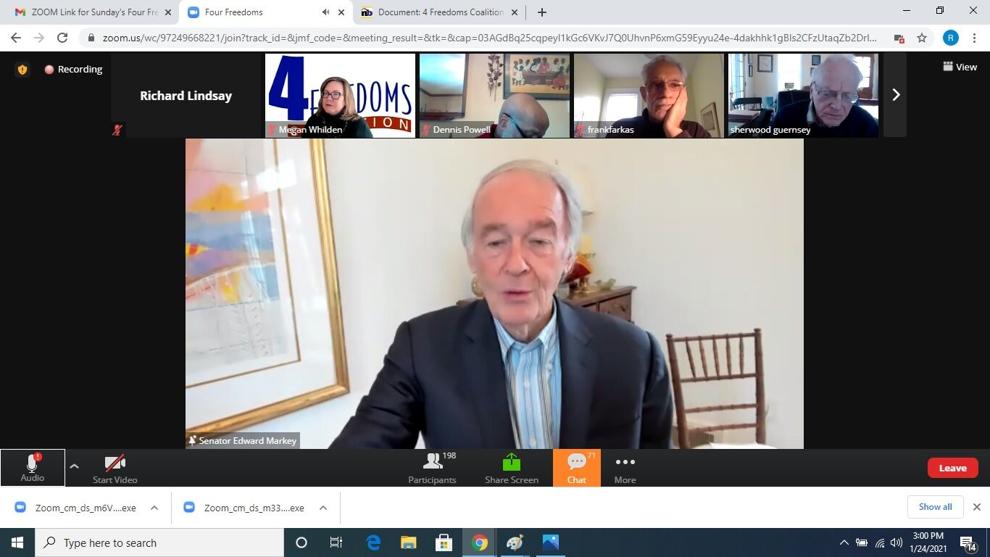 Massachusetts U.S. Sen. Edward Markey, the keynote speaker, wrapped up the 90-minute event saying the country needs to take bigger steps to bring COVID-19 under control and achieve equality for all.
"We are in pursuit of a new day, a new era ... led by all people of this nation ... a nation that once celebrated our freedoms," Markey said. "My hope is, we march a year from now to celebrate the progress we've made."
This story has been modified to correct the number of people who attended the virtual event.