KINDERHOOK, N.Y.
Who determines what constitutes a work of art?
That's the question at the center of an appeal, which has garnered national attention, before the village of Kinderhook's Zoning Board of Appeals tonight. A public hearing will take place at 7 p.m. via Zoom.
Board members will be asked to rule on whether Nick Cave's artwork, "Truth Be Told," is a sign and, therefore, subject to local code, which limits and sometimes prohibits banners, billboards and signs. "Truth Be Told" was installed Oct. 31 and is scheduled to be on display in Kinderhook through Sunday.
"Truth Be Told," spelled out in 21-foot-high black graphic film letters that stretch 160 feet across the brick façade of The School — it's a cultural center owned by New York City gallerist Jack Shainman — was created by Cave and design partner Bob Faust as "a pointed antidote to a presidency known for propaganda that disguises truth and history to present racist and nativist ideology as patriotism" with the intention of "sparking conversations of personal interpretations of truth and integrity."
Instead, the controversy over whether the text lettering is a sign and should be treated as such has sparked conversations about censorship, First Amendment protection and the government's role in defining art.
Shainman and his attorney, William J. Better, say "Truth Be Told" is a work of art and, thus, is allowed under a 2015 ZBA ruling that affirmed that a work of art, temporarily placed on the grounds of The School, is an accessory to the cultural center and is not subject to the sign ordinance and does not need any building permits.
Kinderhook Code Enforcement Officer Peter Bujanow disagrees. In October, Bujanow issued a letter of denial in regard to the artwork's installation. Shaiman and Better met with local officials Oct. 20 via Zoom but left without resolution. When Shainman ultimately decided to put up the work, Bujanow issued a stop work order Oct. 21, calling for the removal of the work.
The stop work order, according to The Columbia Paper, defined "Truth Be Told" as a sign and cited numerous violations on the local and state level, including the application of "combustible material to the building exterior."
Better told The New York Times that claims of concern about "the work's flammability is 'the ultimate red herring'" as the Scotchcal Graphic Film used to create the lettering, made by 3M, "is regularly used on buildings across New York State." Documents from 3M are included in Shainman's request for interpretation appeal packet (villageofkinderhook.org/zoningboarddocs.html), as well as supplemental materials defining protection of artworks under the First Amendment and previous ZBA rulings.
Kinderhook's attorney, Robert J. Fitzsimmons, in an email response to inquiries from The Eagle, declined to comment on matters pending before the ZBA.
Act of censorship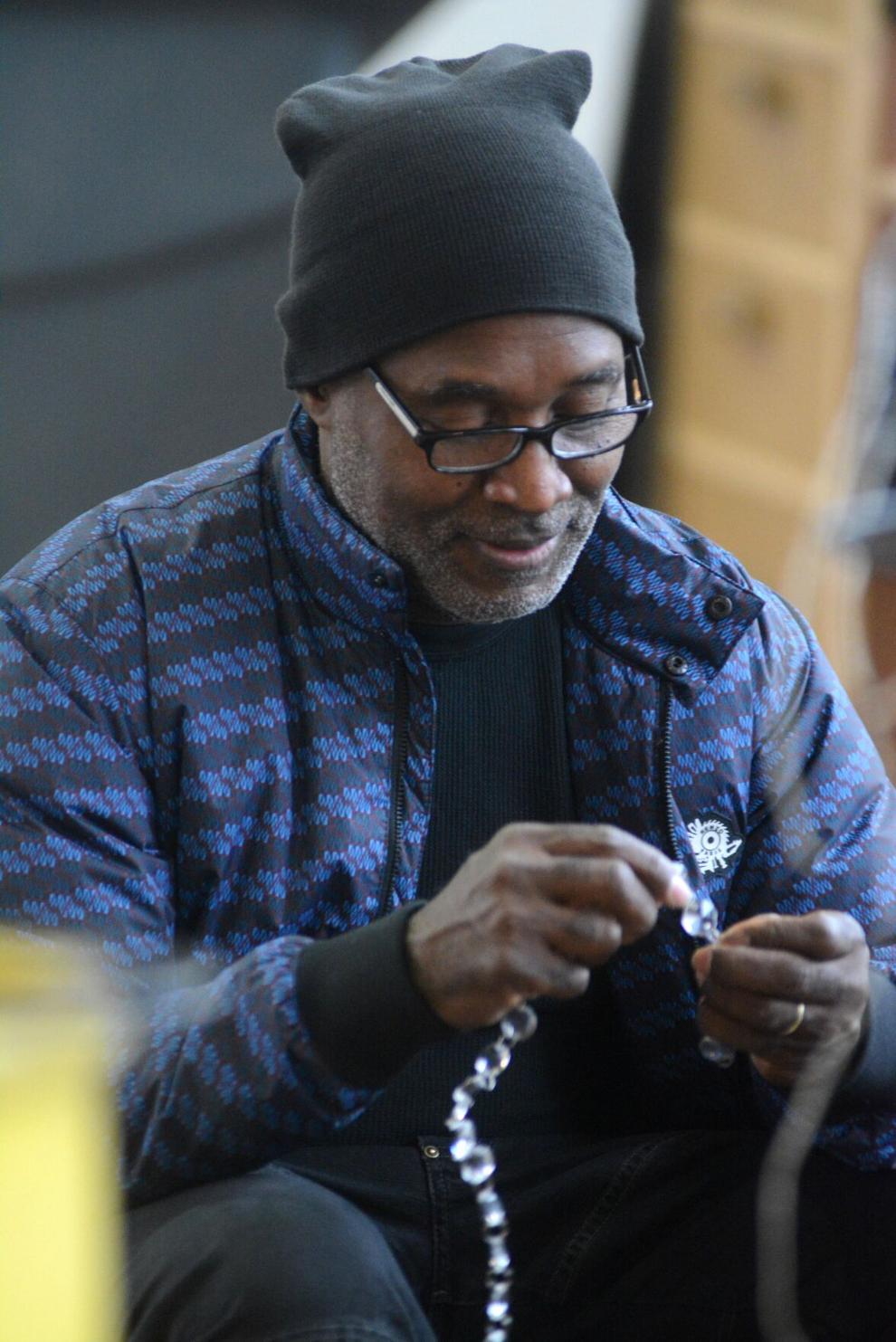 Cave, an artist known for addressing issues of race within his work, sees the issue at hand as being far more complex than whether his artwork is a sign. He views the call for its removal as an act of censorship.
"Truth Be Told," a form of protest art, was installed days before the 2020 presidential election.
"It is an artwork and an act of protest. It's also an illumination of propagated falsehoods throughout American history to the present day. In response, the town's board has called for the removal of the artwork, first on the grounds that it's flammable, and when that was refuted, claiming it's 'not art, it's signage.' It is ironic that work promoting truth-telling has been met with distrust and deceit," Cave wrote in a Jan. 7 "open letter" to the national arts community asking for signatures in support of his stand against censorship.
"I know that the town of Kinderhook is not censoring the words I've formed, but rather the meaning that it has assigned to them, and in turn, the ability of others to have access to my provocation. They are censoring the words of a Black man in a moment when our country, more so than ever, is divided on the basic principles of fact and fiction. This is not about me, but about those who come after. I am not the one who stands to lose. While 'Truth Be Told,' may be inflammatory and a sign of the times, it is in no way flammable or signage."
In response, numerous arts administrators, museum curators and staff, gallerists and foundation directors from around the country have signed on in support of Cave, including representatives from the Williams College Museum of Art and the Massachusetts Museum of Contemporary Art.
Denise Markonish, senior curator and director of exhibitions at Mass MoCA, said visitors to North Adams can expect to see a version of "Truth Be Told" on the museum's billboards at the intersection of Marshall, Houghton and River streets in mid- to late February.
"This is just a ridiculous debate. I think even Nick feels this is a ridiculous debate. I think the points made in both The New York Times article and in Nick's statement are that this is censorship," she said in a recent phone interview.
"If you can have political lawn signs and Halloween decorations [in this historic neighborhood], then Jack Shainman can choose to put whatever art he wants on the outside of his building.
"If it said 'Happy Birthday,' nobody would be arguing about this. The fact is, we're in a moment when the very notion of truth is under attack. Making a bold statement like that is putting that out into the open. Just a simple phrase, 'Truth Be Told,' is something we're not getting in the world today. I think the debate is really about that idea as opposed to 'Is it a sign or is it artwork?' It has larger implications of a call for censoring it, just because people might not like the messaging. That's not the business art is in."
Markonish, along with Interim Director Tracy Moore and Joseph Thompson, founding director and special adviser, and a majority of the museum's fabrication staff signed Cave's letter in support. Thompson said in an email that he has been asked by Better to speak at Monday's public hearing.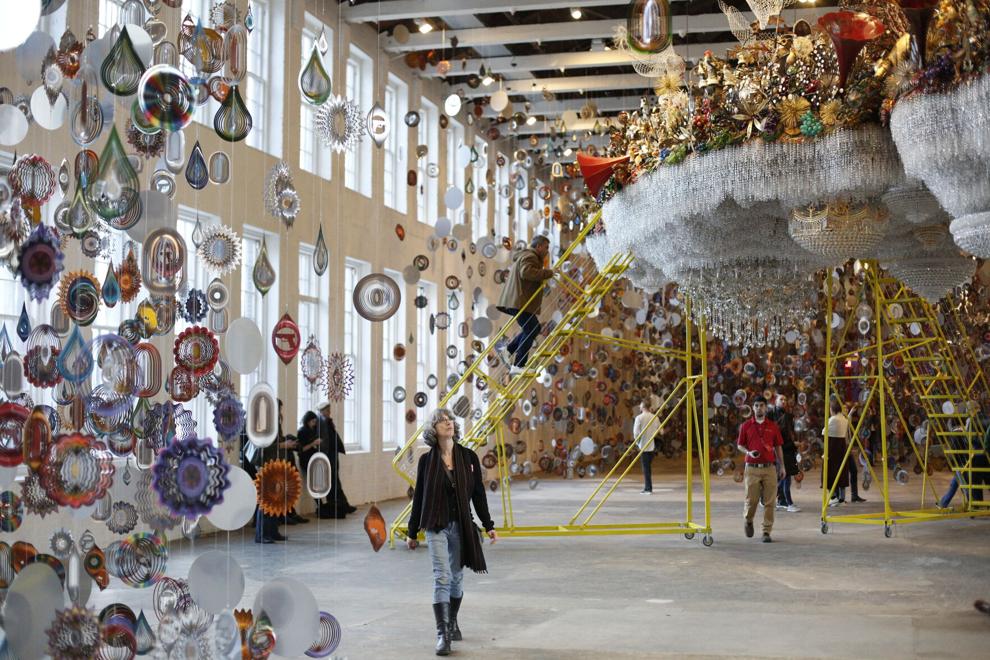 Cave has a long relationship with Mass MoCA, where, in October 2016, he debuted "Until," a yearlong show that took its title from the phrases "innocent until proven guilty" and "guilty until proven innocent."
The show, which explored police brutality in America and systemic racism, began three years earlier, with an invitation from Markonish to create a work specifically for Mass MoCA's cavernous Building 5 gallery space, a process detailed in the documentary "Museum Town."
Williams College Museum of Art Director Pamela Franks and Lisa Dorin, its deputy director for curatorial affairs, also signed the letter.
"We signed because we believe in artistic freedom and do not abide censorship, intentional or otherwise," Dorin said in an email. "As a curator of contemporary art, I support artists' creative vision even, and perhaps especially, when that vision comes up against bureaucratic structures that are not built to recognize or appreciate the full range of what art can be. I think it is important to speak out on behalf of artistic projects that push the conversation."
The Brooklyn Museum, in a recent New York Times article, announced that it will install "Truth Be Told" on an outdoor plaza near its entrance, in conjunction with an exhibition beginning May 14.
Markonish said she isn't surprised by the reactions to Cave's work, especially in the weeks leading up to the presidential election.
"It's an interesting magnifying glass into this region, which is a little divided politically; you definitely have liberal enclaves and not-so-liberal enclaves living side by side," she said.
"During the election, you saw that driving through any neighborhood; there would be a Biden sign and then a Trump sign and another Biden sign. A lot of people don't recognize that fact. You don't recognize that unless you live here."
She added: "In the same way, Nick's art is focusing a lens on what is happening in the world. It's pulled up some feelings. It is the art's intent to get people thinking and debating; that shouldn't equal censorship."
A First Amendment issue?
Although Shainman's appeal for interpretation asks the ZBA to clarify whether "Truth Be Told" falls under the purview of the village's sign ordinance, doing so would define the text as either a sign or a work of art. Attorney Better, in the appeal, points out that not only are works of art protected by the First Amendment, but that the federal government continuously refuses to define what a work of art is.
Justin Silverman, executive director of the New England First Amendment Coalition, said there is good reason for the government declining to define what constitutes a work of art.
"We, as a people, should be debating and discussing what art is and not looking to the government to decide that. Once you have a government making the distinction between what is art and what isn't, you've given the government the power to censor expression. That's something the First Amendment is against," he said.
"What is often lost in conversations about the First Amendment is the government. The First Amendment isn't concerned with speech and freedom of expression within a private business. It's concerned with the government, a large part of which involves the government staying out of the way when it comes to speech, whether it be spoken, written, text or artistic expression."
"Truth Be Told" is one of two works Cave and Faust created in response to the May 2020 death of George Floyd while in police custody in Minneapolis and as part of "States of Being," an initiative of Shainman's gallery dedicated to social justice advocacy through art. A second piece, "HeavyWait," made with the same graphic film letters and displayed in the Shainman Gallery's 20th Street window in Chelsea, reads "8m46s."
In addition to Cave's letter, the Jack Shainman Gallery launched a "Solidarity Against Censorship" petition on change.org with an initial goal of collecting 2,500 signatures. The petition currently has 2,799 signatures.
"I am humbled by the outpouring of support we've received, both from the art world as well as from the general public," Shainman wrote in an email to The Eagle. "Providing artists with a platform for unfiltered creative expression is my greatest joy, and seeing so many individuals rally around Nick during this time speaks to art's critical role in igniting conversations and ideas that may otherwise go unheard.
"This is a difficult time for us all, but if anything, this experience has reinvigorated me and reminded me why I do what I do. It is a privilege to work every day with those who inspire me the most."