With humor and gratitude, the Most Rev. William Byrne was installed Monday as the 10th bishop of the Roman Catholic Diocese of Springfield.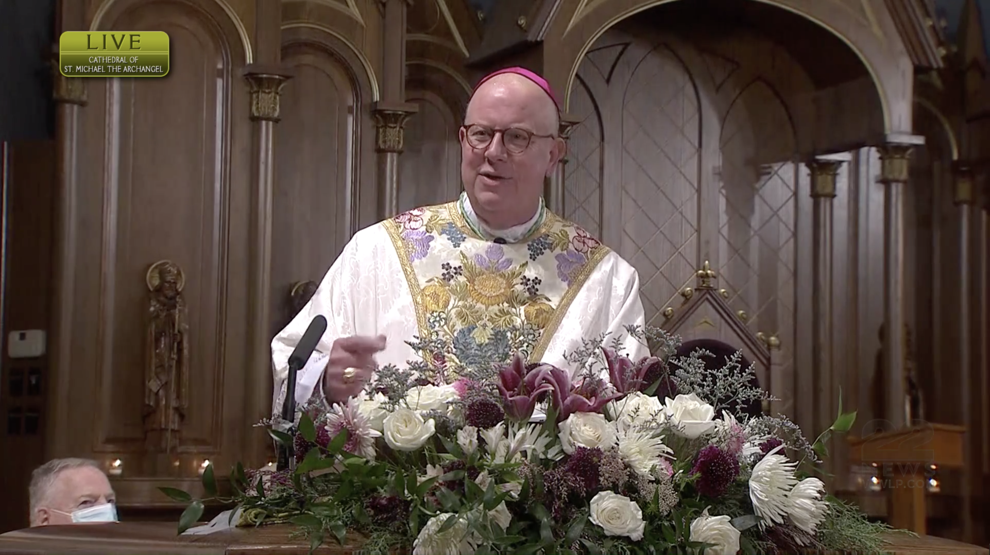 Byrne, previously a priest in the Archdiocese of Washington, D.C., will serve as the spiritual leader of more than 160,000 Catholics across Berkshire, Franklin, Hampshire and Hampden counties. Cardinal Sean Patrick O'Malley, the archbishop of Boston, consecrated Byrne on Monday afternoon at the Cathedral of St. Michael the Archangel in Springfield.
"It's not hubris, but I really believe that God has not given up," Byrne said, addressing attendees after he was ordained. "We must rebuild trust and we must preach the joy, that love conquers hate, that peace defeats violence, that life destroys death itself, that Jesus Christ has risen — and in this alone do we find hope."
Byrne delivered part of his message in Spanish: "Dios no ha terminado con el oeste de Massachusetts. Tenemos mucho trabajo que hacer." (The way he translated it himself was: "God is not done with Western Massachusetts. We have a lot of work to do.")
The Vatican on Oct. 14 had chosen Byrne to succeed the Rev. Mitchell T. Rozanski, who was bishop of the diocese from 2014 until August, when Rozanski became archbishop for the Archdiocese of St. Louis.
In an interview with the Eagle, Byrne had described his role as to serve as "healer in chief," and he also expressed a commitment to increasing transparency about sexual abuse cases.
On Monday, Byrne again praised the "courage and honesty" of those who have survived sexual abuse."
"To those now and to all who have been abused, I offer my deepest apologies, but words mean nothing without actions," he said. "Transparency and communication are demanded of us, and this will be my priority."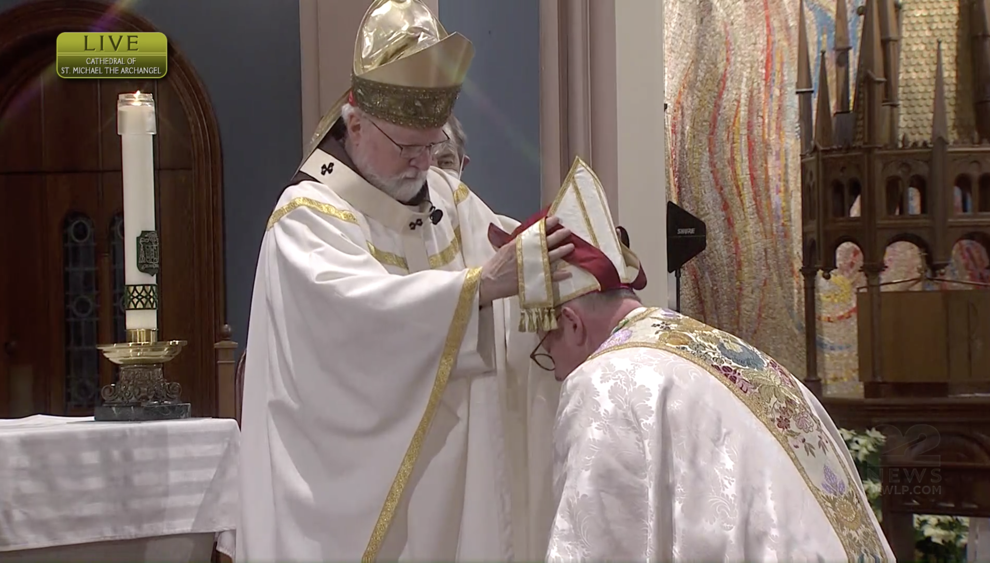 Byrne was ordained in a ceremony that has been passed down for two millennia, although, like much else, it had adjustments made because of the coronavirus pandemic.
A typical ceremony at the cathedral might have up to 1,200 attendees, but attendance was limited to about 190. Also, the ceremony was conducted without the orchestra and large choir typically present, and the pulpit was wiped down after each speaker.
Among those in attendance were Byrne's family and friends, Springfield Mayor Domenic Sarno, Springfield Police Commissioner Cheryl Clapprood and U.S. Rep. Richard Neal, D-Springfield.
Byrne, a graduate of the College of the Holy Cross in Worcester, drew laughter and applause when he observed that "people are a lot nicer the further you move west in Massachusetts."
He expressed appreciation for what he characterized as a warm welcome, although he quipped, referring to his Labrador retriever, "I think Zelie has been welcomed more warmly than me."
Byrne also credited friends for teaching him how to be a priest.
"It is the people that forms, in love, great pastors," Byrne said. "And if we can stop and listen to them, we can learn a lot."
Commenting on Byrne's installation as part of WWLP's television coverage, the Rev. William Hamilton, a longtime priest in the Diocese of Springfield, expressed hope for Byrne's leadership.
"It's a very different view on things," Hamilton said. "He has a great sense of humor, he has tremendous compassion. His love of the priesthood obviously shows in everything that he does.
"I think he's going to fit in beautifully out here. He certainly, I think you might say, has taken Western Mass. by storm."