PITTSFIELD — Challis Bates has two young children. They both have autism. The elder child is verbal, the younger one is not.
Her children, ages 6 and 4, have trouble communicating, but they make up for what they can't do by the information they receive from books. The written word stimulates their imaginations, Bates said.
On Saturday, the two youngsters were among several young children who received an up close and personal look on the joy of reading from children's book author, literacy advocate and former Pittsfield resident Ty Allan Jackson at the Berkshire Museum.
Jackson, who began writing children's books 13 years ago at the age of 42, wrote many of his well-known books in the Berkshires before moving to Fresno, Calif., in October. He returned to the Berkshires this weekend to give separate presentations on two of his many well-known characters, the Supadupa Kid and Danny Dollar. In the afternoon, he joined museum educators in presenting an interactive program about entrepreneurship and financial literacy for children, themes that tie in with his book, "Danny Dollar Millionaire Extraordinaire."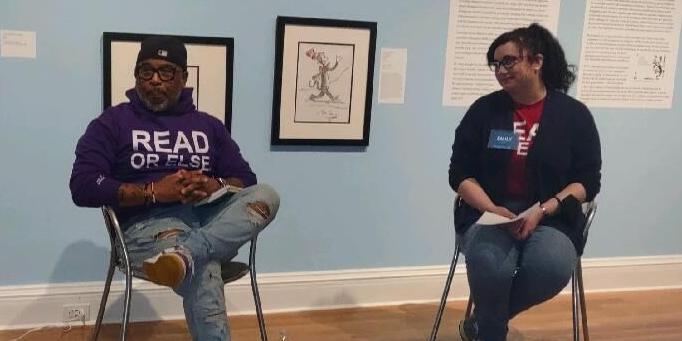 "Reading is the gateway of education, not just academic education but life education," Jackson said following his morning presentation on the Supadupa Kid. "Its the greatest and probably the oldest form of entertainment. It's such a foundation of imagination and creativity. I feel the more imaginative and creative kids that we have, it's a better world that we're going to live in."
Clad in a purple sweatshirt with the slogan "Read or Else" emblazoned across the front, Jackson was an engaging presence during the morning session, using quips, anecdotes and personal stories about growing up in the Bronx, N.Y., to describe how he came up with the idea for the Supadupa Kid.
Jackson passed out copies of the Supadupa Kid for those in attendance to read, had the youngsters perform a reading exercise, held a question and answer session, posed for pictures with the youngsters and their parents and signed books.
"Awesome," said Bates, referring to Jackson's presentation. An English teacher at Reid Middle School, Bates was one of several people who knew Jackson when he lived in Pittsfield. Jackson greeted warmly many of the people at the presentation that he knew when he lived here.
"He's such a great author," Bates said. "He's so good at getting people's attention."
The Supadupa Kid is about a young boy who obtains super powers and then uses them to vanquish a neighborhood bully. Jackson told those in attendance how he came up with the character's name.
"The idea for the Supadupa Kid happened when I went to Home Depot," he said. "I was walking through the aisles and I saw a tube of glue, and that name of that glue was 'supadupa glue.' It just stopped me in my tracks. I went home and started writing the book.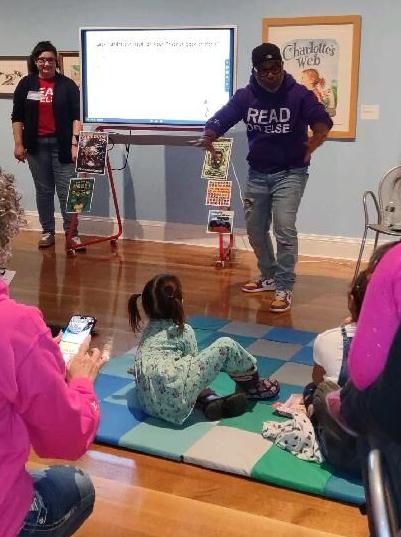 "That's part of the spark of where inspiration comes from," he said. "I didn't get the idea for the Supadupa Kid until I was 45.
"Wow!," said Jackson, who held Saturday's presentation wearing his ubiquitous New York Yankees' baseball cap backwards. "It goes to show that imagination has no limits. Even a 45-year-old kid can get an idea."
Jackson's second book about the Supadupa Kid was turned into a musical last year by Barrington Stage Company, "which is mind-blowing to me," he said.
He also told those in attendance to be proud of where they come from.
"Berkshire County is a place that matters," he said. Referring to the Bronx, where he was born and raised, Jackson said, "if I had tried to be an author from the Bronx I would not have had this level of success. So what you do here matters."
Jackson said he has been holding presentations like the one he gave in Pittsfield Saturday all over the country.
"Once a week I'm doing something," he said. "I just got back from two schools in Ohio. Next month, I'm going to Kentucky, Ohio, New Jersey, New York, Massachusetts and California. That's next month. I'm everywhere."
He does this work without assistance from an agent or a publishing company.
"I'm very fortunate. It's not easy to create this dynamic as an indy," he said, referring to his status as an independent writer. "No manager, no publisher, no publishing company. It's just me and my colleague, Rachel Malley. She's been my business partner for the past five years. She does the heavy lifting of getting me in front of faces, and then I'm Mick Jagger."
Jackson said he was glad to revisit the Berkshires.
"It's home. It's comfortable," he said. "It feels like blue jeans and a T-shirt. I'm happy to be back home engaging with my friends and family who I miss tremendously."
Jackson says that he visits the Berkshires often.
"I'm literally here every month," he said. "I say I'm more bicoastal than having relocated."
He plans to stay in touch with the people he met here.
"Oh my gosh, I don't have a choice," he said. They won't allow it and neither will I. I have three homes now. The Bronx, Pittsfield and Fresno, Calif."