ADAMS — In Pauline Dongala's home village of Bikie, in the Lekoumou region of the Republic of Congo, where the chief mode of transportation is walking, few people own bicycles, so, most schoolchildren have to walk the 4 miles or more to fetch water and produce for the home, and to get to school every day.
Last summer, during a visit to Adams, Dongala and her friend, Yolanda Minondo, got to talking with Leni Fried and Mike Augspurger, owners of the Old Stone Mill Center Zero Waste Maker Space.
The center is dedicated to taking industrial surplus and turning it into reusable items for those in need. Fried and Augspurger happen to have a hearty supply of used bikes, which Augspurger specializes in repairing and modifying using skills he has in machining, modifying and manufacturing bicycles.
With well over 200 used bikes on the premises, Fried and Augspurger offered to help with their transportation needs.
During a tour of the Old Stone Mill Center, Dongala and Minondo told The Eagle that one bike, properly outfitted, could carry three or four children to school, as well as water jugs, food, firewood and other supplies.
As such, it becomes a real time saver, results in fewer school absences and provides a schooling opportunity for families that otherwise do not have the time to walk miles to the river to fetch water for the day and walk miles to school on the same day.
There are some bikes in the area, but they are nearly all made for adults and are too high off the ground for the kids to reach the pedals, leaving them to push the bikes to carry supplies like a two-wheeled shopping cart.
"It shortens the distance," Dongala said. "Without bikes, many are walking four miles barefoot both ways every day. It's unbelievable. So, bikes will bring a kind of revolution in education."
To modify the bikes for use in the Republic of Congo, Augspurger and friends mount a heavy-duty wooden shelf, or rack, on each bike. They also have to switch to pedals that are less painful to use with bare feet.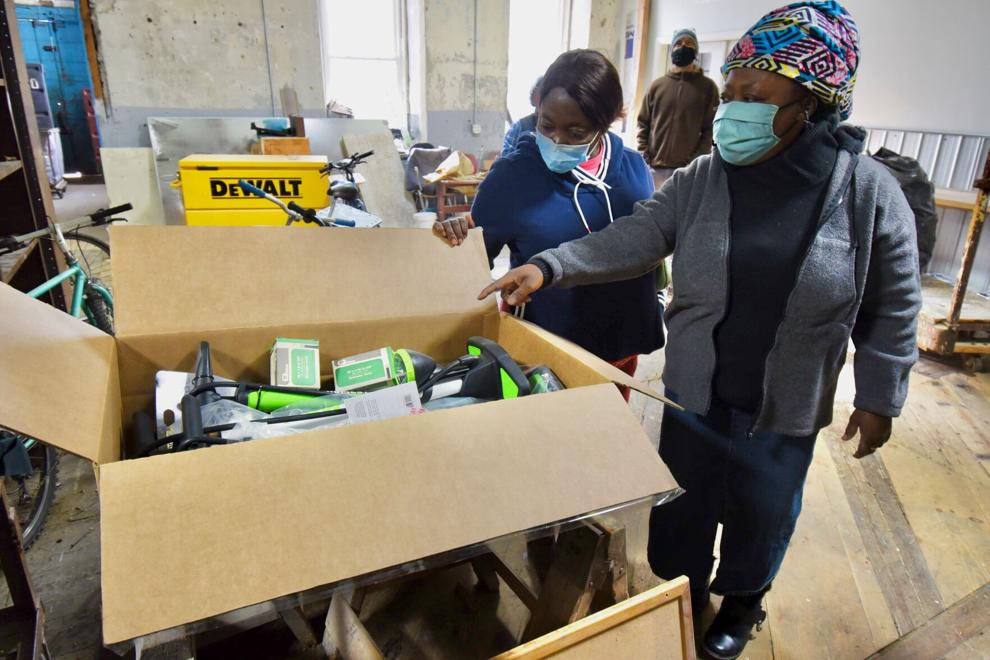 Dongala noted that when one student has a bike, they likely will be carrying two or three others on it to get to school — sort of like a tiny school bus. Many carry several students, as well as supplies like firewood, at the same time.
The village recently built a public primary school; Dongala noted the pride the villagers have about it. The teacher at the school travels from one school to the next during the school day, on foot. A bicycle would enable the teacher to spend more time with the students.
"Education, I think, is the most important thing," Dongala said. "It opens up big horizons, and their futures can be brilliant."
"It's unbelievable," Augspurger said. "The difference a bicycle can make is amazing."
Dongala and Minondo will be filling a shipping container with supplies for the village, and it will be shipped to the Republic of Congo and retrieved at the port. On it will be 26 modified bicycles and a number of other much-needed items, such as empty feed bags that will be used to carry supplies — a valuable commodity for a village where there are no cars, no markets to speak of and where supplies need to be transported daily.
There also will be donated clothing, sheets, blankets and anything else that could come in handy.
The Old Stone Mill Center has been working for five years on soliciting the donation of industrial surplus. Now, it receives thousands of pounds of used sheets, blankets and chef's shirts every year from Aladco Linen Services in Adams, among a wide variety of other items from companies around the region.
Volunteers in the center work on sewing machines to convert feed bags and sheets into reusable shopping bags. Many of the linens go to homeless shelters and other agencies to help the working poor. Used bicycles are donated by police departments and other agencies.
The mill also has an art studio, a machine shop and a sewing room, with most of the space devoted to storage.
The Old Stone Mill was built in 1860 and served for years manufacturing woolen products and later served as a wallpaper producer.