About 500 members of the Massachusetts National Guard were deployed to Washington for Wednesday's inauguration of President Joe Biden.
Among them was Adams Police Sgt. Dylan Hicks, a first lieutenant who commands Alpha Company 1-181 IN, a light infantry company based out of Agawam.
Hicks, 28, didn't have much time to prepare after learning that his company would be headed to the Capitol to provide security at the inauguration.
"I had less than 24 hours to pack up and leave," said Hicks, who still is in Washington. "Everyone was given different missions and tasks when arriving."
Alpha Company 1-181 IN is made up of mostly residents of Western Massachusetts and Berkshire County, which includes 2nd Lt. and Dalton native Emily Jordan.
"I was very lucky to get a Western Massachusetts company where the commute [to Agawam] isn't bad," Hicks said. "I have Berkshire County residents I can relate to, which is nice."
After arriving, Hicks and his company were sworn in as special U.S. Capitol Police Officers.
"The company itself is very professional and proud to be here and support such an historic event," Hicks said. "The inauguration itself was a safe and peaceful exchange of authority."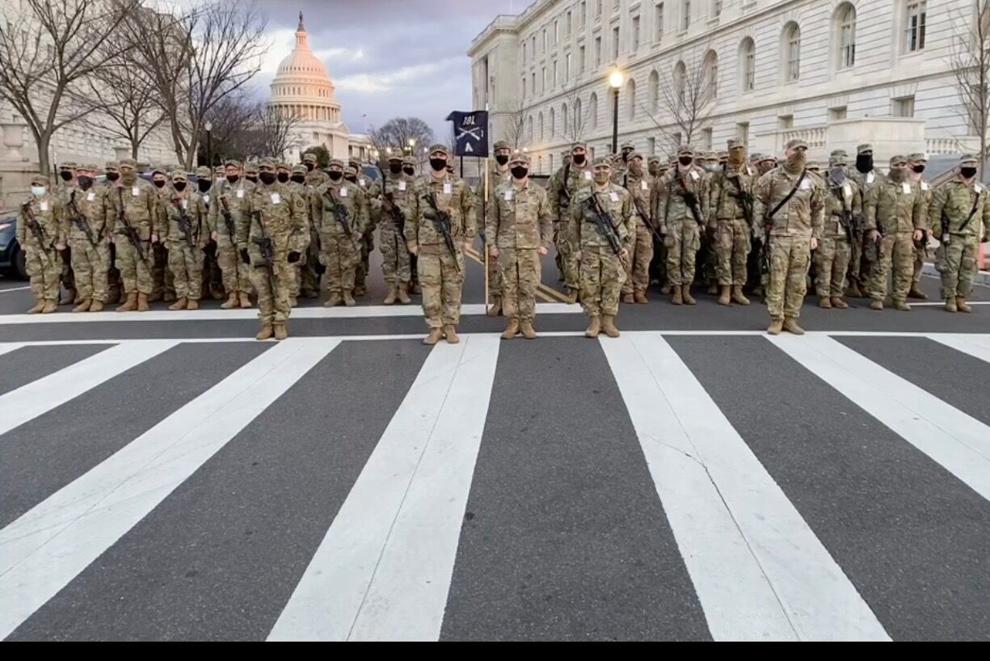 The days have been long, but manageable, according to Hicks. He added that the company has received adequate housing and has been taken care of since arriving to the capital.
The Pittsfield native and resident has been in the military for a decade, which began while he was in college at Fitchburg State University. Hicks credited the travel opportunities and the ability to grow as to why he joined the military.
"We went to El Salvador last year," Hicks said. "I joined the Adams Police Department in 2017, right after I spent a year in Egypt as a platoon leader."
The Police Department and the town of Adams have military working dates, and soldiers use them throughout the year to fulfill military obligations.
"The town of Adams has been very understanding when it comes to my military obligations," Hicks said. "Everyone is so supportive and co-workers ask if they can help with stuff around the house."
The company assembles one weekend every month, and Hicks added that the past 12 months have been a bit hectic.
"We've supported police forces throughout the year during riots in the commonwealth," Hicks said. "We've also had COVID-19 missions where soldiers went to nursing homes and other public venues to swab for COVID-19 testing."
Hicks is unsure when his company will return to Massachusetts, but he already knows the first thing he will do after getting home.
"I can't wait to see my son," Hicks said. "He just turned two this year."