Just weeks after the pandemic reached the Berkshires, Kevin Copeland started talking more about death.
At 28, he was surrounded by people who loved him: friends, cousins, siblings, his son, and a devoted mother. But he was suffering from multiple sclerosis, addiction and depression. That spring, as the world went quiet, he struggled to get an appointment for his substance use disorder medication. He also started meeting up with his dealer again.
Copeland died with fentanyl in his system on April 17, 2020.
His was the fourth death linked to opioids that year in North Adams. It wouldn't even be two weeks until the next.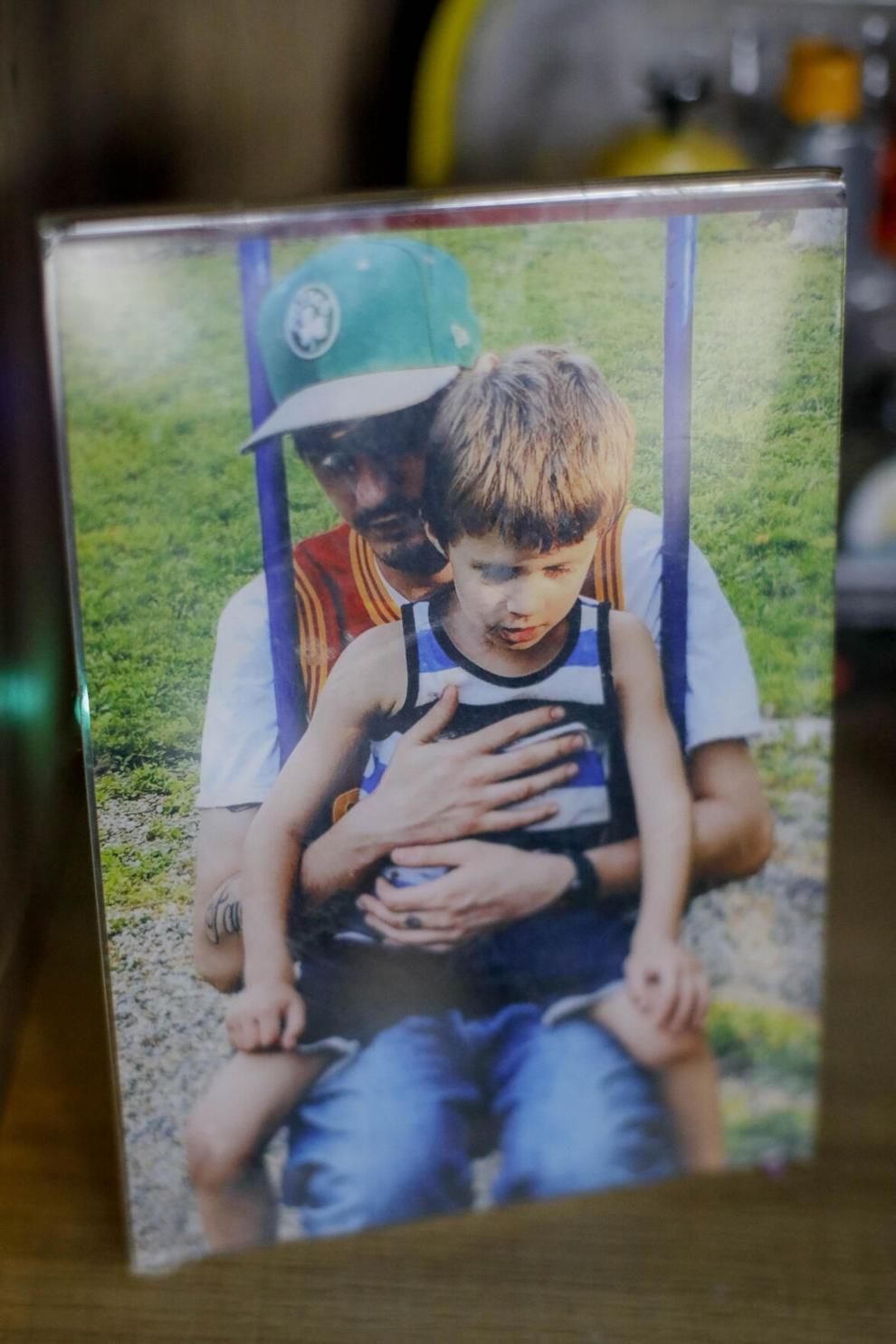 As the pandemic recedes from public attention, another public health crisis lingers in its wake, one that has caused immense grief and suffering for years and will continue to plague the Berkshires even as the coronavirus pandemic fades.
That crisis is addiction.
Opioid overdose deaths soared in Berkshire County during the first year of the pandemic: 56 people died in 2020, up from 39 the year before. As the world debated virus policy, masks and vaccines, families across the Berkshires mourned siblings, parents and, often, adult children lost to addiction.
The state has not said how many people died due to opioid-related overdoses last year in Berkshire County, but The Eagle analyzed death certificates from North Adams and Pittsfield and found that overdoses appear to have remained at high levels. In 2020, there were 35 fatal overdoses among residents of those two cities alone. In 2021, there were 43.
Families who spoke with The Eagle about their losses all wondered if they could have done more. The deaths often left them with more questions than answers. Some deaths seemed inextricably linked to the virus, others almost completely separate. Often, their loved ones died alone.
And despite the widespread nature of the crisis, many families felt, and still feel, desperately alone.
These family stories fall against a backdrop of a criminal justice and public health system unprepared to handle a growing, deadly addiction crisis. As money, resources and time poured into the fight against COVID-19, people trying to prevent drug deaths were left to do so with growing but still severely limited resources.
Though the Berkshires have seen increased acceptance of addiction as a disease, the families who told their stories still ran up against significant barriers to treatment and care — stigmatization and criminalization of drug use, limited treatment options, mental health waitlists and more.
'I was supposed to protect him'
Brenda Enos, Copeland's mother, wonders how much the pandemic is to blame for her son's death. Often she catches herself thinking, "What if?"
Leading up to the pandemic, Copeland had used the Vivitrol shot — a monthly injection that blocks the effects of opioids — to stay sober. He held down a steady job. "He looked fabulous," his mother says.
But once the world shut down, he had a hard time getting an appointment for another shot, according to his mother. He said he was using a daily medication to support his sobriety, but, as Enos later learned, he wasn't actually taking it.
Then money flowed in, between his tax refund and his first pandemic relief check. Before long, he started using it to buy drugs.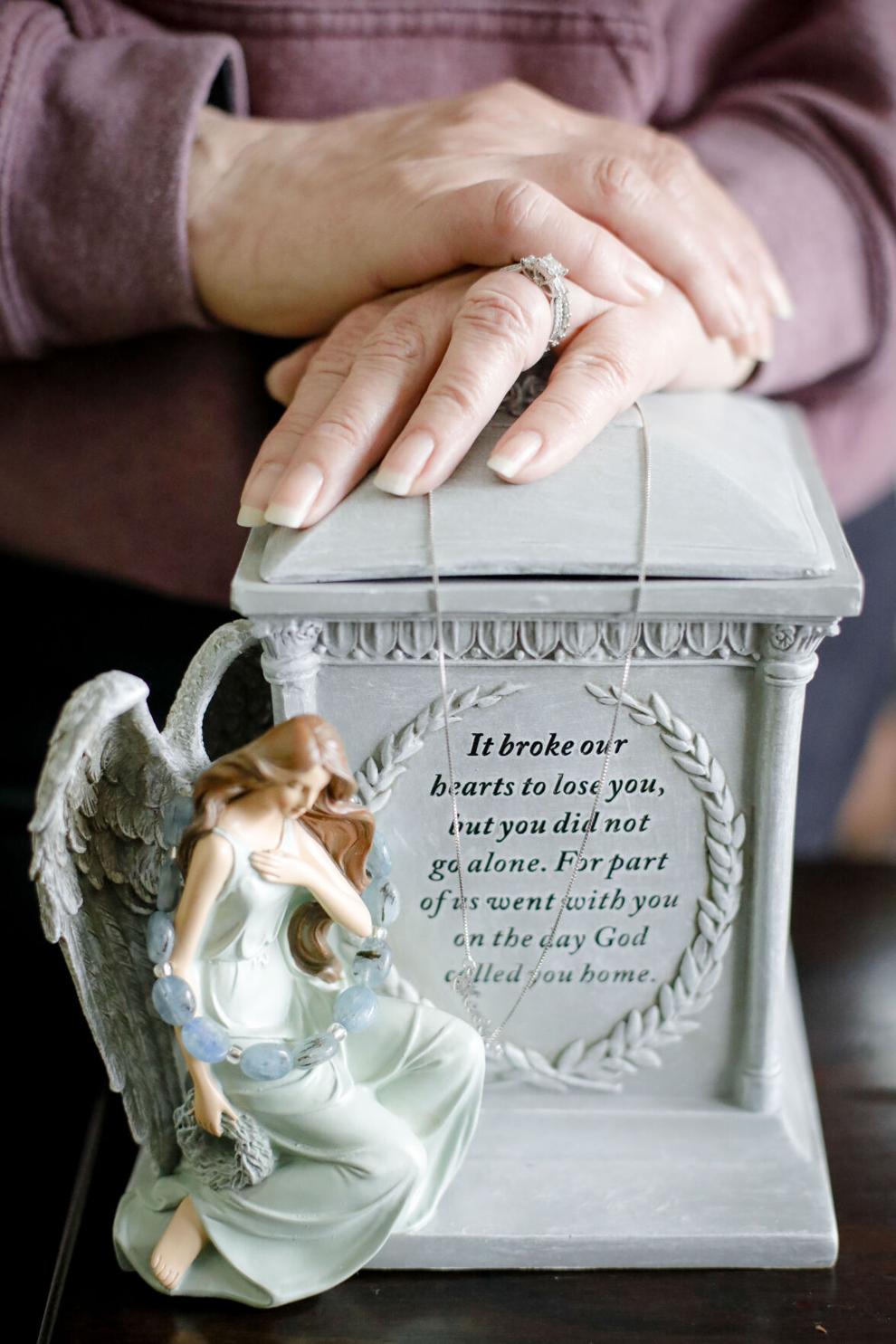 Kevin's grin pops out from photos that decorate the walls and shelves of Enos' home in North Adams. In those pictures, a young man hugs his son, smiles cheek-to-cheek with his mom at Reba McEntire, gazes out at the room from under a green ballcap.
"He was so fun to be around," Enos said. "He had a heart bigger than life." He would pester you, annoy you, and make you love him in the span of 10 minutes. Driving around North Adams, he would lean out the car window, loud and eager, calling out to people he recognized. He loved his son, his friends and Batman.
But people around him were using. So was he. He used opioids on and off for years. By the time the pandemic began, he had also been diagnosed with multiple sclerosis, a progressive disease that had started to affect his memory.
It was those last few weeks when he started talking to his mother about wanting to be cremated. Most people who die of overdose do so by accident, not suicide. But Enos remembers how much her son talked about death, how much pain he was in. So, she wonders if it might have been purposeful, or if complications of her son's MS contributed to his death — those are answers she will never get.
She also wonders if she could have done more. They spoke frequently; she was by his side as often as she could be, driving him to and from appointments. Still, she bears the weight of his pain.
"I feel like somewhere along the line, that I failed," she said. "I was supposed to protect him, but I didn't. Moms are not supposed to have to bury their children."
There was no funeral. The last time she saw her son, he was in a box.
Now, Enos lives in two realities. She knows that many people lose children to substance use disorder. She's friends with some of them. But the loss has left her alone, isolated at times even from her own family, always playing the tape back in her mind.
"I ask myself a lot of times, is there something I could've done different? I don't have answers. I couldn't go through life holding his hand. You can't do that. He was 28 years old. I know he needed to make his own decisions. But he was my child."
'We did everything we could.'
For the last two years, COVID-19 deaths have far outpaced drug-related deaths.
But the two crises have affected two different populations, and, for people under the age of 65, the drug crisis has eclipsed the toll of the virus.
In 2020, fewer than 70,000 people under the age of 65 died of COVID-19, according to the Centers for Disease Control and Prevention's Wonder database. More than 90,000 people in that same age group died as a result of drug use.
The ratio is even starker in North Adams.
Over the two years of the pandemic, the city lost more residents to the virus than addiction, according to an analysis of death certificates. But of the city's under-65 population, there were just three certificates that listed COVID-19. During the same period, at least 22 people in that age group died of drug-related causes.
The average age of death: 43.
Nearly every one of those death certificates listed fentanyl. That's an opioid 50 times as powerful as heroin, now dangerously common in heroin, cocaine and other drugs.
In Pittsfield, Tammy Parent has almost gotten used to hearing about fentanyl overdoses.
"I've never seen so many deaths as I have the last couple years," Parent said. "A lot of friends, people I went to school with. It baffles me. I've never seen so many overdoses as I have now."
In May 2020, her sister, Angela "Angel" Shetron, died of an overdose.
Shetron loved horses, and taught her sister's kids how to ride. But by the time the pandemic hit, she was stealing from her family, not for the first time. She did a brief stint in detention in Greenfield before she was moved to a recovery home in Pittsfield — even while her father, Leonard Shetron, was begging the district attorney's office to send her to prison, where he thought at least she would be safe.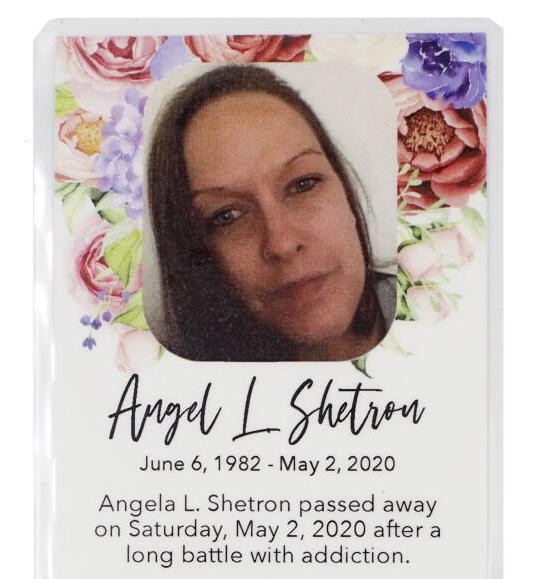 She died in the recovery home, in her locked room, alone and surrounded by unused Narcan. Her father found her. She was 37.
"We did everything we could to try to stop her," he said. "She was a good girl. When she wasn't on it, she was good."
For Parent, the loss feels almost random. After all, one of her sister's best friends is living and in recovery today. Why not her sister?
"They were inseparable, but they went to different worlds," Parent said. "You just wonder. Which ones are going to make it, and which aren't?"
When Parent talks about her sister's overdose, she starts listing all the other people she knows who have died from overdoses lately. A good friend's boyfriend. The daughter of someone else in the community. The new husband of a woman whose children know hers. Meanwhile, she hears about kids on monthslong waitlists for mental health care, and she wonders what the future holds for them — and her own children.
"It's just so confusing," she said. "There's no good help. You see it everywhere. Everything is getting bad now."
Deaths of despair
Over the last two decades, as drug overdose deaths were rising, so were suicides and alcohol-related deaths. That's a set of fatalities that economists Anne Case and Angus Deaton call "deaths of despair."
In the Berkshires, annual deaths from drugs, suicide and alcohol have tripled since the mid 2000s, according to the CDC's Wonder database, from around 30 deaths per year to more than 100.
For Claudia Delusky, there was never a way to separate the mental anguish she bore from her drug use. One fueled the other, in a painful cycle that led, eventually, to her death.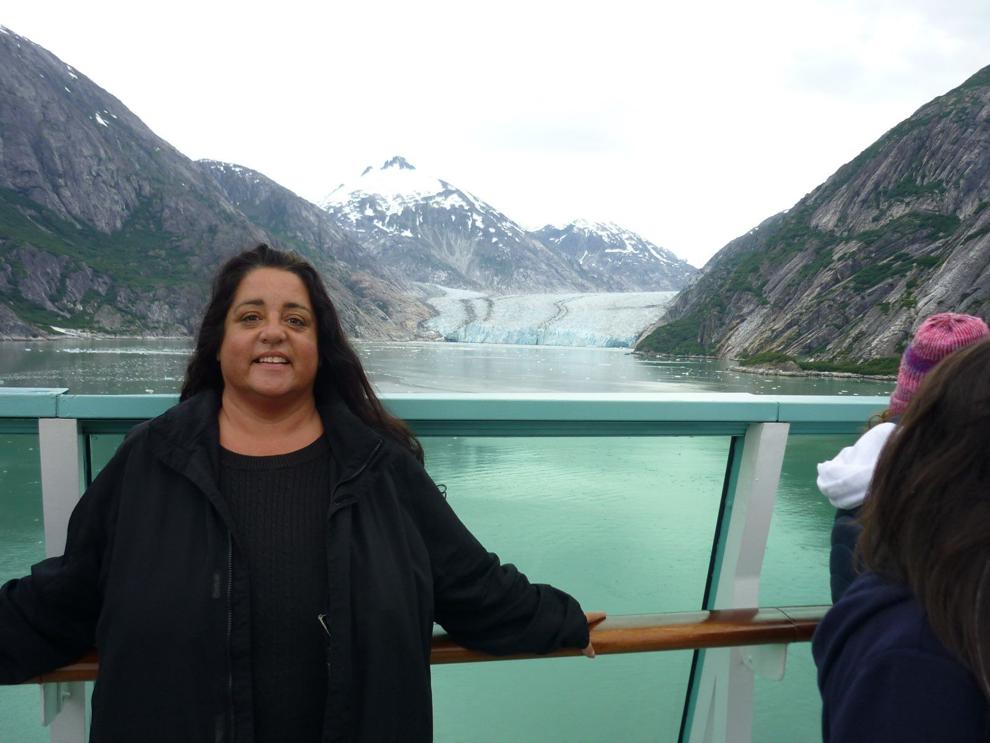 From a young age, Delusky started using cocaine, says her sister. The Eagle is withholding her name to protect her privacy, as she is also in recovery. The two sisters grew up in Pittsfield.
"Somewhere in her 20s, it turned over to crack," Delusky's sister said. "That's just really explosive, for addiction, to have that drug of choice."
The addiction led to abuse, theft and prison. Those early traumas followed her through the rest of her life, her sister says. She put on weight in prison, which would stay with her. Her sister also thinks that detention made it hard for Delusky to seek treatment: She never wanted to feel locked up again.
Delusky's sister, years into her own recovery from alcohol and substance use disorder, always held out hope. Last year, during the final summer of Delusky's life, they would go out to a lake together, sit by the water, swap stories about their mother. When the pandemic started, her sister even thought Delusky might have hope. After all, Delusky was desperately afraid of getting infected.
"So, the fight to live was there," she said.
But the virus devastated Delusky, emotionally. Seeing the sheer volume of death around the country on television took its toll. The shortening of days also left her stricken, her sister remembers, and there was the physical pain, too, a ligament in her knee that needed surgery and an abscessed tooth.
Delusky committed suicide, with cocaine in her system, in September. She was 52. Her son, in his early 20s, found her at home. Afterward, her sister says, he paced laps around the parking lot outside their home, as paramedics handled Delusky's body.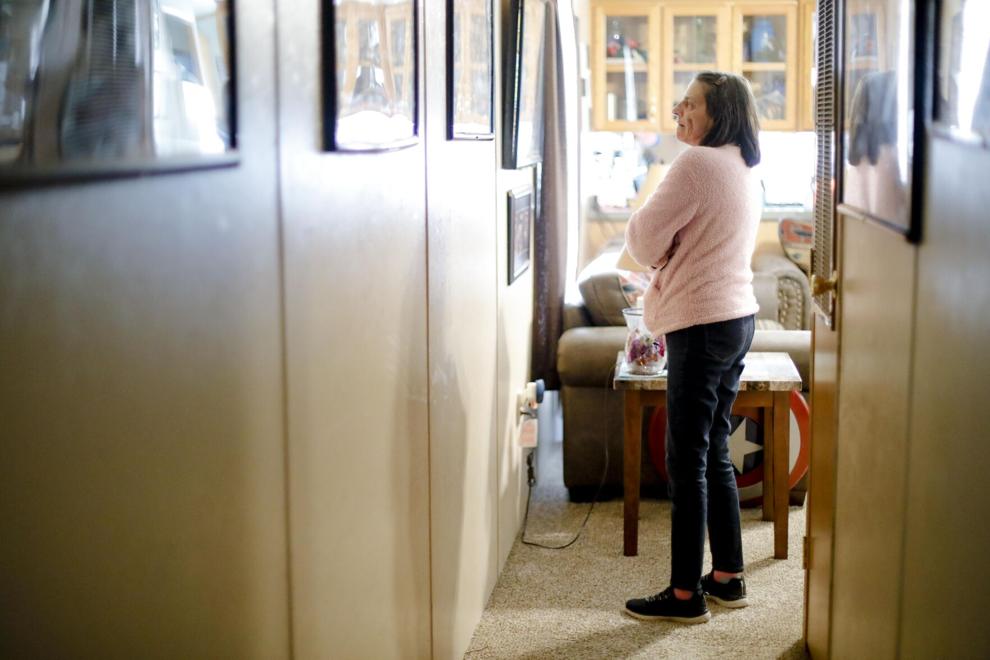 'I miss her laugh'
Last year, Marcia Brown saw the tolls of both addiction and the pandemic.
Her daughter, Erika, struggled with substance use. She died at 30 in May 2021. Six months later, her husband, Mark, died of COVID-19. He was 61, and fully vaccinated.
Brown and her son, Andrew, live in a trailer home tucked off of a main road in North Adams. She has covered the walls of their home in floor-to-ceiling photo displays, of their life, of her husband — and of her daughter.
Brown has seen how people can recover, and take their lives back. One of her daughters has been sober for years, with the help of medication-assisted treatment. But she has also seen the other side of addiction, with her youngest daughter.
In her telling, there were actually two daughters. There was the Erika who got into fights with her family, lashed out over the phone and crashed cars. Then there was the kind, boisterous Erika, the one who always remembered birthdays, put together Easter baskets for families in need and bought her kids presents no matter how tight money was.
"I miss her," she said. "I miss her laugh. She would make us laugh, just with her laugh."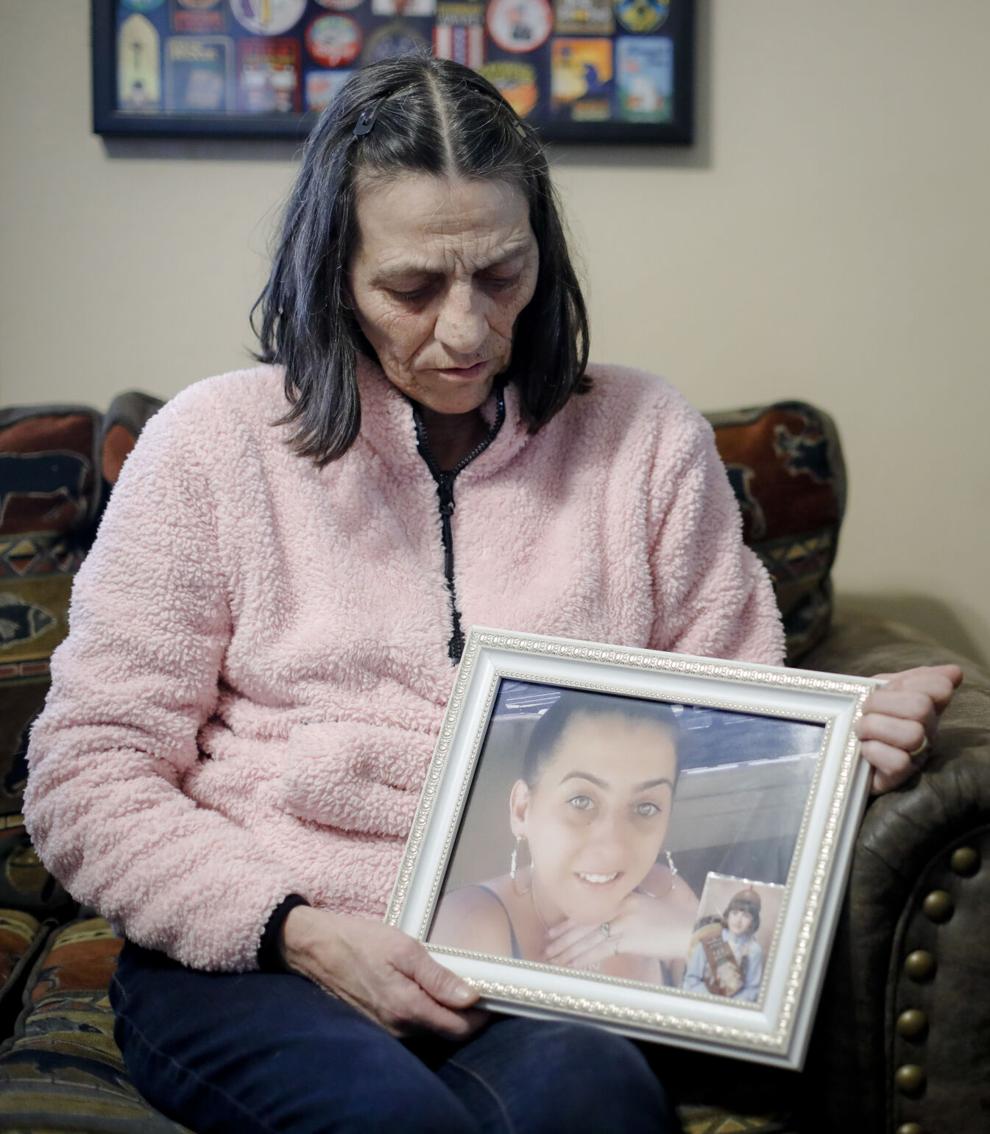 Erika had better and worse years, her mother says. But she spiraled after delivering a stillborn baby. Abuse and trauma fueled her drinking, and her substance use.
In the waning days before the pandemic, Erika lost custody of her kids — "her whole life," as her mom describes it. Erika had her first visits with the kids over Zoom, and the separation devastated her.
"About a month before she passed, she called here, and Mark talked to her," Brown recalled. "She said, 'Dad, you know how much you love us? I love my kids like that. I can't go on without them.' "
When Erika had her fourth child in the spring of 2021, the Department of Children and Families took the baby, Brown said. Erika ripped out her IVs and walked out of the hospital against medical advice.
By then, the methadone clinic where she was going for treatment had concerns about her heart, Brown said, and wanted to lower her dosage. But she stayed on the medication.
Though there were other drugs in Erika's apartment, which Brown would later find, Erika died with only methadone and a small amount of cannabis in her system. The most likely cause, reported on the death certificate, was a cardiac event related to her substance use and family history of heart problems.
That leaves Brown with questions she will probably never get answered — about the timeline, about whether there were other health factors at play.
But a lot of her questions are bigger. Why aren't there more treatment beds and halfway houses, job training programs, places where Erika could have learned skills and gotten back on her feet? Why can't her neighbors and community see addiction not as a personal failing, but as a disease?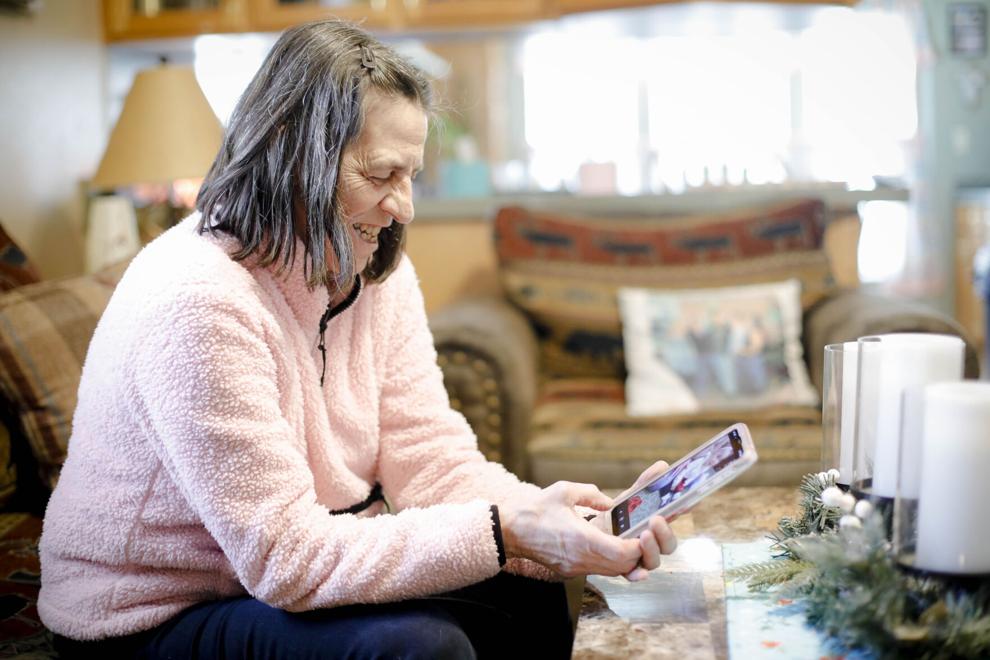 Brown was able to get Erika into help, now and then. But it always felt too small, too fleeting. Sometimes she would try to get Erika a treatment bed and run into a waitlist. Even the methadone clinic sometimes felt like a stopgap measure to both of them. They believed there was nowhere to turn, and that hopelessness was pervasive.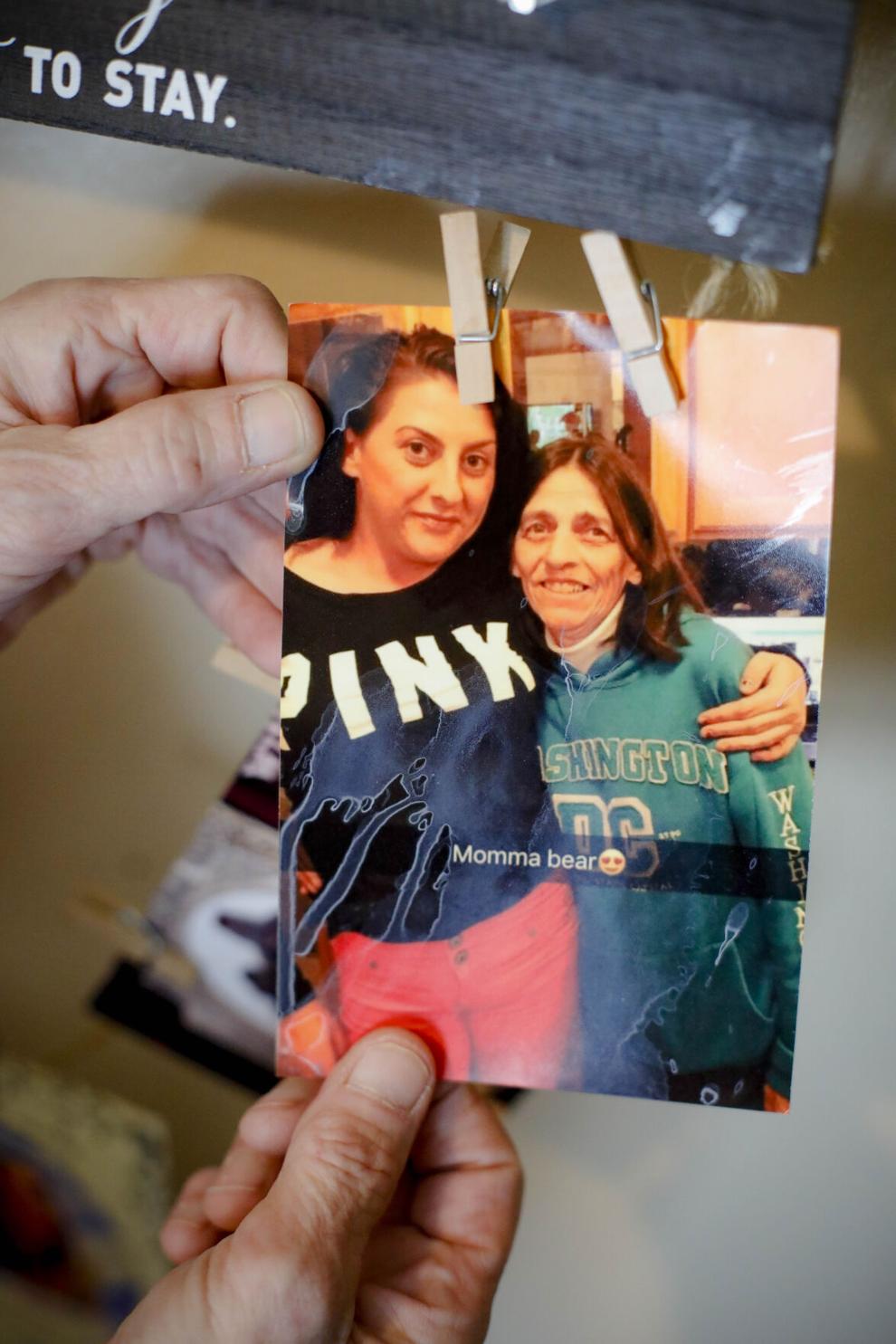 Six months after Erika's death, as the delta variant spread through the county, COVID found its way into the Brown house and killed Mark.
Those two losses are everywhere in their house now, in the urns stacked on counters and the angel wings on the wall. Brown lives surrounded by memories. Her grandkids, and Bible study, are the only things that get her out of the house.
But she's taking steps toward the future. She recently got rid of almost all her husband's medication bottles, and two full bags of Erika's clothes, though she saved one of her daughter's favorite outfits.
Now, when she thinks of Erika, she thinks of her daughter touching her, like she always did, hugging, or leaning over the counter, breaking into laughter at a memory.
She thinks of Erika standing behind her, saying, "I love you, mama" as she played with her hair, draping layer over layer into a braid.