LENOX — The two finalists for Lenox schools superintendent each won strong support from the seven School Committee members after remote interviews Tuesday night.
Beth Choquette, a North Adams native who is an elementary school principal in Northampton, and Marc J. Gosselin Jr., an administrator and former principal in a large suburban district outside Philadelphia, described their leadership visions.
In the fourth hour of their meeting, School Committee members agreed to reconvene at 5:30 p.m. Friday for discussion and a vote on hiring a successor to interim Superintendent William Cameron.
Choquette, previously an elementary school principal in Stamford, Vt., and who recently earned a doctorate in education from Boston College, emphasized equity and inclusive practices for all students. She called for "anti-bias, anti-racist training" for educators, with an emphasis on social justice standards.
"Are we celebrating diversity all year long or only celebrating Black History Month?" she asked. "Are we talking about people of color in our curriculum all year long, or are we only talking about Martin Luther King on Martin Luther King Day?"
She asserted that "we don't pass judgment, but we do need to challenge each other on our decisions, procedures and policies. … It's part of my mission to my dying day, because all students and staff should feel safe."
"Currently, around social studies and history, we tend to teach the perspective of the victors," Choquette said. "It's really important for students to hear all sides of an argument, of a crisis, and that we teach students how to have empathy, passion and a love for education. It's a hard world out there; we need to teach about other perspectives, cultures and races so students can think critically, have difficult conversations, have tolerance and all the things we need to be a part of a community and the world."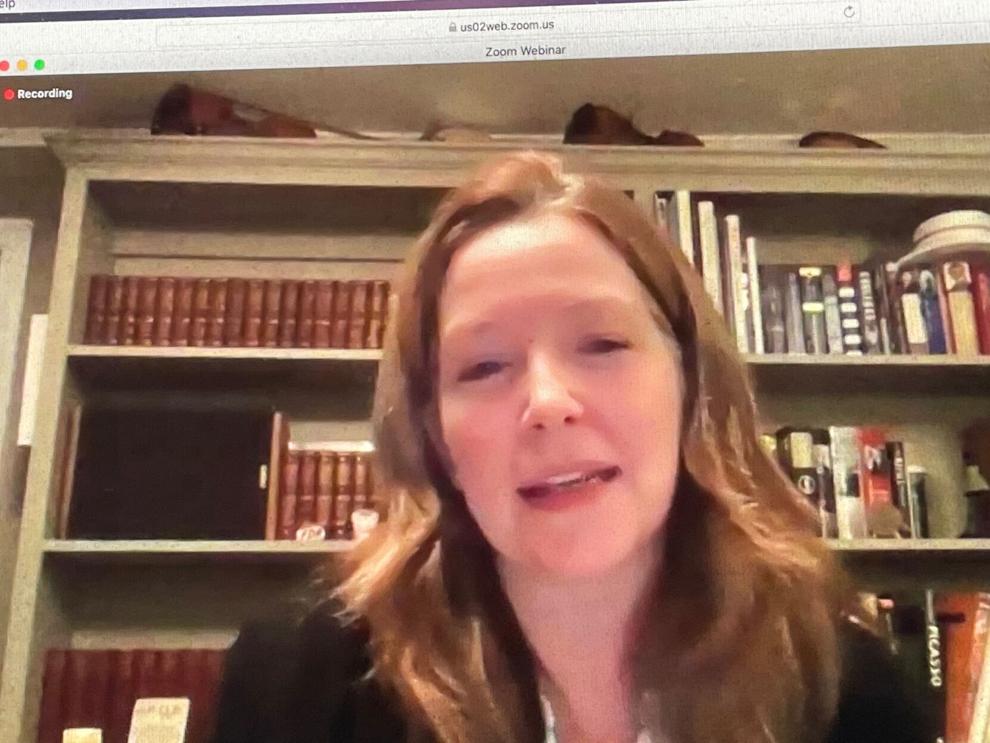 Choquette also advocated finding creative ways to connect students who might not be college-bound with the workforce, and to seek opportunities outside the traditional curriculum by "thinking outside the box." She suggested exploring course-credit opportunities and hands-on involvement in the arts, electricity, plumbing or cooking.
"What's the messaging that we're sending to our high school students, that you have to go to college and if you don't, that's really bad?" Choquette asked. Instead, they should "feel good about making a decision to go to college, or not to go."
Questioned about crisis management experiences, she described a murder-suicide by the parents of a Northampton first grader.
"This was so emotional for us, we were in a state of shock," Choquette recalled.
"I pulled together the staff right away, we had grief counseling and we were really focused on protecting the privacy of that student," she said. "As a leader, I obviously have feelings and I don't mind showing my emotions to my staff; I feel it builds trust, that I'm not just this coldhearted administrator saying, 'Deal with it.' It was so, so hard, but we came together as a school community and a school family."
Gosselin, a native of Eastern Massachusetts, has been a principal, a central office curriculum supervisor for 13 elementary schools north of Philadelphia and currently is a special education supervisor. He is completing his doctorate at the University of Pennsylvania.
He suggested that a superintendent should prioritize the emotional well-being of students "in a very visible and vocal way."
"I think more play is important in schools," he said. "Students need time to explore, socialize. We need to make sure we're not losing the child in all our efforts to chase academic outcomes. … Kindness is important, joy is important; we want these places to be fun and engaging."
To encourage faculty and staff to pursue effective equity and inclusion in all classrooms, Gosselin proposed "being sensitive, not pushing them harder than they're ready for, but hard enough so they're a little bit uncomfortable, because that's the sweet spot for growth. … It's important for a superintendent to continually affirm a commitment to this."
He also stressed "making sure we're viewing all our work through an equity lens, making sure our curriculum is culturally relevant, sustaining and affirming for all students."
In his view, "the superintendent really is the chief storyteller of the district, so, it's important to demonstrate we've enhanced communication with the school board and the community at large."
Addressing a question on how to maximize success for students who are not college-bound, Gosselin said that "tremendous retraining" is needed for trades, such as auto mechanics who now confront complex technology in today's vehicles. Strong academic preparation is needed, he added, along with apprenticeship programs and internships.
"We really need to ensure that we're preparing students so they're able to reinvent themselves many times over in an uncertain future so they can go out and try to navigate, to become creative problem solvers, collaborate and work together in teams," he said. "We're asking kids now not so much what you know, but what can you do with what you know? Being able to communicate becomes critically important."
Asked how a district can best prepare for a return to full-time, in-person learning post-COVID, Gosselin pointed out that "we need to help students re-acclimate to a classroom environment in person. But, the good thing is, kids are really resilient, they'll get their sea legs and be ready in no time."
Gosselin is among three finalists for a superintendent's position in the Dover-Sherborn School District west of Boston.
"The most important thing we do is hiring a superintendent," Lenox School Committee Chairman Robert Vaughan said. "We're hoping we'll have one for the next decade."