PITTSFIELD — To Maura Brennan, the country's "silver tsunami" is a good thing.
As a geriatrician at Baystate Medical Center in Springfield, Brennan works with the elderly on a daily basis. In Brennan's personal life, her elderly mother lived long enough to celebrate at her daughter's wedding.
"She still had an enormous amount to contribute at that time," Brennan said. "That's a success, that we have increasing numbers of people, frequently in good health, surviving to advanced ages."
The question, Brennan says, is how to care for the growing number of older Americans. While the U.S. elderly population is expected to swell by tens of millions in the next few decades, projections show that the number of geriatricians will increase only modestly, creating a massive deficit in high-quality elder care.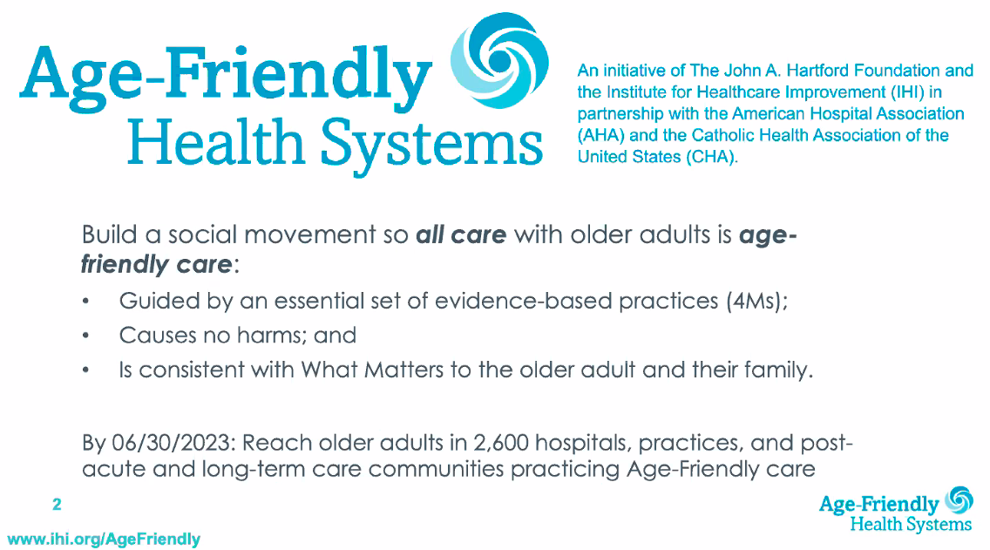 Part of the answer might be Age-Friendly Health Systems, a nationwide initiative that seeks to improve outcomes for elderly patients by giving all hospitals and health care providers, regardless of their specialty, a single framework for elder care, replete with evidence-based and empathetic practices.
Or, as Brennan puts it, to "democratize access to basic geriatrics expertise."
"[AFHS] tries to ensure that, despite limited access to experts, all older adults get basic geriatrics care and attention to their special needs," she said.
Brennan spoke Wednesday, during a Zoom presentation on "The Benefits of Age-Friendly Health Systems." The panel also featured Alice Bonner, a former Massachusetts secretary of Elder Affairs.
It was hosted by the Osher Lifelong Learning Institute at Berkshire Community College, in partnership with Berkshire SuperGenarians and Age Friendly Berkshires, as part of their series on "Changing the Culture of Aging: Healthcare."
The Age-Friendly Health Systems initiative is an effort, spearheaded by The John A. Hartford Foundation and the Institute for Healthcare Improvement, to apply evidence-based practices to older adult care across the country by spreading the "4M Framework."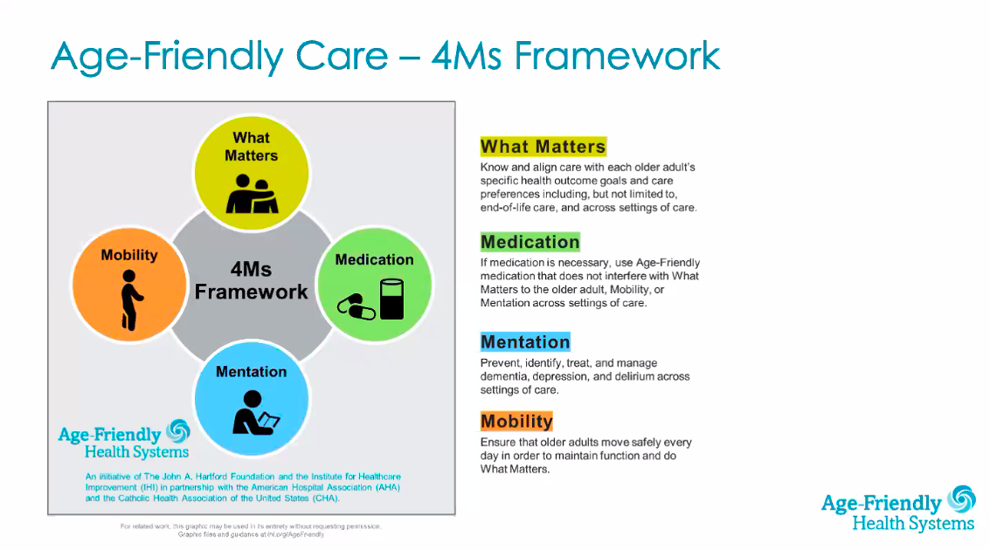 The initiative identifies four basic pillars of high-quality elder care — "What Matters, Medication, Mentation and Mobility" — and calls for all health care providers to take certain steps, including: identifying what older adults want out of their medical treatment; reducing use of medications that interfere with quality of life; managing conditions such as dementia and depression; and ensuring that patients stay mobile.
At the talk Wednesday, Bonner pointed out that there are many specific practices that have been proved to decrease hospital stays, increase mobility and help seniors live healthier lives. The idea of AFHS is to pull those interventions together into one framework that can be applied across hospitals, nursing homes, doctors' offices and more.
"There are a lot of models of care for all of us as we get older," Bonner said. "But, when you ask people who are receiving these services ... whether or not they feel like the models have proven effective, there's still about 90 percent of people, over 90 percent, who say their needs are still unmet."
That statistic signals to her that experts on aging have to figure out ways to spread age-friendly models through health systems nationwide. The next step, she adds, is to measure the success of the new models and continue to iterate.
"How can we continuously improve the models we have?" Bonner asked. "And create systems of care so people don't fall through the cracks."
More than 1,000 hospitals, outpatient practices and other care settings across the country have been working toward Age-Friendly Health System designation, Bonner said. Of those, close to 200 have set specific criteria about how to measure outcomes after implementing the 4Ms.
Berkshire Health Systems, she added, also has dipped its toe into the early stages of becoming an Age-Friendly Health System.
"They really want to do age-friendly, but like everything else, there's resource limitations," Bonner said. "So, we have to keep this as a high priority for them."
And though the Institute for Healthcare Improvement hopes to spread the system across the whole country, Bonner and Brennan stressed that the process can start small.
"If you hear 'age-friendly system' and think you have to transfer your whole system, people are going to put their heads on the desk and cry," Brennan said. "On the other hand, if you say, 'I'm going to do it in one unit… and next week I'm going to try it out with six people,' then it starts to become much more manageable."
Brennan would know. In 2019, Baystate became the first hospital nationwide to receive an Age-Friendly designation from the Institute for Healthcare Improvement.
Brennan said the hospital started implementing age-friendly practices with its two existing geriatric teams: the Acute Care for Elders inpatient unit of 34 beds and the outpatient "Geri-Pal" team. The work has expanded to include daily meetings of staff across the system, from social workers to geriatricians to pharmacists, who gather to discuss elderly patient cases and treatment plans.
Those teams, Brennan said, have been able to reduce caregiver stress, identify geriatric symptoms that might benefit from treatment — from falls to depression — and help seniors with their advance care directives, such as documenting health care proxies.
"They've made enormous strides," she said, though she added that the number of patients seen has been "relatively modest."
COVID-19 has derailed some of that work left to be done, Brennan admitted. But, the coronavirus pandemic, which has devastated older Americans, also has emphasized how crucial that work is.
"This [issue] has shifted to a back burner as people have struggled just to keep folks alive," she said. "On the other hand, it is absolutely true that the majority of hospitalized COVID-19 patients are people who need an age-friendly approach."