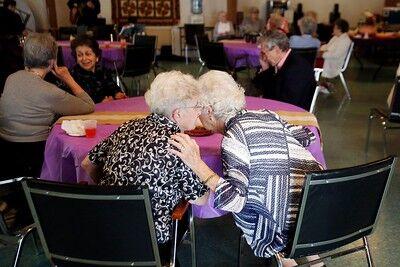 GREAT BARRINGTON — Residents on Monday asked town officials to consider a five-year pilot program that would allow an elderly homeowner to defer paying property taxes until they sell their house.
Vivian Orlowski presented some data and the benefits of the Elderly Tax Deferral Safety Net Pilot Program to the Select Board, saying it costs the town nothing but a little staff time to implement, and that other towns with the program have seen the taxes and interest paid back, on average, in around six years.
Orlowski said that as city homebuyers continue to flood the town during the coronavirus pandemic, older residents who have lost income this past year, or are retired and on fixed incomes, are struggling as taxes rise with escalating property values.
"They're now caught in a crunch," she said, adding that with the town's high percentage of free (leftover) cash in its budget, the time to strike is now, in advance of annual town meeting in June, when voters can approve the plan.
Town Manager Mark Pruhenski said that while he supports the idea, he can't make any promises, given the "aggressive timeline."
He said he would do his best to have Town Hall staff study it in time to get it on the warrant, which needs a legal review before it's finalized. Orlowski said she would help.
Rising property assessments, as well as sales prices that local median household incomes of $55,500 can't keep up with, long have been a worry in town, even pre-COVID-19.
Now, the pandemic exodus from cities into the Berkshires has reduced inventory and driven up prices and sales volume to an all-time high, according to Berkshire Board of Realtors reports.
In February, the median single-family home sales price in town hit $457,000, and home appreciation in 2020 was up 46 percent over 2019. The 2021 tax rate per $1,000 of assessed value is $15.99. That is combined with a Federal Reserve report showing that in the year of COVID-19, the richest 1 percent of households gained 35.2 percent of wealth; for the bottom 50 percent, gains were 4.1 percent.
And nearly 23 percent of town residents are 65 and older, according to 2019 census figures.
While the town has a tax exemption program for low-income seniors, and a tax "work-off" program that trades a senior's skills to benefit the town for up to $1,500 shaved off the tax bill, residents say there are a variety of predicaments.
Carol Diehl, of Housatonic, told the board that the deferral program is "critical" for those on the brink who still work.
"I totally lost income this year, and I live and work in my home," she said.
'Serious problems'
Orlowski said the program is "tried and true," existing in 24 states and more than 100 towns in Massachusetts. To learn about the program, Orlowski contacted officials in Newton, as well as Sudbury, which has run the program for more than 30 years.
It is recommended by a number of organizations, including the Massachusetts Council on Aging. A report by the Center for Retirement Research at Boston College supports the concept but notes that tax deferments that could, in theory, continue for decades might weaken municipal coffers. The report suggests that the state create a pilot revolving loan fund to study the economics, since state debt could increase if the take-up rate by elders hits around 20 percent.
State legislation filed Feb. 16 is aiming for just such an investigation: a three-year pilot to study how much money a revolving fund might need, and the rate of interest to set.
Orlowski said towns also can tinker with the details. The starting age of deferral can be adjusted; some towns have set it at age 60; others at 75. And it can be a year-by-year program for use when the need is desperate.
The first lien on the property deed legally secures the repayment. In Newton, for instance, a total of 469 deferred taxes had been repaid in about six years, on average.
Free cash is 18 percent of Great Barrington's budget, one of the largest free cash levels in the state, according to the state Department of Revenue. This puts the town in a "strong" position, Orlowski said.
Asked later if there is a downside, board Chairman Stephen Bannon said he can't see one yet, given that the take-up rate is unlikely to be high, since seniors might be wary of entering the program.
"If someone wants this, they get a lien put on their house," he said. "This is not something that someone does on a whim; they do it if they have serious problems, and we want to help our neighbors."