PITTSFIELD — The chief law enforcement officer in Berkshire County says she does not believe the removal of a reform-minded district attorney in San Francisco holds lessons for her re-election bid.
Last week, voters recalled Chesa Boudin, the California city's district attorney since 2019. The campaign to unseat him claimed crime had risen under his watch. Boudin said the drive was politically motivated. He lost by a 55.1-44.9 margin.
Berkshire District Attorney Andrea Harrington answered with one word — "No" — when asked whether she saw any worthwhile message for her re-election drive in Boudin's recall.
The Boudin campaign had tweeted thanks to Harrington for her support in his effort to withstand the recall vote.
In a written response to a question about that recall, Harrington said she believes Democrats in Massachusetts, and in Berkshire County, are "light years ahead of the nation on the issue of criminal justice reform."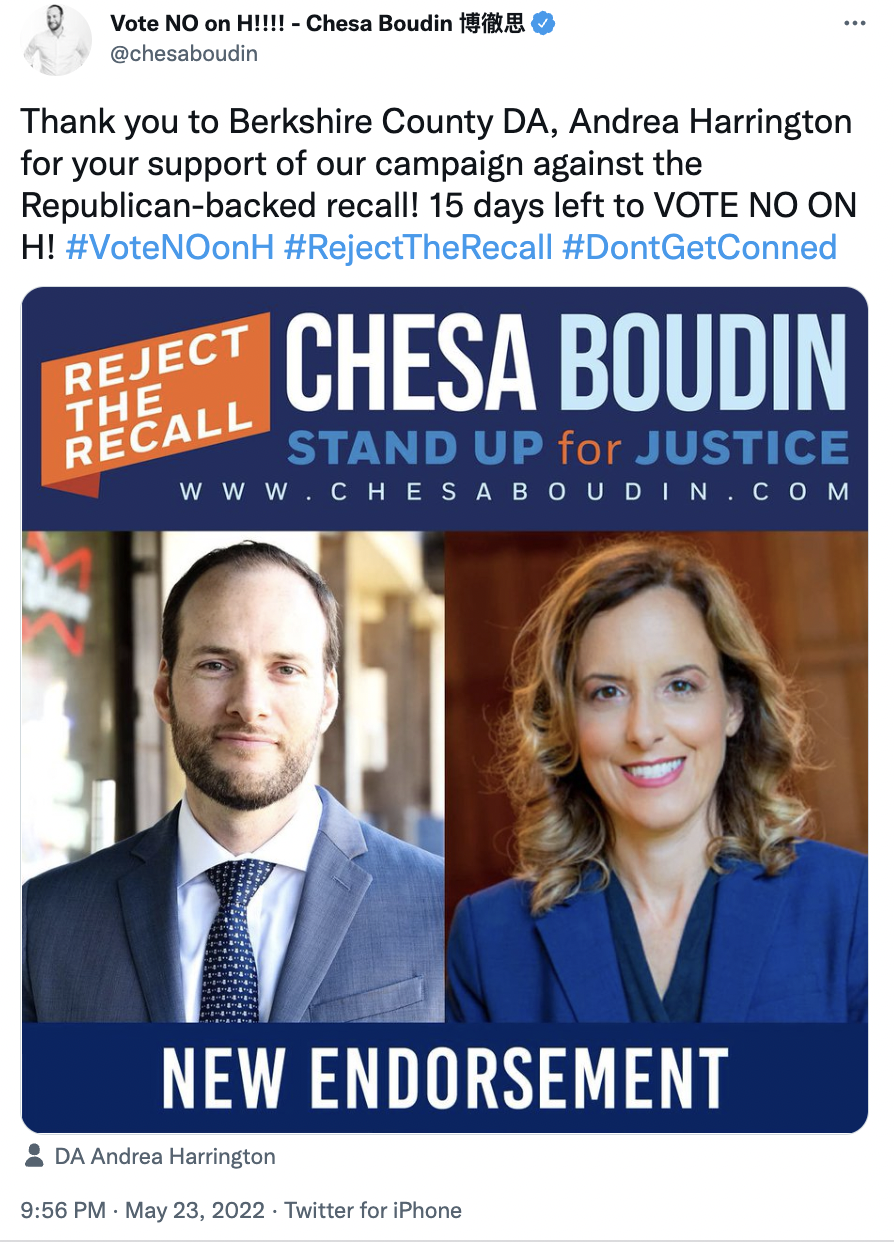 Like Boudin, Harrington took office with a pledge to reimagine the role prosecutors play by addressing racial disparities and easing the burden that the system of cash bail places on low-income people.
When she announced May 28 she will seek re-election to a second, four-year term, Harrington said her office often declines to prosecute crimes like shoplifting, the possession of drugs for "personal use" and some motor vehicle offenses.
"We have ended the criminalization and over-prosecution of minor offenses," she told listeners in Town Hall Park in Great Barrington. "We prosecute those who are dangerous, we prosecute those who deserve it, but we provide paths to treatment for those that need it, and we totally remove the criminal justice system entirely when it causes more harm than good."
In a written response to The Eagle, Harrington said she believes that Democrats will continue to back candidates who support reform.
"This progress will continue on Sept. 6 in the Democratic primary when criminal justice reformers will lead the Democratic ticket for governor," Harrington wrote. "Andrea Campbell will be our next reform attorney general, and reform prosecutors like U.S. Attorney Rachael Rollins, DA Marian Ryan, and myself will continue to move our communities and our state forwards."
In California, Boudin faced a recall in which all registered voters could cast ballots, not just members of his party.
She faces one challenger, Pittsfield attorney Timothy J. Shugrue, in a Democratic primary Sept. 6.
Shugrue said he believes the Boudin recall shows that voters care about quality of life issues in their communities and want prosecutors to fight crime.
"I think there is a big message. People are sick of it," he said in an interview Tuesday, when asked about the recall. "They want their community safe and they want to be protected. They want their neighborhood protected."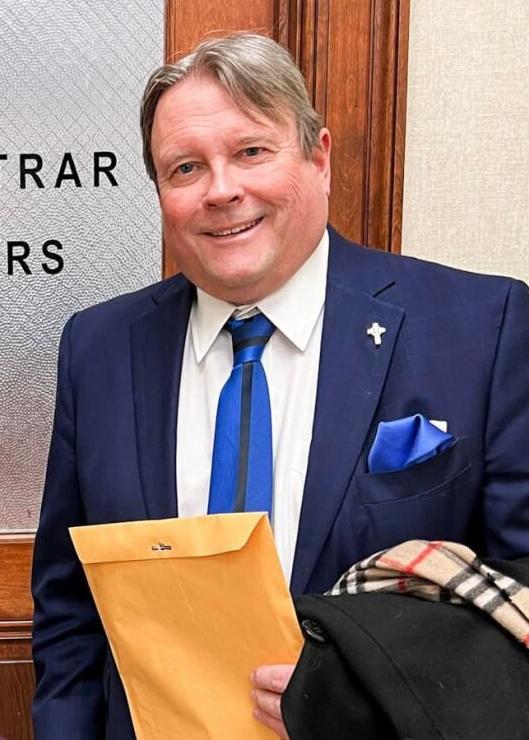 Shugrue questioned moves by reform prosecutors like Harrington to generally not prosecute drug possession cases. He advocates use of court "diversion" programs to get help for people with substance use disorder and disagrees with the move by reformers to minimize use of cash bail, which places an unequal burden on the poor. "Even as a defense attorney, I can tell you, bail can be warranted in certain cases."
"By not prosecuting … we're just kicking the can down the road," Shugrue said. "I don't feel safer now than I did four years ago. I think the message from San Francisco is loud and clear. We don't want politicians running the district attorney's office."
When offered a chance to respond, Harrington addressed the issue of safety.
"This is a safe community for many of us including my opponent," she said. "The reality is that it is not safe for the vulnerable, and I have worked day and night for the past three and a half years as the district attorney to change that."
"My opponent's fear-mongering tactics are more of the same of what we're used to seeing from the status quo leadership here. It didn't work the first time he ran and lost, and it won't work this time," Harrington said, "because voters want to talk about the issues here in Berkshire County — not debate politics in San Francisco and be fed right wing code language."
Shugrue said in response that safety is a legitimate concern given the unusually high number of shootings in Pittsfield so far this year.
"Thirteen shootings since February is not fear-mongering — it's a fact," he said. "I am not the one being involved in politicking in San Francisco. That was Andrea Harrington."
In the week since the recall, national political observers have continued to debate whether reformers should interpret the results as a change in political mood.
A story Monday in The New York Times surveyed the landscape on that question and found that in many instances, the views of progressives on criminal justice reform continue to earn public support.
"Across the country prosecutors seeking to reduce incarceration continue to win elections and re-elections," the paper reported.
Harrington came into office in 2019 after beating Paul Caccaviello, the acting district attorney, in a three-way Democratic primary in 2018 that included attorney Judith Knight.
Caccaviello, who had worked in the DA's office for nearly 30 years, mounted a write-in campaign for the general election in November, but lost.
California case
In California, backers of the Boudin recall claimed he had gone soft on crime.
"We all agree that we need real criminal justice reform and police accountability now," the group said in a statement published by BallotPedia.
"Chesa Boudin isn't delivering either priority — and since he took office, burglaries, car break-ins, homicides and overdose-related deaths are at a crisis level. Boudin is not keeping San Francisco safe," the statement said. "He refuses to adequately prosecute criminals and fails to take the drug dealing crisis seriously. He doesn't hold serial offenders accountable, getting them released from custody, and his response to victims is that 'hopefully' home burglaries will go down."
In statements before the June 7 recall vote, the Boudin campaign called the effort an attempt to "undo progress and take us backwards."
"Voters thoughtfully and carefully elected DA Boudin because they support his work to reform an unjust system that too often criminalized poverty, addiction, and mental illness; failed to hold violent police accountable; and targeted people of color," the statement said. "The old approaches didn't make us safer – they ignored root causes of crime and perpetuated mass incarceration."