PITTSFIELD — Berkshire County hit the post-Thanksgiving weekend with rising numbers of confirmed COVID-19 cases.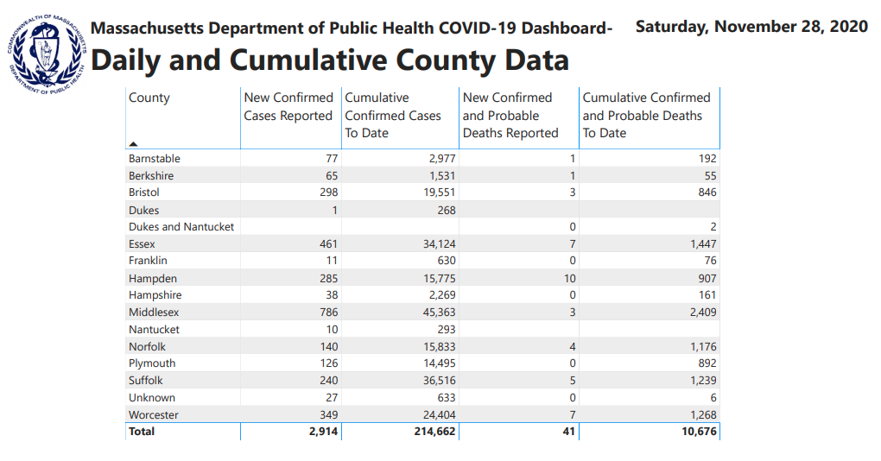 On Saturday, the state Department of Public Health reported 65 new cases of the disease, a number that continues a string of above-normal cases due to a local surge of infection.
In the past 10 days of reported data, Berkshire County has seen 380 confirmed COVID-19 cases, nearly a quarter of all infections since the pandemic hit the region in March. And the number of people killed by the disease has climbed by three to 55.
New data will be released later Sunday.
The day-by-day breakdown on new cases, in reverse chronological order, is as follows: Saturday, 65; Friday (covering two days of data), 43; Thursday, no report due to the holiday; Wednesday, 64; Tuesday, 82; Monday, 17; Nov. 22, 15; Nov. 21, 44; Nov. 20, 19; Nov. 19, 31.
As of Saturday, 1,531 residents of Berkshire County have been infected to date.
The overall state case total also continues to climb. As of Saturday, the DPH reported 2,914 new coronavirus infections in Massachusetts for a total to date of 214,662 confirmed cases. Forty additional people were listed Saturday as having died of the disease, for a new total of 10,441 people lost. The DPH said there are 42,549 active cases, of which 1,045 are hospitalized.