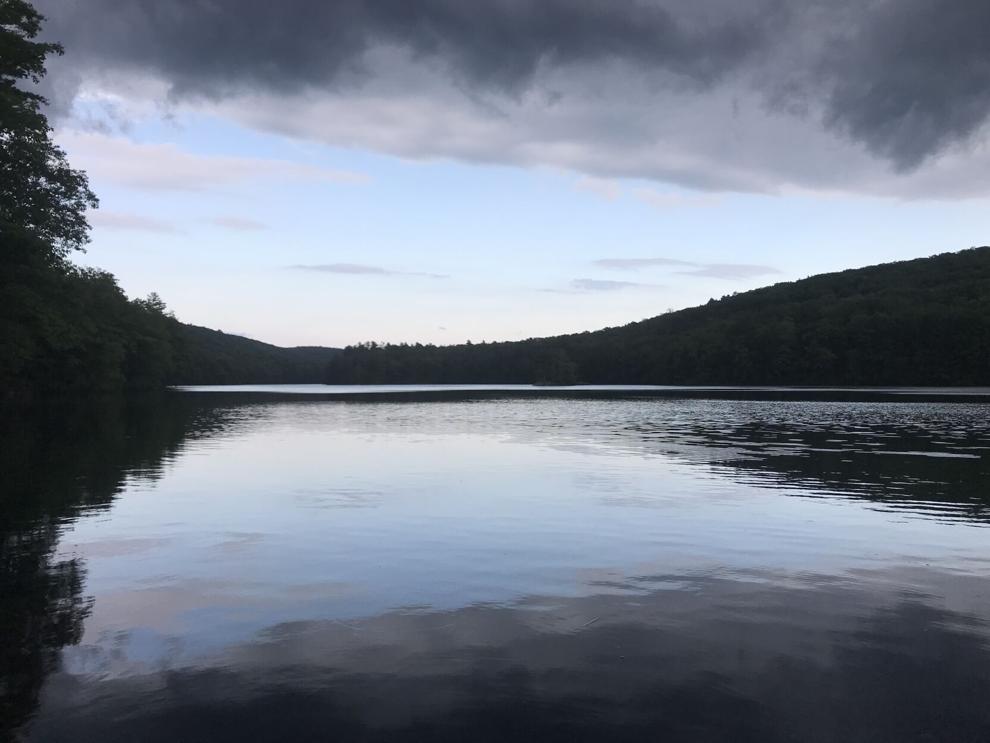 And there it was. A large two-story red house with a deck, sitting amid trees near Upper Goose Pond, one of the largest bodies of water along the Massachusetts section of the Appalachian Trail. Hikers come to swim in the cool waters of this sprawling blue pond — complete with a small island in the middle.
A day's hike done, I get in the crystal clear water, my limbs visible below.
It's the closest thing to a shower I've had in days.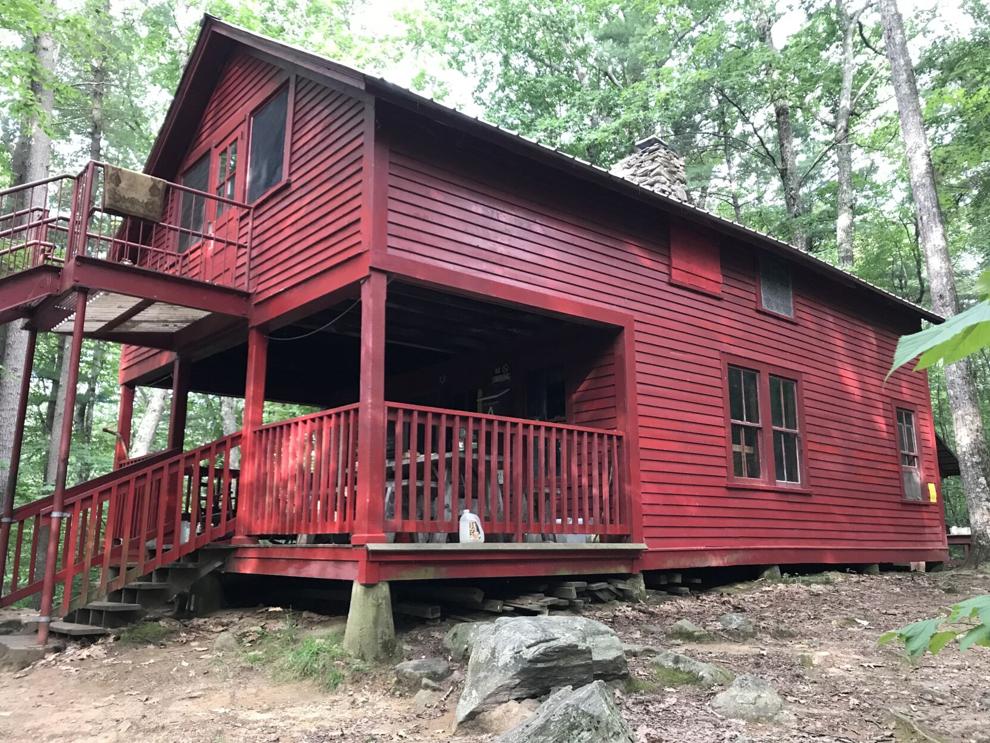 The structure, which hikers find by taking a side path, is the Upper Goose Pond Cabin owned by the National Park Service and overseen by volunteer caretakers who take turns running the house for a week or two.
I get all that from Cathy Green, who was volunteering the day I arrived late last week.
It's her eighth summer here. She lives in Manchester, Conn., and first visited the cabin with a co-worker, then decided to join in.
"You get to meet a lot of interesting people," she said. "It's a total change of pace."
It does, however, make her appreciate running water at home.
Hikers arriving in the late afternoon are greeted by Green's 11-year-old daughter, who reels out the rules in a practiced speech.
"Most of my kids have grown up here in this section," Green said. Once, a hiker showed one of her kids how to fish using a paperclip. "When else would they have that opportunity?" she asks.
Green knows the place well, too — and points to a rock where travelers can get the best cell service.
Inside the cabin, a map shows the entire Appalachian Trail, from Georgia to Maine, with a dot at the cabin. Two rocking chairs perch by a fireplace and shelf of books.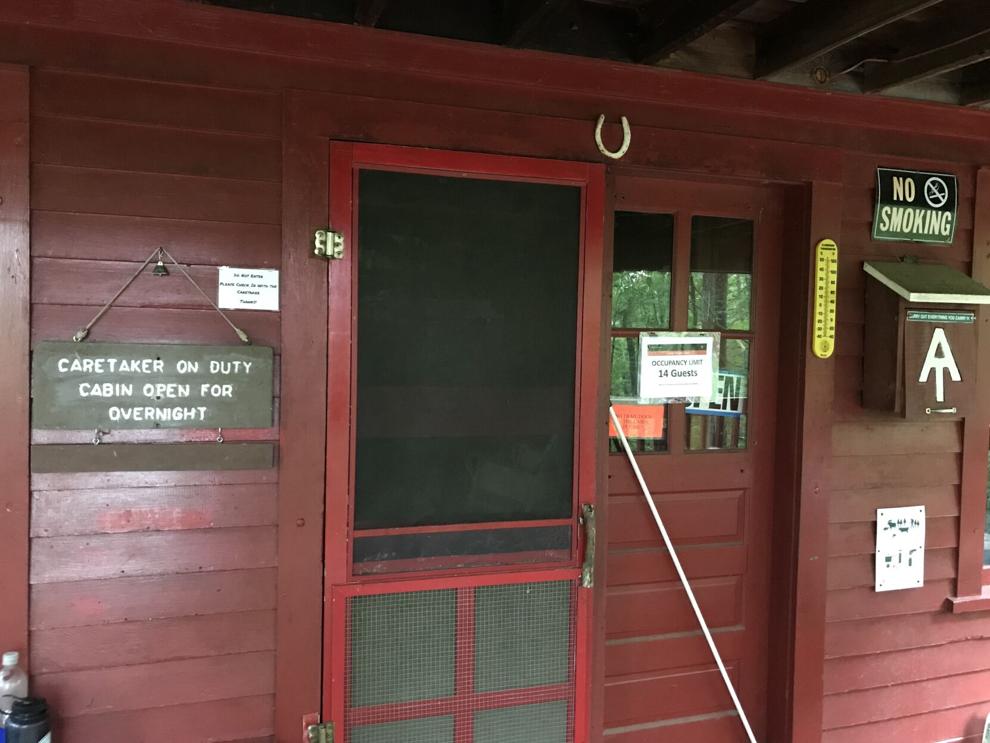 Once on duty here, Green awoke to a dozen extra people sleeping in the living room, arriving after she went to bed. The second floor has bunks; some visitors camp outside.
When hikers hear the bunks have mattresses, Green said, "sometimes that changes their mind."
Each night, Green takes a headcount for breakfast and puts out a stack of plates. Around 5:30 a.m., she starts the coffee and heats up the griddle for pancakes.
I stayed in a tent outside and overslept, missing out on the early morning pancakes. Most through-hikers go to bed and get up early, but I have not adjusted to that sleep schedule. At 7 a.m. here on the trail, most people have broken camp.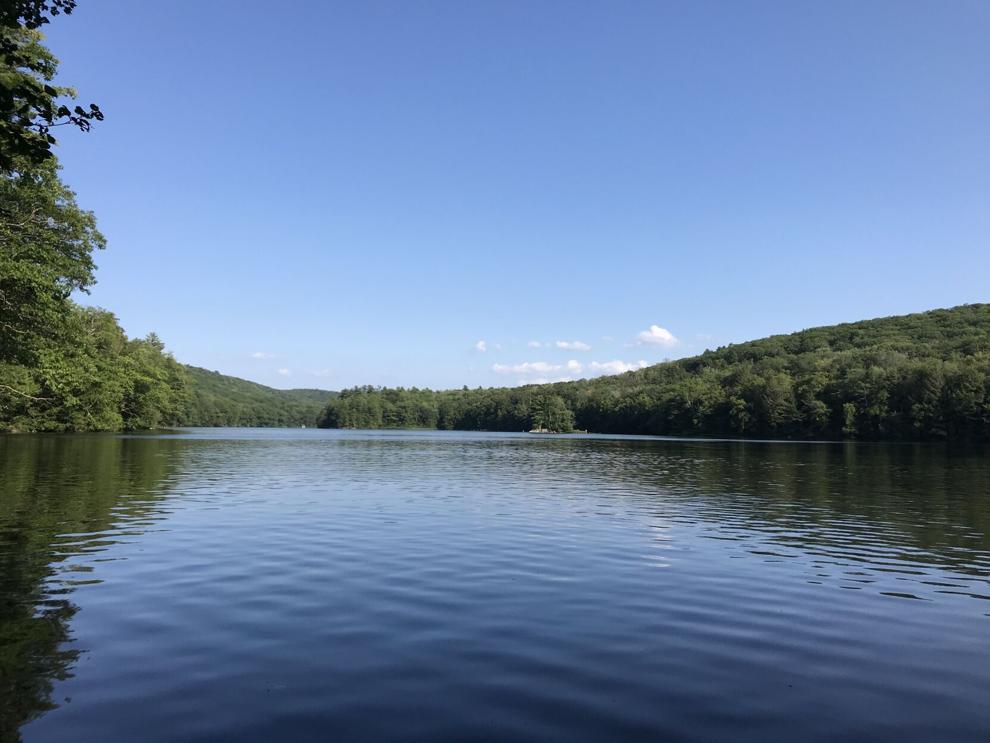 My 'near-zero' moment
By the fourth day, at Upper Goose Pond, my feet were blistered and a red rash had broken out on both my heels.
I decided it was time to take a break from walking for most of a day. That's a "Nero" short for "near-zero" in long distance hiker slang.
As in out of gas.
I walked about two miles on the trail out to the road in Lee, over and then along the Mass Pike.
I stopped roughly 44 miles into the trail, halfway to the Vermont border. After getting a real cup of coffee (sorry, instant coffee) the second stop was a store where I could get new shoes.
My boots are well worn in, but most long-distance hikers I've met don't wear heavy over-the-ankle boots. They like lighter trail running shoes, which look like sneakers but have a bottom with traction for hiking.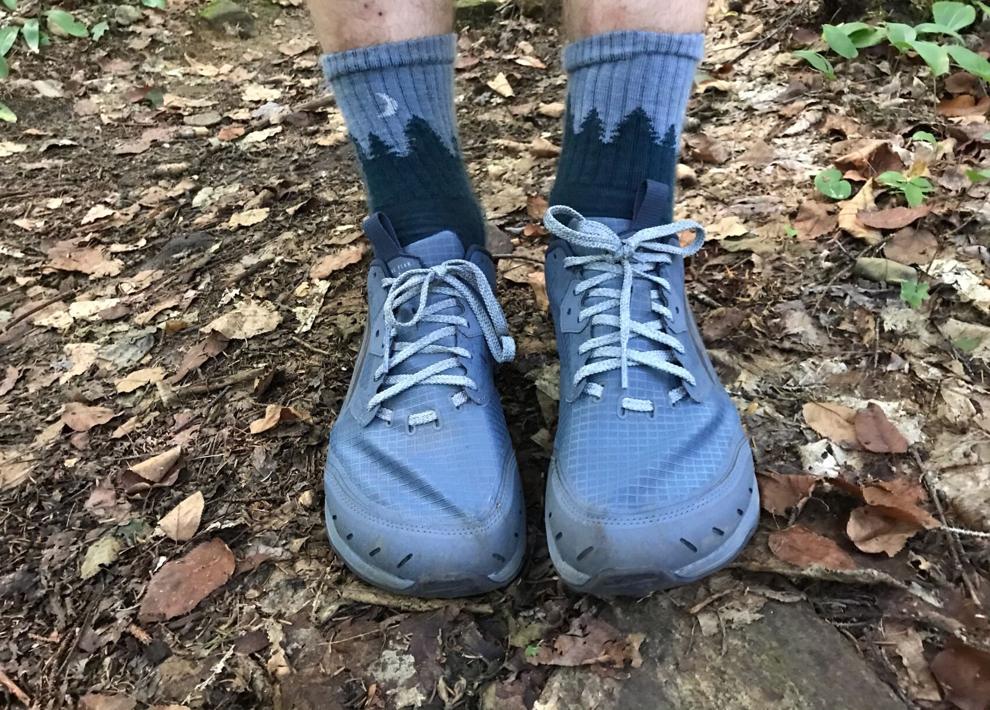 I tried on several different pairs until I found some I loved. In the next days, they helped my blister and foot issues. I'd say I'm a 2.5 on my discomfort scale (on that 1-10 scale).
I returned to the trail right where I left off.
I felt good. Turns out doing laundry, sleeping in your own bed, hugging your cat, eating a bowl of ice cream with Oreos on top, and icing your sore leg are all rejuvenating. Also, writing some stories on a laptop, instead of my phone screen in my tent, was a lot easier.
I did worry taking a day off from the trail would be weird and pull me too far out of the headspace. That wasn't the case.
An hour back into my hike, I was sweating and grimy again in 80-degree heat.
Didn't feel like I'd missed anything.
Trees in a heap
I stop at the October Mountain Shelter, a three-sided structure where hikers can camp or rest.
One hiker from the United Kingdom liked that the shelters are free.
A notebook at the October Mountain Shelter included recent notes from hikers.
"I think it would be safe to say I killed a score of flies in Massachusetts," one said.
"Koozy 3 Waldo staying here tonight. Cookie lady in the morning!!" said another, a reference to the famous blueberry farm in Washington that's legion for its hospitality.
I'll share that story next time.
Down the trail, I come upon a strange clearing in the woods, with many trees cut down.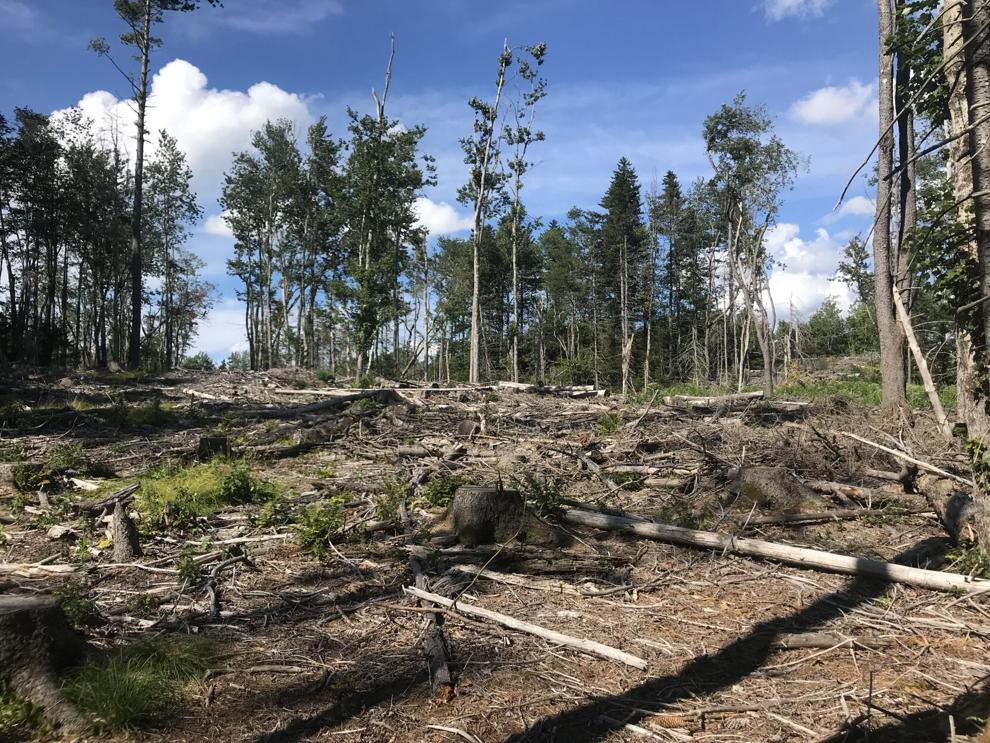 The cutting, I learn from a sign posted by the state Department of Conservation and Recreation, involves non-native spruce planted in the 1930s that grew into a dense forest that became "stressed, overcrowded and unhealthy." The project is harvesting the spruce, about 1,700 trees in all.
The call of the traffic
I'd just come through the town of Washington.
From there, the trail then goes up Warner Hill and past what look like wild raspberries and blackberries.
The trail is beautiful, but there are reminders you're not far removed from the normal, non-natural world.
Before getting to Dalton, the trail passes through a field and under power lines. I hear traffic.
Nearing Dalton, hikers get it all. Forest. Train tracks. Then sidewalk.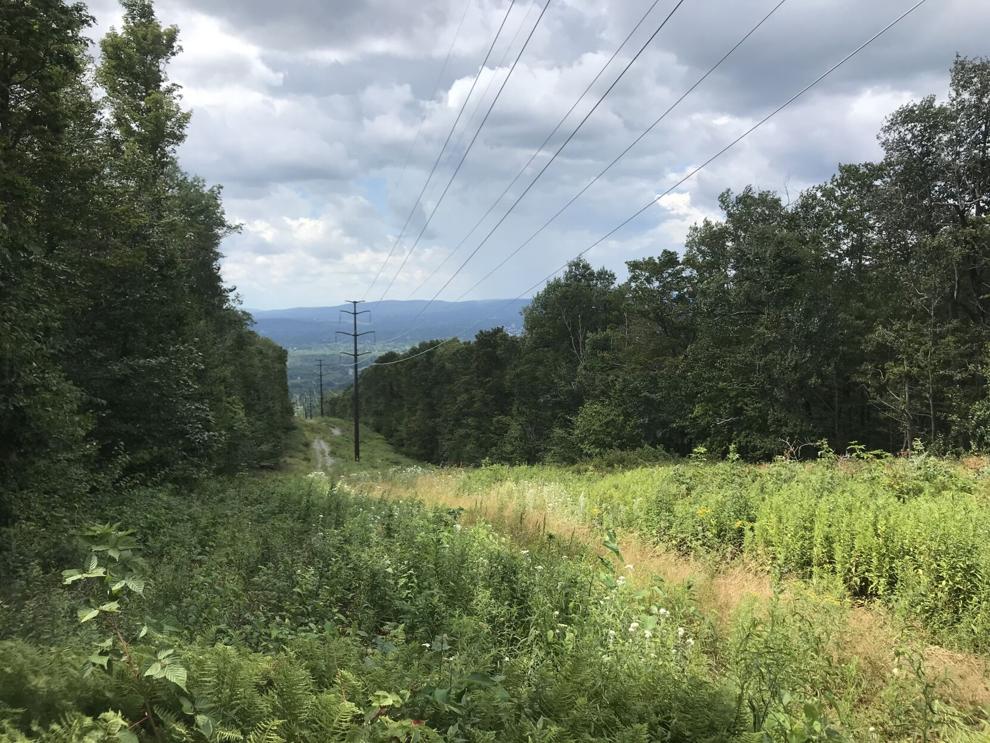 Poles along town streets wear the AT's characteristic blazes, or marks, to point hikers in the right direction down High Street.
I pass someone washing a car in their driveway. It feels weird to be walking down a sidewalk.
It starts to drizzle and moments later I reach Tom Levardi's house. I didn't have his address, but it was obvious when I arrived: hiking poles stand staked into the ground, including broken ones in case people need replacement parts.
A hiker was stretching in the yard. For 43 years, Levardi's been letting hikers stay over.
"I've been doing it so long I don't even think about it," Levardi tells me at a picnic table filled with water and snacks for hikers.
So, why?
In 1979, he met a hiker in town who didn't have money for a motel. "You could just put your tent in my backyard," Levardi recalls saying.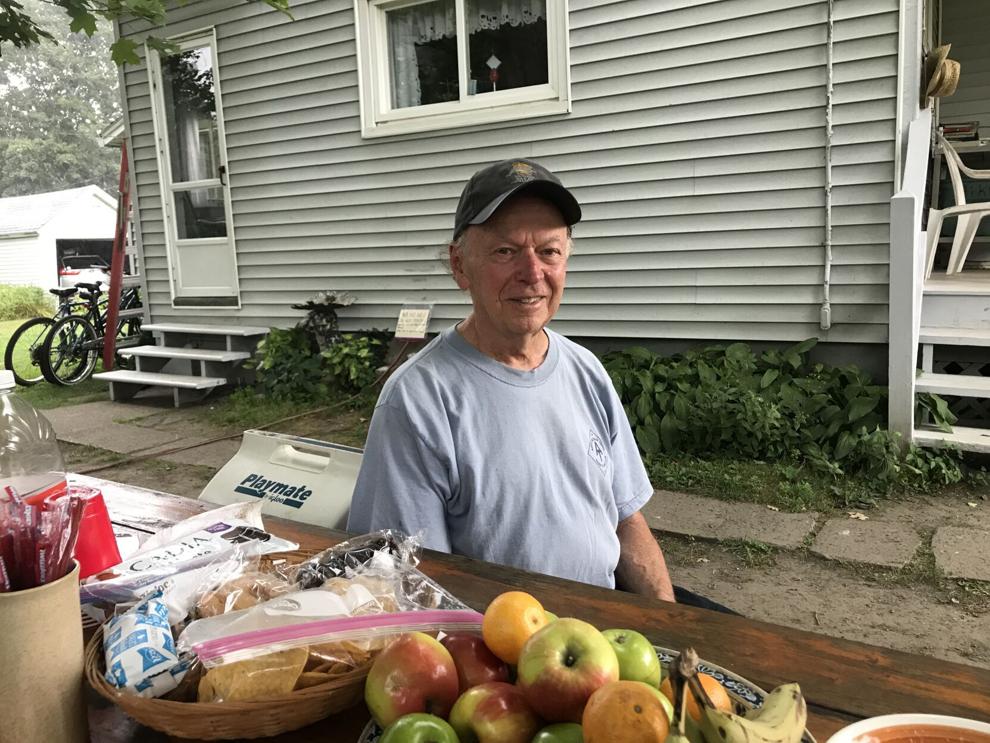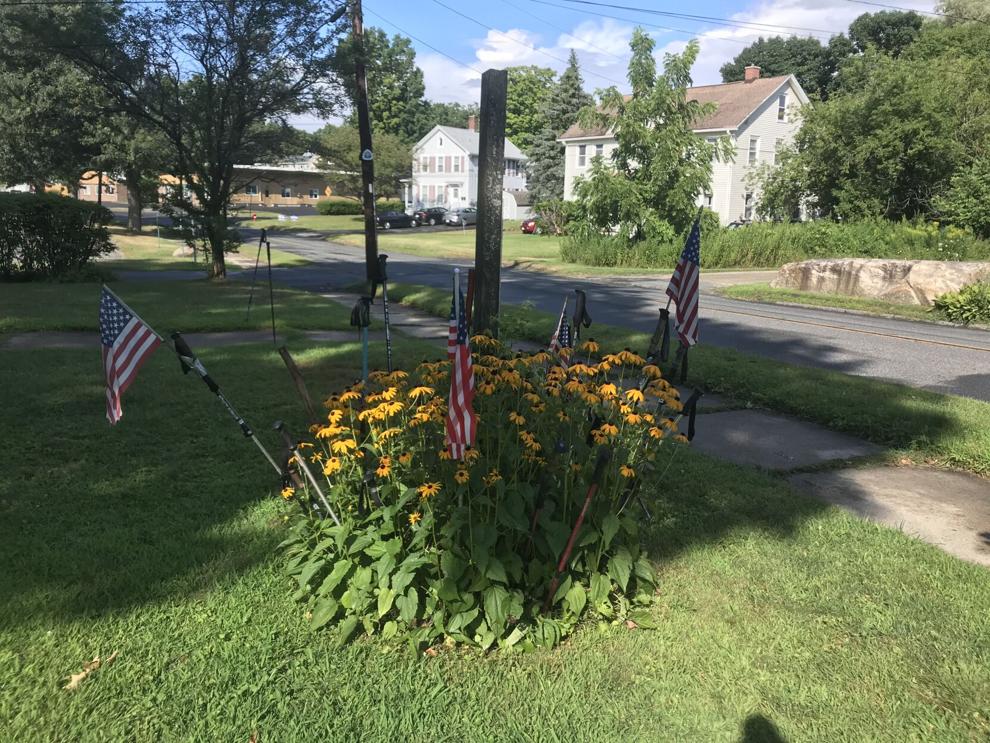 Not long after that, Levardi came home to three hikers waiting for him on his porch. They'd heard about his hospitality.
Forty-three years later, he's still doing it and hosts hundreds a year. "It never really gets boring," he said. One recent evening, the tally was 33 tents.
His phone number is posted on an app hikers use for trail information. While talking with me, his phone rings. It's hikers, off the trail and shopping at Walmart in Pittsfield. "Yes, you're welcome to tent in the back," I hear him saying.
Some walk to Angelina's Sub Shop, or to a nearby ice cream parlor (sadly closed on the day I come through).
At Cumberland Farms, I see hikers browsing shelves. The station has a bathroom, a rare commodity.
My large pack and grimy appearance attract some looks. I devour a bag of Ruffles on a park bench. Not long after, I break into my second bag of chips from Cumberland Farms, stealing from the next day's snack.
As the sun went down, hikers camping in Levardi's yard fill me in on trail slang.
In the morning, I double back to Cumberland Farms, which is open early with coffee, snacks, bathrooms and a trash can — helpful for tossing away my exploded jam.
It was a popular spot Monday morning. From there, the trail goes through a neighborhood on High Street and back into the woods near boulders on the northwest side of town.
About seven miles on, I reach the Cheshire cobble, overlooking the Cheshire Reservoir. It's quiet and breezy at the top.
The trail takes me through a neighborhood in Cheshire. Walking down Furnace Hill Road, in the midday heat, it seemed every house had a pool.
"Teasing us," one hiker said.