LEE — At one moment, they were singing along to "The Sound of Music" tracks in the gym at St. Mary's School while they packed high-nutrient food to feed 40,000 Berkshire County residents.
The music added some joy for those gathered as they did their part to address a deepening hunger crisis in the Berkshires, the U.S. and around the world as COVID-19 lockdowns keep making the poor poorer.
"People who were skating on very thin ice fell through," said Maureen Goldberg, a Lenox resident, who was organizing small flavor packs containing 21 vitamins and minerals for an oatmeal mix. "So it's a pleasure to be here to do a small part."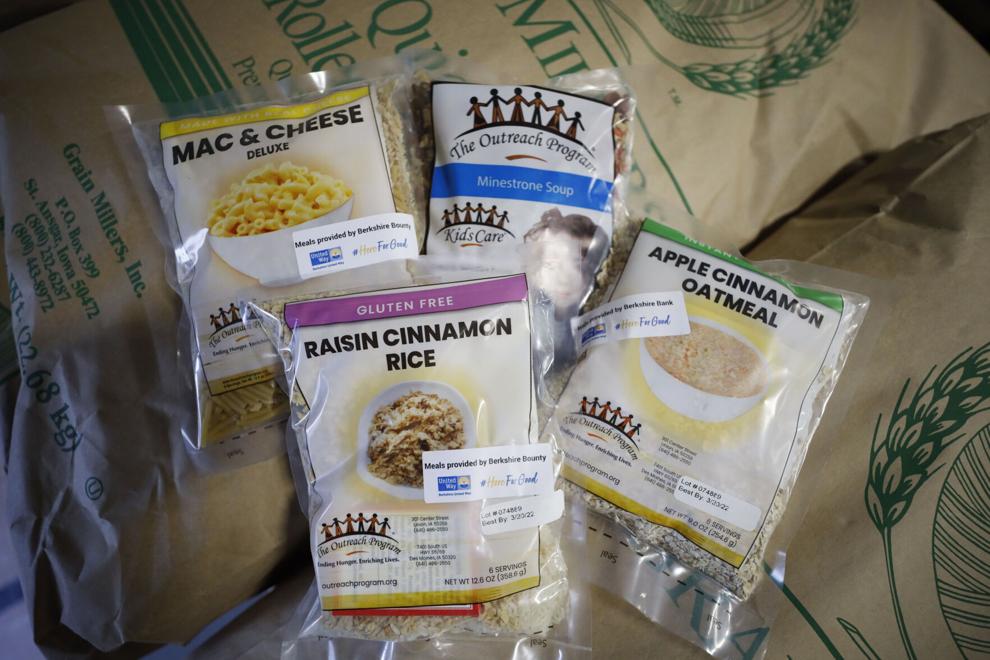 Goldberg is one of 30 rotating volunteers per hour on day-long assembly lines to pack food kits. They'll go into boxes with other items for delivery to food pantries, seniors and the homebound across the county, said Brenda Petell, director of volunteer engagement for Berkshire United Way.
The nonprofit is partnering with other groups, including Berkshire Bounty and The Outreach Program, whose Regional Manager Matthew Martin trucked the food and packing materials from a Pembroke warehouse.
Martin, a former Lutheran pastor who is bursting with desire to end hunger, keeps the volunteers working and replenishes their supplies. He stops to announce why they are doing this, and how bad things are.
"We were at a 20-year low for food insecurity [nationwide] before the pandemic," he said, noting that the group, which began by feeding people in Africa, discovered 10 years ago that American children were also going hungry in large numbers.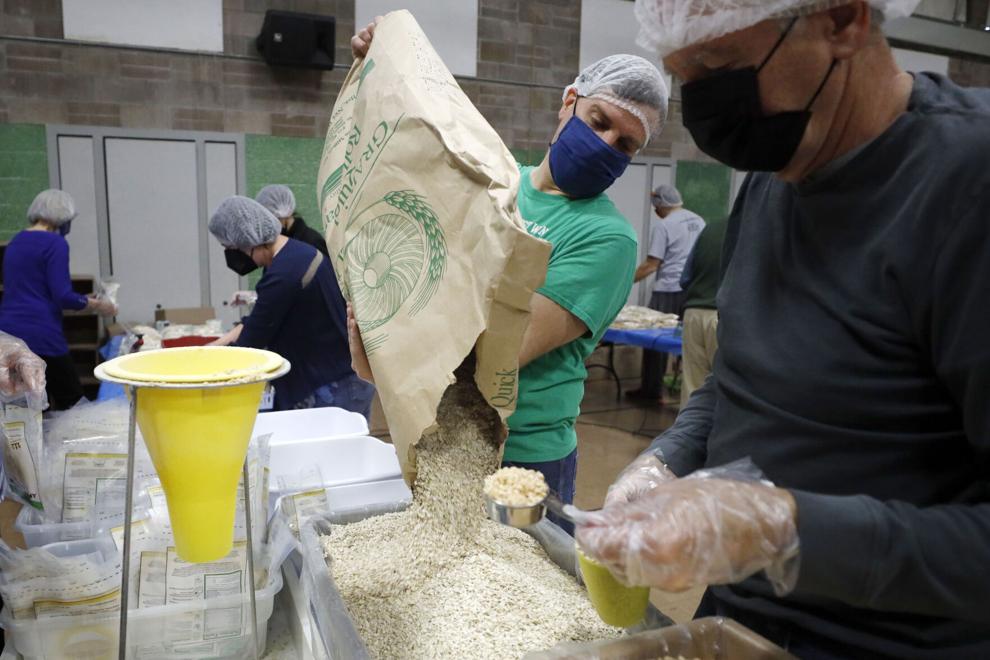 At that point, The Outreach Program, which has fed 600 million worldwide, decided to shift its focus to distributing meals in the U.S.
"We're going to make it a domestic meal by adding some beans to it ... a rice and beans instead of just a simple rice meal that was really popular overseas ... and we're going to make it five times as nutritious as Kraft, it's going to be half as expensive to produce [because] the volunteers do the labor and we're going to give it away for free as long as somebody can fund the product."
Hunger rising
The group has fed 35 million people in New England in the last 10 years. It was founded by a couple who, upon retirement, decided they'd fight hunger rather than sail the world, Martin said.
In the Berkshires, he says hunger rose by 153 percent during the pandemic, above the national average of 146 percent; New England overall saw a 150 percent rise. In New Hampshire, he noted, it's 201 percent. His source of statistics is Feeding America, which collects data from every county in the U.S, and is funded by the Howard G. Buffett Foundation and Archer-Daniels-Midland.
"There's just unlimited demand," Martin said. "A lot more hunger than we've ever had in the history of the U.S."
Feeding America estimates that in 2018 the rate of food insecurity in the Berkshires at 10 percent, and the number residents who suffer at 12,660.
The average cost of a meal in the Berkshires is $3.68; nationwide it is $3.09.
"I just think that you have to give back," said Joan Angelo, of Lee, who is packing the pasta meal. "We've been blessed; we're not food insecure and we need to be sensitive."
Claudia Coplan, of Pittsfield, is working with Angelo on the pasta. She said she learned of this from her involvement with 18 Degrees Family Services of Western Massachusetts, and that she came here because the level of hunger right now is "terrifying."
Those who came today range from teenagers to retirees to Balaji Thattai, an engineer at SABIC. Thattai got three friends from Albany to join him.
Petell, the organizer, said the good news is that countywide efforts have stepped up — some are stealth out of sensitivity.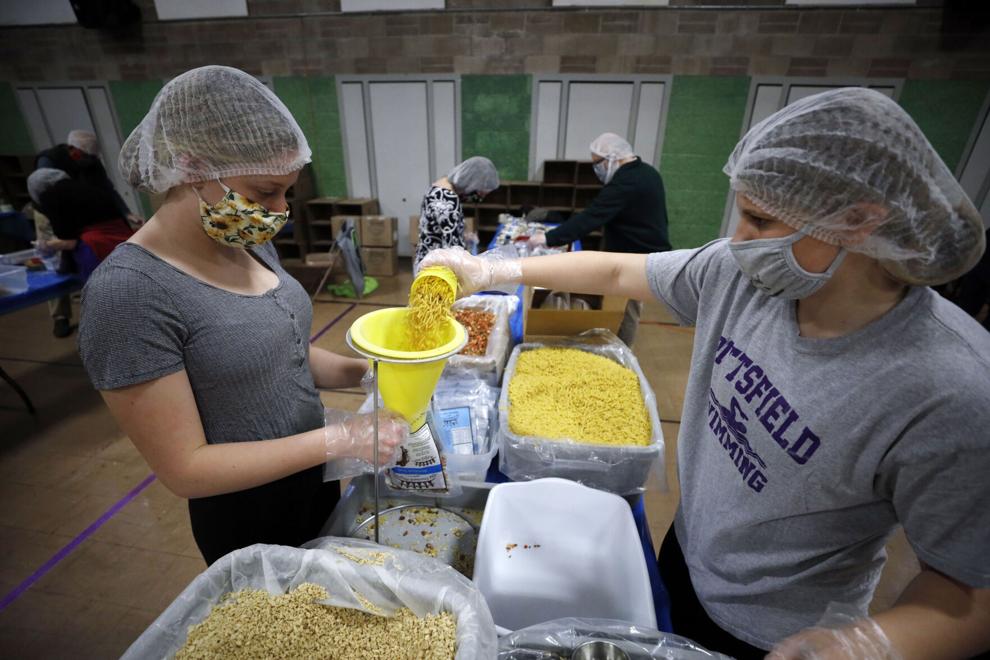 She packed food with a group of boy scouts at the Outreach warehouse and drove the truck back for the Backpack Program. The program, which feeds 125 children weekly in the Central Berkshire Regional School District, has grown during the pandemic, she said.
"It's a very silent program on Friday afternoons; the kids, before they leave, they walk by the nurse's office, and [staff] drop a bag of food in their backpack," she said. "Honestly, it was run very silently until the pandemic."