The rain is steady as people rush, masked, into Aberdale's market on Depot Street in the heart of Housatonic village. Fog hugs a brick-hued mountain above.
Tom Soules parks his pickup out front, then pauses on his way in, when asked to share how he is feeling about next week's presidential election. Working in the woods, he says, has helped him find peace amid the rancor. He is a landscaper.
But, not find answers.
"I honestly don't know who I'm voting for yet," he said, days before the most contentious presidential election in recent memory.
In North Adams, inside Walmart off Route 8, scores take shelter from the same day's deluge. When asked for their views on the election, backers of President Donald Trump and former Vice President Joe Biden, the Democratic candidate, oscillate between weariness and enthusiasm.
Those who paused to talk under the store's bright lights, as they browsed coffee beans and office supplies, were eager to see an end to the election season, but fearful of what could happen on the other side of Tuesday.
They expressed concerns about the U.S. postal system and fears about how Trump might respond to a loss, given his repeated refusal to say whether he would accept the results of the election.
And all that against the backdrop of a pandemic that has served to divide and isolate people and pummel many voters' livelihoods. In Housatonic and North Adams, people spoke of waking up to a political urgency, of feeling that the country is at a precipice and that the political system is not serving its citizenry.
A new citizen
For Mabel Caceres, an immigrant from Chile, these kinds of anxieties gripped her as she handed in her very first ballot, in North Adams on Wednesday, for Biden.
"I put it in an envelope, and they put it in a box right there in City Hall, and I thought, 'You're not going to put it through the machine?' " she said. "I felt nervous at that moment. It's an official place and everything, but I wanted to make sure."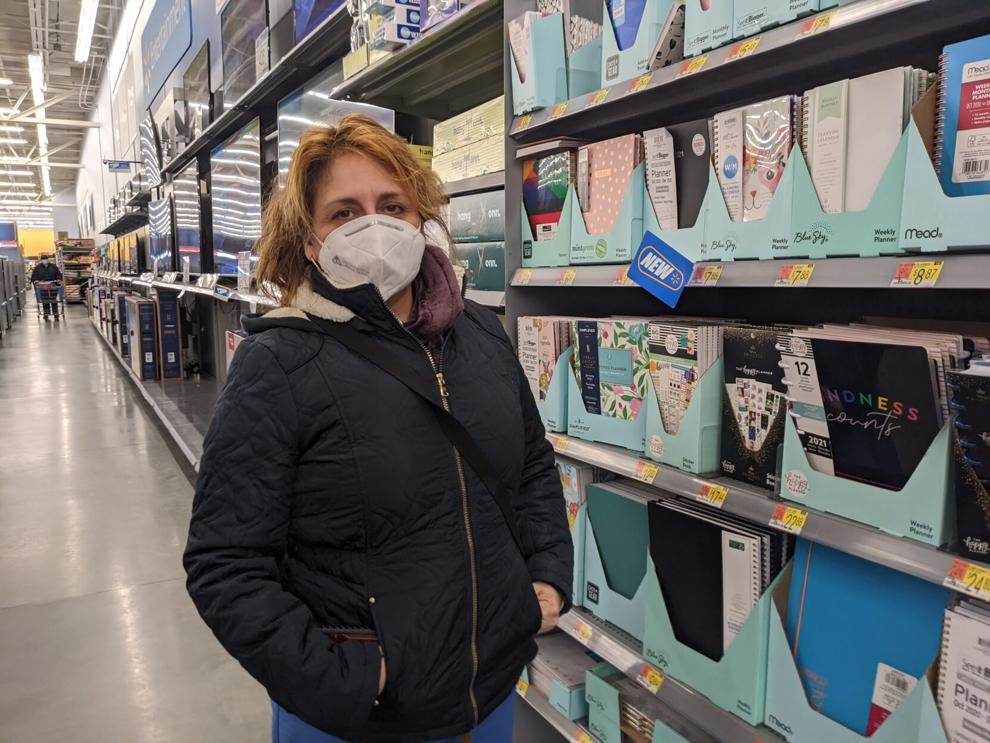 Until a few years ago, Caceres, a 50-year-old single mother, had lived in the U.S. as a permanent resident for three decades, with little concern for politics.
"I never had problems with any of the other presidents," she said. "I like the way they spoke with people, how they connected with everybody."
It was Trump's election in 2016 that spurred her to get her citizenship that following January. As an immigrant and mother of a son with special needs, Caceres found the president's language infuriating.
"I wanted to become a citizen when [Trump] started talking stupidity about immigrants," she said. "When this man started talking and calling people names."
Caceres works as a personal care assistant. She fears that an "Obamacare" repeal would leave her without health care. After this year, she has no intention of returning to her previous apathy for politics.
"I think this woke something up in me," she said.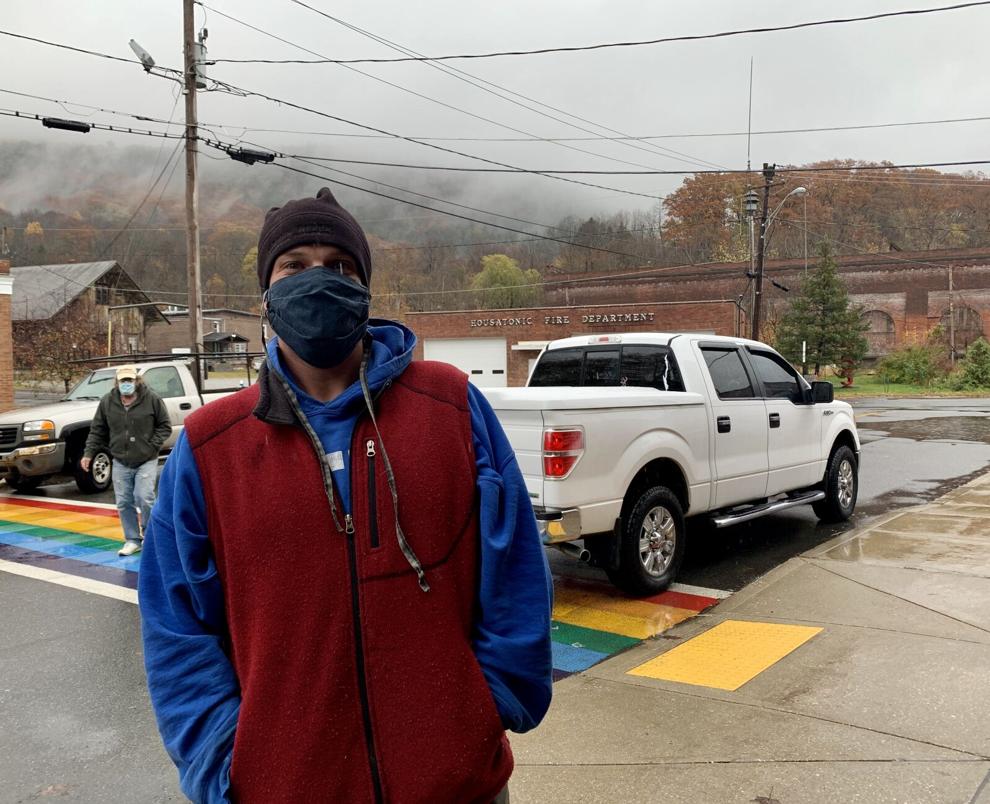 Until this year, Chip Poirot also had not voted in an election. The 57-year-old retiree lives in the town of Florida, east of North Adams, where he hunts deer and stays "off the grid."
But, as he studied the crossbow offerings at Walmart, he said he is considering casting his first vote — for Trump.
"I've never voted; I just do my own thing," he said. "But, I just feel Biden just doesn't have a clue."
Poirot grew up in Florida and has lived in the Berkshire County town most of his life. He has worked as a mechanic and a builder, doing maintenance, fixing up houses, even removing asbestos — what he calls "bad work; good pay."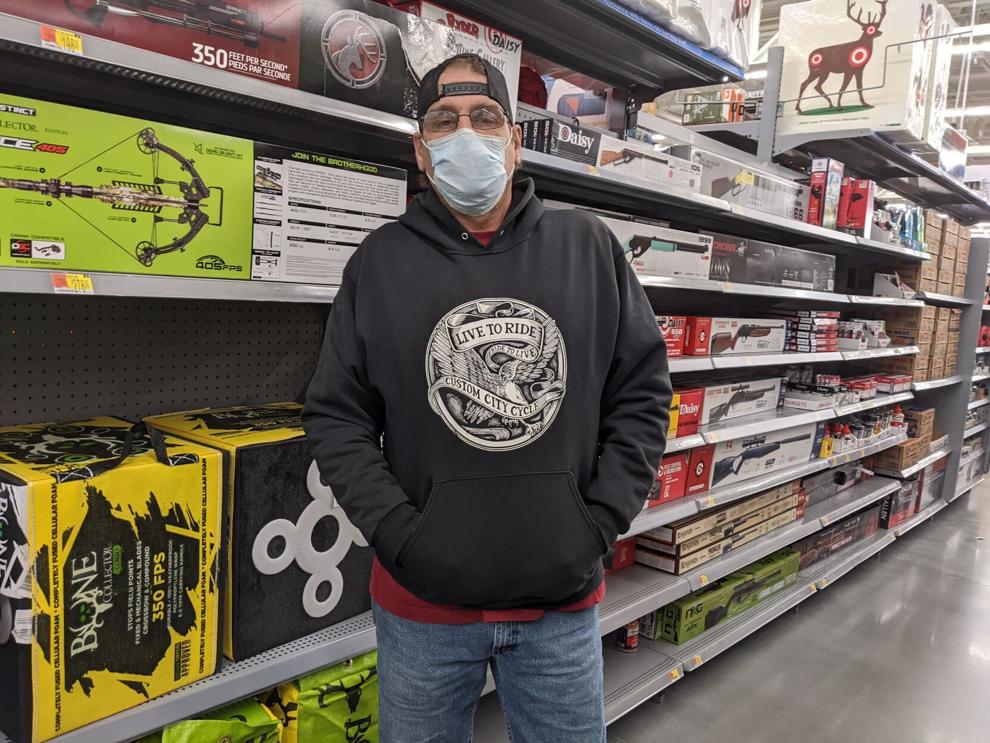 He described some of Trump's language as "ignorant" and "uncalled for." But, he likes that the president says "what everybody is thinking," and he supports the president's opposition to transitioning the country to a greener economy. As a retiree, he also worries about the economy when it comes to his own finances: "I'm on a fixed income. It's tough."
This election caught Poirot's attention. He follows the news avidly on TV. The thought of holding a presidential election during the coronavirus pandemic worries him.
"The newness of early voting and all that, it's creating an excitement," he said. "But, the outcome it's gonna create might not be the outcome that the country needs."
'At a precipice'
Jennifer James, 49, is fired up by this year's election. But, she also worries about the next few months.
"I have a feeling we're at a precipice," she said.
James moved to North Adams last year and works as a clinician. She is a native of Boston. She says she is eager to vote for the Democratic ticket this year, even though she is lukewarm about Biden himself.
The coronavirus pandemic is one reason for her urgency. At work, James said, she interacts with people from all walks of life affected by the pandemic — disruptions to their jobs, their finances and their education. And she is upset by the way the president has handled the crisis.
"This guy's politicizing a public health issue," she said.
James voted by mail but said she ordered her ballot early, submitted it immediately and followed up online to make sure it had been accepted.
"Given what's going on with the Postal Service, I was a little concerned," she said. "That's why I made the point of making sure it had arrived."
Fearing that the president preemptively could claim victory before mail-in votes are counted, she is taking Wednesday off work and might protest.
"I feel worried because I know they'll use any dirty trick they can," she said of the GOP, pointing to the confirmation of Supreme Court Justice Amy Coney Barrett just days before the election as an example of that party's maneuvering.
But, she also is thinking beyond November — to the future of her own party.
"I think it's really crucial for the Democratic Party to buck up and send out some new, more progressive blood," she said. "We're a multicultural society, and we're trying to weave together a way to live with lots of different kinds of people."
A first vote
Of all the voters in Walmart's aisles taking shelter from the downpour, 20-year-old Ryan Powers might have thought least about the election, by his own admission.
"I'm a positive person," he said. "When the campaigning and stuff starts happening, I try to stay away from the media … to stay levelheaded and focused on what I'm doing."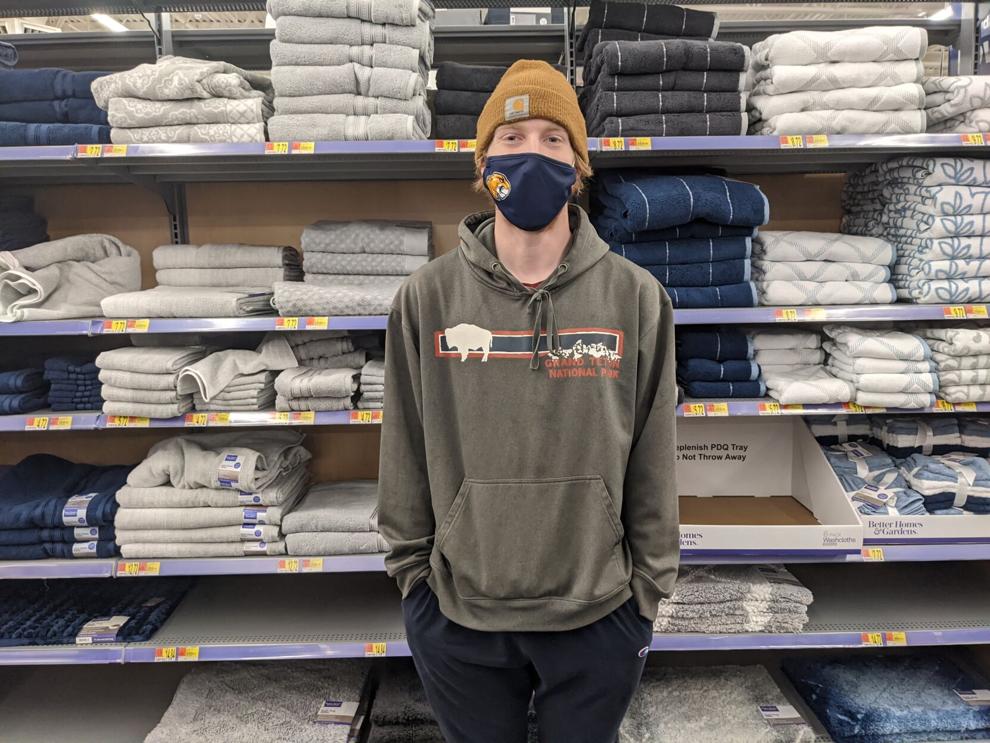 But, Powers, a junior at the Massachusetts College of Liberal Arts, said he wants to balance his aversion to political news with a desire to contribute to the society around him. He planned to head Friday to his family's home near Manchester, Vt., where intends to vote for Biden.
Powers wants the election to be decided, in part because talking about it can create conflicts with friends and family. "Since turning 18, everybody's always on your back, 'Who are you going to vote for?' and 'How do you feel?' "
But, he gets it.
"Everybody who is eligible to vote has a voice," he said. "And they should be able to use it."
Talk of Depot Street
Soules, the landscaper, says he never has trusted career politicians.
"I've said for a long time that we've needed a businessman in office," he said. Along with laboring outdoors, Soules, who is 42, works as a personal care aide. He is on furlough from radio station WSBS as an on-air DJ. The pandemic cost him that job.
"Politicians always tell you what you want to hear. Who is the most real? And who could you sit down and have a normal conversation with who might understand?"
He wishes there was a way to have someone from each party governing, together, at the presidential level.
"I'm always for what's not just good for me and my family, but for my neighbor," he said. "And I live in a tightknit community."
Like others outside Aberdale's, Colin Lenox is troubled by a hardening of ideological positions.
"I think everything is wild," he said. "I don't like it when people get locked into their person, then shut down debate."
Lenox is 24. He lives in Housatonic and bartends at Gedney Farm in New Marlborough. Lenox said he laments all the division.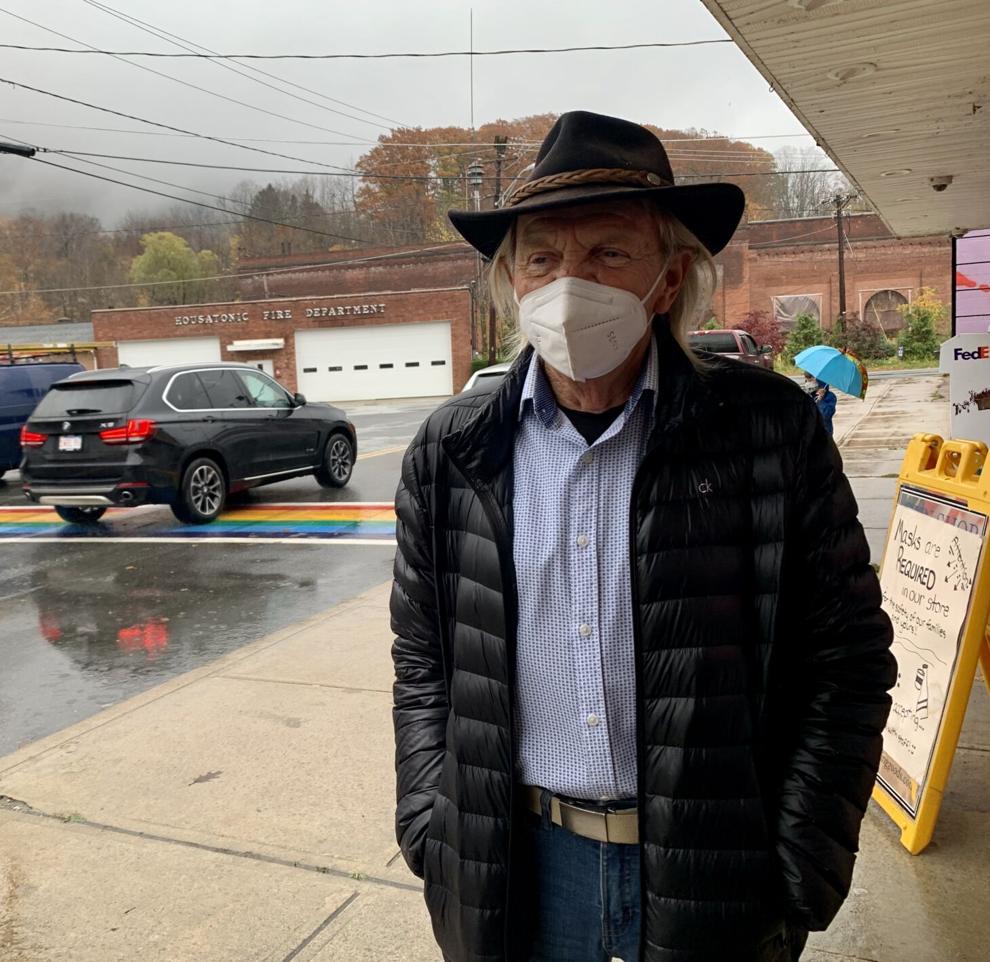 George Laye, of Washington, says he finds solace in his own community's nature.
"The Berkshires is almost the way the world should be, in the spirit and atmosphere of people on both sides," said Laye, 78, director of The Guthrie Center just down the road. "My neighbor is the opposite, politically, from me, and he can put his flag up if he wants, and I can put my flag up."
But, he still worries that democracy is at risk due to the current administration. He trusts the media, but knows exaggeration when he sees it. And he fears extremist violence next week, no matter which way the votes go.
Some who paused to speak at this South County crossroads are trying to rise above the fray and to think clearly.
"I'm taking the spiritual side of this, and no matter what happens, we're going to be OK," said Kate Knapp, 69.
Knapp calls herself "a hypersensitive artist" who carefully culls her news sources. She trusts The New Yorker, for one. Her father worked there for 40 years, a magazine famous for its "fact-checking room."
"So much of the information we're getting right now is being given to us by the media, and it's hard to track the facts," said Knapp, who lives in Alford and maintains a studio in Housatonic. "I just refuse to watch television because I just think that's a commercial source of chaos."
Knapp bemoans what she calls the nation's "rift." She gives money to the causes and people she stands behind. And she continues to believe in one force of life.
"I have faith that the truth will come out eventually, whatever it is, and that the good will be here for those who want to live with the goodness in their lives," she said. "I don't think that any president can decide that."