WILLIAMSTOWN — Ben Grannis wants to save people from distracted drivers. So, he is going to raise money for the nonprofit TextLess Live More — it's dedicated to raising awareness about the problem — in a very adventurous fundraising campaign.
Like his father did in 1977, Grannis is going to ride his bicycle across the country — from the New England coast to Seattle, then south to San Diego, then east to Jacksonville, Fla., for a total of about 10,000 miles, with a break after San Diego for the holidays with family.
"It's a pretty big bike ride — life away from screens and distractions," he said.
Grannis, 26, hasn't finalized the route yet, but he expects to ride through New York, Ohio, Kentucky, Missouri, Kansas, Colorado, Montana, Wyoming, Washington and California, among others.
Grannis works as a logistics coordinator for Overland Summers in Williamstown. Through his co-workers, he became acquainted with the TextLess Live More organization, started after some of the organizers lost an 18-year-old friend to a distracted driver in 2013.
The avid cyclist said he never has been a victim of distracted driving, but noted that even when not distracted, some drivers can be reckless around bikes.
"It's very scary sometimes," he said. "Cars are passing by within inches. I have a rearview mirror on my helmet, and that offers some level of comfort because I can see what is coming up behind, but even with that, it can be nerve-racking."
According to figures published by the National Safety Council, 25 percent of all car collisions involve the use of cellphones. Texting while driving makes a car crash up to 23 times more likely, the Federal Communications Commission says. Each day in the U.S., more than eight people are killed and 1,161 injured in crashes reported to involve a distracted driver, according to the Centers for Disease Control and Prevention.
And AAA notes that mental distraction can last up to 27 seconds after a text or distraction occurs. According to poll conducted by AAA, 94 percent of teenagers call texting and driving a serious threat, yet 35 percent admit to doing it.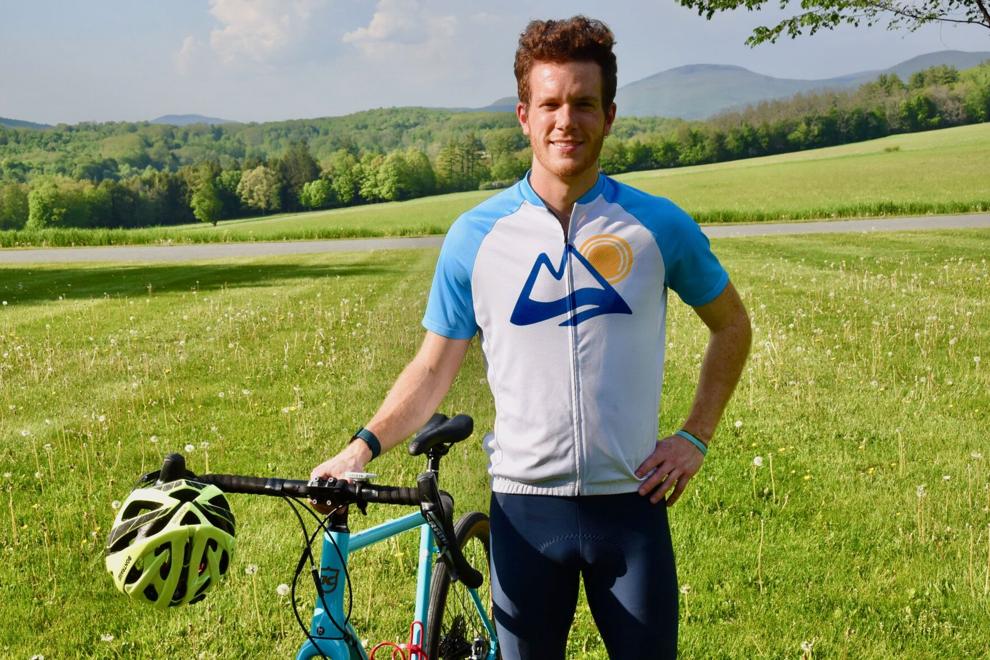 Grannis has named his campaign the Eyes Up Ride.
"The Eyes Up Ride is not about performing some incredible physical feat in a record setting amount of time," Grannis wrote in a blog on the TextLess Live More website. "My goal is to raise money for an incredible organization, TextLess Live More, raise awareness of and promote a life without the distractions and noise that fill our lives entirely."
He wrote that he wants "to help people gain and strengthen their awareness of the distractions in our lives so they know when to step away and look up from their phones and just bask in the beauty of it all."
Grannis will be riding his Kona Rove touring bike, and he is seeking sponsors and contributors to the campaign. He is trying to raise $10,000, or about $1 per mile, and has secured commitments for about $6,000.
He will depart in late August, hoping to make it to San Diego just before Thanksgiving, when he will return to his family in Connecticut until early January, then head back and restart the trip from where he left off, hoping to make Jacksonville by early February.
Along the way, he'll be camping outdoors, sometimes in campgrounds, sometimes not, and staying with friends, in churches and at other shelters, such as baseball field dugouts.
"It's going to be exciting," he said. "I can't wait."