Forty years ago, I worked with a fellow named Richard in Columbus, Ohio, where I live.
When he learned that I grew up in Pittsfield, he shared that he had recently been to my hometown and had lunch at Samel's Deli. Periodically, I see Richard, who is now over 90, and every time, he mentions that the best chopped liver he ever had was at Samel's.
Growing up in Pittsfield, I remember eating at a couple of other New York-style delicatessens that had popular ethnic Jewish fare like the chopped liver, thick pastrami and corned beef sandwiches on rye bread, potato pancakes, brisket, smoked whitefish, bagels with cream cheese and smoked salmon, half-sour pickles, crepes called blintzes and New York cheesecake.
Pittsfield had a growing Jewish population after World War II that patronized the local delicatessens. But, the tasty offerings drew a much larger and diverse crowd as more people discovered the tasty offerings. These delis had both kosher and nonkosher fare. (Kosher items were kept in a separate case and prepared with utensils only designated for kosher, following religious and dietary practices under the supervision of a rabbi.)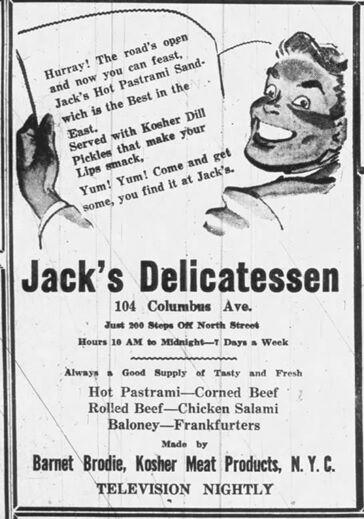 The first Pittsfield deli I recall was called Jack's Delicatessen. The owner, Jack Martin, had worked for 16 years for the Pittsfield Novelty Co. on Columbus Avenue after graduating from Pittsfield High School in 1931. Jack always wanted his own business, and in 1947 bought a small market at 181 Dewey Ave. that catered to the nearby Jewish community.
He realized that his business could grow if he had space to add sit-down dining like the established delicatessens in New York City, and soon he relocated closer to the shopping district. Jack's Delicatessen opened at 104 Columbus Ave., in the same building as his former employer.
Jack was a large fellow sporting a mustache and known for a warm personality. His generous sandwiches at the deli resulted in a nickname, "the pastrami king." Jack was a visionary and saw even more business potential with Pittsfield's postwar building boom.
The south side, with new streets, new homes and new schools, was one of the fastest-growing sections of the city. In 1956, Jack opened a second delicatessen, at 127 Elm St. The new location also included a branch of Joanne's Bakery. He closed the old deli and heavily promoted the new location in ads with the phrase, "If you don't eat, we'll both starve!" In 1967, Jack had developed health problems and, sadly, had to close his business.
Another New York-style delicatessen was opened in 1958, by Samuel "Sam" Mandell, who ran a kosher grocery store at 169 Dewey Ave. for 10 years. Although Mandell had many deli items in his store, he did not have space for a restaurant. After Jack Martin closed his Columbus Avenue location, Sam opened Mandell's Luncheonette and Kosher Delicatessen in Jack's vacant space.
Among traditional deli fare, Mandell's also offered tasty soups made by his wife, Clara. The deli had a successful 10-year run but was the target of Pittsfield's urban renewal development. All the businesses from North Street to Francis Avenue were destined for the wrecking ball. Mandell's closed in 1969 and never reopened.
With the city no longer having New York-style delicatessens, two brothers saw an opportunity to open a new deli. Arthur and Ben Samel had been operating a market at 202 Bradford St. that was opened by their father and an uncle in 1917.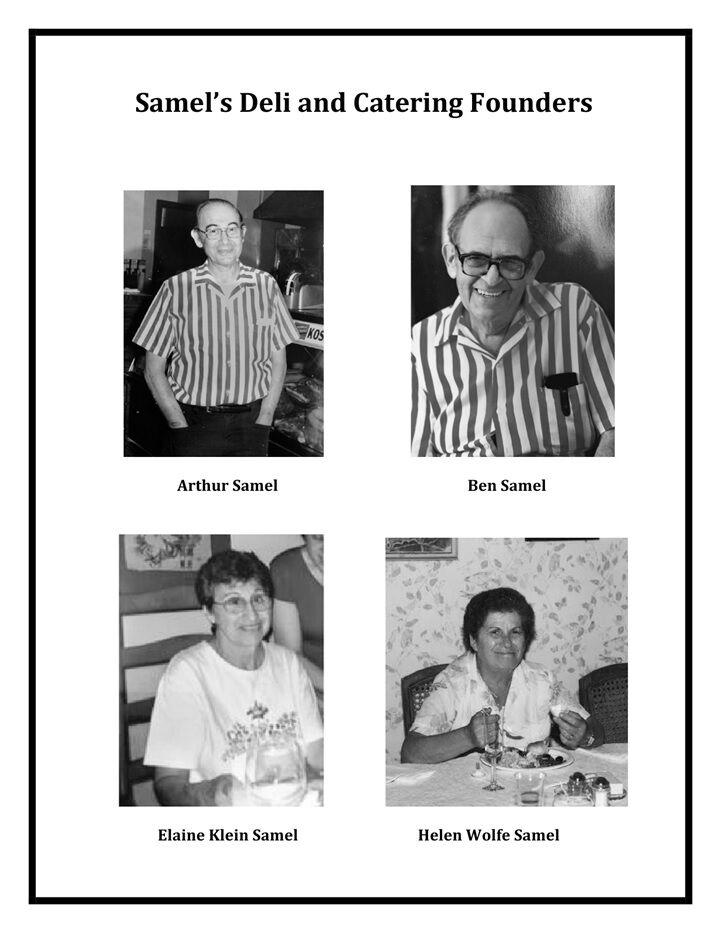 Recognizing the success of Jack's Deli on Elm Street, the two brothers chose to locate in the same area. They acquired the former Lubin's Hardware Store and, in 1971, created a modern Samel's Deli and Catering restaurant that had all the traditional deli food, including kosher meats.
Arthur and wife, Elaine, and Ben and wife Helen all worked together to run the deli and retail business. In no time, the business grew, and soon Samel's got into the catering business. Large events and corporate accounts, such as the General Electric Co., kept the family hopping.
In 1978, Arthur died unexpectedly. Elaine and Ben and his family kept the deli going until 1985, when they sold it to Robert Smith, a Pittsfield Police officer. Smith ran the shop successfully for 18 years. In 2004, Michael Roller, a former Blantyre chef, and his wife, Melissa, took over the business.
Original co-owner Elaine (Samel) Epstein, an active nonagenarian, still stops by, and told me she is pleased with how the Rollers have kept the Samel name and business top notch.
However, as clientele and food preferences have changed, many of the classic deli specialties have been replaced by less-ethnic dishes. One can still find pastrami and corn beef sandwiches on the menu, but gone is the chopped liver, much to the disappointment of my friend, Richard.
When I asked about this item, I learned the closest item was liverwurst, not quite the same as the chopped liver. But, I am glad that Pittsfield still has a deli where when I visit; I can get a good pastrami sandwich like I remember as a youngster.