BOSTON — State lawmakers and Gov. Charlie Baker remain apart on a climate plan, but both sides indicate a willingness to negotiate.
When Baker vetoed a bill in January, a newly sworn-in Legislature sent the bill back unchanged. Baker proposed amendments to that bill Sunday — and now some lawmakers see room for compromise.
The bill would set a "roadmap" for Massachusetts to reach net-zero emissions by 2050. Baker and the Legislature support that goal, but clashed on how to get there. While the Legislature called for reducing emissions to 50 percent of 1990 levels by 2030, Baker's administration suggested that the interim target and other provisions would cost the state too much.
Baker's amendments were "based on three weeks of very robust, positive discussion with the Legislature," Secretary of Energy and Environmental Affairs Kathleen Theoharides told The Eagle, adding that Baker is "looking forward to signing the amended bill."
State Sen. Michael Barrett, D-Lexington, hinted Sunday that the Legislature wants to collaborate with Baker after receiving the amendments. Barrett, who played a key role in shaping the bill, sees Baker's suggestions as "a good-faith effort," he told The Boston Globe.
The 2030 emissions target is "subject to compromise if that's where we need to go," Barrett had told the State House News Service in December.
Others, though, have expressed a desire to hold firm.
"Now is the moment to accelerate our commitments to reducing emissions rather than loosening them," said state Sen. Adam Hinds, D-Pittsfield, who acknowledged "some useful changes" from Baker but said he wants to "stand strong" on many.
Baker and a slew of real estate-aligned groups say the state must plan climate action with consideration for other, largely economic, concerns. The lawmakers and advocates pushing for more aggressive changes say the pressing nature of climate change means that action can't wait.
Baker's office says research for its 2030 clean energy plan and 2050 decarbonization road map forms the basis for its amendments.
"You don't necessarily want to make the changes too fast, because the costs for Massachusetts residents would be much higher," Theoharides previously told The Eagle. "We believe that ambition should be backed up with data and recognizing the costs that residents across the state will have to bear."
Baker proposed to change the 2030 emissions target to a reduction of 45 to 50 percent, among other suggestions he outlined in a nine-page letter to the Legislature.
Theoharides said the Legislature risked turning targets into "ambitious goals instead of grounded plans," noting that other states have missed their climate goals.
Hinds, for one, said he was "concerned about any effort to reduce the 2030 emissions goals."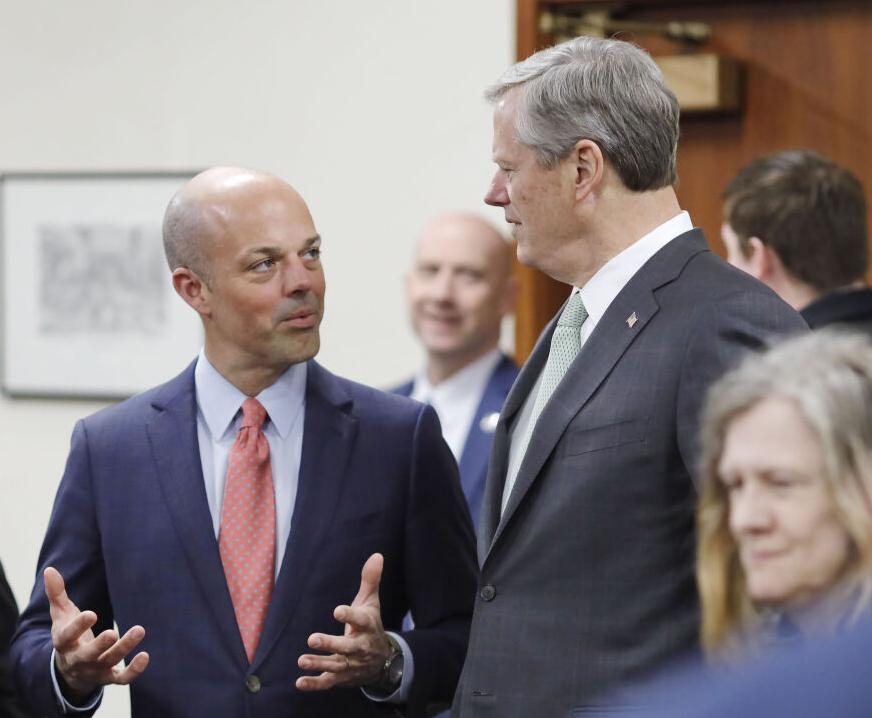 "I keep reiterating that this isn't an either/or choice [between climate and economy] that we're faced with," he said. "We have to accelerate our commitments to reduce carbon emissions."
Baker has aired fears that housing development would suffer if the state develops a "net zero" opt-in stretch code for buildings. He wants to make a new code that, while more stringent than the one in place, stops short of the net-zero language.
Hinds said the state should make the strongest climate commitments possible and remedy impacts on housing or other industries, if necessary, through additional legislation. But, Theoharides said she believes "the details really matter" and that it's wrong to "write legislation that you should then have to correct with other legislation."
Some observers have alleged that Baker's opposition to the net-zero building code was a concession to lobbying groups.
One amendment Theoharides calls "a big deal" would require cumulative pollution to be considered before some permits are issued for projects in environmental justice communities.
Environment Massachusetts Executive Director Ben Hellerstein called Baker's amendments "a mixed bag."
Baker kept parts of the bill he previously indicated he might oppose, but Hellerstein, through a coalition of more than 200 environmental groups, has asked lawmakers to reject all "weakening amendments." The House and Senate passed the bill with enough votes to override a veto.
"We just need to do more," Hellerstein told The Eagle. "We're not going to regret building more offshore wind. We're not going to regret building more solar. We're not going to regret increasing the renewable portfolio standard."
But, Theoharides has said that tackling climate doesn't involve just Massachusetts, but rather requires policy change regionally, nationally and beyond. She said the state should take actions that climate science shows to be necessary, but without asking residents to pay "a lot more cost with no real benefit."
State Rep. William "Smitty" Pignatelli, D-Lenox, said he looks forward to amending the bill.
"The clock ran out," Pignatelli said of the time crunch the bill faced late last session. Baker "got the bill late, and we limited his ability to send it back amended," said Pignatelli, whose committee first reported out the House version of the bill in July 2019.
"[The Legislature now has] more time to tweak and fix it," Pignatelli said. "We can debate it, further amend it and ship it back in very short order."