BECKET — The most political horse in the town of Becket is, most definitely, out of the barn.
Two weeks ago, puppeteer Meredyth A. Babcock took a familiar Berkshires character, Maggie Sawhorse, and her sassy little human sidekick, Robin, well south of their normal range.
Babcock journeyed with her alter egos to Washington, D.C., and joined protests directed at the U.S. Senate's confirmation hearings for a Supreme Court nominee Judge Amy Coney Barrett. A short documentary shot by the puppeteer's sister, Rachel, captured Babcock's interactions on the streets of the nation's capital.
Last weekend, Babcock and her puppets did some politicking closer to home, joining a women's march in Great Barrington.
In an interview, Babcock said that she and her characters were itching to play in a bigger corral.
"She's pretty political. She has strong beliefs about naming things," Babcock said, speaking of Maggie Sawhorse, the character she sculpted herself decades ago. "She decided that she wanted to come out of the basement and go to D.C."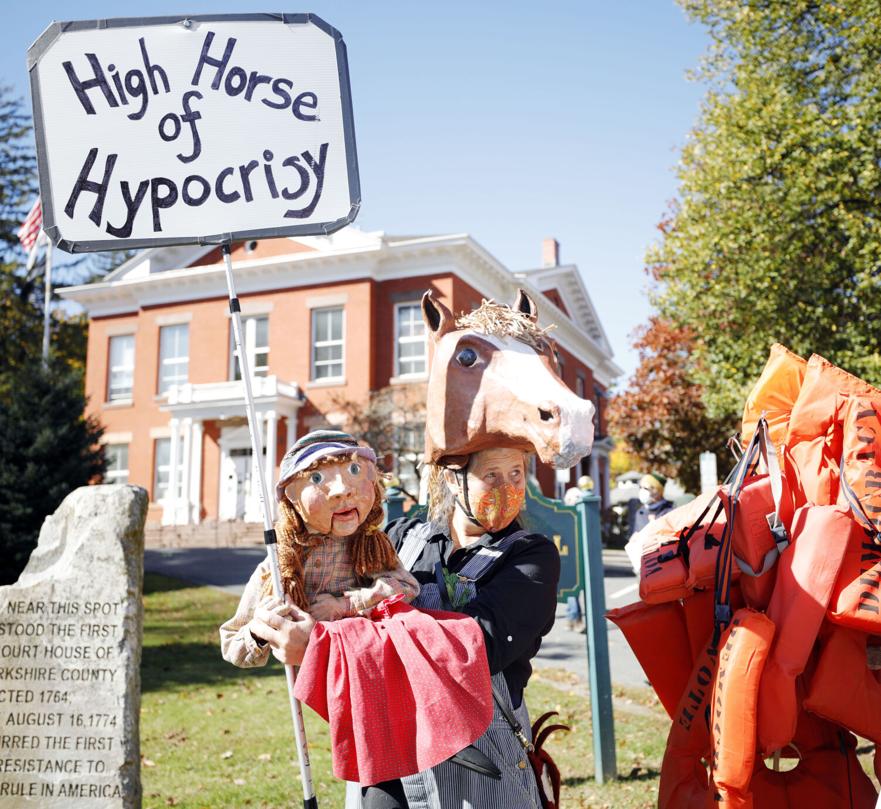 On D.C.'s streets, Babcock traveled fully concealed by the headpiece that represents Maggie. That anonymity helps loosen her tongue, she says, though it is through Robin, the child in her arms, that she speaks her mind, posing the sorts of questions that could have fit the old TV comedy show "Kids Say the Darndest Things."
"I do get to hide out under her," Babcock said of the characters. "As soon as I go somewhere with a horse head [on], I can't stop myself."
In this brand of street theater, Robin is the inquisitor, aided and abetted by a supportive Maggie, who whinnies explanations to the little child puppet.
As Babcock knows, children can speak with disarming candor, a quality that seems suited to an overheated political culture.
"Their clarity with what's fair. And their clarity with what's safe," Babcock said, speaking of young people.
Of course, it's the child in the puppeteer coming up with those questions.
Babcock says she hopes Robin's youthful wondering cuts through the fog and reaches adults. The little character's pluck and bravery also can inspire children.
"It encourages children to say when they are afraid, and when they are uncomfortable," Babcock said.
Speaking of fear, she believes that horses — because they can become subject to human whims and cruelty — are good judges of people. Horses sense whether people are whisperers, or shouters, or worse. With that in mind, Babcock rode down inside the Beltway.
"Maggie Sawhorse sees the difference between when someone operates with kindness and when someone operates with fear," Babcock said.
In D.C., this little troupe chanted "no confirmation before inauguration."
"That's what we're here to demand. This is so full of hypocrisy in so many ways," Babcock said.
Or was that Maggie?