LENOX
F or one mid-January week, the imposing Blantyre resort served as the backdrop — and was in the forefront — of a public TV "Great Performances" production in its "Now Hear This" classical music documentary series.
An 18-member crew of producers, technicians, actors and musicians rented the 120-year-old Elizabethan Tudor manor house, which resembles a Scottish castle, to shoot the episode, "Beethoven's Ghost." Two medics were on hand to conduct frequent testing for COVID-19.
Series host and co-producer Scott Yoo, chief conductor and artistic director of the Mexico City Philharmonic and music director of Festival Mozaic in San Luis Obispo, Calif., assembled a group of three musician friends to record some of the composer's most personal music.
The goal is to attract viewers through a dramatic setting incorporating chamber music illustrations, said executive producer and writer Harry Lynch, managing director of Arcos Films, the Austin, Texas-based supplier of the series to PBS.
"We were looking for a beautiful, historic manor — a place that world-class musicians could choose as a retreat to make a milestone recording — that also looked appropriate for a 'ghost story,' and would accommodate the unusual requests of a film crew, like moving furniture and bringing in lights and microphones," Lynch said of the choice to shoot at Blantyre.
In an email interview, Lynch pointed out that the pandemic required "a location with precautions in place — ideally one where the cast and crew could film, stay and eat, without leaving the premises."
Blantyre was "ideal," he said. "[It was] the only one of more than 30 historic manors we looked at where we could do all those things."
Lynch credited the hotel staff, specifically Crista Oppenheim, director of sales and events, for going "above and beyond to meet our every request, demonstrating the extraordinary customer service that Blantyre is so known for."
"It was the perfect location for the filming, and the crew couldn't stop talking about the exceptional food," he said. "Blantyre may have spoiled us for shooting anywhere else."
His team spent eight days at the resort this month; Arcos Films bought out the property for five of those days.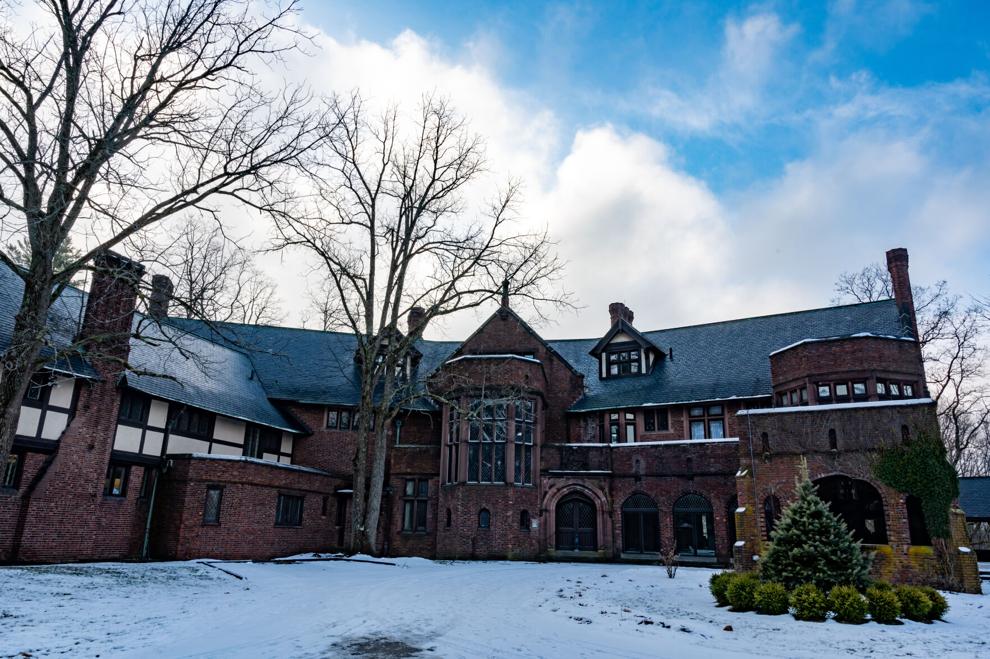 The episode, to be televised May 7, as part of the PBS "Great Performances" Friday night series and then streamed at PBS.org, includes Beethoven's "Ghost" Trio.
"It was composed at a crucial intersection in his life, when his deafness had progressed enough to end his performing career, and he was forced to make his living solely as a composer," Lynch said. "Of course, what at the time seemed tragic yielded some of his most monumental work."
The "Now Hear This" documentary series is described by PBS as an exploration of the great classical composers' music through performance, travel and conversation with artists and experts. The aim is to educate and build the next generation of classical music listeners.
To that end, the episode filmed at Blantyre has a plot. Attending the recording session of the trio is Beethoven's ghost, "who has been visiting rehearsals and performances to analyze his successes and mistakes," Lynch said. "And following him is the ghost of Sigmund Freud, who is spending his afterlife analyzing the great minds of history, including (the ghosts of) many great composers. He has offered to help the famously stormy Beethoven resolve his troubles — if he is willing."
Freud's ghost is portrayed by Martin Rayner, who starred in the play by Mark St. Germain, "Freud's Last Session," produced at Barrington Stage Company in Pittsfield in 2009, followed by two off-Broadway runs in New York. Beethoven's ghost is depicted by Swedish actor Hans Tester, who has an extensive list of film and TV credits.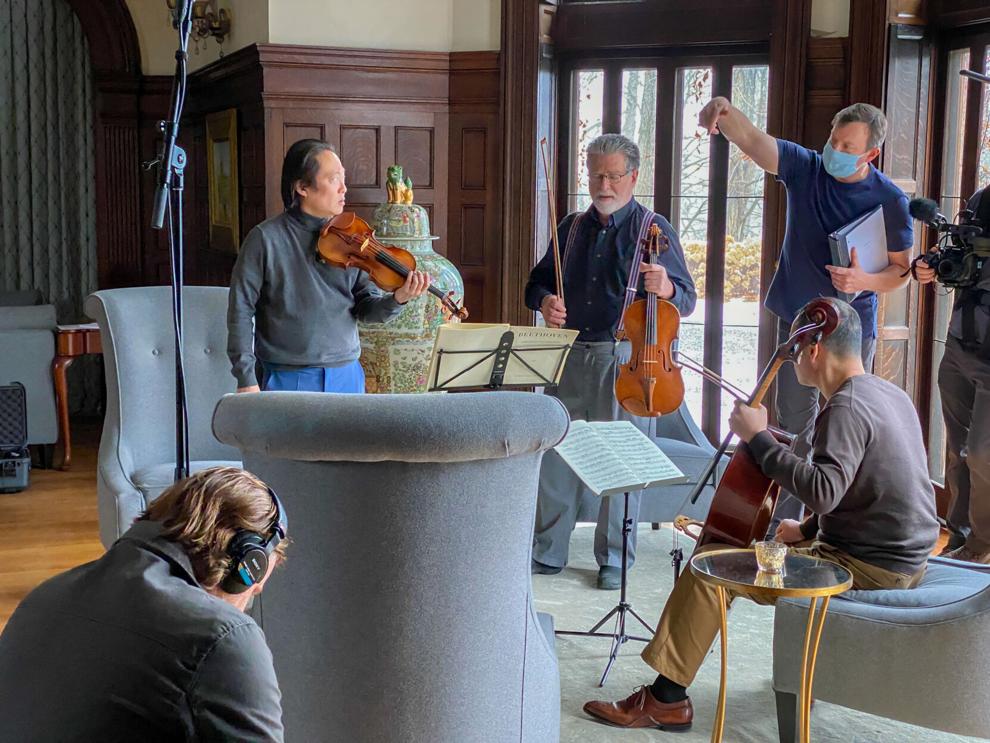 Performing the musical selections, including eight other short works by the composer, are Yoo, who also is a violinist, violist Toby Appel, cellist Bion Tsang and pianist Anna Polonsky.
Yoo, 49, lives in Columbia, Mo., with his wife, Alice Dade, a professor of flute at the University of Missouri who co-hosted the "Beethoven's Ghost" episode. Like other musicians in all genres, Yoo pointed out that his onstage career before audiences has been in a deep freeze for nearly a year because of COVID-19.
He came up with the idea for "Now Hear This" based on a series he created several years ago at the Festival Mozaic in California, offering audiences lacking background in classical music a better understanding of the basics.
Lynch happened to attend a similar presentation Yoo hosted in Austin and approached the conductor with a suggestion that they pitch the idea to PBS for a multi-episode, one-hour series combining music with travel, food and overtones of mystery. So far, there have been eight one-hour shows, including the one at Blantyre, over two seasons since September 2019.
Yoo estimated the budget for each episode of "Now Hear This" at about $500,000.
Yoo and Lynch are consumed by a massive editing project in Austin, delving through about 50 hours of film footage shot at Blantyre to fit into the 53-minute slot for public television.
As for Blantyre, "it could not have been better," Yoo said, echoing Lynch's assessment.
The hotel continues to welcome guests for lodging and for dining at its fine-dining Cafe Boulud through Feb. 15, said Stephen Benson, the general manager. It will begin a seasonal closure on that date, with a projected reopening between mid-April and early May. The resort will remain available for property buyouts, he added.
In July, the Lenox zoning board unanimously approved a $90 million property expansion. As financing is secured and work begins, the phased 18-month project would triple the property's rooms and suites, to 69, as well as add 20 ownership townhouse units and carve out 14 building lots on part of the secluded 109-acre site for estate homes.