At Tavern at the A on Sunday in Pittsfield, it was a packed house. Christine Delph was waiting all day for a celebrity to come in — she couldn't believe it was all for her.
"I'm really just trying to process it," Delph said. "I'm overwhelmed with the love and the support. It blesses me to see this."
Over 200 people attended a fundraiser for Delph, a mother of six and a bus driver with Pittsfield Public Schools who was given a terminal diagnosis for her stage 4 breast cancer in January. She was diagnosed with stage 1 breast cancer in August 2021. Following a single mastectomy and lymph node removal after the disease had advanced to stage 3, she was told she was cancer-free.
The most recent news was that the cancer had spread to other areas of the body, including her spine, hips, skull and lymph nodes. She's undergoing chemotherapy and is using an oxygen mask to breathe more comfortably.
The event at Tavern at the A, 303 Crane Ave., on Sunday was organized by Delph's co-workers: fellow bus drivers and bus monitors with the Pittsfield Public Schools. They could be found wearing T-shirts, greeting visitors and selling raffle tickets. All of the proceeds from the event went to Delph.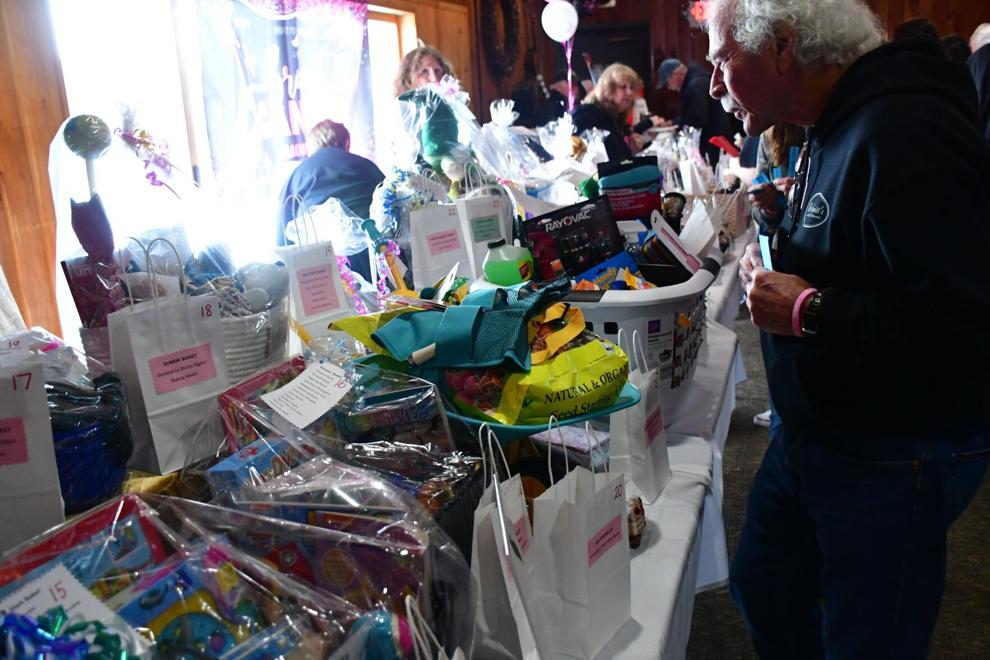 Sue Malloy, one of the event's lead organizers and a bus driver for 17 years, said that the drivers and monitors were like a big family; they take care of each other when they need something. Many of the people at the event on Sunday had been helped by Delph at some point over the years, too.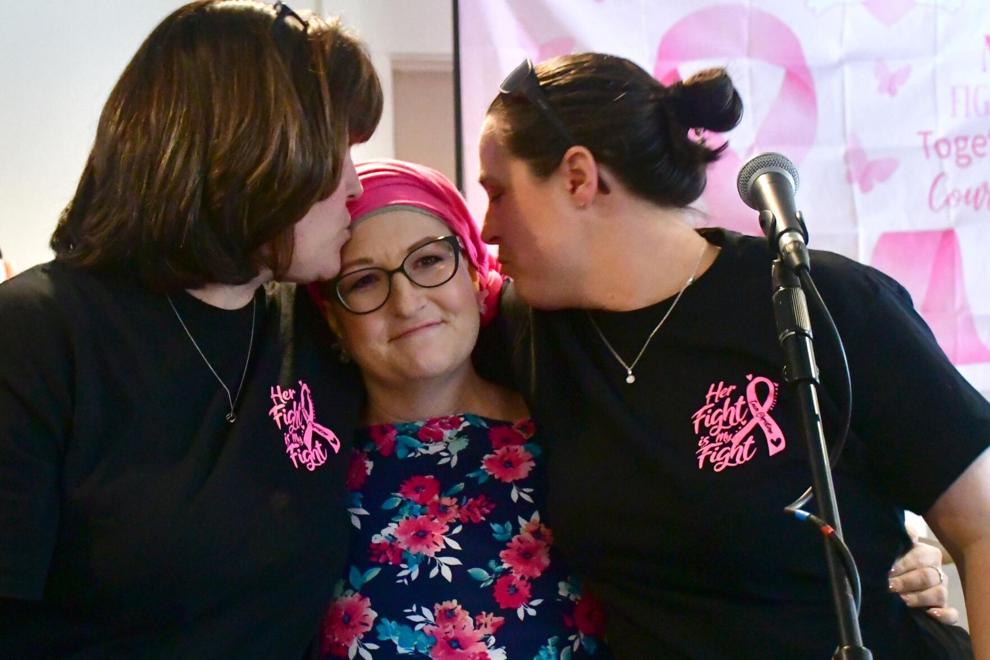 "She'd do anything for anybody," Malloy said. "She'd give you the shirt off her back, if she had to."
The bus company was hoping for a turnout of at least 175; they surpassed it easily, with over 200 staying for the party and several others coming by just to drop off donations.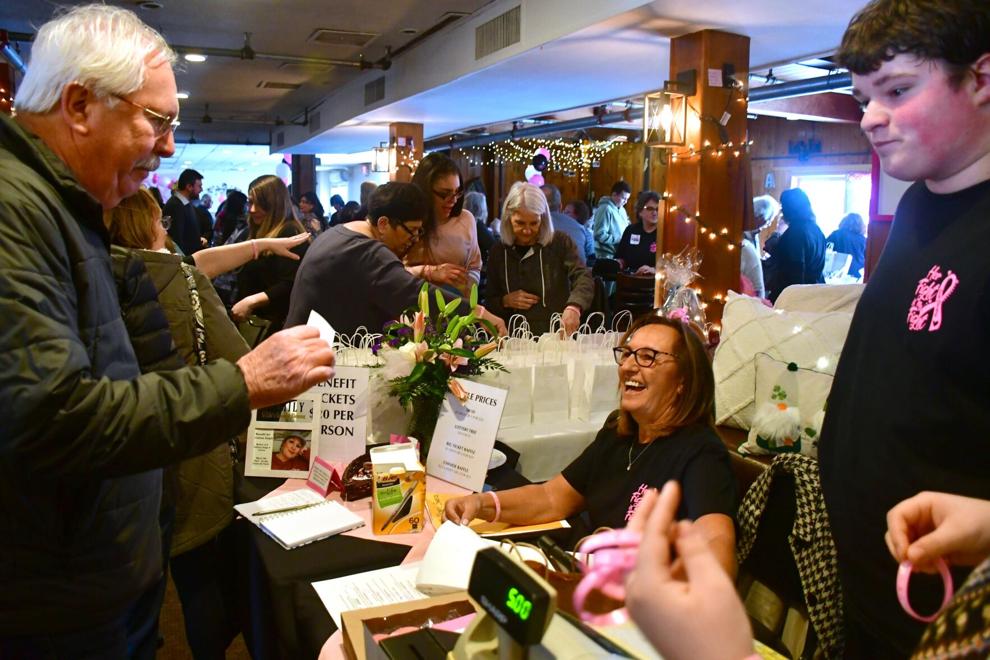 "It's mind-blowing how the community has come together," said Barb Wendling, a bus driver for over 17 years.
Patrons were barely able to squeeze between the tables near the bar. That was plenty of incentive to get on the dance floor, with Americana tunes from the likes of Steve Earle and John Denver pumping through the speakers, performed by the Hotshot Hillbillies band. Thomas Corrigan, the HB Funk Band and the Barons of Becket played sets at the event too, running from noon to 5 p.m.
Kids did cartwheels and somersaults on the hardwood floors, while most adults opted for less nimble grooving. Regardless of their moves, they all passed under an archway of pink balloons to get there in order to support a member of the community.
Many of the attendees were Delph's co-workers with Pittsfield Public Schools, said Amber Wixsom, a bus driver of seven years, including a large number of people representing Crosby Elementary School, the destination for Delph's bus.
Colleen O'Brien, the director of bus operations for the city of Pittsfield and Delph's boss, said the event was organized in under six weeks. The bus company worked tirelessly to pull it all together, she said.
O'Brien taught Delph how to drive buses. They've been together the entire time that Delph has been with the district. Above anything else, they're friends and prayer partners, O'Brien said. She regularly shares scriptures with both Christine and Susan Delph, her mother.
"She is strong, resilient and faithful," O'Brien said of Christine Delph.
Susan Delph said the event has made a tight group even closer, and that the event's success shows the character of the community they live in.
"It shows that there are a lot of caring people in Pittsfield," she said.
Kendra Delph, Christine Delph's oldest daughter at 21, said it meant a lot to see so many people supporting them; it made her feel like the family wasn't alone.
After the diagnosis, times were tough, Kendra Delph said. The family had to try to figure several things out as a result of it, including care for her other siblings; who vary in ages, with her youngest sibling being 5 years old. She stepped up to watch them and help out as needed.
"We swam in the ocean when we were younger, so I guess we learned to go with the tide," Kendra Delph said.
Contrasting then to now, they've got a lot of people in their corner. Help has come in many forms, such as meals delivered to the house three nights a week and people coming by to clean the kitchen and do repairs around the house. They're little things that make a big difference, she said.
"No matter how little something might mean to you, it could mean the world to someone else," Christine Delph said.
She teared up, as she listed the acts of kindness that she's received since the cancer returned. She said that there have been times when people would arrive with things she asked for in prayer, as if they knew exactly what she needed. The experience, though harrowing, has made her faith even stronger.
"Every part of this is so much bigger than me," Christine Delph said. "God is using this to show just how miraculous and merciful he is."
To see everyone come together to try to help was an example of that, she said.
Kendra Delph said that the community support coming during a long struggle was a major relief.
"I can breathe again," Kendra Delph said. "My mom can breathe again."