Not in 121 years. That's how long it's been since the first Massachusetts sighting of a bird species took place in Berkshire County, rather than another part of the state.
Turkey vulture, you've been bumped from your perch in birding history, earned by a sighting in 1900.
This weekend, a roseate spoonbill from southern climes swooped in across a flooded field in Sheffield, joined a flock of white-suited great egrets for a breakfast of frogs and fish — and allowed local birders to make history.
Pauline Banducci, of Monterey, and Matt Kelly, of Grafton, N.Y., shared the first sighting, a little after 7 a.m.
Kelly saw the spoonbill fly in to join the large group of feasting birds just as Banducci also found it through her binoculars and spotting scope.
"You see this beautiful pink and it's extraordinary," she said. "You can see the feathers on its head and the eye really well. It's almost like being right next to them, like you can touch them.
"I had no understanding of the historical import of it," she said.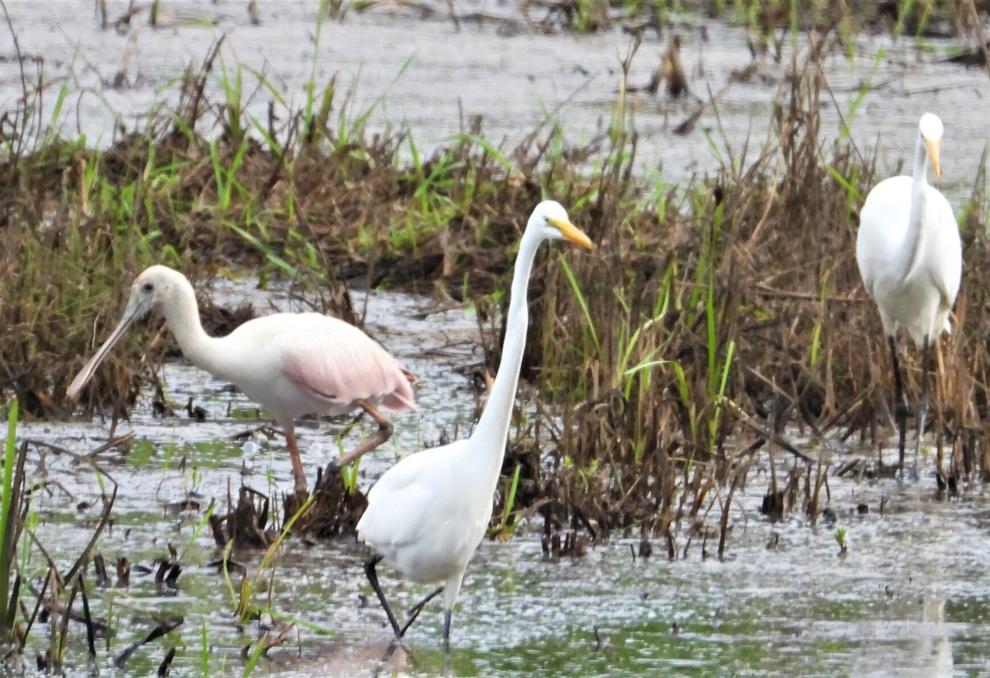 Since then, birders have been descending on the area near Corbin's Neck, a bulb of land surrounded by a meander in the Housatonic River, hoping to add a roseate spoonbill sighting to their life lists.
"For Matt and Pauline to get a first state record is absolutely extraordinary," said Rene Wendell, president of the Hoffmann Bird Club. "To have it in Berkshire County is incredible. I'm so jealous, I just can't tell you."
Through his years of birding, Kelly has honed a personal philosophy: "No. 1 rule for bird-sighting: Be there."
That's why he set his alarm for 3:30 a.m. Sunday and drove down to northwestern Connecticut, where the roseate spoonbill had been seen in Canaan, just miles from Sheffield.
"I set my goal to catch this bird. I guess my persistence paid off," he said. "This is a very rare bird. It's a once-in-a-lifetime event for local people."
Kelly wanted to be in Connecticut at daybreak, hoping that the spoonbill, which already had been seen there, would come out to feed. Instead, he and other local birders were fed upon — by mosquitos.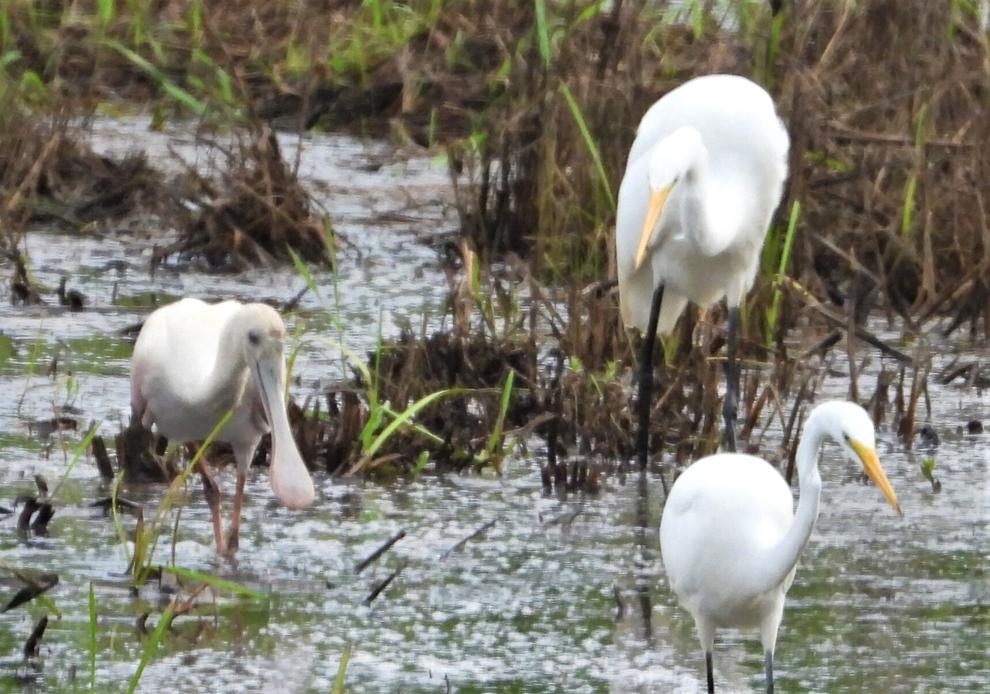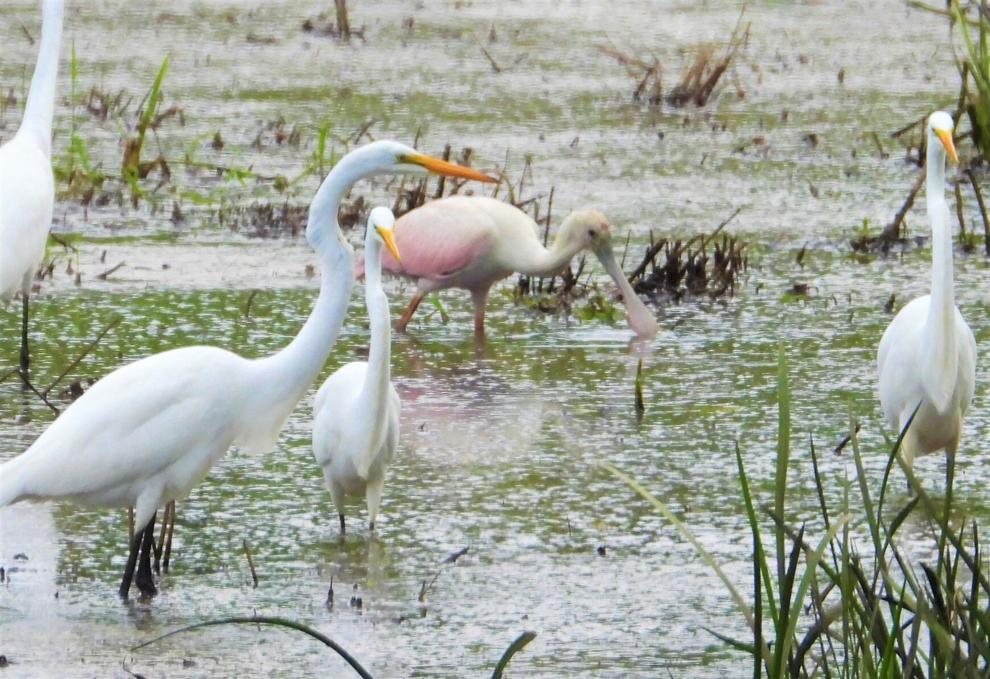 Greg Ward was there, as was Jonathan Pierce, another local birder who had seen and photographed the spoonbill in Connecticut. But, that Canaan sighting wasn't a first for Connecticut — and the prospect of a Berkshire County first for the spoonbill was tantalizing.
Banducci had an idea. She proposed checking near Corbin's Neck, the low area along the Housatonic within the Bartholomew's Cobble Reservation in the Ashley Falls section of Sheffield, less than a mile from the Connecticut line, west of Route 7.
Banducci and Kelly arrived almost together. Kelly began scanning, looking for something pretty in pink.
"Lo and behold, I saw him come in across the field and land with the egrets," he said.
Later on Sunday, Pierce posted his sighting to ebird.org.
"The Spoonbill fed until about 8:36 AM when it picked up and flew off with a couple Great Egrets to an oxbow lake beyond the cornfields," Pierce wrote. "The bird was briefly seen by a couple observers flying North out of the oxbow later that morning but hasn't been seen since."
But, it wasn't gone, gone.
Wendell, the bird club president, mustered out Sunday with hopes of seeing the spoonbill. He instead saw dozens of other birders, from as far away as Boston and New York state. He tried again at dawn Monday — and that return trip enabled him to put the spoonbill on his list.
"You never know if they're going to stick around," he said of rare birds. "I was losing my mind that I hadn't gotten to see it. This is a significant sighting. You just can't miss it."
Like others, Ward's first destination early Sunday, as he set off on his own quest to spot the spoonbill, was Connecticut. When that didn't pan out, he detoured to other wet, and froggy, areas nearby that he thought might have appealed to the bird. The others beat him to Corbin's Neck by a few minutes.
"There it was," he said of the spoonbill. "It's pretty spectacular."
The swampy area had drawn more than a dozen birds, including not only the great egrets, but a half-dozen great blue herons and some green herons, Ward said.
That's an unusually large number, he said. Voices were hushed as birders watched, adjusting their scopes and taking pictures.
"Everyone wants to get a good look at the bird but make sure we're not stressing the bird out," Ward said. He estimates that, as of Monday, two dozen birders had so far managed, in two days, to observe the spoonbill. He was hoping it would roost Monday in a dead tree, providing additional evening views.
"The bird is still around, but not being as cooperative in terms of getting a good view," Ward said.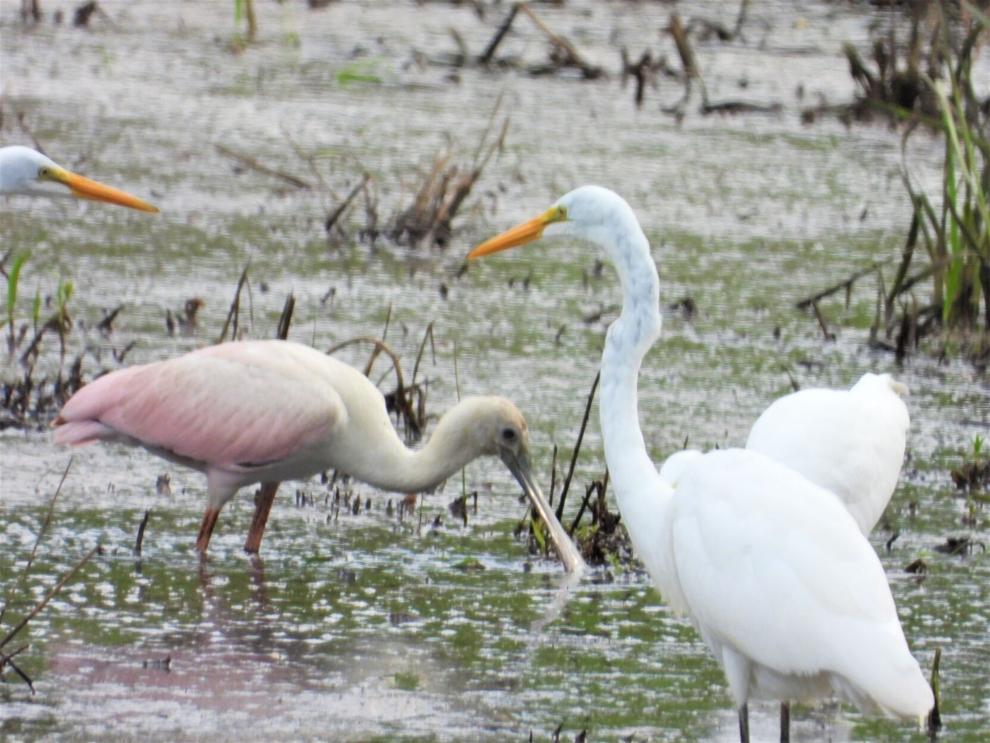 Birders say they had a feeling the spoonbill would drift into Massachusetts via Berkshire County, though it could have gone east as well. Amid all the sightings in the region, including Connecticut and New York, a roseate spoonbill has been spotted this summer in New Hampshire, apparently without having been seen getting there in transit over Massachusetts.
Chip Blake, of Great Barrington, serves as the unofficial historian of Berkshire County birding. His research found that it was the turkey vulture that made history locally in 1900, just as it was expanding its northern range; the turkey vulture now is common in the area. Before that, the other Berkshire first, bird-wise, came in 1858, with a sighting of a northern hawk owl.
"Berkshire County is a desert as far as flyways are concerned," Blake said. It is far more common for counties along the coast, or Connecticut River Valley, to log firsts.
Why did the spoonbill arrive in Sheffield? That has the topic of much debate.
This year has seen a spate of sightings in states outside the bird's normal range, which is from Florida and Texas south, birders say. The species has been seen making its way up the East Coast.
For whatever reason, young spoonbills are venturing farther north than usual.
"They get out of the nest and just go wandering, like teenagers on a road trip," Blake said.
As many as 20 spoonbill sightings have been reported on the website ebird.org — including the new Berkshire County ones. And the spoonbills aren't the only ones venturing out. Members of the Hoffmann Bird Club use a texting platform to send updates to each other on locations of rare bird species.
"Birders are coming from all over the place," Blake said. "Birders go crazy to build up their state lists. Everybody runs out to their cars like it's a fire alarm. For the roseate spoonbill, you better not wait for the next time it comes up."