NORTH ADAMS — English and media studies teacher John Duval felt he had a good rapport with students at Drury High School. That changed when school went virtual in the spring of 2020, after the pandemic struck.
Duval had students who did not show up for class or turn in work. "Sometimes it was like yanking teeth to get students engaged in online learning," he said.
That struggle to engage students wasn't his alone.
Some Berkshire public schools saw a dramatic rise in chronic absenteeism in the 2020-2021 school year, according to the most recent data from the Massachusetts Department of Elementary and Secondary Education.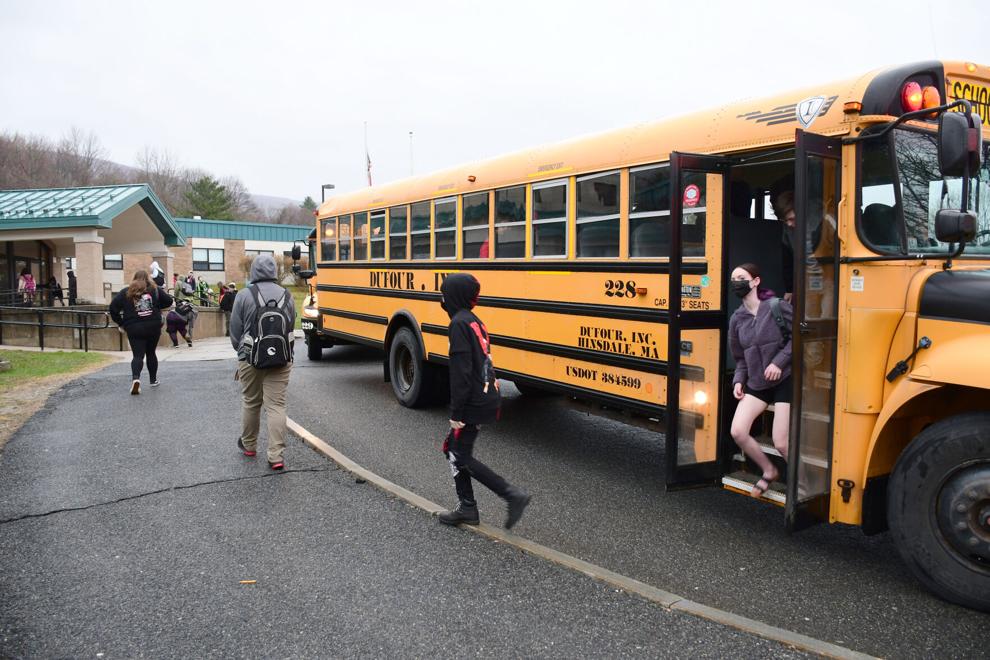 Educators say the pandemic was to blame, aggravating an existing problem.
"Chronic absenteeism" tallies students who miss 10 percent, or more, of school sessions in a year. That state measure does not take into account whether the absence was excused.
In North Adams, 48.7 percent of students were chronically absent during the 2020-2021 school year. In Pittsfield, the rate was 29.5 percent.
While the state cautions against comparing the first full pandemic school year with earlier experience, some Berkshire County schools saw absenteeism balloon well above the state average for 2020-2021, when all schools faced similar challenges.
Across all Massachusetts schools, 17.7 percent of students were chronically absent that year, an increase from a state average that hovered around 13 percent in previous years. During the 2019-2020 school year, state attendance data was not collected starting in March when schools initially shut down amid the pandemic's onset. State figures are not yet available for the full 2021-2022 school year.
In Pittsfield, chronic absenteeism has dogged the district for years.
In November of 2021, district staff noticed things were getting worse. School leaders said they hoped it was typical attendance fluctuations staff see every year around the holidays.
When attendance didn't steady out after the mid-year breaks, officials said they knew they needed a plan.
In the final months of the school year, Pittsfield Superintendent Joseph Curtis said he instructed Deputy Superintendent Marisa Mendonsa to "revive" the district's focus on attendance and meet with the district's school adjustment counselors — the staff working most closely on this issue — to form school specific action plans to combat these rates.
For about the past decade, the district's rate has been higher that the state average and on an upward trend. Rates increased even more during the pandemic, with the districtwide average more than 10 percent higher than the state average in the 2020-2021 academic year, the most recent state data available.
Each school had different chronic absentee rates, ranging from Conte Community School at 47.9 percent and Williams Elementary School at 10.3 percent.
Curtis has said the first pandemic year's attendance figures deserve a footnote. State education leaders redefined "time on learning" — essentially what counts as productive time in school — several times throughout the 2020-2021 year. Those shifting standards caused districts to pivot their pandemic learning plans, sometimes yo-yoing between in-person, hybrid learning and completely remote learning schedules.
Each shift in schedule forced the district to recalibrate what was considered "absent." For instance, was a student absent if they missed the first online class during the morning but was logged in later in the day? How should a district mark attendance as families struggled to keep up with changing directions about in-person days, hybrid days and virtual school?
To Curtis, some models were easier to achieve good attendance rates than others.
"Most students are able to attend remote classes," he said. "It's a click of a button from a computer at their home."
Curtis said increasing economic hardships on Pittsfield families are a factor, particularly those that use older siblings as childcare for younger siblings, so parents can work. On top of that, drop-off and pick-up schedules for families with students in different schools can be hard to juggle when parents are working multiple jobs to make ends meet. He pointed to an increase in economically disadvantaged students in the district over the last decade as a reason for chronic absenteeism increasing.
"I don't want to place blame on that but … some of the complexities of families facing financial hardships ... interfere with school attendance," he said.
To improve attendance, Curtis said the district must reach out to families. That means increasing some of the things the district is already doing like sending adjustment counselors on home visits, writing letters home, helping families find transportation — and in extreme cases going to the courts. "When you have a student that's disengaged from school, let's say 20 or 30 days, there's no schoolwide plan that's most likely going to assist that."
For some parents, better lines of communication between schools and families are key to making headway on attendance issues.
Taylor Johnson's daughter attended Stearns Elementary School during the 2020-2021 year. Johnson said when the Pittsfield district switched to hybrid half-days, she felt it lost track of her daughter.
She at times got phone calls from Stearns after she dropped her daughter off in which she was told her daughter needed to be picked up, because she didn't have class that day. Another time, staff asked if her daughter was present, after she entered the building the wrong way.
"I just didn't like how they were running the school per se, they were doing a lot of changes back and forth," Johnson said. "It was a whole bunch of bad communication."
Parents also say they're looking for more partnership — and less blame — from schools to make sure kids are in class and on track with their learning.
Kayla Robinson, mother of a Craneville Elementary School student in Dalton, said she felt schools put a lot on parents by asking them to make sure their children were present for virtual learning, engaged in the work and on track with pre-pandemic learning goals.
These asks, Robinson said, ignored the reality of what it took to provide for families' basic needs in the early days of the pandemic. Robinson said her daughter's teacher told her she needed to "work less and help your daughter more" on her schoolwork.
"First of all, my daughter needs a roof over her head," said Robinson, a registered nurse. "I'm going to make sure she's provided for first, before I take hours away from my job — it was just unfair."
The two women are friends and Johnson said she's hoping Robinson will make the same decision she did this school year: pull her daughter from public school for a spot in a private program.
Johnson said her dissatisfaction with school communication last year prompted her to enroll her daughter at St. Agnes Academy in Dalton. This year, she said, "was great." Her daughter didn't miss a day of school.
Northern Berkshires
In the initial days of the pandemic, Hoosac Valley Regional School district, which services Adams and Cheshire, dealt with technology access issues, lending students devices and internet mobile hotspots, Superintendent Aaron Dean said. "Our administration, most of their days were spent talking with families trying to get kids engaged," he said.
Still, 34 percent of students in the Hoosac Valley Regional School district were chronically absent in the 2020-2021 school year, according to DESE data.
"I don't think we were statistically twice as bad off as anyone else," Dean said. "I think we were all in the same boat, and I think that has to do with the reporting system and how that all played out."
Like Curtis, he sees gray areas in how absences were counted in remote and hybrid school models that were often shifting. If a student logged into a virtual class for the first five minutes and then left, he said, are they present or absent?
"A lot of this does have to do with the remote sessions," Dean said. "I think certain districts reported more than others on this. This is a situation where you take a hit for being honest."
At the pandemic's onset, schools wanted answers from the state. "Certainly as remote learning became a thing, we received a lot of questions," said Rob Curtin, DESE's chief officer for state assessment and accountability.
Attendance is a local policy, Curtin said, but state guidelines say that if students are present for at least half the day, they are not absent.
As with Pittsfield schools, the pandemic worsened an existing issue with absenteeism.
In the years before the pandemic, North Adams educators knew they had an attendance problem, said North Adams Superintendent Barbara Malkas.
"It wasn't a global problem. It was a limited number of students." Twenty percent of students were chronically absent in the 2019-2020 school year, before schools shut down in March, DESE data show. That was an increase from the previous academic year when 15.7 percent were chronically absent. By the 2020-2021 school year, the figure increased to 48.7 percent.
Rates were already elevated, "then add to it the chaos of a hybrid school year," Malkas said, when asked why the district's rate in 2020-2021 was so high. "Add to that kids getting COVID, kids being identified in contact tracing — the quarantine then was 10 days. I think our data was accurate. Maybe other people in the state aren't being as diligent as we are. We wanted to discern the impact of COVID on our attendance rates. We really were recording our attendance."
Within North Adams, Drury High School has the highest rate of chronic absenteeism in the 2020-2021 year, at 62 percent. Again, that means that six of every 10 Drury students missed 10 percent or more of the school year.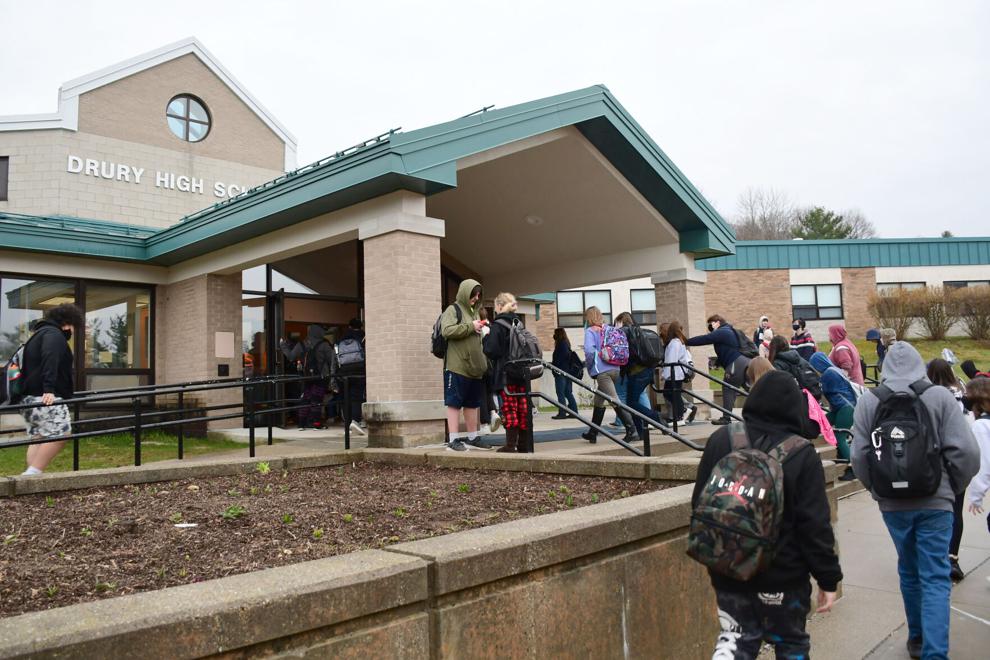 More students missed instructional time that year, Principal Tim Callahan said. But he doesn't feel it's accurate to compare that data to previous years.
Echoing Dean, he said that when classes were remote or hybrid, what was absent was not always clear. "It was really open to interpretation," Callahan said.
The state has not yet released attendance data for the school year that just ended. District leaders say they see improvements.
"It's certainly better than it was in past years, for sure," Dean said. "At the same time, we're dealing with COVID surges this year. So you have a lot of students who were out a number of days because of COVID quarantines and exposures."
This school year, it has been difficult to figure out when a student is absent or COVID or another reason, Malkas said, adding that the district plans to do an analysis to try to determine who was chronically absent for reasons other than COVID.
"Obviously one of the biggest factors in learning is being present for it," Dean said. "It would be hard to say it didn't impact learning." The pandemic has also affected students' social skills, he added, "and students' general growth and development socially."
It will take time to recoup learning lost amid the pandemic. "By and large almost all students had gaps in learning due to the disrupted learning in COVID," Malkas said. It will be years until that gap is closed, she said. "I think, what we will see, it will take three years before we see that completely rectified."
At Drury High school this year, absenteeism is "still significantly higher," Callahan said, speaking of this spring. Some students have struggled to re-engage after coming back in-person. "Getting them to reacclimate to coming back to school is hard," he said.
Student absences made learning harder in Duval's classroom. He is the Drury teacher with more than 20 years of experience.
"When 50 percent of your class isn't there you have to re-teach that material the next day," Duval said, "it's hard to maintain that … continuity you get from having a class showing up day after day."
It also makes it more difficult for students to work together on projects, Duval said. "It makes collaboration and group work nearly impossible to do."
"We want students to learn," he said this spring. "We all would like to get back to the state of normalcy and have people show up on time and ready to learn. … We have that expectation."