PITTSFIELD — A new spread in Conde Nast Traveler seeks to explain, yet again, the Berkshires' appeal to well-heeled weekenders.
"It's the rich cross-history of bohemia and money, of creatives and cultural titans, that makes the Berkshires more than an escape from the city," the authors write in the magazine's current issue. "It's an escape to one of the liveliest and most vital artistic hubs in the USA. … It's country living with a symphony orchestra for its soundtrack."
People who work for low pay in the region's cultural centers are singing a different tune. In a new grassroots campaign on Instagram, they share personal testimony, anonymously, about the reality of work life inside museums and theaters.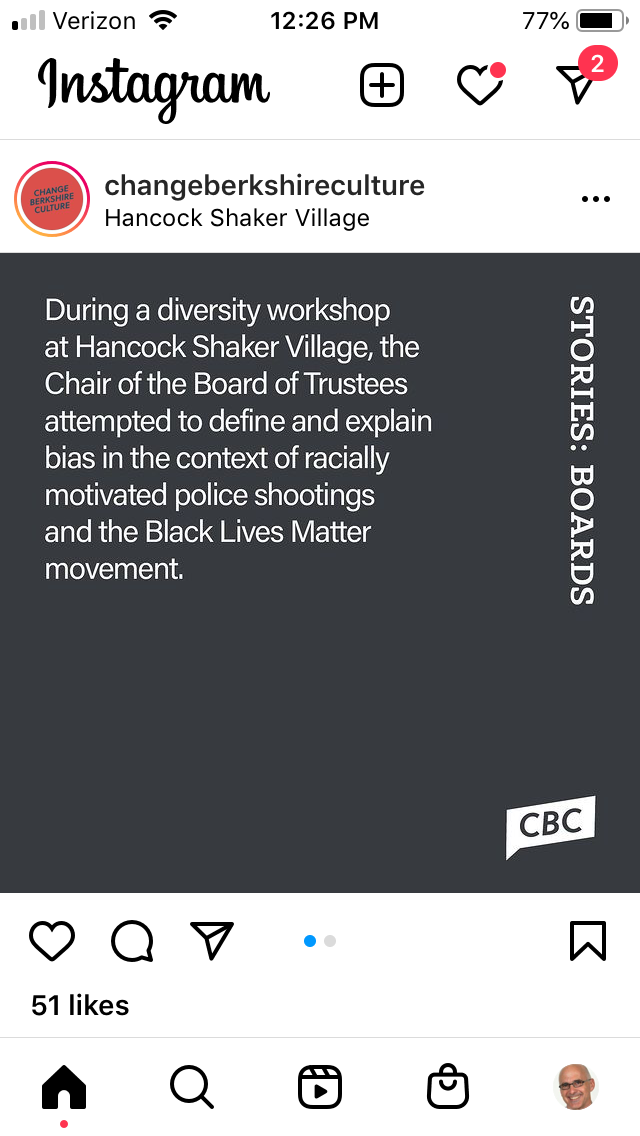 Though none of the posts yet identifies a worker by name, their stories refer to specific cultural institutions in the Berkshires. Posts about long hours for interns, stagnant wages and all-white administrations began appearing Sunday, Valentine's Day. The intended irony was made plain with accompanying graphics of candy hearts bearing far-from-loving messages: "Be mine, salary transparency."
The project is led by a group called Change Berkshire Culture, which says that after more than a month of organizing, it has a mailing list of 90 cultural workers.
"The fear of retaliation is very, very real," said one of the organizers, who spoke with The Eagle on the condition of anonymity, citing concerns that the campaign could cost them their job. "We want to support workers first."
The project is inspired by the national Change the Museum and Change the Board campaigns, which allow cultural workers to tell the public through social media posts what they see happening inside institutions.
Organizers of Change Berkshire Culture say their goal is to hold institutions to account, build community among cultural workers in the Berkshires and help them speak publicly without fear of reprisal. They seek to dramatize backstage challenges of "working in celebrated Berkshire arts organizations" and to help workers feel empowered by telling their truths.
"We're letting them stand in their own words," an organizer said of the new posts, which can be found on Instagram by following Change Berkshire Culture. "They submitted them and stuck to the facts and stuck to the truth of their experience."
On the social media platform, a disclaimer says that while all of the posts are by unidentified people, "the submitter has confirmed that the information is accurate and reflects the truth of their experience."
The stories
In one, a former intern for Barrington Stage Company writes of working 60-hour weeks over the summer.
"I worked so much, I got physically sick and had to miss days of work," the former intern wrote in a post that appeared Sunday. "Meanwhile, I witnessed staff members enjoying days off on social media. Later, I was told I was lucky to get that extra fourth day off from work. A sick day is not a day off, but for interns, it may as well have been."
A spokesman for Artistic Director Julianne Boyd of Barrington Stage said she was traveling Monday and unavailable for comment.
Other posts so far take aim at pay issues and perceived missteps as institutions work to improve diversity.
"During a diversity workshop at Hancock Shaker Village, the Chair of the Board of Trustees attempted to define and explain bias in the context of racially motivated police shootings and the Black Lives Matter movement," one post reads. "To illustrate her point, she shared a bias of her own: butter pecan ice cream. 'I like butter, pecans, and ice cream, but I just don't like butter pecan ice cream,' she said."
The post appears to take aim at what the writer feels is a trivialization of an important subject. And then it cites use of a loaded term, quoting that board chair as saying: "She later referred to the Director of Hancock Shaker Village as 'the leader of our tribe.'"
Jennifer Trainer Thompson, Hancock Shaker Village's director, said she believes the Instagram post "misstates" the context of the workshop, and why ice cream became a point of comparison.
"This was a workshop on diversity training addressing, in part, the pernicious problem of unconscious bias," she said by email, in response to a question from The Eagle. "The example of the ice cream was intended to convey the idea of conscious bias, as a point of contrast — and to do so using an easily relatable example that was not about diversity."
Use of the word "tribe," she said, was meant to describe a group of people "with a shared affiliation." She conceded that the term is fraught, given its association with native peoples.
"We understand that some might not believe this was the best choice of words," Trainer Thompson said.
Another testimonial questions the commitment of The Clark Art Institute in Williamstown to racial equity, based on who holds the top jobs.
"Every member of the Clark Art Institute's leadership team is white. The staff is virtually all white at all levels," the post says. "What message does this send to the Black and Brown students being trained in the Williams College Graduate Program in the History of Art?"
Participants, the post said, "all but live on the museum campus" for two years. "The Clark boasts at every turn about producing future museum leaders. ... notice that it's literally printed in bold letters on the scaffolding scrim around our housing undergoing renovations. A handful of program alumni currently work at the Clark. All white. So again, what message does this send?"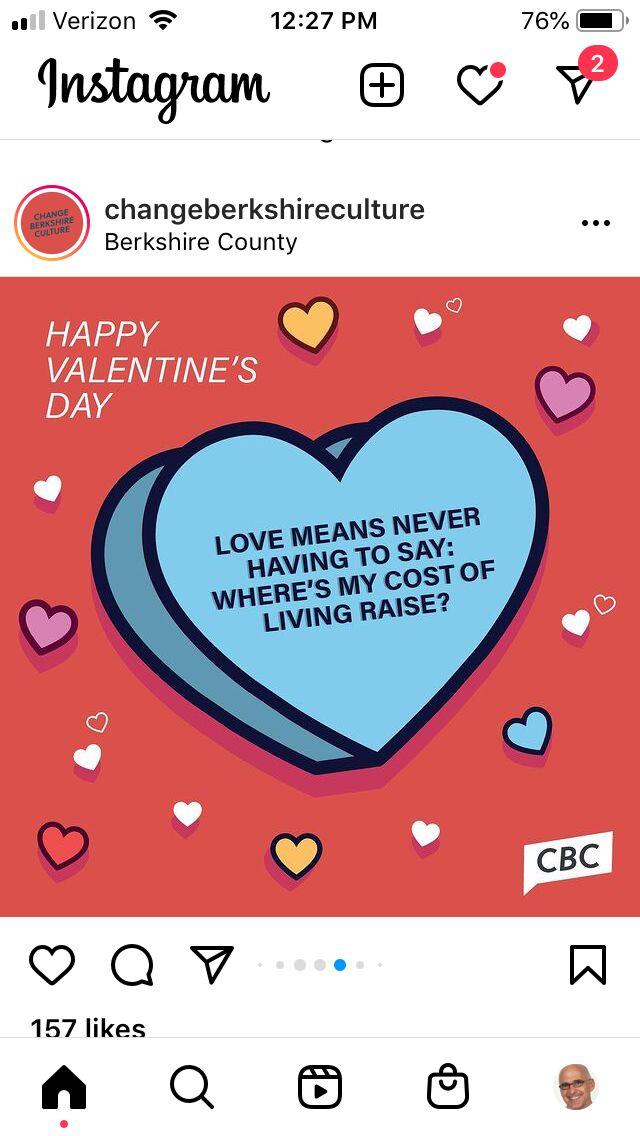 Vicki Saltzman, a spokeswoman for The Clark Art Institute, confirmed that, as of now, all members of the current directors' group, six women and three men, are white; she said the group has provided more racial diversity at other times.
Saltzman said efforts are underway to bring diversity when a vacant position is filled.
"We are making a very conscious effort to seek diversity," she said Monday. "It is very top of mind at The Clark these days. It is a process that takes time. We are committed to making change. We're trying very hard."
A post about the Berkshire Museum in Pittsfield brings readers inside a staff meeting led by Executive Director Jeff Rodgers before the institution held a videoconference about its plan to invest a total of $3.5 million in its South Street building.
"At an all-staff meeting the Berkshire Museum's Director announced that unfortunately, due to the revenue loss during the COVID-19 pandemic, there would be no cost of living raise," the post says, adding that such raises typically boost salaries by 2 to 3 percent. "A couple of weeks later the museum unveiled its extensive and multi-phased renovations plans …. Some of the staff at the museum make under ($)30,000 a year working full time."
Rodgers said Monday that the decision to forgo raises was a one-time move forced by "significant" losses in revenue this year due to the coronavirus pandemic.
"It's a losing proposition to keep the museum open," he said. "That was a hardship for everybody and was a difficult decision to make."
As for use of proceeds from the museum's controversial sale of artwork in 2018, Rodgers said earnings on the new endowment are being used to cover operational expenses, including keeping on all full-time workers. "That was our savior this year."
The building project that drew criticism in the Instagram post is needed, Rodgers said, to help ensure the museum comes out of the pandemic able to draw visitors.
"It speaks to our growth and stability in the future," he said.
People submitting stories to Change Berkshire Culture also have been sharing salary information. The project's organizers say they plan to include findings from that in weeks to come through the use of informational graphics.
Push for reform
Kristen van Ginhoven, producing artistic director at WAM Theatre in Lenox, said leaders in the cultural community should pay attention to what groups like Change Berkshire Culture are saying. She notes that the posts come amid societal reckonings with racism and sexual harassment.
Change can't be made, van Ginhoven said, without questioning how institutional power is wielded.
"We are seeing, more and more, the depth of the harm and trauma that too many have experienced while working in the arts," she said in an email message. "It is up to us, especially those of us in decision-making positions, to heed the call of those that are speaking up and honor their courage by taking responsibility for our actions and doing the work to change our industry."
A week before the launch, Change Berkshire Culture sent a message to rank-and-file arts workers saying its goal is to rally and support them and to advocate for reform on their behalf.
"Together, we can fight for fair pay, accessibility, diversity initiatives that go beyond statements, and work environments that value staff," the message said. "Together, we can re-imagine the structure of institutions and aspire towards a cultural sector that empowers communities and workers."
In a Jan. 15 message, organizers wrote: "In a region celebrated for its rich and diverse cultural landscape, dysfunction and toxicity are endemic within the arts. For decades, dedicated and passionate staff members have tolerated untenable situations for the love of what we do and where we live."