PITTSFIELD — By 8 p.m. each weekday evening they've assembled, this night crew of crescent-wrench wielding, Industrial Age throwbacks and trouble-shooters.
Having slept during the afternoon in bedrooms with blackened-out windows, they've pulled on their work clothes the color of dusk, their names stitched at the breast: Albie, Mike, Robert, Taylor.
Things will get loud.
There will be ink.
If the slick, fresh efficiency of the digitized age justifies a rejoinder, it's heard here, beginning with a loud bell that rings much like that of an old rotary phone but without the pauses. The bell proposes in no uncertain terms: Get your limbs, get your loose clothing all out of the way, because a whole lot of unforgiving machinery is about to begin moving.
In the Berkshires, especially, people still wish to read a newspaper — an actual, physical newspaper — and so in tandem with augmented efforts to deliver news online, a wondrous ritual continues nightly in the vast lower precinct of The Berkshire Eagle headquarters on South Church Street.
As most of the county slumbers, the first draft of local history is printed, folded, stuffed with circulars, stacked, labeled, bundled and deposited out onto a loading dock where an army of drivers awaits.
'I could watch it all day'
Barbara Haddad, 64, who runs the mailroom, still can't get over it all. Here in her mailroom, where freshly printed newspapers arrive overhead one by one on a conveyor belt like stork-delivered identical newborns, she marvels at the mechanics of it all.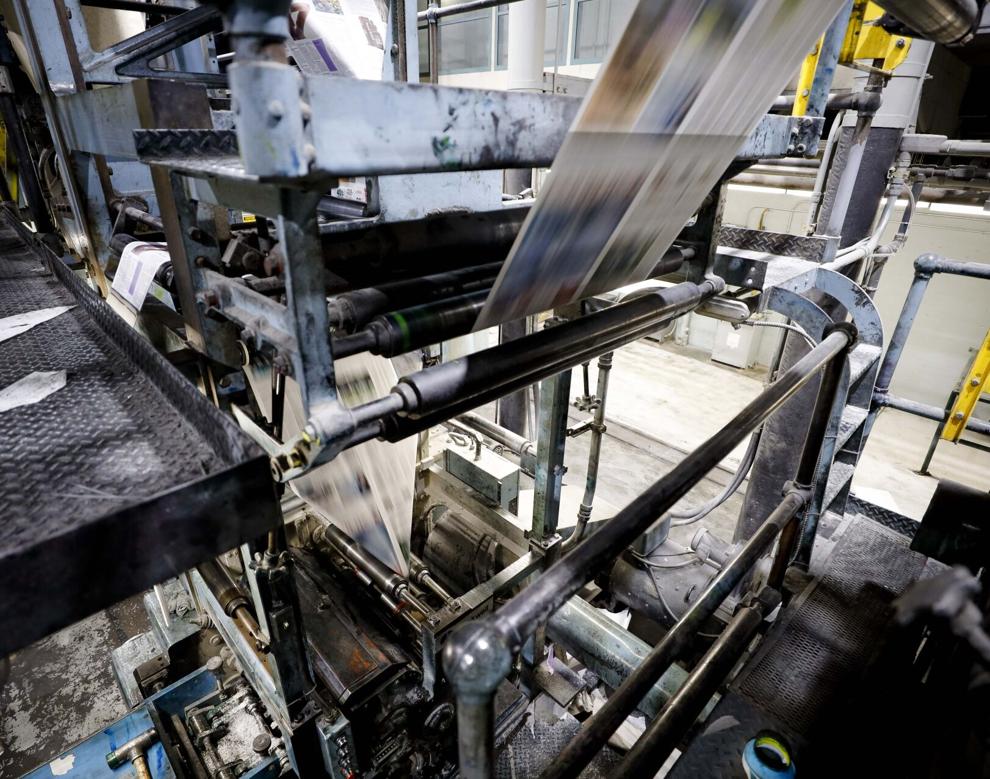 "The press mesmerizes me, and I've been doing this for 44 years," she said. "How it all comes together, everything in place, I could watch it all day."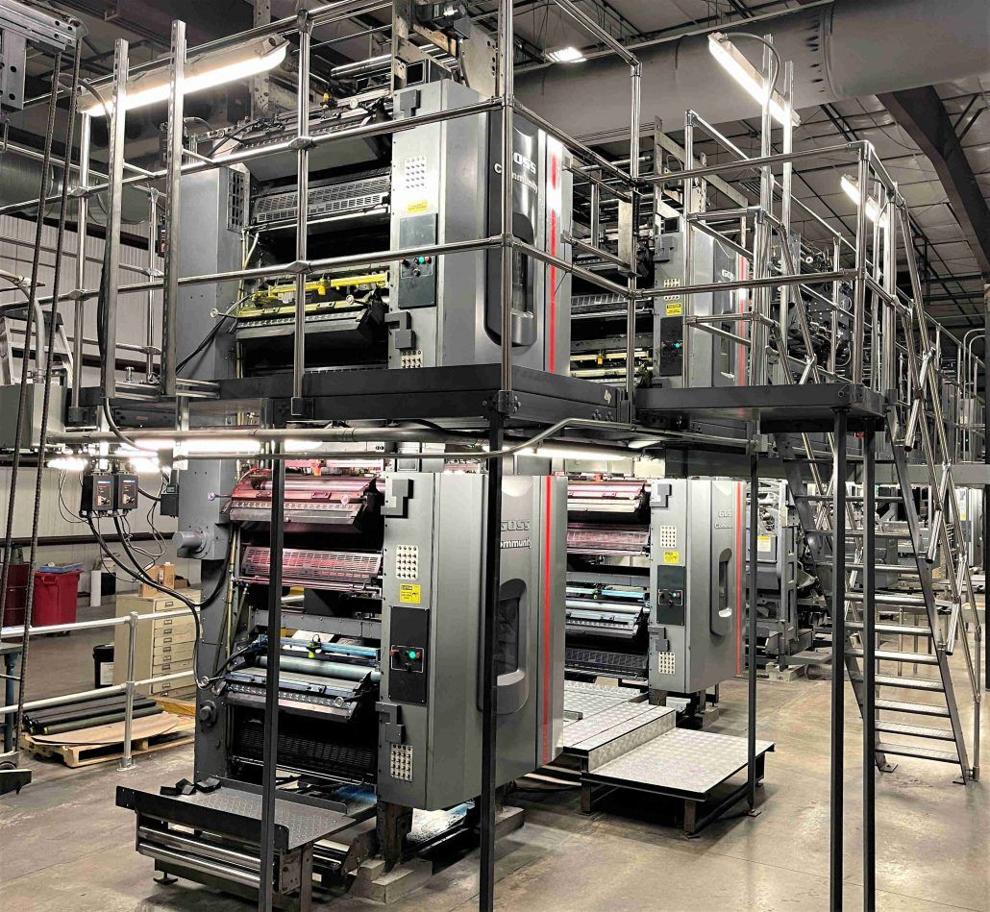 She'll be able to watch it for as long as she pleases because The Eagle, bucking a national trend, has recommitted to a future in print. This weekend, workers will begin dismantling the printing press that's been used since 1990, a Goss Urbanite. A newer press, a Goss Community SSC Magnum, will soon arrive from the Midwest in several truckloads. Over a span of the next eight to 12 weeks, while the new printer is being assembled, the press crew will print using an adjacent back-up press.
When all is said and done, the publications printed here — and it's not just The Eagle — will look better and the machine that prints it all will require less minute-to-minute tinkering.
Still, this process of printing a newspaper will remain much the same. This factory space of bruised brick will maintain its fragrance of old shoes, varnish and soot. It will be loud. It will be inky.
"It's a dirty business," said Jon Hardison, the recently hired pressroom manager who will oversee the transition to a new press.
The daily ritual
When Albie Lambert first entered The Eagle pressroom for an interview back in 1978, he spied his future co-workers — the walking, talking smudges of ink climbing upon catwalks and crawling headfirst into mysterious machinery — and he had one question: "Can you get it off?"
The ink, that is.
"Oh, yeah, you can get it off," he was told.
"OK," Lambert said.
It's true: The ink comes off. These days, he recommends a non-alcohol hand cream. He prefers Oil of Olay.
But at 8 p.m., at this early part of the nightshift, he's not inky yet.
Each weekday evening begins with the printing of two daily Vermont newspapers. Usually, by midnight, it's time for The Berkshire Eagle. The evening typically ends with a fourth print project. In the early hours of Wednesday, they turn to the weekend comics section.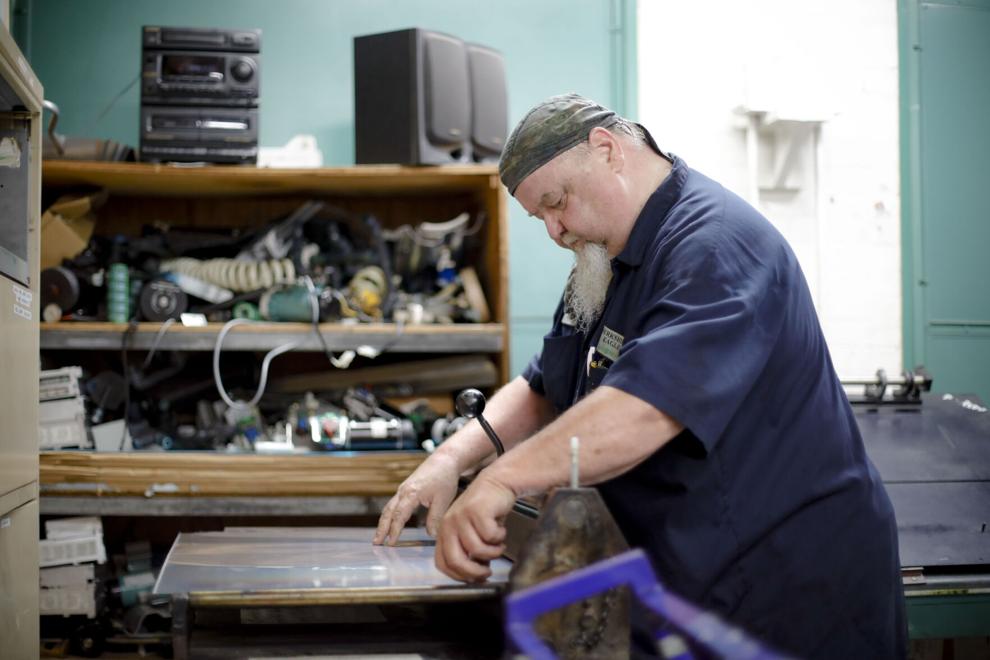 Each evening, with the day's news, views and photographs edited and arranged onto digital pages, the press crew takes over. Lambert collects a series of thin metal plates from a processor. The plates have been electronically etched with the image of each newspaper page.
Those plates make the ominous sound of thunder as Lambert carries them to the printing press. The press itself is nearly half a city block in length and laden with ink troughs, narrow gangplanks and caution stickers.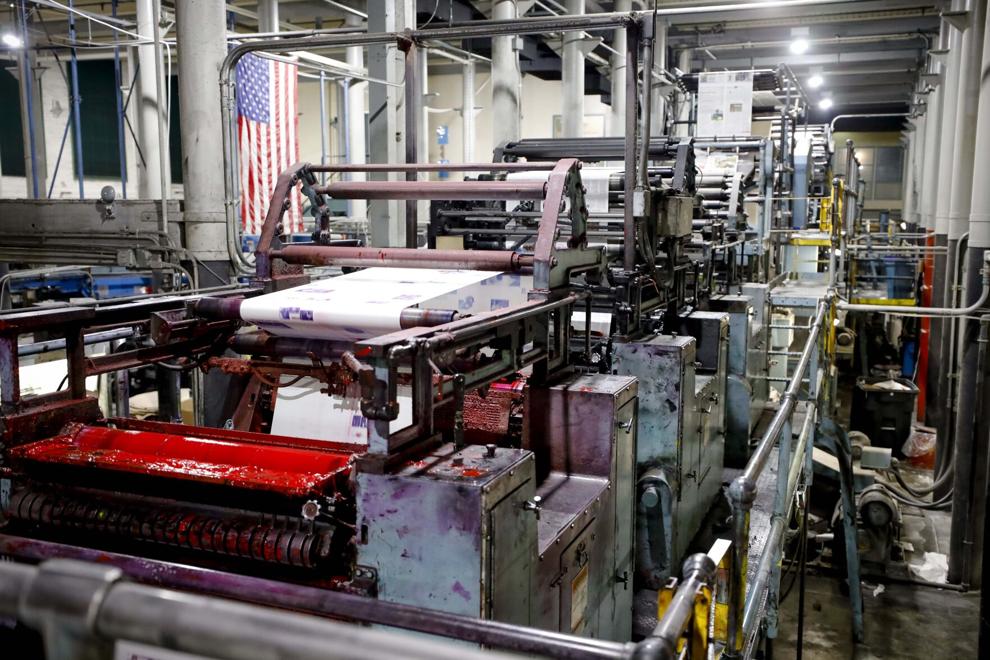 A crew of four, including Lambert, see to it that the plates are wrapped around a series of steel cylinders inside the guts of the press. During the printing process, those plates transfer their inked image to a rubber roller, which in turn prints onto paper.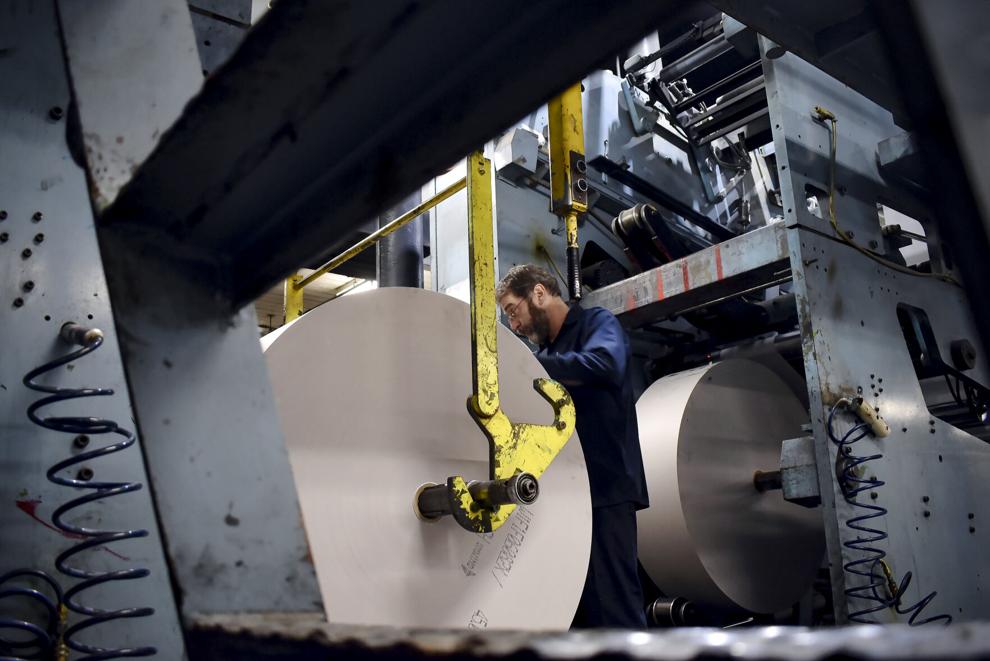 Someone, a genius, and not Johannes Gutenberg, figured all this out: how each cylinder and each metal plate can be arranged such that a ream of carefully tensioned paper can weave its way up, down, over, this way, that way, until it's finally folded and snipped into a single, assembled product — a newspaper.
When it comes to The Eagle, the press crew uses rolls of paper that each weigh 834 pounds. The rolls are 24-inches wide and hold 44,291 linear feet of paper. The old printer has been operated in recent years at the speed of about 12,000 newspapers per hour, though it can go faster, said Robert Taylor, the pressroom foreman who's been working here since 1999.
Once those plates are loaded, it's time for that bell to ring.
"OK, let's rock," Hardison says, at the start of a print run this past Tuesday evening.
With one button, Taylor at the control panel sets the printer's rollers into motion. With another, he feeds the machine with water. With another, he feeds it with ink.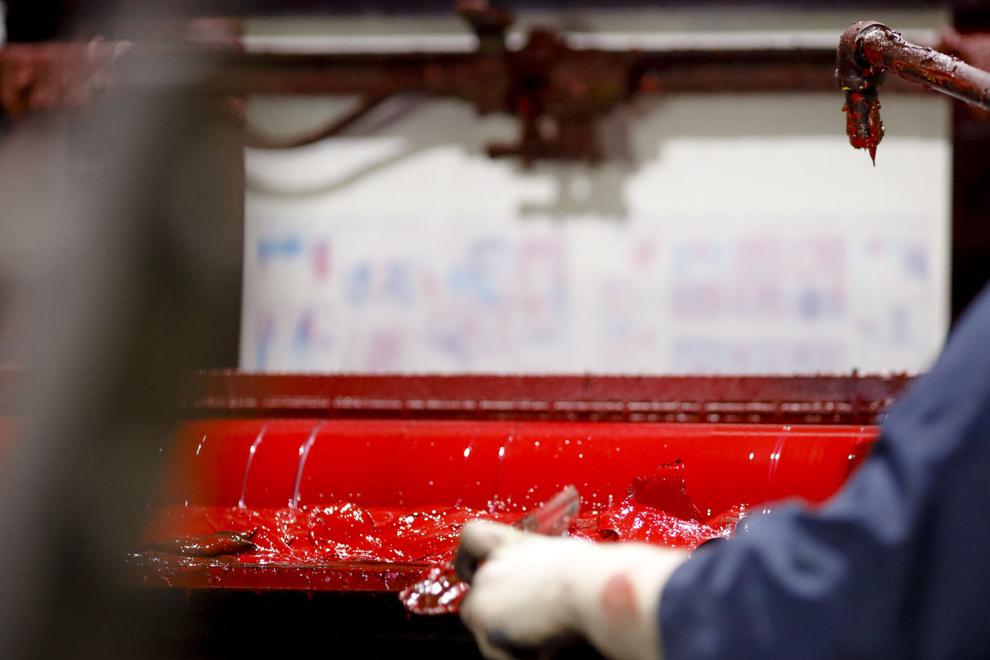 As the press gets moving, it thwops — like work boots in a dryer. As its speed increases, the sound becomes a sustained whir, like a propeller to a military transport aircraft.
Behind Taylor someone made sure to post a list of emergency phone numbers that includes those of production manager, the general manager of operations, police, fire, hospital and ambulance. Beside that sheet sits an ink-soiled stereo that's set to a classic rock station.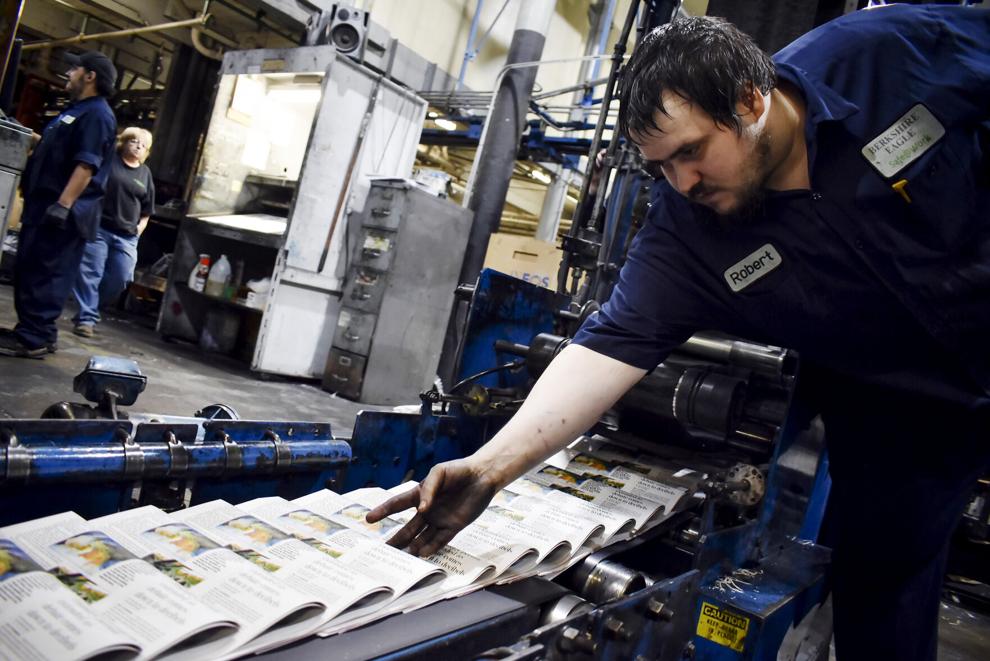 With each print run comes a moment early on when Taylor slows the press down and the crew members each snatch a copy of the freshly printed paper to flip through its pages. By the look of it, you'd think they were checking up on the day's events — who died, which team won, what's up with the Housatonic River cleanup. But really what they're doing is checking to see that photos and text are lined up on the page and that the colors are printing uniformly.
With this old Urbanite press — which Eagle officials estimate has printed more than 17 billion pages or 6 million miles of paper — usually the crew has had to scatter to make adjustments. With wrenches in hand, Robert Farron goes one way and Mike Carlow goes another. They return smudged with cyan, magenta, yellow and black.
The goal each evening, said Taylor, is to avoid "bad nights." A bad night is usually one with multiple incidences in which that long roll of paper either tears or gets wrapped around a cylinder. It can take 15 minutes to reweave a web of paper through the machine.
On this evening, there are neither rips nor jams. Just an old baby blue machine assaulted by time and toil, methodically printing what amounts to its last words in this lifetime before it's cut into pieces and recycled at the scrap yard.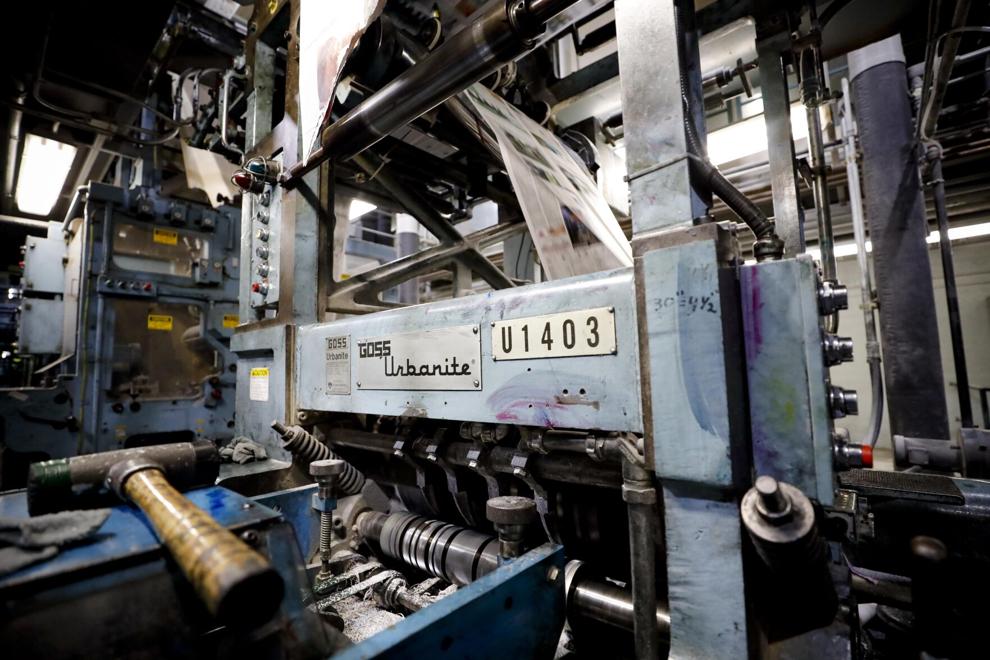 Down the line
You can understand why Haddad is still mesmerized. Lambert is, too. So is Hardison, and that's saying a lot. In his earlier career, Hardison worked at the northern Virginia press that printed The New York Times' Washington, D.C., edition, back when President Bill Clinton was in office.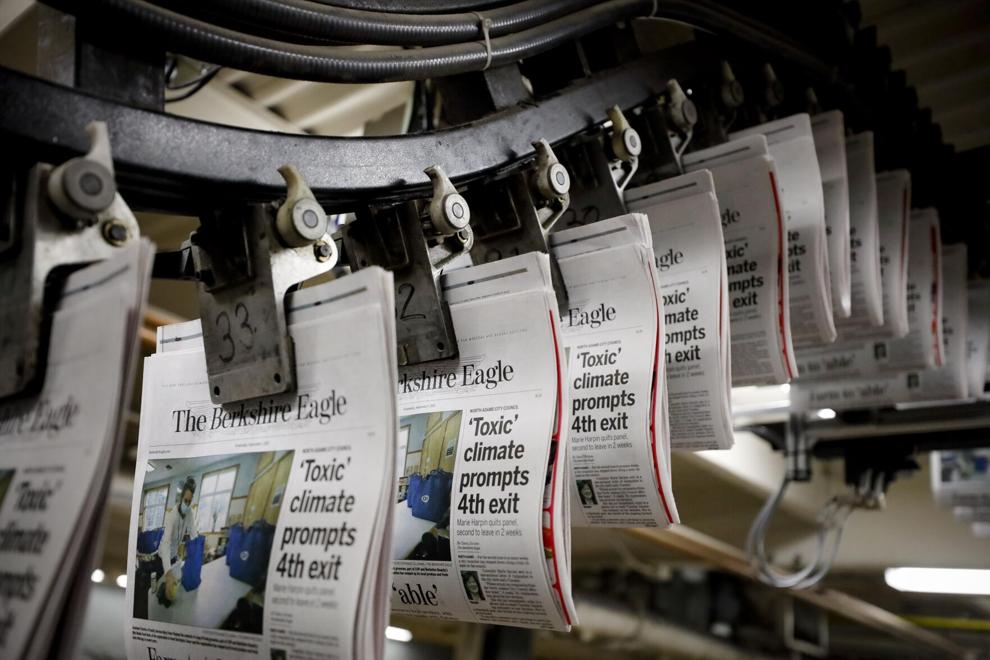 "I remember our boss told us one day, 'You know the president gets our paper. They set that paper on his desk each morning,' which meant, 'You gotta make your deadline,'" Hardison said.
Because many other publications also rely on The Eagle's printing presses, the press room has a day shift as well. The goals are the same, regardless of the shift, said Hardison: "Get a quality product out there, and get home on time."
With Carlow having loaded a fresh roll of paper, The Eagle's Wednesday edition rolls off the printer without a hitch. From the printer, each newspaper is mechanically hoisted to an overhead conveyor belt that wends its way into the mailroom where Haddad and her crew eagerly await.
The papers each drop from the conveyer belt into a chute called a stacker. From the stacker, they are then hand-fed into troughs to an inserting machine. This evening, many copies of The Eagle were fed with circulars from either Stop & Shop or Big Y, depending on each newspaper's final destination.
A look back: Nearly 32 years of news printed on The Eagle's Goss Urbanite press
The Goss Urbanite press that has printed every edition of The Berkshire Eagle for nearly 32 years was retired after printing the Saturday, Sept. 4, edition. The Berkshire Eagle will be printed on a new, high-quality printing press once it's installed later this fall; during the transition, we will publish The Eagle on a backup press. As we toast the Urbanite for a job well done, we salute that workhorse of a press by taking a look back on a few of the front pages it has published during its time in operation.
The "zone lady," Ruby Watson, who's been working in the mailroom since 1986 and whose ears are still ringing from the Lynyrd Skynyrd concert she attended last weekend in Saratoga, N.Y., ensures bundles are zoned and labeled accordingly.
The papers are then mechanically hoisted overhead on metal clamps and dropped down into a final chute where they are stacked once again and shoved along to be banded in bundles of 10 or 20.
Pierre Turcotte, 24, is Haddad's "number two." Haddad is teaching the soft-spoken Becket native the proper way to say "Hold it!" when there's a jam at the stacker and the machinery needs to be paused.
"You need to shout it, sharply," Haddad tells him, loud and sharply.
An industry in decline?
Turcotte, too, marvels at it all, this machinery, how it all works. But being a child of the digital age, even he wonders how long printed newspapers will have an eager readership.
"Everybody's got the world in their hands," he said, pulling out his smart phone.
No question, these are challenging times for the printed newspaper industry.
Between 2005 and 2020, more than one-fourth of the newspapers in the United States disappeared, said Penelope Muse Abernathy, the author of four reports on the state of local news and a professor at Northwestern University's Medill School of Journalism. She said the pandemic and current economic uncertainty "have turbo-charged a decline in industry, with dozens of newspapers closing or switching to online-only."
Yet, here on South Church Street, the people who run things upstairs have done the math. A new printer is coming. The daily miracle shall continue.
At around 1 a.m., Zachary Charbonneau is out on the loading dock helping the driver Regie Schofield load his truck for a long journey, a route that extends more than 200 miles from Pittsfield and deep into the winding country roads of the county's eastern hill towns.
People still want an actual newspaper, printed, folded, the way it's always been. Time for Schofield to deliver, and so there he goes, shoving off into the ink-black night.