PITTSFIELD — It's not easy running a growing grassroots environmental action group out of your own house, but Jane Winn did it for 17 years.
"In the beginning, I had an office at home," said Winn, executive director of the Berkshire Environmental Action Team, which she founded in 2002. "But, when we started adding employees, it took over the second floor of our house, our basement and our garage.
"I can't believe that we lived like that for so long."
Winn can move around her house more freely now. Last month, BEAT bought a building in west Pittsfield to serve as the group's first permanent home. But, it will be more than just a meeting place or a space for offices and storage.
BEAT refers to its new two-story building as an "environmental leadership and education center" that eventually will be fossil free and have room for interactive exhibits like a wildlife-listening area.
This all will take place at the former Immanuel Community Church at 20 Chapel St., a structure the group had been renting since 2019. BEAT raised money for the $124,900 purchase price by holding the first capital campaign in the organization's 19-year history. It raised the necessary money in about six months, Winn said, and did not need to obtain a mortgage.
"We had been looking for a new home for about two years and couldn't find anything that was in move-in condition that we could afford," Winn said. "This is just the perfect spot. There's enough room for us, and it's right on the southwest branch of the Housatonic River."
The fundraising isn't completely over yet. On its website, BEAT stated that it needed to raise $455,000 to buy and renovate the former church.
"We are right now working with the architect and the designer really nailing down how much it will cost for everything that we want to do," Winn said. "We want to make it a zero net energy building with solar panels and batteries and an [air source] heat pump for heating and cooling. We want to make it fossil free."
The building's former owner and the Center for EcoTechnology have chipped in, providing a matching program and a grant that allowed BEAT to install LED lighting in its new home and replace the former church's knob and tube wiring.
"We had $45,000 worth of work done for free," Winn said.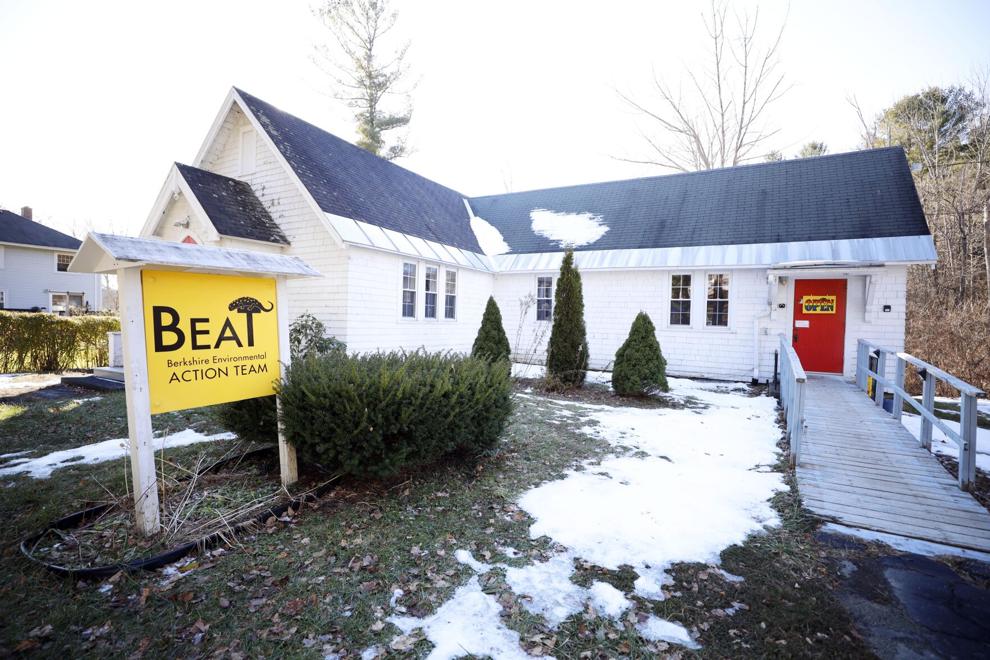 According to its site plan, BEAT has planned a host of outdoor improvements, including a spring ephemeral garden; two pollinator meadows — one on the riverbank, and the other with a stormwater swale; an electric vehicle charging station; a milkweed garden; and a rain garden between the former church's parking lot and the river. A rain garden is a depressed area in a landscape that collects rainwater from a roof, driveway or street and lets it soak into the ground.
BEAT also plans to enhance the wildlife habitat along the river, and provide access through it for river monitoring.
The group has filed papers with the Conservation Commission to put in the rain garden.
"And when we are ready to do any work on the riverbank removing invasive species and planting native plants that are great for wildlife, we will go back to the Conservation Commission," Winn said.
According to Winn, the former church contains 1,843 square feet on both floors. The main level level has two offices and two large meeting/exhibit rooms. The lower level has two bathrooms, a hallway, a large kitchen and a large workshop room.
BEAT intends to reduce the size of the kitchen to add laboratory space but does not plan to change the footprint of the building, Winn said. A new roof will be added to support the planned solar panel array.
The batteries will be on hand because "if there is a blackout, we would have a space where people could drop by, get warm or cool, recharge their phones or laptops ... or even cars in an emergency," Winn said.
There are over 100 donors to the capital campaign listed on BEAT's website, and the majority either are couples or individuals. Winn is pleased with all the support.
"I was surprised at some of the really big donations," Winn said. "But, I was surprised not only by how much we raised, but that it was so easy talking to people who shared our passion. A lot of good people think it's a good thing that we're doing."