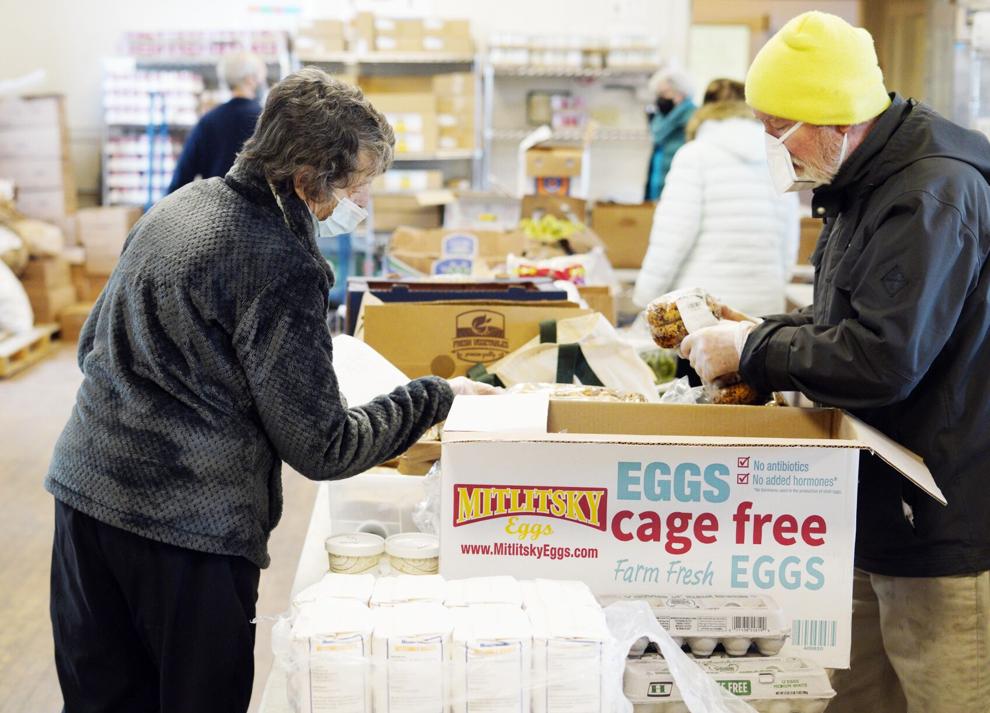 PITTSFIELD — An increased need for food distribution has set the stage for South Congregational Church to expand its pantry.
To accommodate those growing numbers of people seeking assistance, the church is removing a stage, which has long been in its pantry area, to make room for a new refrigerator and freezer to store the pantry's stock, paid for by over $50,000 in American Rescue Plan Act and grant funding.
Mary Wheat, volunteer site manager for the food pantry, said the new freezer will be even bigger than the one it has upstairs.
The Rev. Mike Denton, pastor of the church, said it was emblematic of the church's mission, converting what used to be a gathering space for the congregation into storage for much needed food.
But the new appliances will only go so far. The pantry still needs to fill them, and keep its shelves lined — a feat that is only getting harder as demand increases.
"It doesn't do us any good to have a new refrigerator without any food to put in it," Wheat said.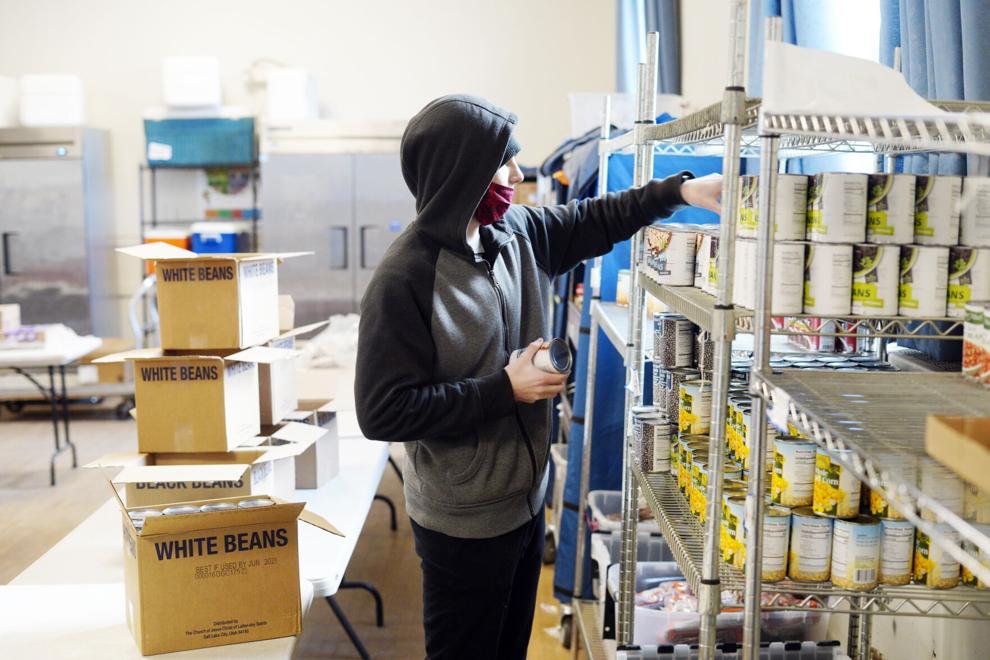 In the past three months, the pantry saw an increase of about 300 families per week. Wheat said the pantry will see between 850 and 900 families a week visiting the space, in addition to 380 home deliveries. The increased demand has stretched the supplies thin.
The numbers continue growing, she said. On Wednesday, 10 new households came in for meal distribution. In an average week, it will see anywhere from 16 to 18. Among new families, many cite inflation as a reason for coming in, Denton said.
"The crisis has already started," Denton said. "Now we're going to see how big it gets."
Additional SNAP benefits from the federal government are also set to end on March 2, meaning that in April, recipients will only get one monthly payment for food for the first time since the pandemic started.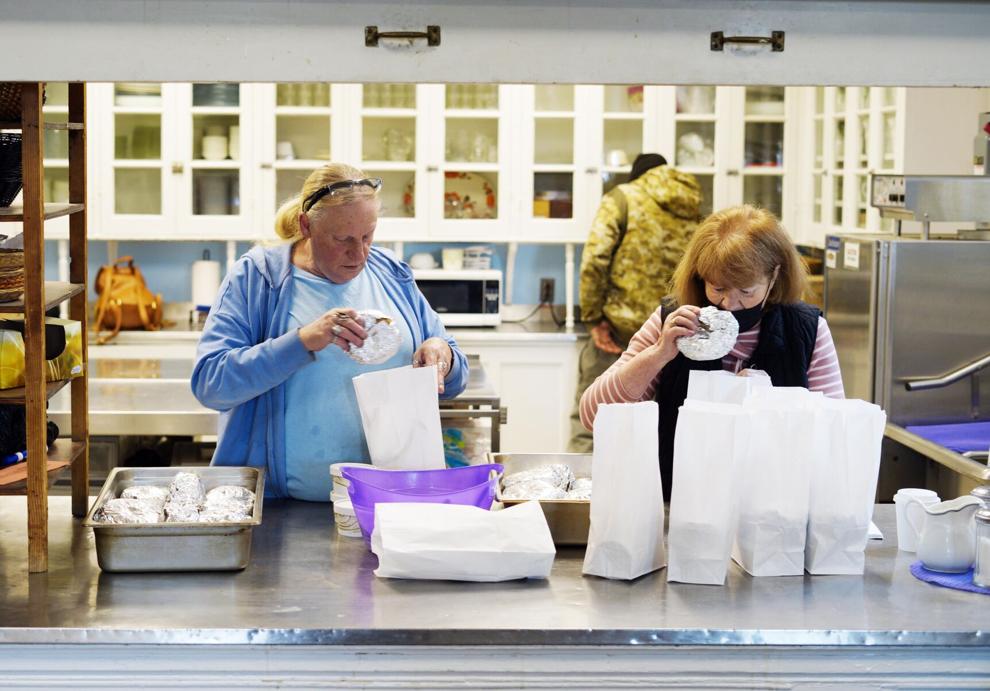 A press release from the Department of Transitional Assistance indicates that the benefits brought in $95 million in federal funds to the state each month, supporting over 630,000 households. The pantry is bracing for an influx of people seeking food, although it's unclear how many new families locally will need help as a result.
Christina Maxwell, director of programs at the Food Bank of Western Massachusetts, said the change in benefits will make a tight spot even tighter.
"The cuts are drastic and they're going to hurt people," Maxwell said. "There's no two ways around it."
Maxwell said that the supply at the food bank, which serves 36 agencies in Berkshire County, has been harder to come by since the pandemic began. The food bank gets its tonnage from the state government, the United States Department of Agriculture and private donors, including individuals, farmers, food drives and grocery stores.
But between supply chain issues and diminished food stock, things have gotten more unpredictable. Maxwell said the bank received just half the amount of food it did this time last year from the USDA. Natural disasters, such as wildfires and major storms, have disrupted national crops and animal sources, she said.
Deliveries from the feds also have gotten less dependable, she said. Orders often run late, don't come in at all, or multiple may arrive at once — a major task for the people working there to sort through.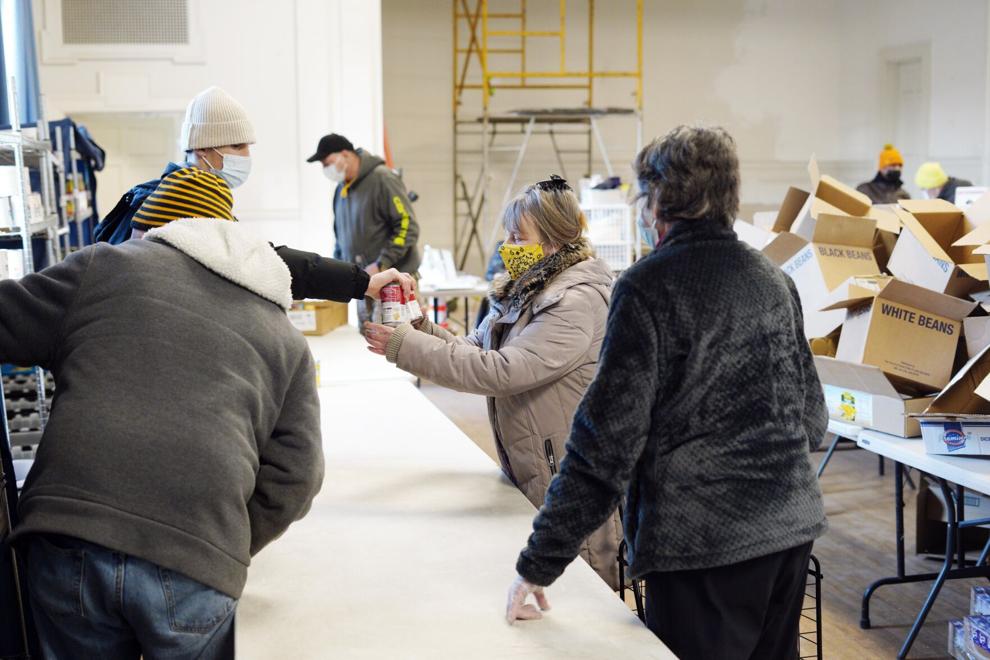 "There's not a lot we can do about that until the USDA recalibrates a bit," she said.
The constraints have led the food bank to increase its requests to the Massachusetts Emergency Food Assistance Program and to buy more things out of pocket. The food bank bought over 330,000 pounds of food from October 2022 to Feb. 1 — a 176% increase from the same period last year.
Due to rising prices, however, Maxwell said that spending more doesn't always mean getting more supplies. Certain mainstays, like tuna fish and canned chicken, are popular pantry staples used for sandwiches and casseroles.
"We're piecing it together, but there's still some things that people are missing," she said. "All we can do is get food in the door and get it out to the pantries."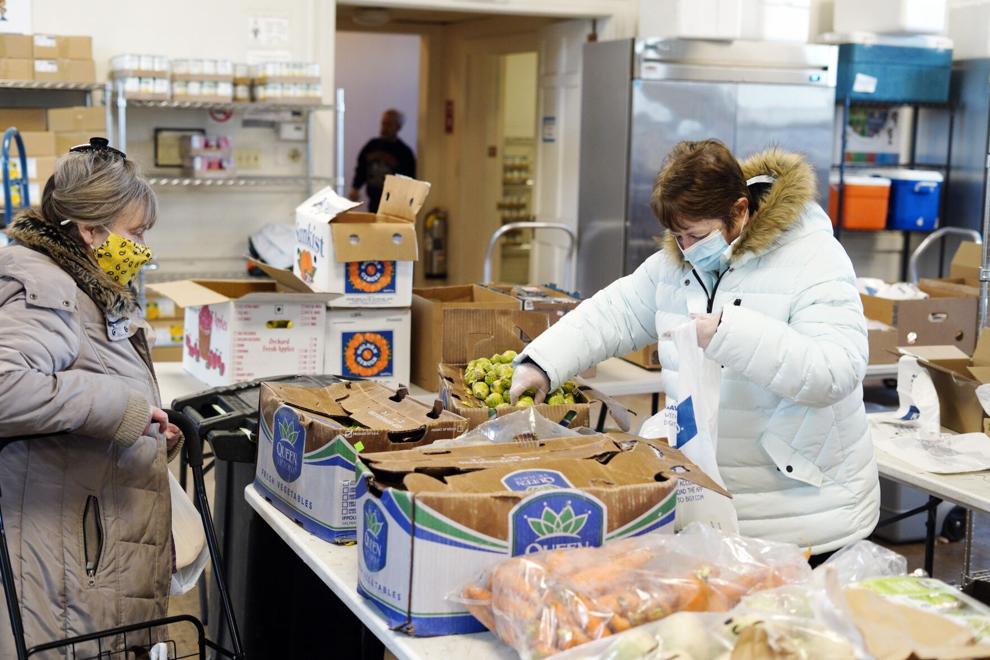 Wheat said the increase in scarcity is most visible after a week's worth of distribution, particularly in the pantry's produce.
"We'll have half a bag of potatoes left," Wheat said. "No fruits or vegetables."
Volunteers work hard to find substitutions when they can, Wheat said, but the strain sometimes means visitors to the pantry go without. It's already cut back on some of the "extras" it generally provides, including toilet paper and clothing.
The pantry gets its supply from a variety of sources, including 72,000 pounds from the food bank and donations from local grocery stores. More and more, however, staff are spending more out of pocket on resupplies and trying to keep the shelves stocked. The pantry spends between $3,000 and $4,000 a week, Wheat said, with more costs coming.
"We're going to have to buy more," she said. "That's where we need financial donations."
Wheat said South Congregational will likely begin fundraising for the increased need soon. She stressed that the pantry needs more money now more than ever to try to bridge the gap and said she hoped as many people as possible could donate.
The People's Pantry in Great Barrington has seen staggering increases to its numbers, too. Anne Hutchinson, vice president for operations at the pantry, said the number of clients served doubled between December 2021 and December 2022.
The pantry had its biggest day ever just last week, serving 132 households — roughly 400 people — in one go. The pantry feeds about 2,000 people per month, Hutchinson said. It takes about four freezers to keep the supply fresh, she said — the pantry just got one last week. The agency also added offsite storage for canned goods.
The need has intensified during the winter, she said, in part because the price of natural gas has gone up.
"People will hopefully have enough money for gasoline in their cars and heat in their homes," Hutchinson said.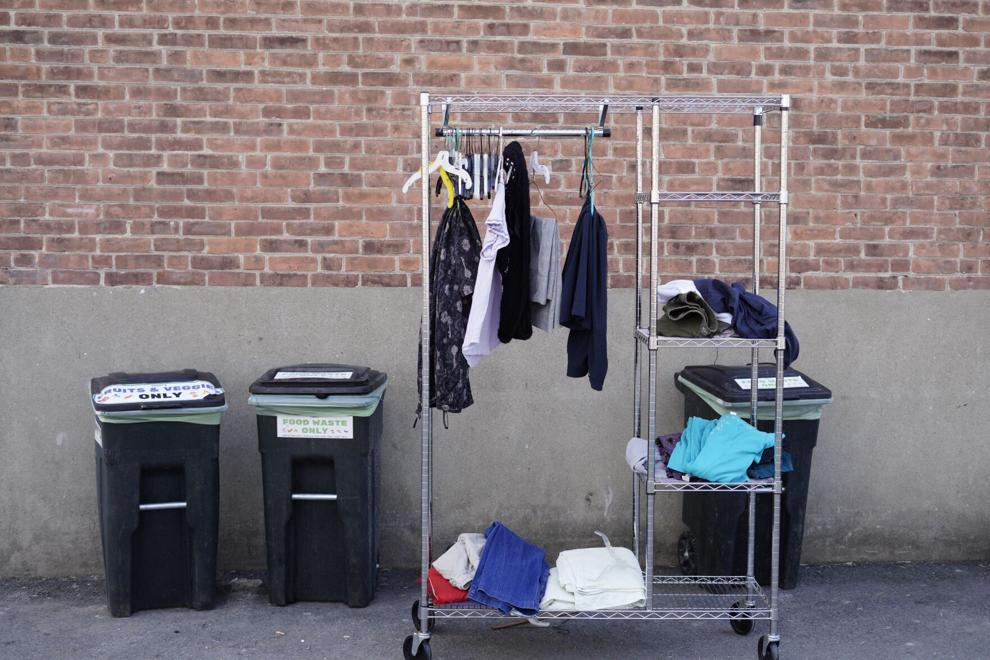 Hutchinson said the pantry spent $234,000 last year, and expects that the increase in food costs will run 25 to 35 percent more this year. It raised about $300,000 last year. It will likely need to increase its year-round fundraising efforts — something that wasn't necessary until the pandemic, she said.
The organization runs on the good nature of 35 volunteers, she said, and several local partners who donate their crops and time.
Even as the numbers stack up against it, Wheat said South Congregational will figure something out to make ends meet. The need for food — and a helping hand for those who need it in the city — is simply too great to fold at the table.
"We'll find a way to make it through," she said.