PITTSFIELD — Calling for Berkshire Gas to move from fossil fuels to clean heating sources, climate activists Wednesday did not get the meeting they desired with the company's leadership.
Instead, they got a brief visit from police, who responded to a call from the company after protesters arrived at the Berkshire Gas headquarters on Cheshire Road.
The state, which has set a goal of net-zero carbon emissions by 2050, requires all local distribution companies, including Berkshire Gas, to submit a decarbonization plan by March 2022 to the Massachusetts Department of Public Utilities.
About a dozen protesters said they want Berkshire Gas to submit a proposal that is "all-electric, safe and affordable for all," rather than propose controversial sources, such as hydrogen or renewable natural gas.
A Berkshire Gas spokesperson said the company "looks forward to supporting the state's climate goals while also continuing to meet the energy needs of Western Massachusetts, as we have for more than 150 years."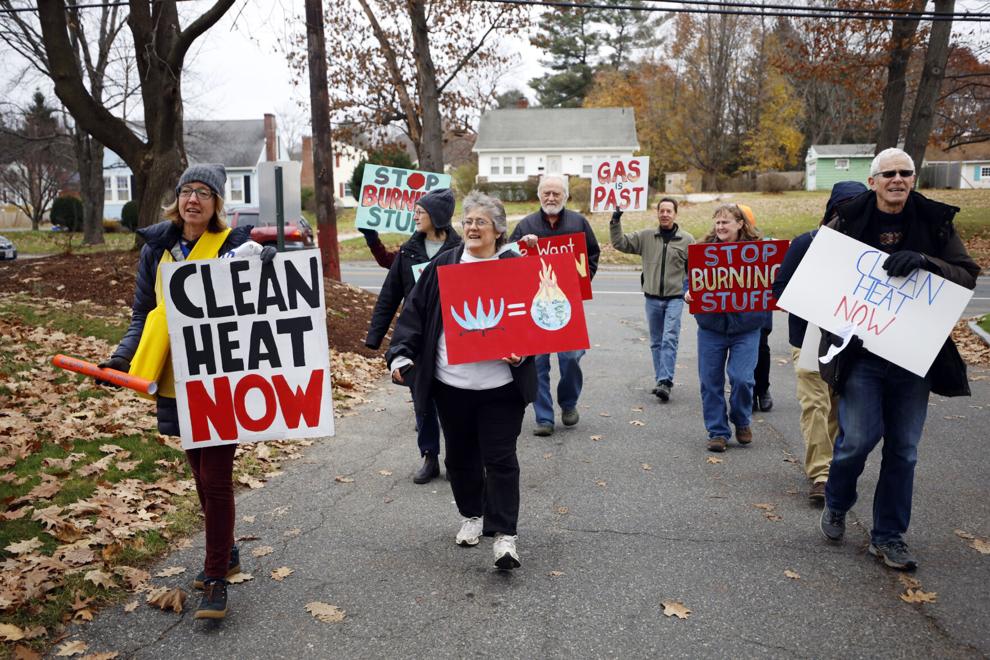 Members of the Berkshire Environmental Action Team and the Berkshire node of 350 Massachusetts, as well as a representative from the Cambridge-based national nonprofit Mothers Out Front, demonstrated Wednesday, holding signs as they walked from Allendale Plaza to the Berkshire Gas building on Cheshire Road.
They tried to deliver 151 postcards, signed by residents from the company's Berkshire County and Pioneer Valley service areas, urging the company to adopt "real climate solutions." A woman inside the building asked the protesters to leave private property and said protesters could not drop off the postcards outside.
Rosemary Wessel, who led the demonstration, said the new plan is to send the postcards by mail and to request a formal meeting with Berkshire Gas President Sue Kristjansson.
"As ratepayers, we want Berkshire Gas to invest in clean heating, not false solutions that will worsen our climate crisis," said Wessel, director of the Berkshire Environmental Action Team's No Fracked Gas in Mass program.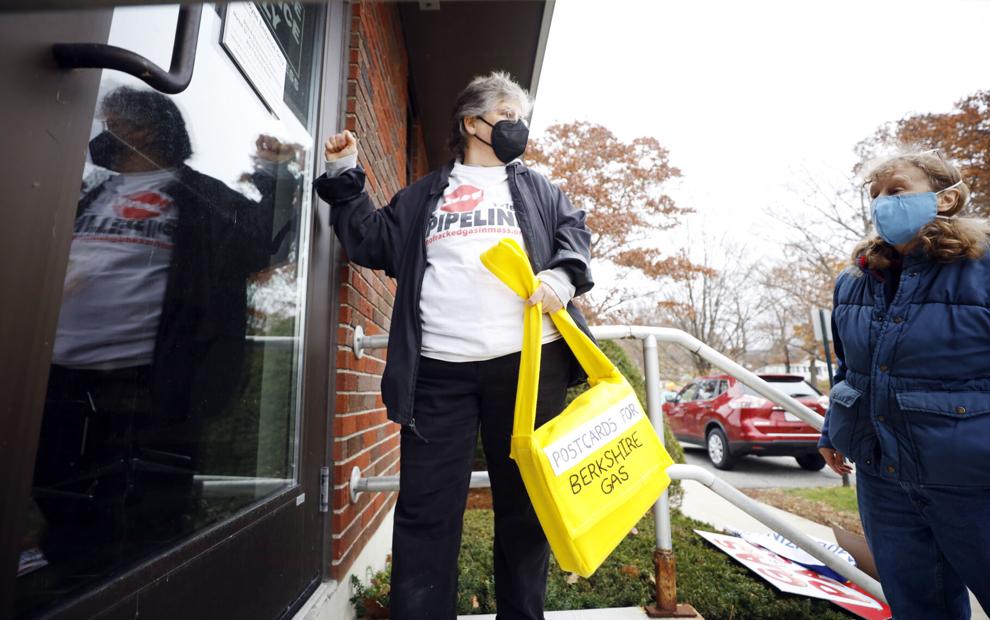 Wessel cited research that has called into question the climate impacts of hydrogen and renewable natural gas. Extracting hydrogen from natural gas emits carbon dioxide, and production of natural gas releases methane. Other recent research raises concerns around waste methane from renewable natural gas.
Jane Winn, executive director of BEAT, said installing heat pumps in homes provides a way to cut down emissions and save money for consumers, adding that landlords can save their tenants money by participating in the Mass Save program. She pointed to geothermal heating — it generates heat from hot water — as another solution, which has begun to be employed at a neighborhood or district level.
Tina Cornell, of Mothers Out Front, said that beyond utilities companies, the state and federal governments also can move the needle on clean heating. Governments can increase funding for rooftop solar energy, Cornell said, to avoid relying heavily on individual homeowners to install systems.
The Pittsfield demonstration was one of 11 events that Mothers Out Front coordinated Wednesday, as part of its The Future of Clean Heat campaign.