Disbelief, anger, frustration and fear.
Those were the emotions expressed by Berkshire County residents and elected officials to Friday's decision by the U.S. Supreme Court to overturn Roe v. Wade, which eliminated the constitutional right to abortion in the United States.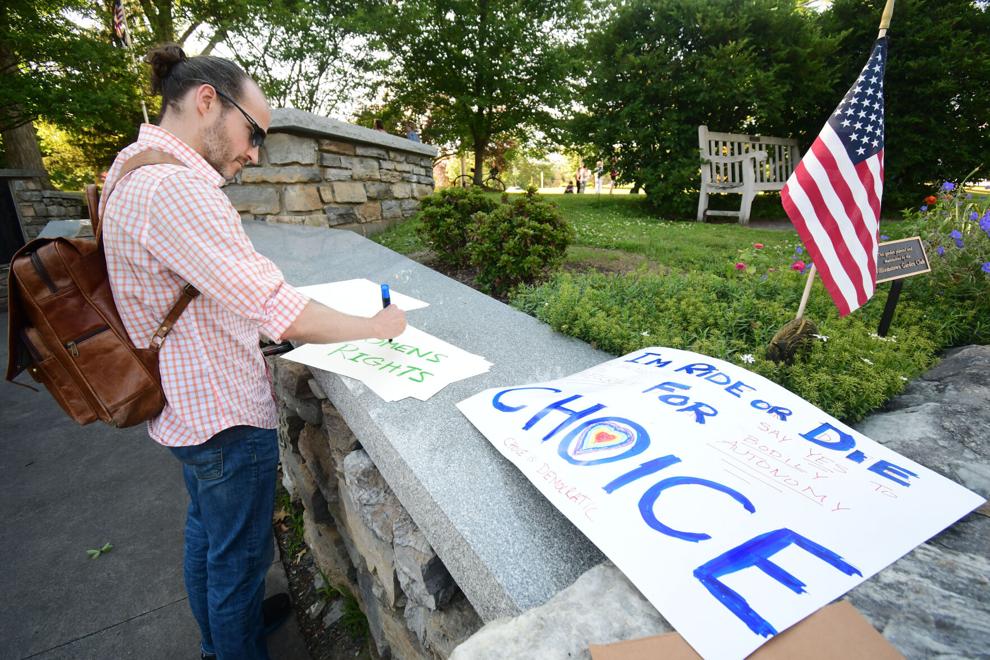 "I'm horrified," said state Rep. Tricia Farley-Bouvier, D-Pittsfield. "I feel like I'm living in a dystopian novel."
Former Berkshire United Way President and CEO Kristine Hazzard, who spent many years working to lower Berkshire's County's teen pregnancy rate, which was once one of the highest in the state, expressed similar outrage.
"I am shocked. I'm dismayed. I'm disappointed," said Hazzard, who is now a private consultant. "Words are so difficult. I can't believe a 50-year-old precedent was overturned."
The decision to overturn the 1973 Supreme Court ruling didn't come as a surprise. A draft copy of the court's decision was made public a few weeks ago. But the reality of that decision Friday didn't make it any easier to accept.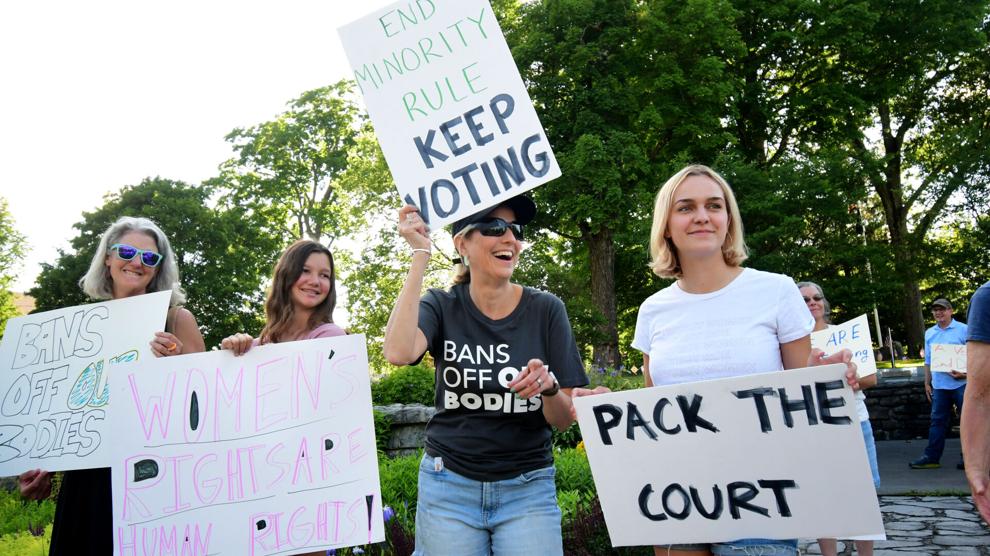 "I didn't appreciate the deep emotions that I would have and that the people in my life would have, staff, colleagues, family and friends," Farley-Bouvier said. "It kind of seems like when you expect a loved one to die. You know it's coming, but it's not until it happens that the emotions get released.
"Today we need to take care of ourselves and each other," she said, "and tomorrow organize and come out swinging."
Janis Broderick, CEO of the Elizabeth Freeman Center in Pittsfield, which deals with victims and survivors of sexual abuse, said the landmark ruling left her "deeply sad and deeply enraged."
"This is a horrifying rollback on women's fundamental rights and bodily autonomy," she said. "At the Elizabeth Freeman Center we know there are high rates of sexual and domestic violence in our community and throughout the country. This decision, this government abuse of power and control, places survivors of violence at heightened risk."
Carole Siegel, who headed the school adjustment counselors and school psychiatrists for the Pittsfield Public Schools for many years, took part in marches for women's rights during the 1980s.
"Needless to say, I felt devastated although I suspected it might be coming," said Siegel, who is retired. "I've been trying to stay positive although that's been difficult.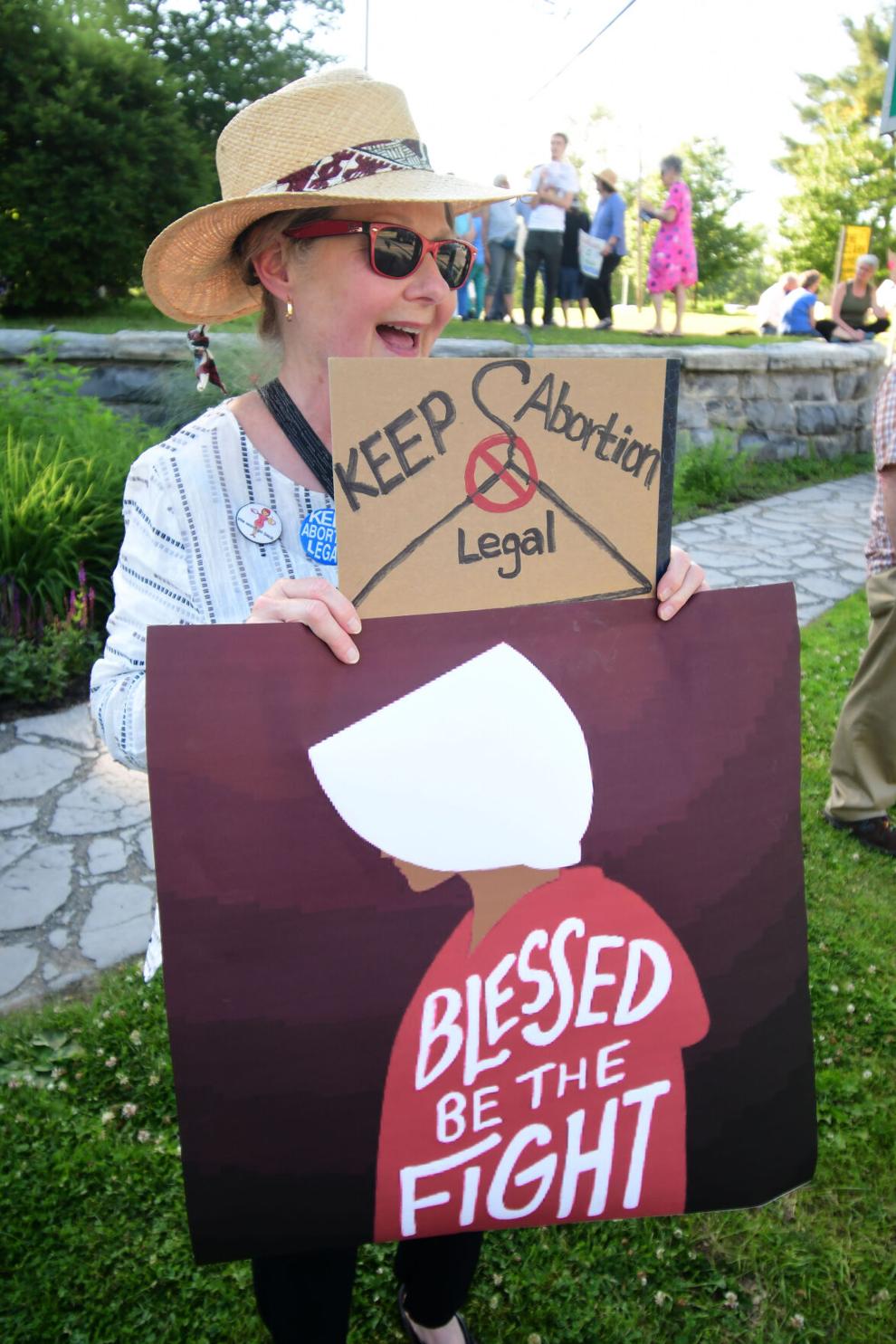 "The number of 50-something people I've heard from today, the next generation from me, have been calling me in tears," she added. "Those people were babies when Roe v. Wade was passed."
Both candidates for Berkshire district attorney, incumbent Andrea Harrington and challenger Timothy J. Shugrue, condemned the Supreme Court's decision.
In a statement, Harrington said she was "outraged" at the court, saying that overturning Roe v. Wade "threatens the health and safety of women nationwide by limiting access to safe reproductive healthcare and undermining the publics trust in law enforcement."
She pledged to use the full power of her office to protect abortion rights.
"Any effort to enforce abortion bans in Berkshire County courts will stop at my door."
In an interview with The Eagle, Harrington termed the court's decision discouraging because she said her office has put so much effort into building trust with the people in the community "who are the most vulnerable to being victimized."
In her statement, Harrington said the court's decision was "crafted by a razor-thin majority of right-wing misogynists." Asked why she used such strong language, Harrington replied, "This opinion is an attack on women. Women's empowerment, our right to make personal health care decisions. I can't say that strongly enough."
Harrington's challenger, Shugrue, weighed in on Facebook, writing: "Let's just call it for what it is now ... the Extremist Court."
"Women around the country are now in danger of losing critical reproductive healthcare," Shugrue wrote. "Luckily we have the Roe Act here in Massachusetts, but make no mistake, they will continue to wage a legislative and legal war to try to ban all abortion in this country.
"As DA, I will stand shoulder-to-shoulder with reproductive rights advocates just as I have my entire life," he wrote. "Now is the time to get active and fight back. Who's with me?"
Pittsfield Mayor Linda Tyer also posted comments on the court's decision to her personal Facebook page.
"Women and girls deserve so much more," she wrote. "It's hard to even imagine that on this day, we are stripped of our right to determine our destiny and have lost control of our health, well-being, and our bodies. I stand with my sisters all across this nation that are trying to comprehend the incomprehensible."
Not everyone took the same tone. In a statement, Bishop William Byrne of the Diocese of Springfield said he affirmed the Supreme Court's decision upholding each state's right to defend life.
"Here in the commonwealth of Massachusetts we still have much work to do so that all citizens recognize the sanctity of all human life," he said. "We continue to work, advocate and pray that our brothers and sisters will recognize the right to life of the most vulnerable among us. This includes not just the unborn who are so precious to us, but all people who are vulnerable. We will continue to work to affirm this right, the right given by God alone that all life is sacred and intended."
Byrne said the diocese will continue to use its many ministries and services to support women and families who are facing a crisis pregnancy, and urged those who oppose the court's decision to react calmly.
"I also pray that those who are upset with the decision will raise their voices in a peaceful manner," he said.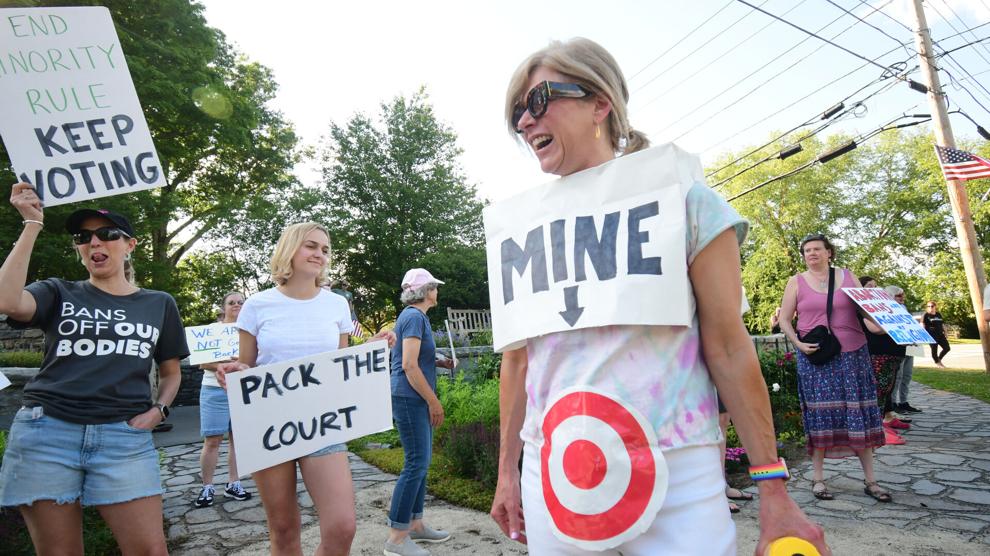 Protest in Williamstown
The court's decision sparked at least one protest in the Berkshires, in Williamstown, where more than 50 people gathered late Friday afternoon in Field Park.
"What I hope is that people see this as a call to action," said Wendy Penner, 57, of a member of the Greylock Together leadership team, the group that organized Friday's standout.
"This is much bigger than the reversal of Roe v. Wade and an attack on women's bodily autonomy," the Williamstown resident said. "This is an attack on all our rights."
When Genevieve Tatro heard the news on Friday, she said she felt sick. "I was devastated," the 30-year-old North Adams resident said at the standout.
Tatro was in the Marines for eight years. "After you've fought so hard for this country, it's confusing," she said. "I'm a part of the LGBTQ+ community and it's important to me to be here and let my outrage be heard ... this is a scary time."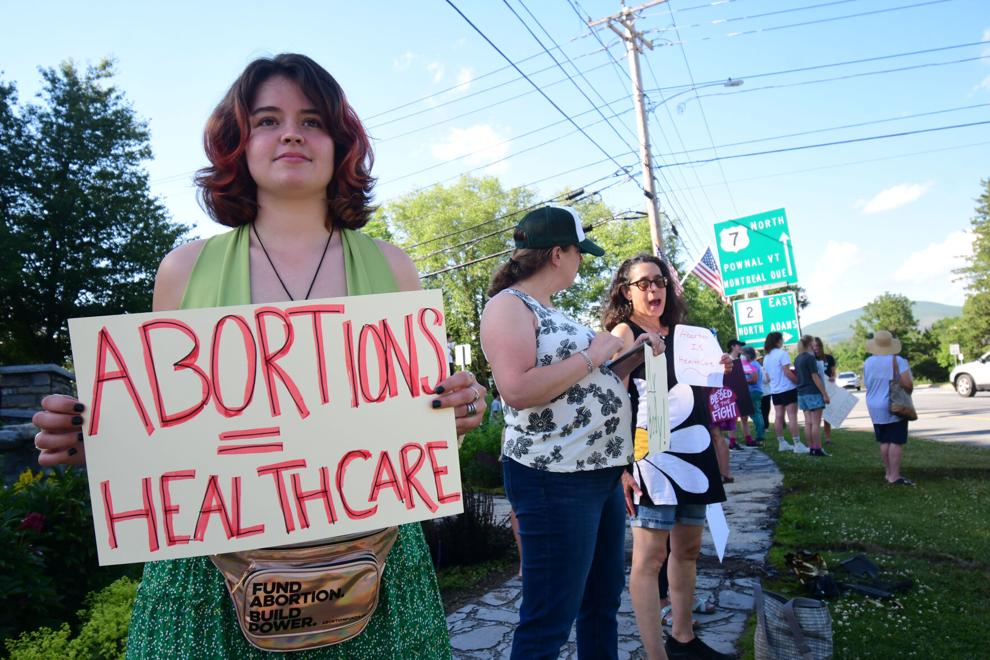 Another participant, Olivia Kinne, 22, of Pittsfield, said: "It feels like the country I've lived in my whole life wants nothing to do with me."
Rachel Barenblat, a rabbi at Congregation Beth Israel in North Adams, carried a sign at the standout that read: "Abortion bans are against my religion."
"We knew this was coming, and it's still so devastating that a fundamental human right was taken away," said Barenblat, 47, of Williamstown.
She was there with her son Drew Zuckerman, a 12-year-old Williamstown Elementary School student. The best way to fight back, Zuckerman said, is "to show we have a voice. Our opinion matters."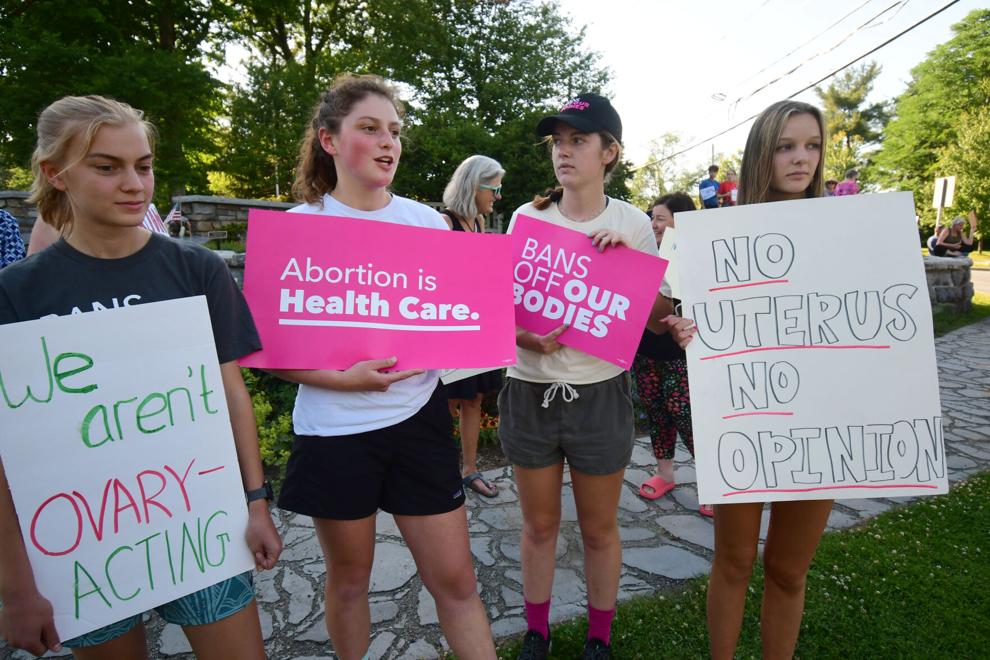 Molly Sullivan, 17, of Williamstown, came to the standout with several other teenagers. "It's our future," she said.
Emma Sandstrom, 18, also of Williamstown, said that young people are told to trust adults.
But she added: "It's really hard to do that when they are doing things like this."