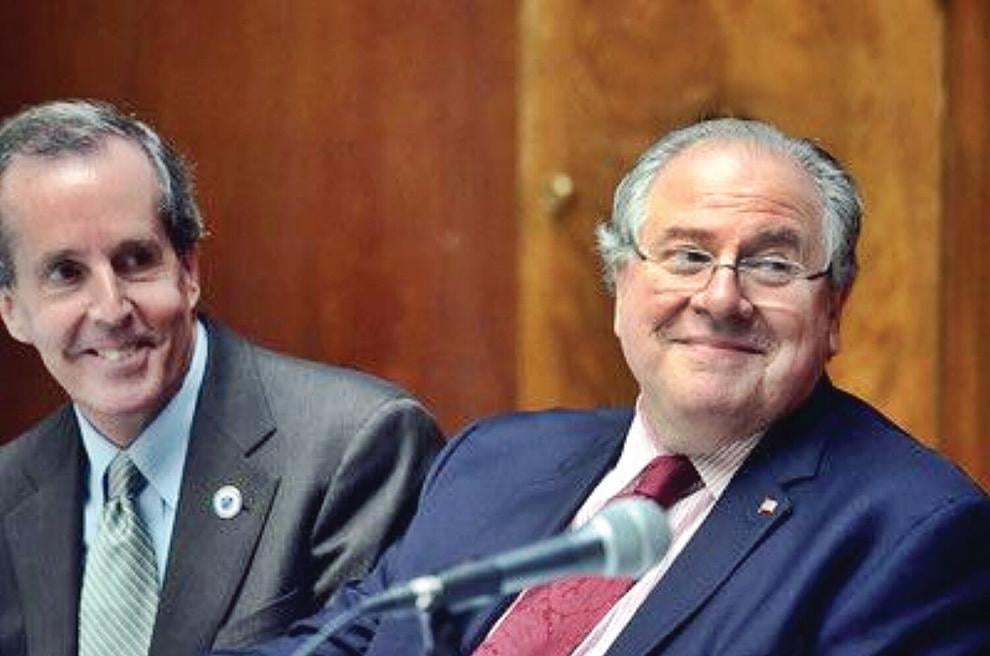 When reports surfaced last week suggesting House Speaker Robert DeLeo may step down, media speculation turned to a possible succession battle — one that seems to be over before it started.
DeLeo, whose 12-year tenure as the House's most powerful member makes him the longest-serving speaker in Massachusetts history, is expected to leave for a job at Northeastern University. If he does, all four Berkshire County representatives feel their districts would be in good hands under the Winthrop Democrat's predicted successor.
Allies of House Majority Leader Ron Mariano, a member of House leadership since 2009, had said Thursday that they believe the Quincy Democrat already has well over the 80 votes necessary to become speaker.
Condemning a possible Mariano transition as the result of "a backroom deal," Rep. Russell Holmes, D-Boston, announced his own candidacy for speaker. A frequent DeLeo critic, Holmes has raised diversity and transparency concerns; he would be the first Black speaker if elected.
But most lawmakers, including all four Berkshire representatives, have expressed support for Mariano and DeLeo both.
"First and foremost Bob DeLeo is the speaker, and unless and until he makes his final decision that he's stepping aside, my support is for Speaker DeLeo," said state Rep. Tricia Farley-Bouvier, D-Pittsfield, who co-chairs the House Progressive Caucus. "With the leadership that he's shown in his 12 years and what we've been able to get done, he certainly deserves that level of respect and regard."
If DeLeo does leave, "there's no question" Mariano is the leader needed for "a smooth transition," Farley-Bouvier said.
Rep. William "Smitty" Pignatelli, D-Lenox, said he committed to Mariano "without hesitation," believing his colleague would "provide the stability that we need in these uncertain times."
Known as a supporter of community hospitals, Mariano could push policies that benefit local institutions like Berkshire Medical Center or help address regional issues, lawmakers said.
"He knows the area," said Rep. John Barrett III, D-North Adams, who applauded Mariano's work on telemedicine. "He knows our needs — and he's been out here before... He has his own leadership style, and I have complete confidence."
"He has always been willing to listen to and understand the unique needs of my district," said Rep. Paul Mark, D-Peru, adding, "he is one of the rare people from the Boston area who actually gets how isolated and forgotten we are."
Rumors that DeLeo would step down have circulated for up to a year but intensified last week. DeLeo filed an ethics disclosure Friday that said he was negotiating a new job.
Mariano announced his candidacy, as did Holmes.
Condemning what he described as the concentration of power in a small group of largely white leaders, Holmes said he would seek to lessen the power of the speaker position and increase transparency.
"When we allow the voice of a limited few people to be the ones that run this place, it suppresses the voices of the people who sent us here," he told The Boston Globe, though acknowledging his supporters are "not many."
Some left-leaning advocacy groups have aired criticisms of House leadership similar to Holmes. Most have yet to weigh in on the speaker race.
White men chair 10 of the 11 House standing committees, and a Latino man chairs the other, according to a 2019 report from MassINC and Tufts University's Tisch College of Civic Life. White representatives hold all 16 of the House's top posts, and no Black lawmakers chair committees or hold leadership positions in the House or Senate.
Berkshire lawmakers say diversifying House leadership is an ongoing process, on which some believe DeLeo has made headway. For the most part, they don't share Holmes' concerns, although some believe Mariano may be open to changing some transparency rules.
Pignatelli said he has "a lot of respect" for Holmes, whom he considers a friend. But he said he's opting for "steady leadership."
"If I were in that room — the House chamber — looking around, I couldn't think of anyone who's better suited to lead us next than Ron Mariano," Pignatelli said. "Institutional knowledge at these times is critically important."