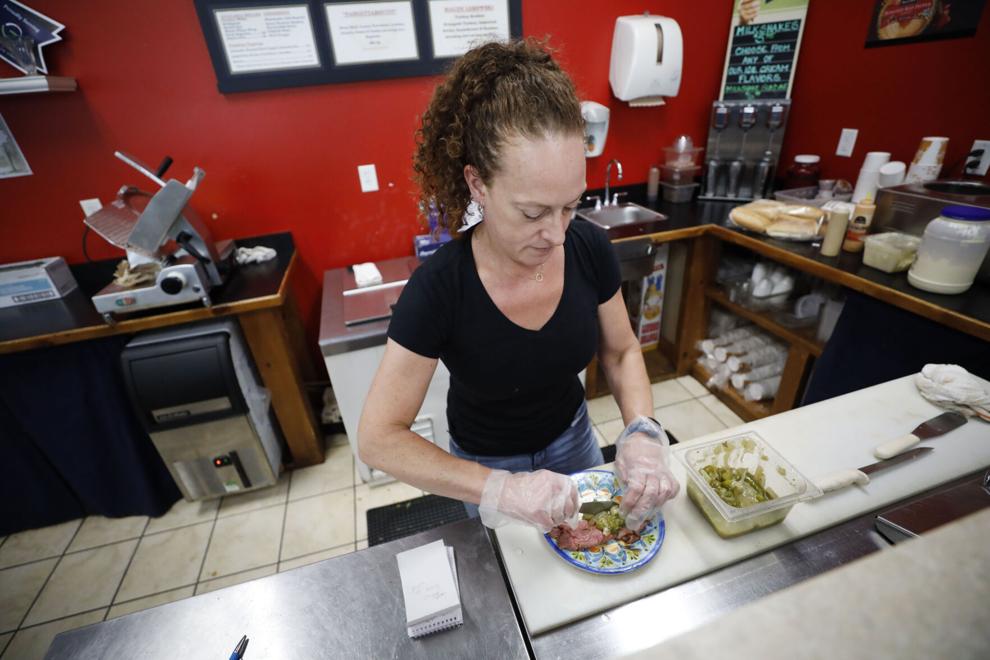 This story was reported and written by Scott Stafford, Heather Bellow, Meg Britton-Mehlisch and Aina de Lapparent Alvarez.
Patty Goodwin and her little dog Rocky are a bit worse off due to the higher costs of, well, almost everything.
Even with a slight increase in her Social Security disability payments, she's had to scramble to make ends meet in North Adams.
"I don't have enough to eat," said Goodwin, 58. "It's just not enough food. I've had to sign up at local food pantries — it's been very difficult."
The rising cost of goods, particularly energy and food is pinching households across Berkshire County, and beyond.
A Suffolk University/Boston Globe poll released this week found that 80 percent of those surveyed in Massachusetts are feeling the effects of inflation. Half said they are concerned about their financial well-being.
Meat, poultry, eggs and fish prices are up 11.7 percent over their costs in June 2021 according to the U.S. Bureau of Labor Statistics' consumer price index. Dairy products are up 13.5 percent.
Reporters for The Eagle fanned out this week to ask residents of the county to describe how they are managing through the worst inflationary time in decades.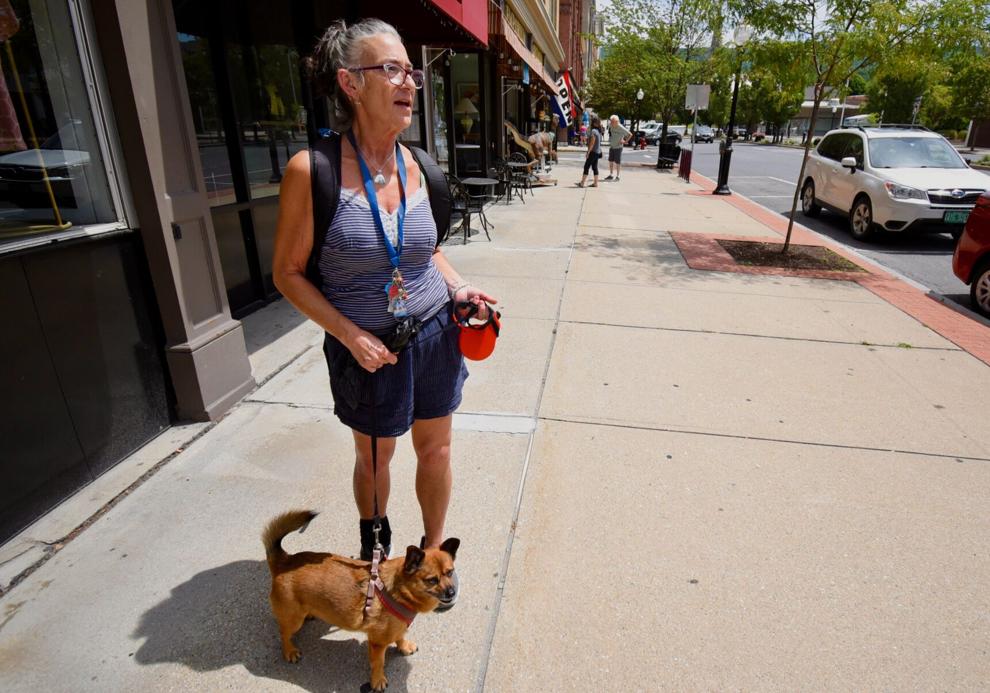 For Goodwin, it means no more meals out, not even once a week, her old habit. "That's out of the question now," she said. "And pet food is terrible, some of it's gone up 75 percent."
She's also given up owning a car, despite suffering from debilitating arthritis, and depends on others "to be my legs."
"Even everyday things like toilet paper and laundry soap [are] almost out of reach," Goodwin said. "I can't go out and do things anymore because I can't afford to."
People this week spoke of sticking closer to home, to save on gas. They're cutting out extras, like movies and golf outings. And they're hunting for bargains.
In downtown Adams, Joe Borden stopped Wednesday at the Adams Hometown Market to pick up groceries. After loading supplies into his compact car, Borden, who is 70, said he's finding the higher prices hard to reckon with. "I'm sure other people are getting hit pretty hard, too, but jeez, this is bad," he said. "I'm on a fixed income with Social Security."
How is he coping?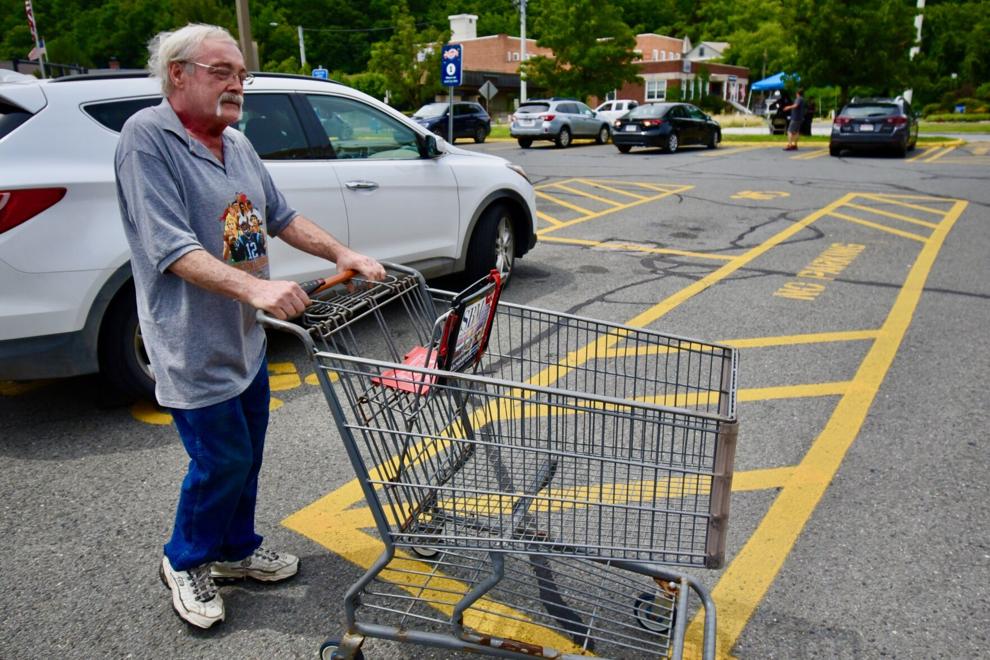 "I'm eating less, trying to pick items that are on sale," he said. "I haven't had a steak. I buy hamburger instead, and even that price is skyrocketing. It's not like I'm poor, but sometimes it feels that way."
Borden says he saves money on veggies by foraging for wild foods in area forests. He wishes, as a recipient of Social Security, that the government would increase benefit payments quarterly, instead of annually, in times of high inflation. "An increase next year isn't helping anyone now," he said.
Agony in the aisles
Inflation is on full display in local grocery stores, and not just by the rising numbers on price tags. It's there as customers slow walk the aisles, checking for deals, comparing one item's sticker against another.
Charlene Leonard, of Hancock, was doing just that at the Aldi supermarket on Crane Avenue in Pittsfield. She paused near the paper towels to chat and said Aldi was the first of several stops she planned to make for her weekly grocery run. She visits Stop & Shop and Walmart to find the most affordable version of everything on her list.
"It's sad that I have to go to three or four different stores to try and get the buys," said Leonard, who works at Sweetwood of Williamstown, an assisted-living community. "Those are the things that bother you the most. I think it bothers a lot of people. And then how high priced everything is – and how small the item is."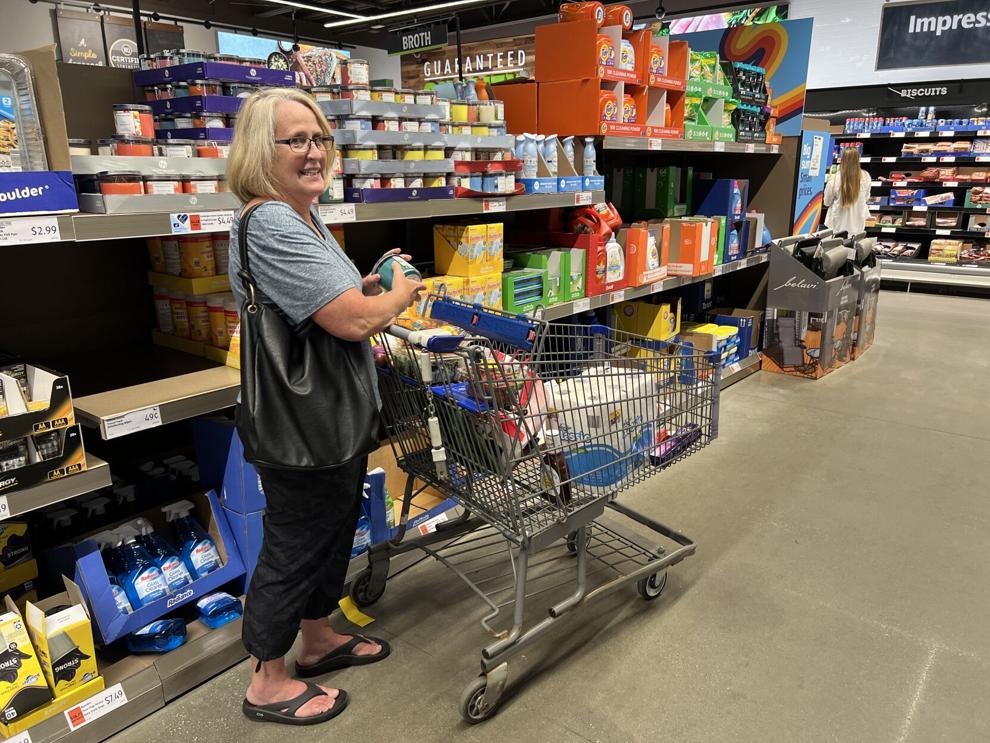 Leonard said she's trying to be more intentional about these grocery trips, planning the most efficient way to get to Pittsfield and back. Otherwise, she'll pay for all the extra driving at the gas pump.
The biggest sticker shock at the grocery stores? The price of meat and dairy.
"Thank God I have my own chickens and my own eggs, I'm grateful for that," Leonard said. "Meat is so high, I think it's just outrageous. Makes you really want to think about going without."
Reasons for stress
The Suffolk/Globe poll, of 600 people, found state residents planning to rethink vacations and skip small luxuries. Sixty-one percent said they think the economy is in a recession or worse, up 10 points from a similar poll three months earlier.
Money is a common source of stress, the survey found, especially for Black residents and young people, according to a recap of results published in The Boston Globe.
Just under a third of Hispanic residents polled, and 29 percent of Black respondents, answered that they felt "a lot" of hardship. For white people answering the poll, 19 percent reported feeling that level of hardship.
Not surprisingly, people earning more indicated that they are weathering inflation better. Forty percent of people who make less than $50,000 a year said they feel they have enough resources to live comfortably. Overall, the survey found that 65 percent of respondents report they are able to live comfortably in the face of inflation.
At the Stop & Shop on Merrill Road in Pittsfield, Darcy Daniels and Jim Conner lean over their cart to consider one cut of beef against another. The couple was out buying groceries for the weekend and a coming visit from their granddaughter.
They grabbed some salami but passed on the roast beef, priced at $17 a pound. "It's crazy," Daniels said. "It's a cold cut, it goes on a sandwich."
That's the latest sticker shock for the pair, but not the first. Daniels said she's already had to adjust her budget to cover the cost of a can of dog food, which went from $1.17 to $2.50 recently.
"It's horrible, I just don't think there's any need for it to be this out of control," Daniels said. "We're supposed to be one of the richest countries in the world and yet they're killing us with prices on everything from gas to food, dog food, everything."
Daniels and Conner typically cap their summers with a family bash. They wait for seafood prices to dip or find a deal at the grocery store, then buy lobster and gather everyone together for typical New England fare.
"[Seafood prices] haven't really gone down at all," Daniels said. "So it's probably something we won't get around to doing this year."
Daniels is concerned about more than the fate of family get-togethers. She worries about young people trying to get started, economically. Daniels has two sons, ages 18 and 24.
"I mean, we've already got houses and mortgages and we've already settled in," she said. "But [for] the kids trying to do all that and live the American dream, so to speak — it's going to be really hard for those kids to do all that."
High price of 'going out'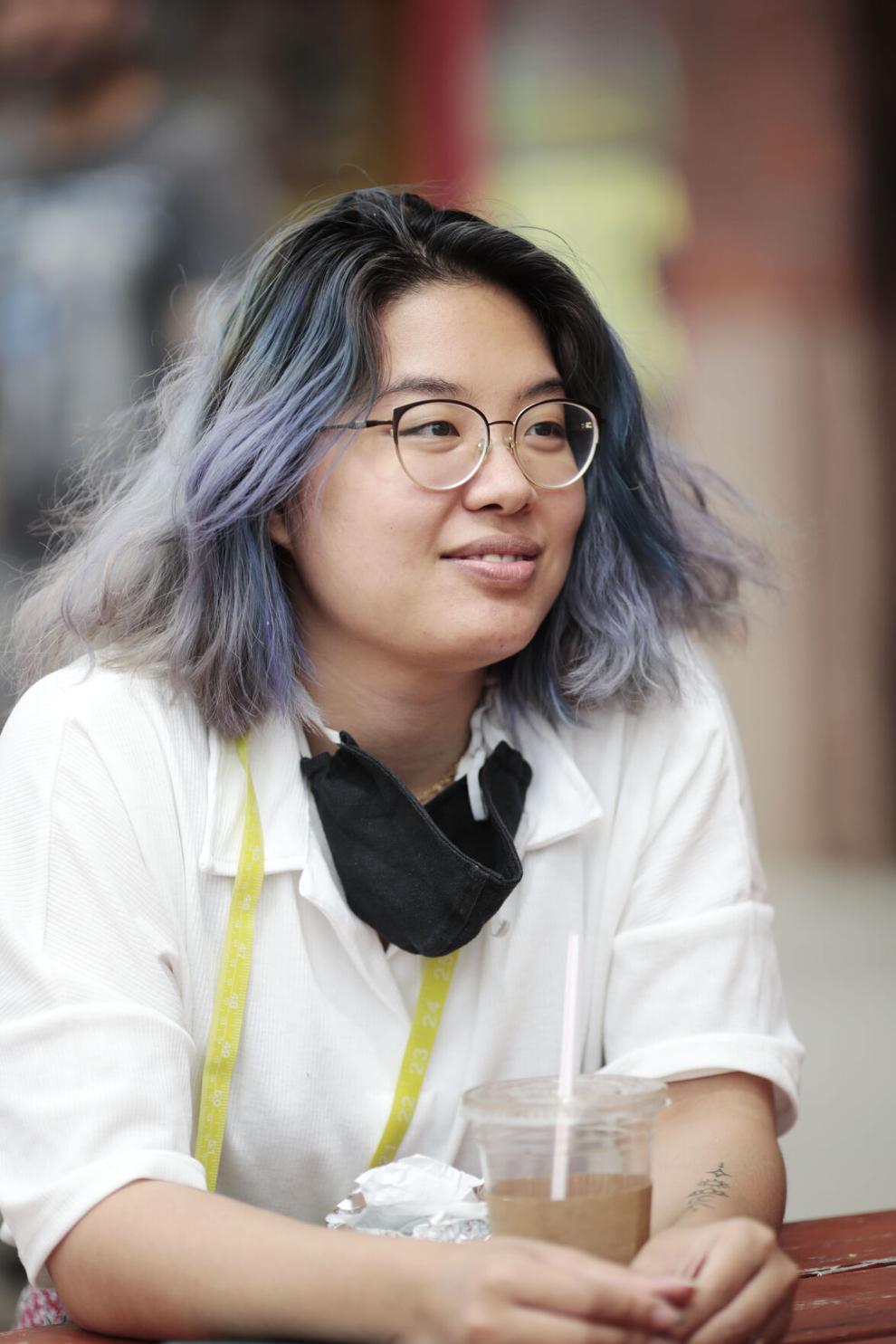 On North Street in downtown Pittsfield, Nailee Douangvilay was enjoying her lunch break. She lives in Nashville, but came north this summer to work at Barrington Stage Company. Her rent is covered, which eases her stress a little. But when she hits the grocery store, she makes sure to choose the cheapest brand. Gas prices have limited her exploration of the county, she said. When it comes to free time, costs are a factor.
"Going out is a big decision, when I get out with my friends, we try to hang out at people's houses," Douangvilay said.
Business owners, meantime, feel inflation's effect when they shop wholesale. At the Berkshire General Store on North Street, a shop and deli, co-owner Lindsey Tuller paused to say she has no option but to increase her prices.
"It's horrible. Next week deli prices are going up for our sandwiches. It's crazy for us store owners," she said. "Our hope was that at our shop, you could get a full meal: a sandwich, chips, and soda, for $10. Soda prices went up, chips went up. Now all together it's $15."
Almost everything has gone up. Ice cream used to be $5, now it costs $7. Mugs used to be $10, now they are $15.99.
Last month, Tuller placed a quarterly order to resupply the retail gift part of the store. She had been trying to keep things the shop sells at $20 or less, which is becoming harder. "There were things I wanted to buy but I didn't feel like I could sell them at the price I would have had to sell them, so I didn't buy them."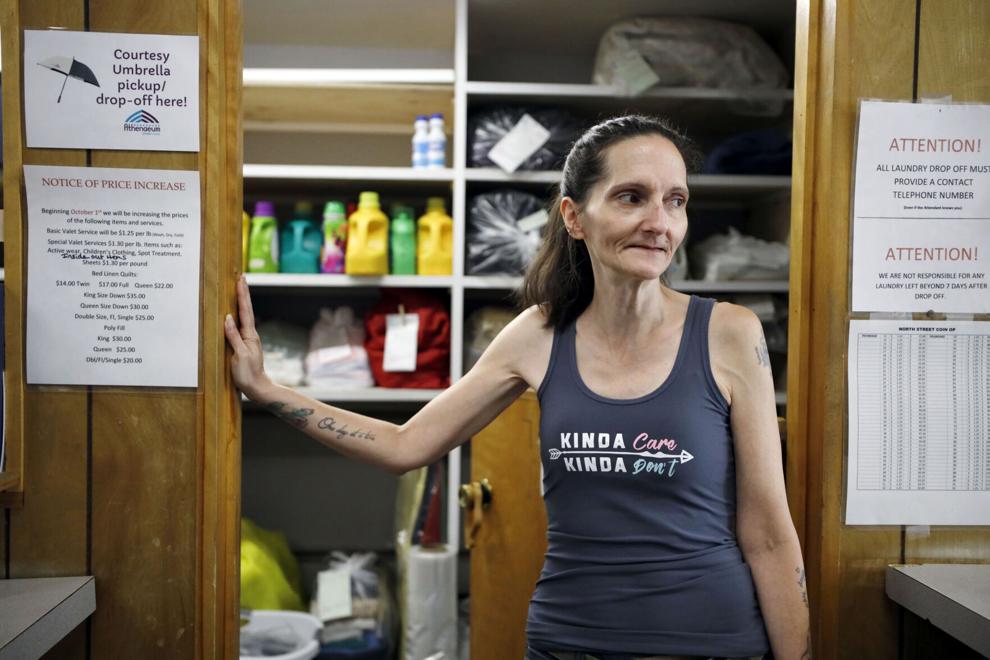 At the North Street Coin-Op, business is good, says Heather Donahue, who works as the valet laundry attendant. Her own economy is dicey. "Personally, every time I go to the grocery store it gets more expensive. I'm very skinny, so I was trying to put on weight by buying steaks. Now I'm not buying it as much. I can't afford it."
All about the discount
For Samantha Clark, inflation has taken fast food off her table.
"Fast food is not cheap anymore," said Clark, a mother of two, while working behind the counter at Walgreens on Main Street in Great Barrington.
Clark, 35, is the only wage-earner in her family and has started walking to work to save on gas. Every week, she scours inserts from Price Chopper and Big Y to find food on sale, and makes a shopping list from each store. She buys as much food as possible from Walgreens, since she gets a 25 percent discount.
That's mostly snack food for the kids, who are home for the summer. "We're at home eating food," Clark said. She joked that she told her children, "You only get one snack at school, so you should only get one snack at home."
There are things she struggles to buy, even with her discount. "I can't even afford to get Band-Aids," she said.
Her co-worker Maria Cotto is also behind the Walgreens counter. Cotto, 35, has three children she is raising alone. Her household is getting help through her children's public school, which offers groceries to families who rely on school meals during the year.
Cotto, of Housatonic, also shops where she works to get the discount. She says she's doing more "homework" before she shops, and is finding other life hacks to save money. "I'm packing more snacks when we go out," Cotto said.
She also tries to work the Sunday shift, because it pays more. "It's more responsibility when you don't really want to, but you have to," Cotto said.
Commutes and competition
For two people in the trades, this economic moment means higher costs, and tougher competition.
Lou Baker and Fritz Hasenkopf paused to talk about inflation while painting a Victorian law office next to Town Hall in Great Barrington.
Baker, brushing trim from his perch up on a lift, says gas is a baked-in killer. He lives in Lanesborough and he has no choice but to fuel up for trips around the county. "I have a 45 minute drive to work everyday, so it could be $9 a gallon and I'd still have to cough it up," he said.
When shopping, Baker said he isn't as willing to lay out more cash to buy in bulk, a way his three-member household has tried to save.
"I only buy one pound of bacon instead of three, and we're buying more fresh veggies, but even that is getting expensive," Baker said. "I've only been to the movies once this year."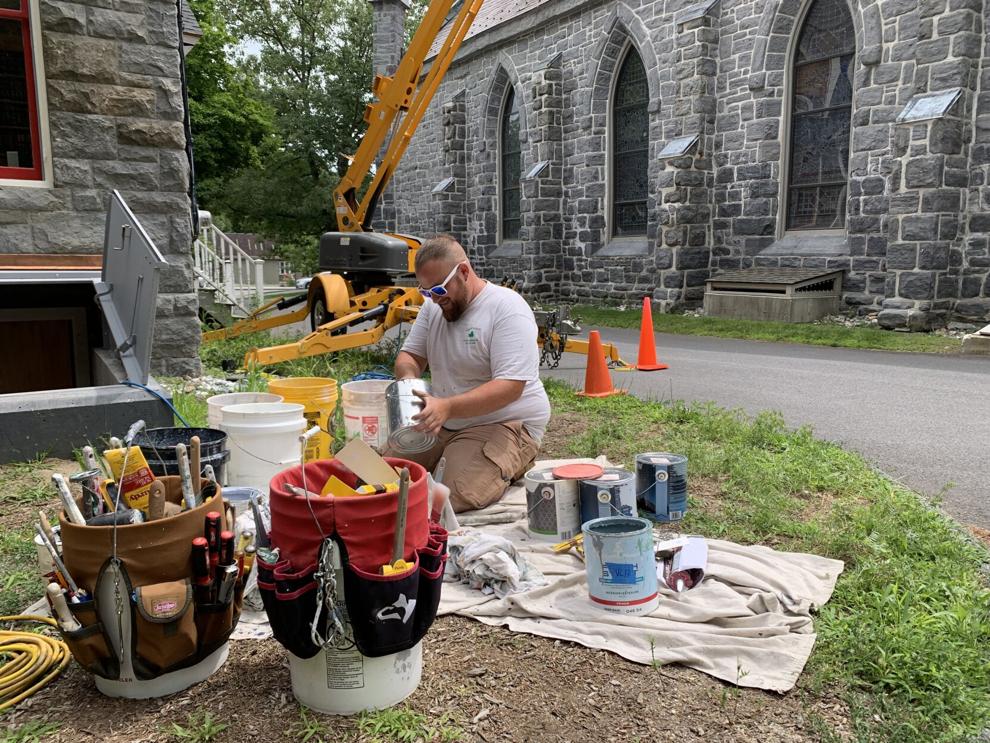 Hasenkopf, the foreman of the crew, is hunched over paint cans. He says the summer is different.
"I haven't golfed this year, I haven't been to the driving range, I haven't taken the kids to the movies," said Hasenkopf, who lives in Pittsfield.
He's also seeing potential clients put painting projects on the back burner. Between that and what he termed "cutthroat" pricing competition in the trade, the crews are having to drive farther to find work. As an OSHA-certified outfit, it has to charge more due to higher overhead for certification costs, he said. Some would-be clients would rather pay cash under the table, Hasenkopf said.
"We'll bid on local jobs and not even come close," he said.
At the tiny Flying Church Coffee down the street, a truck from Baldor Foods in the Bronx, N.Y., rolls up.
The coffee shop's owner, Paul Joffe, says he's seeing the cost of his weekly orders from the distributor are up around 30 percent. Joffe only opened the small shop and roastery two months ago.
A cup of drip coffee here sells for $2 to $4. Joffe is hoping he can continue to keep costs reasonable for customers. "If it keeps up, we'll have to raise prices," he said.