On Sept. 11, 2001, John Broderick was teaching fourth grade in the Berkshire Hills Regional School District. He remembers the principal coming in during class and whispering to him that planes had flown into the World Trade Center.
"I had to remain in my classroom and stay quiet about it," Broderick recalled.
The day was surreal, he recalls: the students in the dark about the attacks, with Broderick furtively checking for updates. He and his wife were expecting a son, due any time. Broderick was in the Marine Corps Reserve; his wife at the time, Lori, feared he would be immediately deployed, and wanted him there for the child's birth. She made sure of that.
"He was induced the next day," Broderick said of his son, John, who is now a Marine.
Broderick deployed to Iraq in 2003. He now teaches fourth grade at Muddy Brook Regional Elementary School in Great Barrington.
The 20th anniversary comes on the heels of the U.S.' chaotic exit from Afghanistan. As the anniversary approached, local veterans of the wars in Iraq and Afghanistan felt a range of emotions and said it has been frustrating to watch the way the U.S. left Afghanistan.
Memories of being inside the Pentagon when it was attacked on Sept. 11 are still fresh for one veteran. For another who lost friends in Afghanistan, it is hard to talk about how the U.S. left the country. That's true for Broderick as well.
"I definitely think what just happened didn't have to," Broderick said. "I don't know where the finger [of blame] goes." He looks to politicians first, he said. "What were they thinking?"
"We've been there for 20 years. If we didn't know what was going on two days ago, what the heck were we doing for 20 years?"
In 2001, Kim Enderle was working in the Pentagon, performing logistics managing helicopters. Enderle joined the military in 1986, wanting to be a helicopter pilot like her dad, and she worked as an officer and military pilot, she said.
On the morning of Sept. 11, 2001, she was on her way to a meeting.
"All of the sudden we felt and heard this explosion," she recalled. "A very massive explosion. The building took a deep breath ... obviously, we know now what that was. It was the plane hitting the building and the compression and the explosion. It also sounded like what you hear when you hear a dumpster rolling across the ground."
She remembers a chaotic scene and looking for a napkin for someone who was bleeding. "Imagine, if you will, stepping on an ant hill. ... There's, like, 30,000 people that work in the Pentagon. Everyone was exiting the Pentagon any way we could."
It was difficult to get home, she recalled, and the next day she had to go back to the Pentagon to help plan logistics for the invasion of Afghanistan.
"It's all pretty fresh, even though it was a long time ago," Enderle said.
"And it's been hard the last couple weeks watching what's going on in Afghanistan," she said in late August. Hearing about attacks at the airport in Kabul, Afghanistan, that killed many people, including 13 U.S. service members, was "gut-wrenching."
Overall, "we absolutely needed to end our occupation of Afghanistan," she said. "That's how I looked at it, an occupation." She felt the mission long had been completed. "The question is, what were we doing?"
After Sept. 11, 2001, she worked in the Pentagon for several more years and went to Iraq in 2008. In 2011, she retired from the military and went to Afghanistan for about a year as a contractor for the State Department, she said. Now, she lives in Northampton and is pursuing a career in teaching and academia as a Ph.D. student in the history department at UMass.
"I think I'm a little bit in search of, how do we keep ending up in wars, and what underpins that? What underpins that military industrial complex? The capitalism? Why do we chose to invade certain countries?"
To commemorate the 20th anniversary this year, she scheduled a trip to Washington and planned to meet with other female veterans at the Women in Military Service For America Memorial in Arlington National Cemetery.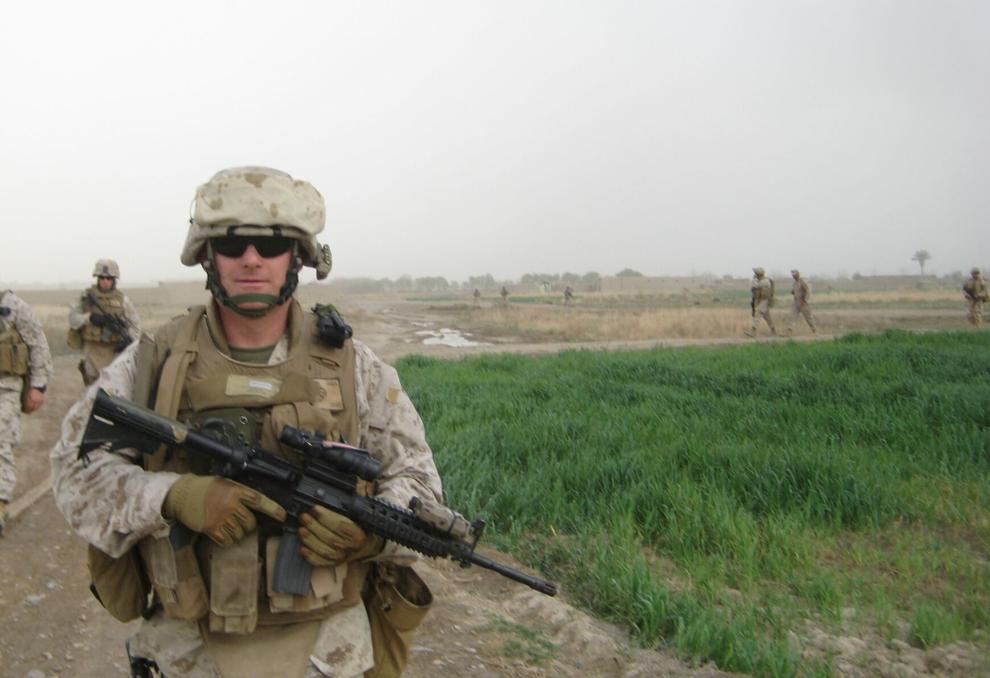 Steve Schultze, director of the Berkshire Veterans Outreach Center in Pittsfield, said that as Sept. 11 approached this year, "The thoughts on my mind are for those who were injured and for those who didn't come back. I consider myself extremely lucky."
He enlisted in the Marines in 1997, after graduating college. Other people in his family, including his dad, were Marines. On Sept. 11, 2001, he was walking across the street to his apartment in Hawaii when he got a phone call about the news and he turned on the TV.
"That image is seared into my brain, watching the news coverage. ... I'm originally from New Jersey, so, I've got a lot of good friends who are in New York and New Jersey, so, when I heard about that, it was personal in a lot of different ways."
First, he thought of his friends and family. "The second thoughts on my mind were, you know, what can I do to help? How quickly can we get prepared to go somewhere if we need to?"
He went to Iraq in 2007 and Afghanistan in 2009.
During the chaotic U.S. exit from Afghanistan in August, he heard a range of emotions from fellow veterans, but frustration was a common thread.
"I do believe the sacrifices we made were not completely in vain, but it's difficult right now to hear other folks offer different views about it. If I do start to believe all that sacrifice was in vain, it's going to be pretty challenging to deal with."
He added: "I personally knew some folks that didn't come back from there. Now that the situation is what the situation is, it's a little bit tough at this moment to go into it."
Michael DeMarsico II is one of those members of the military who didn't come back from Afghanistan. He was 9 on Sept. 11, 2001, when he told his mother, Lisa DeMarsico, of North Adams, that he wanted to join the military. And he did join — and died in August 2012 from an improvised explosive device.
"He grew to be a fearless leader and followed that little boy's dream only he served fearlessly stepping forward as point man searching and locating IED'S placing himself in harm's way knowing the possible cost to himself but wanting to ensure his brothers made it home," Lisa DeMarsico wrote in a statement.
"9/11 was a day in which our country was shaken to it core." She added: "Our hearts are with the families of the victims from that day."
In Broderick's classroom, students today ask often ask him questions on Sept. 11 about his time in the military. A common question, he said, is this: What was the hardest part?
Broderick tells them it was working as a casualty assistance officer — someone tasked with notifying and helping the families of those who died in the military. When that officer arrives on the family's doorstep, "They know why they are there," Broderick said, choking up.
This year, he was not sure how he would feel on the anniversary. "I don't know how it's going to hit me on that day," he said in late August. "I just hope to see flags down."