LEE — A group of swimmers that prefers to think outside the chlorinated box stood on the banks of Lower Goose Pond.
Hoping to shed any fragments of the day having to do with spreadsheets, business meetings, deadlines or home repairs, they checked the radar on their smartphones early Wednesday evening. Slight chance of thunderstorms. They checked again. Nope, just rain — maybe a sprinkle. One more check, then:
"Guys, I think we're clear," declared Bill Meier, the leader of this pack that calls itself the PaceMakers.
"Whooo-hooo," came the chorus.
At 6:09 p.m., with swim caps snapped securely upon 20 skulls and with small, orange inflatable buoys tethered to 20 bodies, the swimmers set off from the shore and out into the deep, as they do each Wednesday evening in lakes throughout the Berkshires from late spring to late summer, canceled only by thunderstorms.
Then, about 150 yards out, someone pointed to it: a rainbow, wondrous enough for these arrow-focused freestylers to suspend all progress, tread water and behold.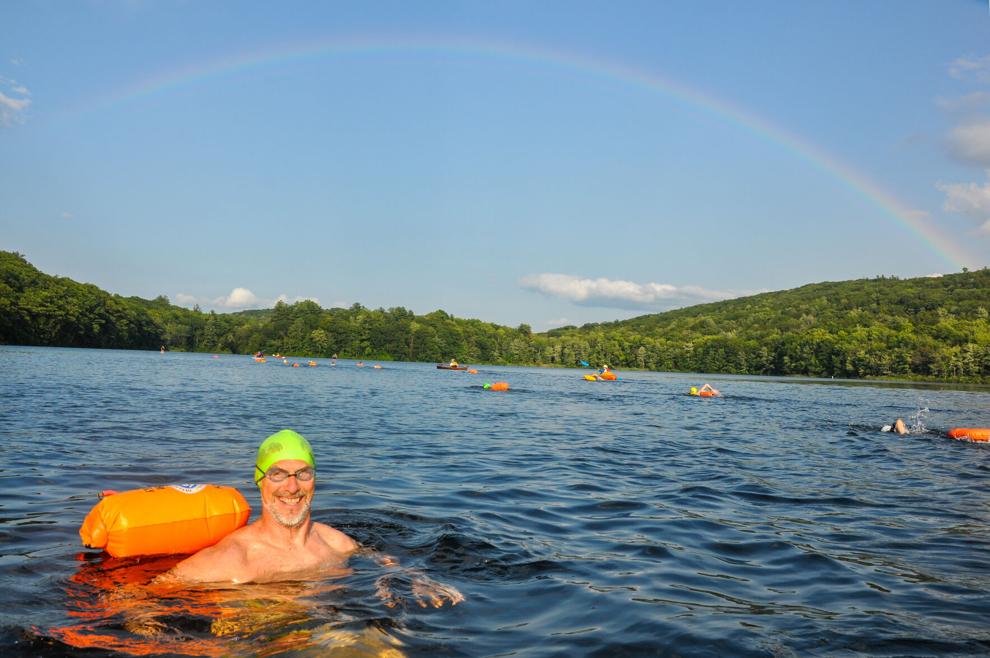 "Our first rainbow — like, ever!" Meier exclaimed.
It stretched from an upper bank of this pot of gold and arched eastward, in the direction of Boston, the Boston of Beacon Hill and the seat of government. If this rainbow were a divine sign of newfound harmony between the business suits of Boston and the bathing suits of the Berkshires, these swimmers will take it.
It has been an unsettling summer for open-water swimming in the commonwealth.
After a series of drownings across the state, the Department of Conservation and Recreation in early July handed down new regulations banning open-water swimming at that mecca of the discipline, Walden Pond in Concord.
The Baker administration also introduced legislation to increase fines imposed on swimmers found outside designated swimming areas, which, swimmers argued, effectively would have banned open-water swimming across the commonwealth, from sea to shining western water bodies.
The ban and the proposed legislation did not go over well.
Calling the measures a bureaucratic overreaction, swimming advocates, backed by several dozen lawmakers, quickly — and successfully — pushed for a repeal of the Walden Pond ban. Rebuked, the Baker administration now seems to be wading more carefully, discussing safety initiatives and free swimming lessons rather than fines and other punitive actions.
Of the more than 50 drownings and near-fatalities from January through early July, none appears to have anything to do with organized open-water swimming, such as the PaceMakers practice. A study conducted by The Boston Globe found that the drownings involved people who fell though ice; cars that slid into water; suicides; toddlers who fell into pools; boaters who fell overboard in rough seas; and inexperienced swimmers caught in situations they couldn't control.
Still, in the Berkshires, many open-water swimmers had spent much of July fretting the spotlight. A clash with regulators runs counter to the code. After all, open-water swimming, by definition, requires freedom from constraints. Until now, the sport, the hobby, the pastime, largely has remained out of range from intense scrutiny, to the point of being studiously concealed.
Believing that a clash with regulators must be avoided, Meier, the head PaceMaker, went public July 17 to spread what he calls "the Gospel of Open Water." He figures: Rather than prohibit it, teach it.
He hosted an open-water swimming seminar at Lake Mansfield in Great Barrington. Not quite John the Baptist on the Jordan River, but still. Fifteen people showed up, all newbies, plus about 10 local members of U.S. Masters Swimming, a national group that provides organized workouts, competitions and workshops for adults.
Meier, a member of the Great Barrington Parks and Recreation Commission and athletic director for the Kilpatrick Athletic Center, has come to learn what most great preachers understand: that the curious can become the converted and that the converted can become zealous devotees.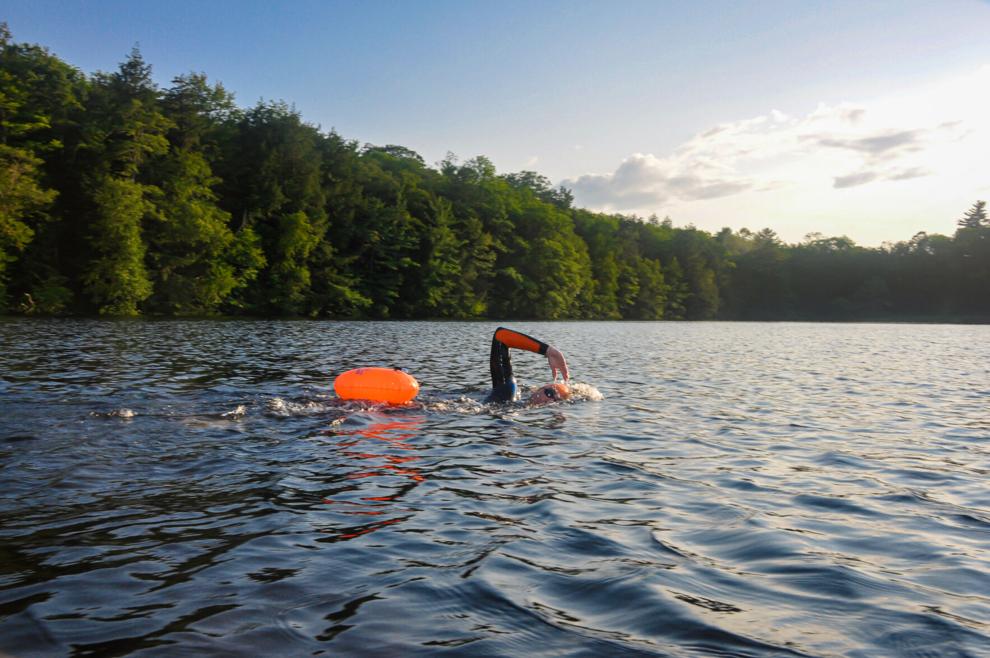 The PaceMakers, which formed about 15 years ago at the Kilpatrick Athletic Center, has grown to about 60 members. In addition to the PaceMakers' indoor swimming activities, about one-third of the members meet on these Wednesday evenings at lakes throughout the Berkshires for a rigorous swim that doesn't involve having to do any flip turns.
"It's being one with nature, as opposed to being on top of nature," said Eileen Duane, a personal trainer from Great Barrington.
"You can swim forever, and there's no chlorine," said Cheryl Sleboda, of Housatonic, a chief financial officer for a boarding school and who had spent the Wednesday in the middle of an audit before donning a wetsuit and leaving matters of finance stranded along the shoreline.
"We're really advocating for swimming in the open water because, look what we've got here," Meier said.
At his seminar on the shore of Lake Mansfield, Meier had preached what the PaceMakers practice. That includes wearing a buoy. Most open-water swimmers across the commonwealth have embraced them, Meier said.
A buoy makes you more visible in the open water, and you can grab hold of it if you grow tired. Also, wear a brightly colored swim cap — again, for visibility. Watch the weather. If you are unfamiliar with a particular water body, read up on it. And preferably, swim with others.
That said, on the banks of Lake Mansfield, the preacher spoke of exaltation, of the rapturous delight wrought from swimming beyond the lines, of there being no better way to take advantage of the Berkshires.
Then they all went swimming.
For those interested in open-water swimming, it's not necessary to join a club such as PaceMakers, though all are welcomed, Meier said. For liability reasons, to join in on PaceMakers' swims requires membership in U.S. Masters Swimming (log on to usms.org and pay fees amounting to $60).
Membership in the PaceMakers has its advantages. The swims end with a potluck supper.
At Goose Pond on Wednesday evening, there was Steve Haridas Bankert, of Great Barrington, one of several unofficial lifeguards who follow along with the swimmers in kayaks, canoes and on paddleboards. Bankert was joined by his salty dog, a terrier mix named Bo Bo, who kept an eye on things from the bow.
There was the planned route: a 1.9-mile swim, point to point to point to point and then back again. Swim northeast to the mouth of the channel. Take a breather. Joke about whether the tide is coming in or out. Swim through the channel and take in the view of Upper Goose Pond. Then, swim around the little island and back to the channel. There, first-time open swimmer in the Berkshires Rick Osterberg, an information technology guy from Somerville and an old friend of Meier's, joked of how "awful, ugly, disgusting" the scenery was.
"No," he said, "it's glorious."
His wife, Jess, glided past him in what he called "a ridiculously smooth stroke."
He followed after her, through the channel and then out into the open water to rejoin the others. Back on land, John Olander, of Richmond, spoke of once swimming across the Hudson River.
He said, "It was 'Take a breath on one side and see the Tappan Zee Bridge, and then take a breath on the other and see the skyline of New York City.'"
Still, he said, it wasn't as good as that rainbow.