PITTSFIELD — Verne and Debbie Lariviere were out traveling the area Saturday ready to launch their Starcraft boat for the first time this season.
The Huntington couple initially went to Vermont but their favorite boat launch to the north was closed. So they decided to head south to Pittsfield and Pontoosuc Lake.
"We were ready to go. We are usually out in April but we got a late start because it was too cold and [we had] family commitments," said Verne. "We like fishing here, today I'm after northern pike. This is a quiet lake, not overloaded with speed boats and water skiers and we usually catch fish."
Debbie Lariviere also enjoys the wildlife along Pontoosuc, known for its nesting bald eagles.
"We once had an eagle dive bomb us and try to take a pike we had caught," she recalled.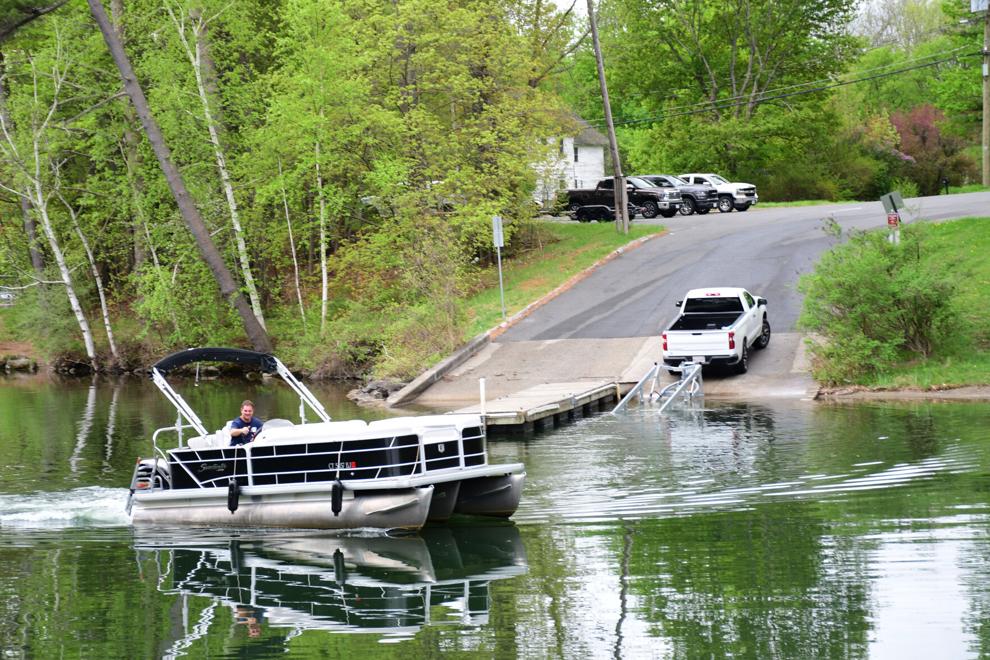 Boaters, like the Larivieres, flocked to area lakes this weekend, many for the first time this season, taking advantage of the summer-like weather to launch their watercraft. Boat ramps were busy as locals and out-of-towners enjoyed a relaxing day on the water.
On Saturday, boat ramps at Laurel Lake in Lee, Onota Lake and Pontoosuc in Pittsfield and Cheshire Lake were busy.
A steady stream of pick-up trucks hauling boats flowed into the Pontoosuc boat ramp parking lot.
John Casey lives on the Pittsfield side of the lake and was launching his 14-seat pontoon boat which will be moored at his private dock for the summer.
Casey is glad to be on the water again, rising fuel prices not withstanding.
"Aside from the gas this is great. I just spent $4.49 a gallon for 62 gallons ($278.38) but it's still worth it putting the boat in," he said.
His friend Duke Crosier, of Pittsfield, says floating on Pontoosuc is a great way to spend the day.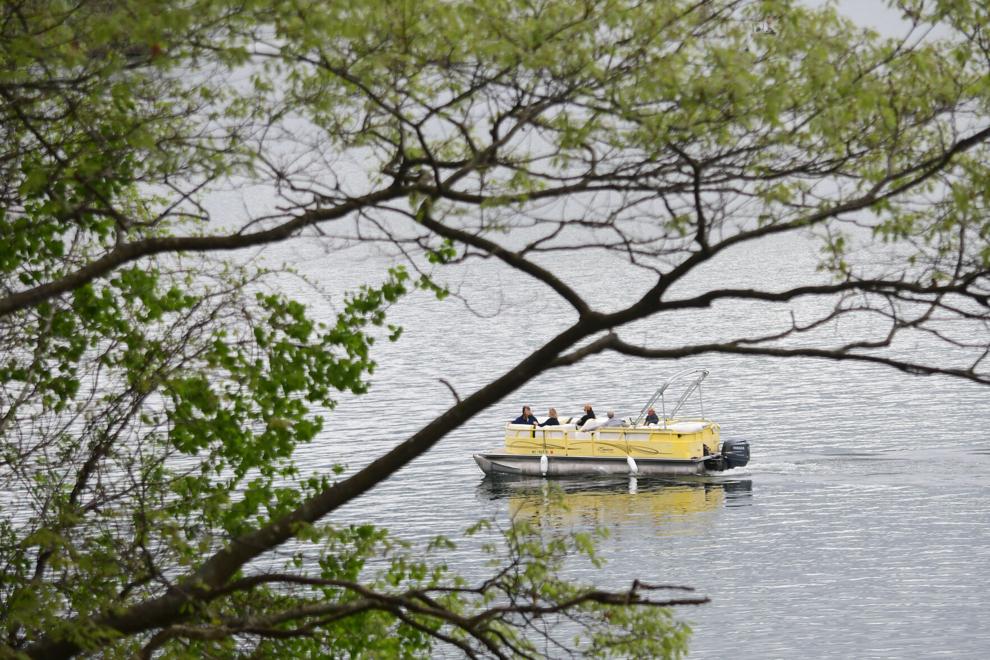 "It's something to do and thank God, I know someone who lives on the lake," he said.
Dennis Richards, from North Adams, was also out on his boat for the first time this year.
"I'm still trying to get the winter bugs out of [my boat.] I had it serviced for the summer and so far she's running great," he said. "I go to Onota Livery and they do a good job."
Richards is likely to have a camera in hand, as well as a fishing rod, when he's out on the water.
"I'm into nature photography and I usually go to Onota Lake and get shots of eagles," he said. "I like the peace and tranquility of the lake. I don't do much boating on the weekend, usually during the week."
The Onota Boat Livery that Richards refers to is right on Onota Lake and stores about 100 boats for the winter, according to owner Caryn Wendling.
She says many are starting to get their watercraft out of dry dock.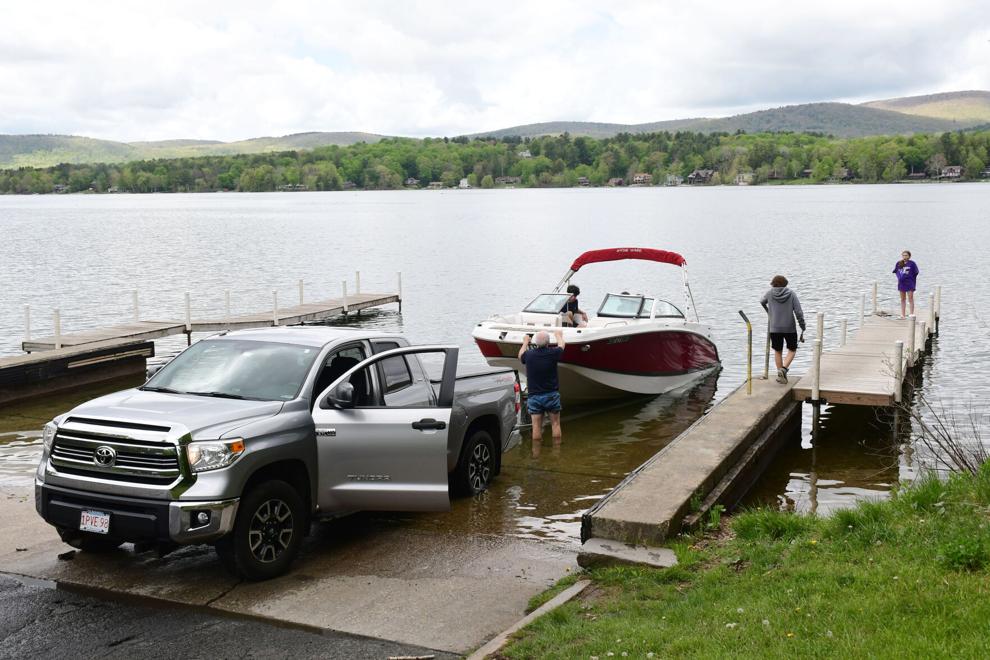 "The phone was ringing off the hook this week as the sun was finally shining and we had warm weather," she said. "People need to start servicing their boats now as we're booked through Memorial Day. Our marine and tackle shop are already busy."
Back at Pontoosuc Lake near the Lanesborough town line, Berkshire U-Drive Boat Rental decided to open for the weekend two weeks ahead of their traditional Memorial Day weekend. Manager Jamie Downer says it was a soft opening and as of mid-afternoon on Saturday they had only rented one of their seven pontoon boats.
"Any time you can get at least one person out, we want them to have a quality experience," she said.
Downer hopes to have better cooperation from Mother Nature this year, as last summer was a soggy one in the Berkshires.
"It rained so much last summer, but we added a seventh boat so the number of rentals stayed the same, we were just not open as many days," she said.
Besides the summer-like weather, several fishing derbys drew boaters to the local waters.
Fishing competition
On Saturday, Cheshire Lake hosted a competition that saw Mark Chase from Saratoga Springs, N.Y., come in second place fishing from an unusual watercraft — a single person inflatable pontoon boat.
"I don't know how to swim so I like this boat as it's more stable than a kayak and makes me feel so much safer," he said.
Back home, Chase can regularly be seen on Saratoga Lake enjoying himself.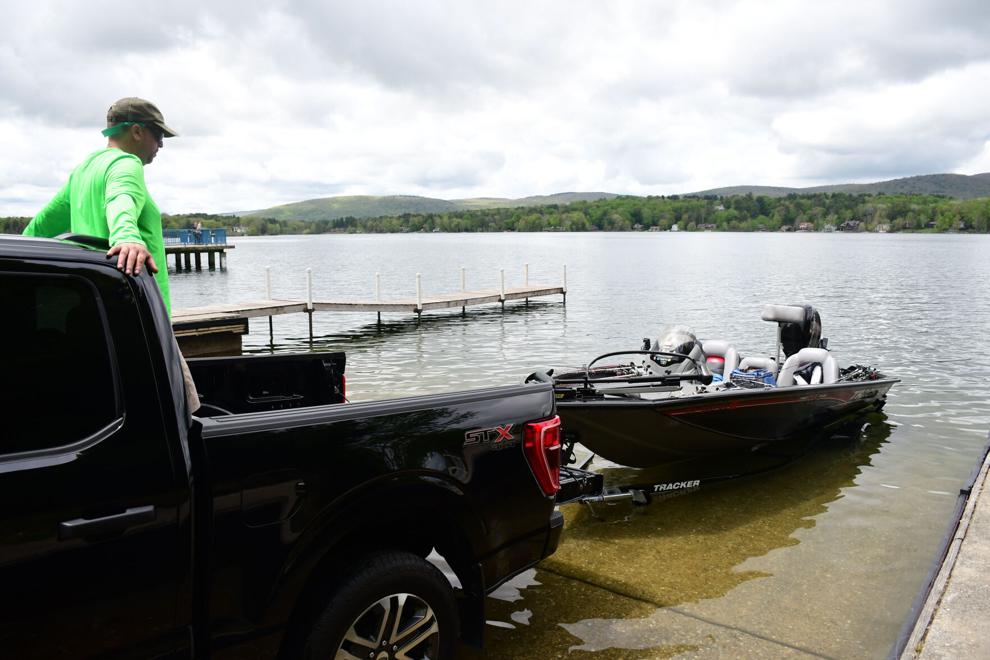 "It's very relaxing on the water. I forget everything else going on around me and there is less stress," he said.
Harry Horton came from Lanesborough to compete and finished in third place, fishing from his Sears Sea King. Horton, who angles throughout the Northeast, has been out on his boat since mid-April.
"The boat is running good as I service my own boat," he said. "I enjoy being on the water, the peace and quiet. I get a lot of alone time to think and there's the challenge of catching a big fish."
During the fishing derby at Onota Lake on Saturday, Frank Mahar and Charlie Herzig caught a combined nine small and large mouth bass.
The two Pittsfield men reveled in the warm weather and slight breeze on the lake compared to the previous six weeks of boating.
"We went out the first week in April on Cheshire Lake and nearly froze to death," Mahar said.
Added Herzig, "This was the first time I've been out without a snowmobile suit on and gloves."
New boats
The beautiful weekend afforded some people to launch new boats; new to them anyway.
Alex Matkovsky has boated all his life but on Saturday he tried out for the first time his own boat, a 17.5 foot Sea Ray.
"I've always wanted one. I'm originally from Ukraine and growing up my dad had a boat and I always wanted one," said the Pittsfield man after taking it on Pontoosuc Lake.
Matkovsky's wife Inessa, daughter Eva and teenage son Marc said he did well driving the boat.
The family plans to enjoy their boat all summer.
"I love being on the water, swimming, fishing, it's relaxing," said Marc.
"It get's us out of the house and do family things," added his mother.
Veteran boater Walt Melanson, from Lanesborough, was also at Pontoosuc launching a boat he bought secondhand.
"If it starts up it will work fine," he said.
Melanson turned the key and on the second try the engine fired up and he gave a double fist-pump in the air to signal success at the dock.
The majority of the boats launched or retrieved from the water went without a hitch.
However, Dan and Patty Flynn, who live on the Lenox side of Laurel Lake, had a little trouble getting their Sea-Doo jet skis in the water.
Dan was struggling to loosen one of the straps securing one of the watercraft to the trailer.
"These things are fun, except when you're trying to put them in the water," he said.
Flynn managed to finally loosen the strap and eventually got both jet skis in the water. The couple rode them to their private dock where they will be until October.
Patty Flynn says the jet skis will get plenty of use by the extended family.
"Our grandsons like to water ski and we pull them around on the big one," she said. "They're fun. You can go around the lake and see everyone. They're a good ride."