"Don't worry, it's in the mail." That assurance, true or not, used to mean delivery was near. Not this year.
Unprecedented delays in U.S. Postal Service operations have kept customers on edge for weeks, especially those sending or receiving packages. Today, the traditional finish line for Christmas mailing, The Eagle presents findings of the newspaper's call to readers to share stories about the fate of packages shipped through the Postal Service.
Eighty-four people completed the nonscientific survey. Overall, 57 percent said they were "completely dissatisfied" with how the service handled package shipments this season; an additional 26.2 percent were somewhat dissatisfied. Only two said they were "completely satisfied." By its nature, the survey was more likely to bring accounts of missing or lost packages than accolades. The survey found that 79.8 percent of those replying, including Jennifer Parsons, still were waiting for packages.
Parsons said Wednesday that she hasn't received three of four delayed packages, including orders she placed in November that were due to arrive in Pittsfield on Dec. 4. "It's not the end of the world and I understand the reasons for the delays. A little annoying, but I get it," she said. "I'm not complaining. I work in HR for an essential business. I get it."
For people frustrated by this year's postal delays, the responses add fine grain to the picture of what the service itself acknowledges to be a tough year, given sharp increases in mail volume and the coronavirus pandemic's effect on staffing.
Here is a sampling of what people had to say about shipping or receiving packages this holiday season through the U.S. Postal Service. The com…
People who answered The Eagle's survey said they waited in vain for medications to reach them, or for important checks and documents to be delivered. They described efforts to track their packages, perplexed by strange routes. Others bemoaned the black hole of the service's Springfield Network Distribution Center, their dread of ever-slowing deliveries of all kinds this year and their anger over paying for higher delivery rates, only to see promised two-day deliveries stretch to weeks.
Even in their frustration, many people expressed a trust and affection for the Postal Service and the people who work for it. And some report swift delivery, including the customer who shipped by priority mail to Largo, Fla., and saw the package get there in four days.
"They did a great job considering how upside down the world is right now," the customer said. The Eagle spot-checked survey responses, emailing or calling people for updates. But, not one particular reader. The survey sought permission to call with follow-up questions. This reader replied: "Not unless you find my package."
Urgent deliveries
Along with holiday items, the mail include packages that recipients await with urgency. That was the case for Jacqueline Aubuchon, of Dalton, who had waited about two weeks for medication that was supposed to come in two days.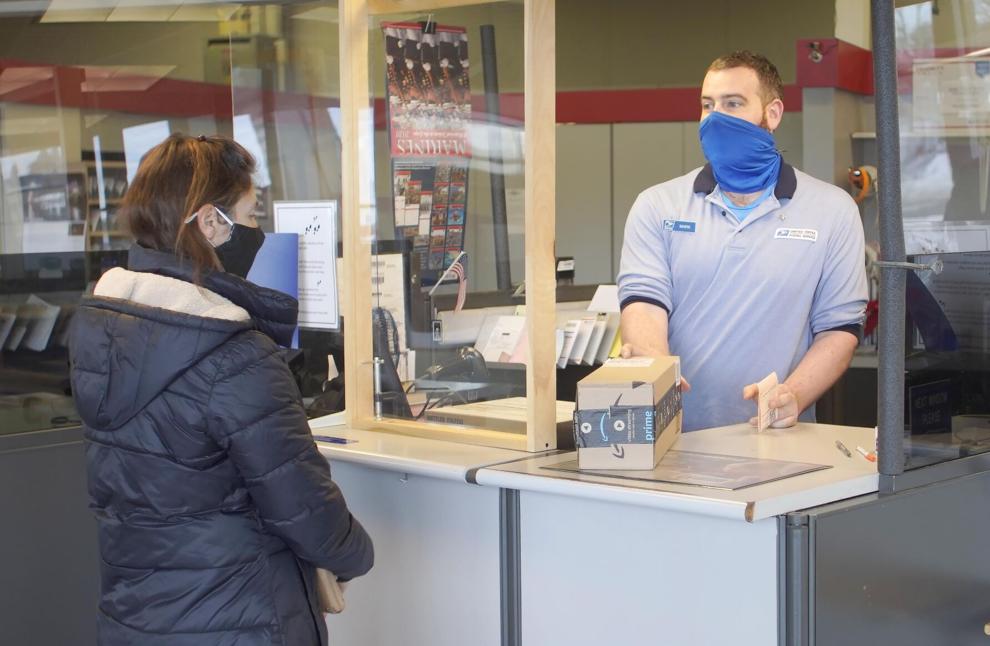 To hurry a money order to a daughter in Florida, a Dalton couple spent $7.75 for a priority mail flat-rate envelope that was to get to its destination in three days. It took seven, arriving Dec. 14. Tracking information showed that the envelope sat in Springfield from Dec. 7 until Dec. 11.
"We were so disappointed, as our daughter was desperate for the money," the family said.
One survey respondent described sending a certified, return-receipt-requested envelope Nov. 18 that was to take five days getting to Pennsylvania. It was delivered Dec. 11, and to the wrong address.
"Luckily, the recipient returned it to me, via UPS," the person said. "It was an important document, and I will never use USPS for such documents again."
Zackery Robinette ordered a Hanukkah gift to be shipped from Minnesota to Pittsfield. Though sent Nov. 26, Robinette said, he had not received it as of Wednesday. Hanukkah ran this year from Dec. 10 to Dec. 18.
Springfield limbo
In this part of New England, all roads for packages lead to 190 Fiberloid St. in Indian Orchard, the Springfield neighborhood. Time and again, people trying to track missing packages said the system reported them to be sitting, for long periods, at that nearly 1 million-square-foot facility.
A customer who expected a package from Walworth, N.Y., to reach Pittsfield by Dec. 10 reported being told by someone at the city post office that the Springfield facility was operating with 20 percent of its normal staff.
"All excuses! Everyone blames Covid!" the customer said. "Still lingering in transit."
Springfield, the "city of homes," had become the temporary home to countless idled packages, customers said. Among their comments: "My package has been sitting in Springfield for 11 days." "Have been waiting for a small package going on three weeks. Tracked it till it got to Springfield. Still sitting there since Dec 5." "I have a package in Springfield (coming) to me that's been there for 8 days!!"
Pat Salvi, of Great Barrington, says she has been expecting a package from L.L. Bean in Maine. Since Nov. 29, it has been on ice in Springfield.
"I check on that one every day," she said Wednesday. "I have other Priority mail things that have been pending for far too long." Shipments to grandkids in Gettysburg, Pa., took two weeks to arrive.
Like Salvi, Ann Marie Swann had been waiting for an L.L Bean shipment that arrived in Springfield on Dec. 5, then didn't depart. She said it finally came Dec. 18. A customer in Stockbridge sent a priority mail package Dec. 4 that was supposed to reach suburban Philadelphia in two days. "Early tracking notices were vague ('In transit') but seemed to indicate several days stuck in Springfield … ."
A Lanesborough man sent a priority package Dec. 11, only to see it take six days to reach Springfield, according to tracking. That's where it remained as of Wednesday.
"He was told the whole center was shut down for two weeks because some employees had COVID," said his spouse, Linda Cancilla.
Despite such reports from Postal Service insiders, Amy N. Gibbs, a USPS spokeswoman, said the Springfield center has not closed. When asked to comment on how the Postal Service is working to clear backlogs in Springfield, Gibbs said staff has been added.
"The facility has pushed through some tough times without closure and continues to do so," Gibbs said.
Weird routes
Though tracking software allows customers to know where a package has been, it makes many wonder.
Erin Lis says she ordered a package in November from Amazon that was to come to her in Lee. "I was notified my package was delayed. The tracking number states my package has been in Wallingford, Conn., with no movement since Nov. 18."
Lis said Wednesday that package had not arrived.
"It is still showing as being in Wallingford. I have attempted to reach the USPS, but I just get put in an endless loop of automated customer service messages and never reach a person."
A customer in Lenox reported also ordering from Amazon in November. "Unfortunately, they shipped it USPS. I tracked it and it arrived in Pittsfield — then, for some reason, it went from Pittsfield to Cohoes, N.Y., where it has been sitting since Dec. 2. Need I tell you how close Cohoes is to Lenox?"
Bob and Jo Ann Austin, of Hinsdale, saw one of their packages, mailed Dec. 7 from Hinsdale to Berkeley, Calif., take an unexpected route. It went to West Springfield, then to Catano, Puerto Rico, then to San Juan, Puerto Rico, back to Catano, and then back to San Juan. It reached California on Dec. 17, Jo Ann Austin said Wednesday, in excellent condition.
"This is a metaphor for 2020!" she said, adding that she appreciates the staff at the Hinsdale Post Office. "They have been a life line during this pandemic."
Linda Cancilla noted, in her survey response, that a package sent Dec. 9 by priority mail left Pittsfield and made the following stops, based on tracking data: Springfield (six days there), to Jersey City, N.J., on Dec. 15, to Stamford, Conn., then back to Jersey City, and then, yes, back to Stamford.
"According to the tracking, 'The item is currently in transit to the destination,'" Cancilla wrote. "Hope it makes it!" It did arrive Dec. 17, she said in an email Wednesday.
Just slow in general
Several people who answered the survey send things for a living, including Fern Leslie.
"I ship 20-30 packages a day. Some are totally lost, some are moving slowly in roundabout ways and sitting in one place for 3-4 days, others are speeding to their destination," she wrote in her survey response. "Seems to make no difference whether First Class or Priority postage."
Though the survey sought information on packages, one customer shared that even letters have been sluggish in transit this year. "I mailed a rather substantial check to my prosthodontist in Boston on July 20, and it was delivered on Sept. 21."
Many responses described packages that took two weeks or longer to get to their destinations. One, coming from Minnesota to Dalton, was shipped by two-day priority mail Dec. 1 and arrived. Dec. 21. Again and again, respondents said the two- or three-day delivery window stretched into double digits.
"Told it would take three business days," said a customer who sent a package from Stockbridge to San Francisco. "It has been 10 to date."
A customer who sent packages from Pittsfield reports paying for delivery in three to five days. "It has been two-plus weeks. … No clue where they are."
Geography isn't necessarily the shipper's friend. John Hotaling says he has been waiting for a package to reach him in Sheffield. It was sent Dec. 2 from a post office in South County.
"The only thing I can get through the tracking number is it will be late," he wrote in the survey. Hotaling said Wednesday it still has not come. "Tracking it, the answer is it will be late."