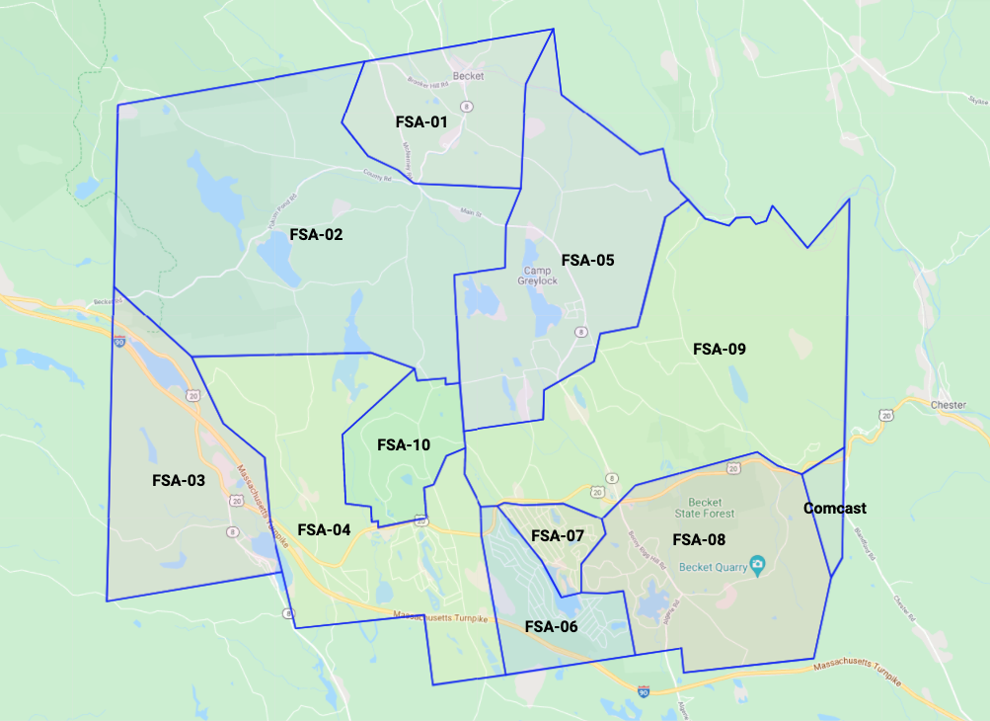 BECKET — After more than six years of work, tiny pulses through fiber-optic cable are the light at the end of a tunnel for Becket Broadband.
With tests complete for the first of the network's 10 "fiber service areas," initial residential connections are imminent, officials say. But, others won't see service for months or a year.
"The project has been much delayed, as everyone is aware," Robert D. Gross, manager of the town's Municipal Light Plant, told residents at annual town meeting this weekend. "We're hopefully working out all the bugs and everything will go smoothly from here."
Becket decided to build and own its broadband system, through borrowing and a $3,078,917 state grant. Other Berkshire County towns that opted for municipal networks are Alford, Mount Washington, Otis, Washington and Windsor.
The start of construction in November followed delays by Eversource and Verizon in preparing utility poles to receive the new lines. Gross said in an interview last fall that some poles had been readied improperly for the fiber. Work was also set back by complications involving the use of underground conduits, including to Becket Woods.
Then Sertex, the company building out the network, faced weather delays.
The first area to receive service is in northwest Becket and includes all or parts of County, Fred Snow, Leonhardt, Plumb, Tyne and Yokum Pond roads and Main Street.
The second fiber area to be served is to the northeast. A list of the sequence planned is available at the network's website. People can consult a posted map or enter their addresses to find which service areas they live in.
The new network, when complete, will cover more than 100 miles of town roads.
Jeremy Dunn, a member of the Broadband Ad Hoc Group, said more than half of Becket residences have opted in so far, making them eligible for a $2,000 subsidy to connect to the network. Most customers will be covered by the subsidy, the town says, depending on the distance the fiber needs to travel from the network to homes. Gross has said the town hopes to sign up 60 to 70 percent of about 1,800 prospective customers.
The next fiber service area is expected to be tested in June, with "drops" to homes following. Town officials say they set the order of connections based on current lack of availability of other internet access, expressed interest in broadband (from a 2019 survey) and technical requirements.
Given all the delays, leaders of Becket Broadband know that people are antsy. As of now, the project is expected to wrap up in summer 2022.
People should not be alarmed, they say, if a Sertex crew keeps going past their homes.
"Not to worry; they'll be back," a website note says.