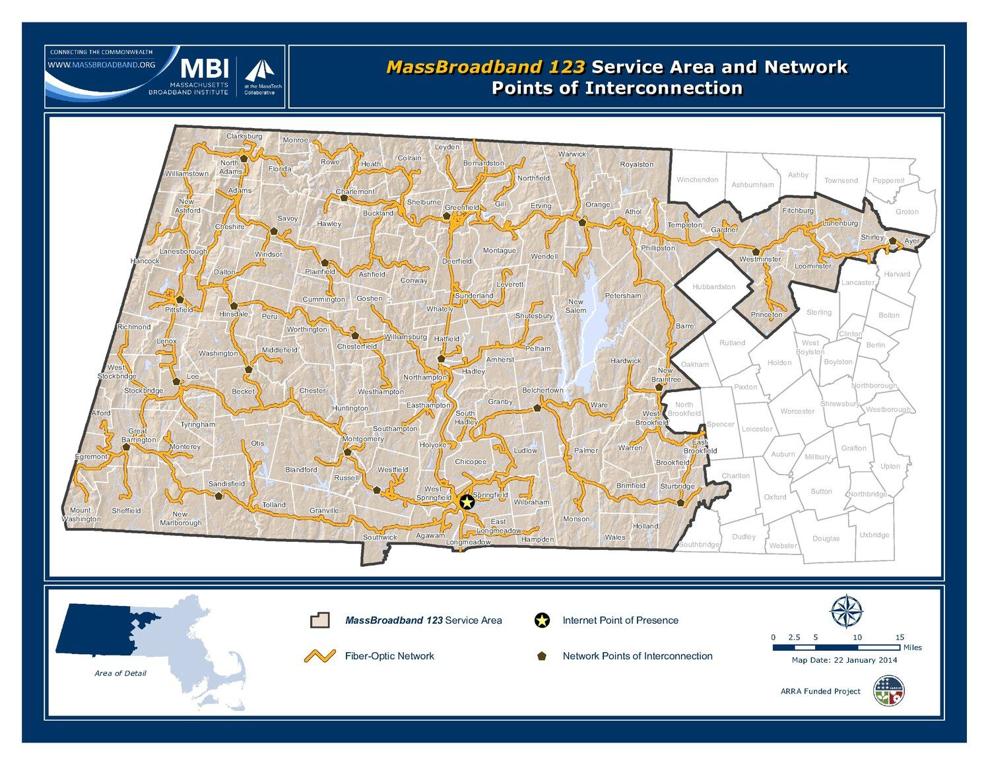 A burning tree severed a fiber-optic line on the state's middle-mile network, cutting broadband service Monday to customers in a half-dozen Western Massachusetts communities, and foiling remote learning and telework.
High-speed internet access failed just before 8 a.m. on the state-owned MB123 system. As of 8 p.m. Monday, crews hired by the network operator, Local Linx, had been able to restore service to parts of Hampshire and Franklin counties.
The severed line had cut internet access in Ashfield, Colrain, Cummington, Heath, Plainfield and Rowe. Perhaps as many as 2,000 customers were affected.
"I know this has been an extremely difficult day for everyone," John Leary, information technology manager for Whip City Fiber, told leaders of affected municipal broadband networks in a 5 p.m. email obtained by The Eagle, three hours before service came back on.
The "fiber burn" occurred somewhere on Route 2 between Greenfield and Charlemont and coincided with high winds that also cut electrical service to customers.
Officials in affected towns questioned during the day, in email correspondence, why the network was not able to find alternative routes for internet traffic.
David Kulp, the Municipal Light Plant manager for Ashfield, said the network should have been able to redirect traffic.
"This extended failure is unacceptable," he said in an email to fellow managers of town broadband networks.
In an interview, Kulp said the network failed to provide a level of service that the towns have a right to expect, resulting in lost work time, schooling and economic activity. All of the affected towns pay to use middle mile-network lines that travel along Route 2 to reach an internet hub in Greenfield.
"There should be a way [to reroute traffic], and we're going to try to get to the bottom of what the problems are," he said.
Brain Hawthorne, who works with Plainfield's network, said the collapse of internet for nearly all daylight hours Monday meant that remote schooling could not be conducted. Telework also was foiled by the severed access, he said, as well as telephone service that customers obtain through the broadband line.
"And most worrisome of all, our townspeople are losing confidence," Hawthorne said. "Heck, I am losing confidence."
Leary, of Whip City Fiber, said in his email that restoring service had been delayed by a repair crew's need to wait for a local utility to clear the tree that burned, get power back on and free up access to the "communication space" on poles.
"As we put together our After Action Report, we will focus on the Local Linx network and the lack of redundancy for this particular issue," Leary said in his email.