Just as the last of the Thanksgiving silverware was put away, another meal brought people together on the lawn of St. Joseph's Catholic Church on Sunday. This banquet is no holiday: it happens every week.
Cathedral of the Beloved is an outdoor nondenominational church service and community meal held at 414 North St. every Sunday at 1 p.m. It draws a number of Pittsfield residents from the downtown area, many of whom arrive on foot or via motorized scooter.
Even as rain settled in over Pittsfield on Sunday, volunteers and organizers set up a collapsible tent and a hot coffee station for attendees as they arrived.
"We're here every week, any weather," said Becky Crane, a community care coordinator with Cathedral of the Beloved.
The Rev. Jenny Gregg, the pastor responsible for the service, said it was a way to bring community members together and build each other up.
The idea for the service stemmed from a sermon that she delivered years ago; an idea to bring the church to the people, rather than vice versa.
"We are always asking the question, 'How do we get more people in our pews so that we can survive?'" Gregg said. "So I said, maybe that question needs to change. Maybe the question needs to be: 'How do we get into the world so that God's people can thrive?'"
That led Gregg to begin this ministry, which has an emphasis on finding places in the community for "love to break in." The sermon on Sunday was about being thankful, in reflection of Thanksgiving. Attendees chimed in with things they were grateful for: hot coffee, good health, family, food, a roof over their heads and help from the community were all mentioned specifically.
The sermon also gave people a chance to voice where they hoped to see more love in the world: Ukraine and Russia were mentioned, alongside the United States and Pittsfield, specifically.
Ultimately, the sermons are about loving each other and the community around us.
"We want to remind people that their true name — their first name — is Beloved," Gregg said. "Our society labels people all over the place. It causes harm and it causes fear. We want to remind them that we are all made of love."
The meals distributed vary — this week it was pizza, typically a hit with those in attendance. Some of the meals are donated, while others are provided through a dedicated fund, Gregg said.
The congregation has been meeting every Sunday since 2014, with a notable period of exception: the COVID-19 pandemic. During the worst days of the coronavirus, they had to shift to delivering meals for regular participants, many of whom were vulnerable to the disease, Gregg said.
Before the pandemic, the services were held indoors for a time at Zion Lutheran Church. Since resuming in June of last year, they've been outside of St. Joe's. The cathedral is hoping to move inside for the winter, but doesn't have anything nailed down yet.
On top of the community meals provided on Sundays, the team also gathers at Dottie's on Thursdays for a Coffee Hour that lasts from 10:30 to noon. Once a month, a community gathering known as Cathedral Cooks allows community members to prepare and eat a home-cooked meal together at South Congregational Church.
A recent meal as part of the program included butternut squash soup, roasted potatoes, chicken and a molten chocolate cake. Before that, Swedish meatballs, noodles, salad and homemade cookies were on the menu, according to Rosie Bleyer, one of the Cathedral Cooks organizers.
"One of the things I love is hearing some of our community members who at points in their lives have not had access to an oven talk about the gift of meals and cooking," Gregg said.
Leon Reyome has been coming to the services for years; he is also a regular for the coffee hour at Dottie's. He goes to the service for himself and in memory of his brother, who used to accompany him until his passing about a year ago.
Kathy Hume is another longtime attendee — she's been coming since the services began, she said. She is also a parishioner at St. Mark's Church, but enjoys the opportunity to come together and worship with others.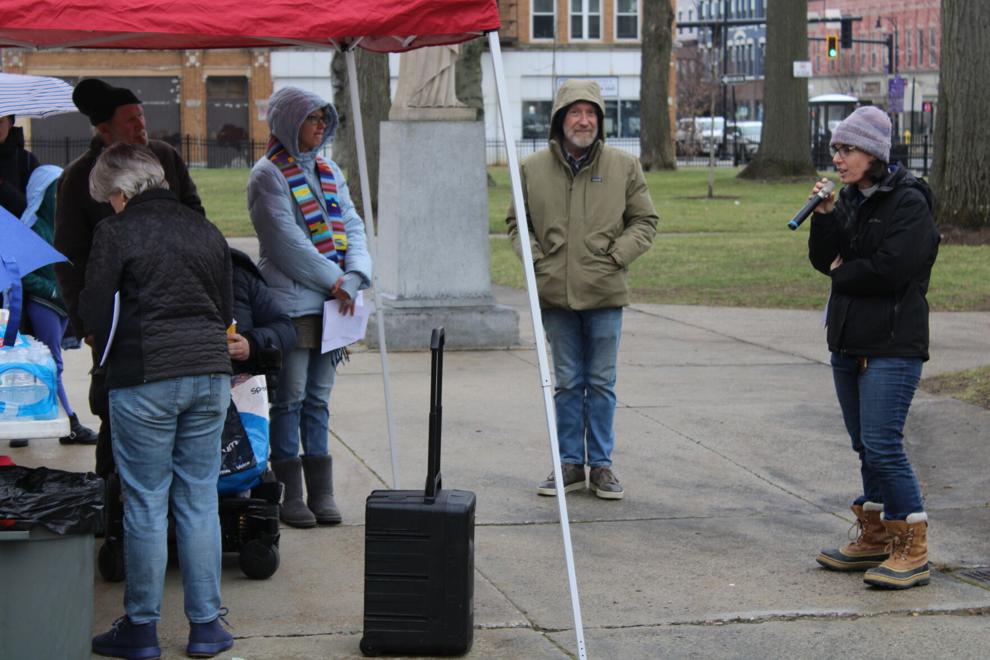 "I cherish Jesus very much," Hume said.
Hume enjoys the meals and company, as well. She's made some friends at the service over the years.
All throughout, there's music and people catching up as they wait for the meal. Bill Wootters has been coming to the service to lend his guitar and singing voice for years. On Sunday, he was accompanied by Gonzalo Bermudez, who played a guiro, a Puerto Rican grooved percussion instrument.
Looking around at the conditions on a rainy Sunday, Wootters made it clear that inclement weather wouldn't stop him from coming every week.
"There's no guarantee that I'll get to play the guitar," Wootters said. "But we can always sing a capella if we need to."
Wootters said the highlight of the last five years has been hanging out with people in the community who attend the service. They all have interesting stories, he said, and he enjoys getting to hear them.
What he appreciates most, however, is the sermon that's given every week through the food and the words spoken.
"That message of 'You are loved, we are all loved,'" Wootters said. "That's something that a lot of folks benefit from hearing."