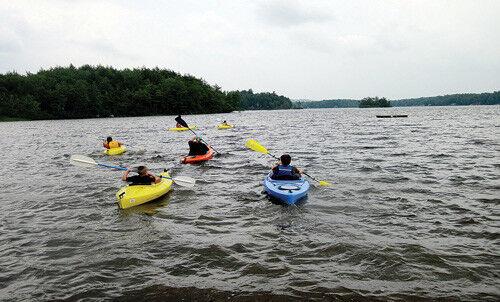 OTIS — A balloon will be flown at a height of 180 feet near Big Pond in Otis for four hours Wednesday — the first visual test of how a new cellular telephone tower would change the rural landscape.
Otis officials told residents in a Zoom meeting Tuesday they learned only that day of the planned test by Verizon Wireless, the company seeking to place a tower between Churchill and Great Woods roads on the northwestern side of the pond.
"Sorry for the short notice," Select Board Chairman William Hiller told the more than 120 people on a Zoom call.
Tuesday's session was the latest of several municipal meetings to draw more than 100 residents, most of them opponents of the proposed tower, which would stand on a small parcel leased for $18,600 a year from the town itself.
Harold Kobrin, chairman of the town's Planning Board, took Select Board members to task for what he views as missteps that violate town zoning rules. And he rapped the scant notice provided about Wednesday's visual test.
"You can't have a day's notice on a balloon test," he said.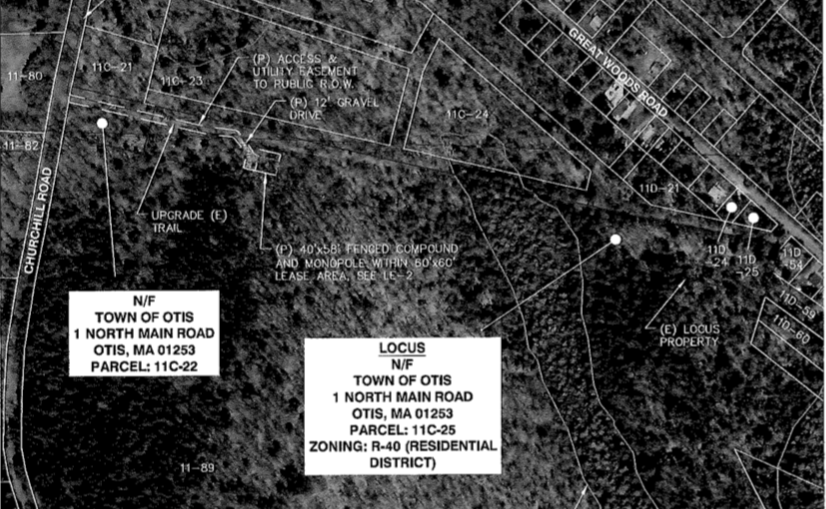 Map of tower site near Big Pond
This map shows the proposed location for a Verizon Wireless cell tower, between Churchill and Great Woods roads on the northwest side of Big P…
Residents peppered the board with questions, with one, Elaine Downing Hunter, urging officials to demand that Verizon Wireless pick a new date for the balloon test that gave people time to arrange to observe.
"Let's ask for the balloon test at a later date, when more people can be present," she said.
Many residents of the Big Pond area are owners of second homes and live outside the region. Larry Gould, a town official, said he plans to take pictures of the balloon aloft and will make the images available on the town's website.
Officials did not heed calls Tuesday to have Verizon reschedule the test. Gould acknowledged that he was unhappy with the lack of notice given about the test.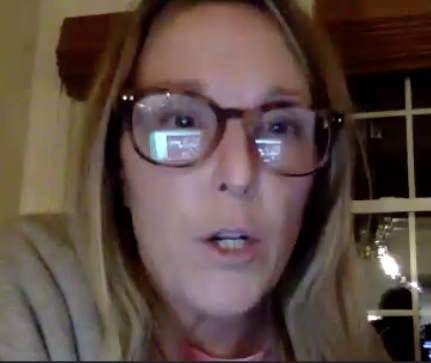 The town sought proposals for a tower in January, after being approached by Verizon. Officials say they want to place equipment on the tower to fill gaps in local emergency radio communications — and not have to shell out for what one town official said would be a quarter-million-dollar project if built on its own.
Despite the balloon test, Hiller sought to assure residents that no decision has been made about the tower. He said officials are "not even close to having enough information."
No vote was taken.
"The purpose of discussing this in the Select Board meeting is to be 100 percent transparent. You are able to hear everything we talk about," he said.
Jen Daily, a Planning Board member, urged officials to make sure than any tower project that goes forward adheres to zoning bylaws.
"That brings the temperature down," she said.
Her recommendation came after a heated debate broke out between Kobrin and other town officials over whether the town counsel was correct to say that because the project involves placement of municipal telecommunications equipment, it isn't subject to zoning rules. Daily said that in her reading of the bylaws, that's only the case if a commercial party, like Verizon Wireless, is not involved.
Kobrin urged board members to get a second legal opinion.
"You're circumventing the whole purpose of the bylaw … to prevent proliferation," he said. "I believe we're not interpreting our own bylaws correctly. Our town bylaw. This is not what it's supposed to be. … I disagree with what's going on here."
Daily suggested that Otis needs to live up to the promise of transparency.
"It sounds like the real concern is that there's something shady going on," she said.
Kait Gallup mentioned the relatively small yearly lease price for the land, then asked the board whether the town actually would lose money through tax receipts, if property values fall, as residents predict they would.
"We'll certainly put it on the list of the pros and cons," Hiller said. "This is good input from you."
Gallup called for a meeting devoted to the tower issue, saying that a lot of people in Otis want to discuss it. Hiller said such a meeting could be held.
Jeffrey Dressler said that, given the possibility of falling property values, the town should expect to face a class-action lawsuit.
Near the end of the session, Hiller, the board chair, told residents that he and others are mindful of how the tower could change the landscape.
"We're as concerned as you are about what this looks like," he said.
But, after sharp questioning by local property owner Frank Rizzo, who wanted a response to written submissions by residents opposed to the tower, Hiller said: "We're tasked with doing what's best for the town and not just for Big Pond." He quickly added, "Though, you are an important part of the conversation."