STOCKBRIDGE — Police are expected to file charges in a three-car crash Monday afternoon that sent three adults and three children to area hospitals.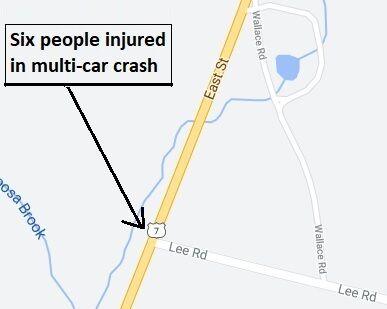 Abel Manolo Deleon, 46, of East Hartford, Conn., was heading west on Lee Road in a 2005 Honda sedan shortly before 5 p.m. when he swung into the eastbound lane around a snowplow waiting at the stop sign at the intersection with Route 7 (East Street), according to Police Chief Darrell Fennelly.
Continuing into the intersection without stopping, Deleon's car struck a northbound 2018 Hyundai sedan, sending both vehicles careening into the path of a southbound 2012 Toyota Prius, causing a head-on collision, Fennelly said.
The roads were slushy but had been treated, he added.
The Hyundai was driven by Brandi Parker, 32, of Wilmington, Vt., and the Toyota was driven by Roger Cohn, 69, of New Haven, Conn.
DeLeon, an adult passenger and two minors in the Honda were transported to Berkshire Medical Center in Pittsfield, as was an adult passenger in Cohn's car. A child in Parker's vehicle was transported to Fairview Hospital in Great Barrington. None of the injuries were believed to be life-threatening.
Four ambulance squads — Lee, Lenox, Southern Berkshire and County — responded to the scene and transported the victims. Lee Police assisted with traffic control at the intersection, just south of the Massachusetts Turnpike overpass. All three vehicles were removed from the scene by R.W.'s Towing of Lee.
Massachusetts Department of Transportation assisted, shutting down northbound traffic for about two hours, Fennelly said. Southbound traffic was detoured via Lee Road and Yale Hill Road.