New public health cautions regarding COVID-19 arose in Washington, thanks to the Delta variant, but by week's end hit home.
On Friday, the state Department of Public Health said vaccinated people with weakened immune systems should wear masks when indoors, other than in homes in which all members are vaccinated.
That warning extended to people who, because of their general health or age, are at increased risk of contracting a severe case of COVID-19 and those who live with unvaccinated people.
The news arrived as The Eagle reported a significant number of "breakthrough" cases involving vaccinated residents of a North Adams nursing home. It's been two months since the DPH lifted earlier masking orders on the Memorial Day weekend. To be sure, rules have remained in effect for public and private transportation systems and in healthcare facilities.
For parents with children under 12, the DPH caution means that it is recommending that within families with children under 12, the vaccinated wear masks.
Earlier this week, the federal Centers for Disease Control and Prevention recommended that vaccinated people in areas of substantial or high COVID-19 transmission wear masks indoors, due mainly to the highly contagious Delta variant, which is responsible for cases in Massachusetts and around the U.S. That advisory spurred the DPH to act here, officials said Friday.
Looking ahead, the Department of Elementary and Secondary Education said this week that it "strongly recommends" that students in kindergarten through grade 6 wear masks when inside in classes.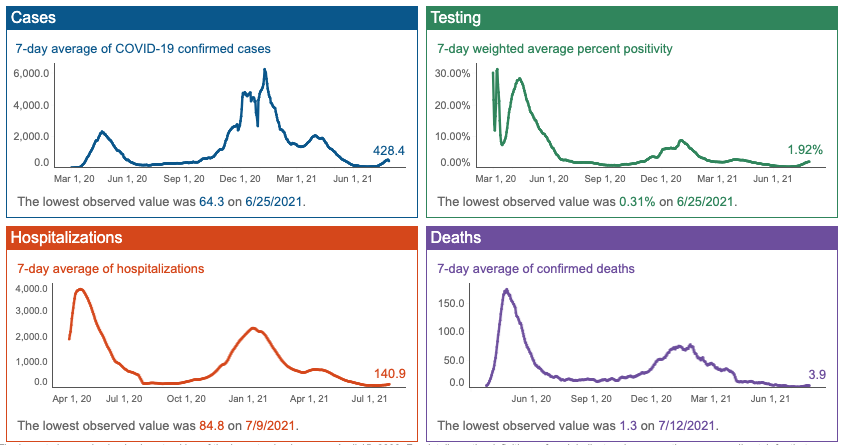 LAST TWO WEEKS AT A GLANCE: In its weekly report Thursday, the state Department of Public Health provided this COVID-19 data for Berkshire County.
Total number of cases: 6,648
Cases in last 14 days: 48
Relative change: Higher
Total tests: 425,634
Tests last 14 days: 5,640
Number positive results last 14 days: 49
Change in positivity: Higher
KEY STATS: Berkshire County saw one new COVID-19 death in a week as of Thursday, for a new total of 290 deaths, the DPH said. The confirmed and probable case count rose by 50 over a week to 6,648.
STATE PICTURE: The DPH said 38 new deaths were reported in the seven days leading up to Thursday in Massachusetts, pushing the statewide total to 17,711. Confirmed cases rose 3,826 to 671,644.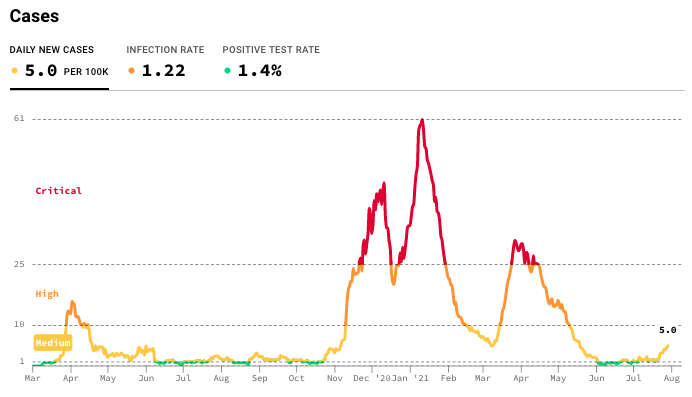 VACCINES FOR YOUNG PEOPLE: The State House News Service says more than 880,000 Massachusetts children will be in line to receive COVID-19 shots when the federal government approves a vaccine for kids younger than 12.
At a hearing this week, top state health officials took stock of preparations to bring vaccines to those under age 12.
Health and Human Services Secretary Marylou Sudders and Acting Public Health Commissioner Margret Cooke were among 30 people invited to testify at an oversight hearing Monday held by lawmakers exploring the status of vaccinations for young children.
"Today's interest is really where we stand in vaccinating children. What does it look like? Are we ready? What are the lessons that we've learned from how we've managed vaccinations for everyone else from 12 and older? Are we more confident in our ability to provide vaccines to our most vulnerable community members?" Public Health Committee House Chair Marjorie Decker said at the start of the hearing. "There's a lot of questions that parents across the state have and so this is an important conversation that I think many people are having in their homes, having with their friends, having with their pediatricians."
Sudders said more than 63 percent of the Massachusetts population is fully vaccinated against COVID-19, according to the Centers for Disease Control and Prevention. Among younger age groups, she said 58 percent of 12- to 15-year-olds and 64 percent of 16- to 19-year-olds have gotten at least one dose, both higher than national rates.
COMMUNITY DATA: Here are this week's figures from the DPH on confirmed coronavirus cases by city and town. In alphabetical order, this lists all Berkshire County communities. The first number is the total number of cases during the pandemic. The second is the number of new cases in the last 14 days.
Adams: 367, 9
Alford: Fewer than 5, fewer than 5
Becket: 73, fewer than 5
Cheshire: 132, fewer than 5
Clarksburg: 44, 0
Dalton: 303, fewer than 5
Egremont: 16, 0
Florida: 19, 0
Great Barrington: 467, 5
Hancock: 18, 0
Hinsdale: 72, 0
Lanesborough: 116, fewer than 5
Lee: 340, 0
Lenox: 250, 7
Monterey: 20, 0
Mount Washington: 6, 0
New Ashford: Fewer than 5, 0
New Marlborough: 25, fewer than 5
North Adams: 598, 6
Otis: 65, 0
Peru: 12, 0
Pittsfield: 3,016, 9
Richmond: 42, 0
Sandisfield: 41, fewer than 5
Savoy: 17, 0
Sheffield: 119, fewer than 5
Stockbridge: 71, 0
Tyringham: 8, 0
Washington: 9, 0
West Stockbridge: 41, 0
Williamstown: 298, 0
Windsor: 25, 0
WESTERN MASS. PICTURE: The case totals (and death counts) in neighboring counties: Franklin, 2,598 (113); Hampshire, 9,248 (300); Hampden, 53,035 (1,542).
WIDER WORLD OF COVID: Global cases top 196,922,145, with 4,203,461 deaths, according to data provided by Johns Hopkins University. The U.S. has seen at least 34,771,355 cases and 612,238 deaths.
HOSPITAL CHECK: Berkshire Medical Center reported caring for six COVID-19 patients as of Friday. Across the state, 176 people were hospitalized, the DPH said as of Thursday, with 39 people in ICU and 17 intubated.
COVID-19 VACCINES: For information on vaccines and to schedule an appointment, visit getvaccinatedberkshires.org.
Appointments are now available seven days a week for walk-ins at the testing sites in Pittsfield and North Adams. (See below for addresses). Vaccines are available from 8:30 a.m. to 7 p.m. in Pittsfield and 8:30 a.m. to 4 p.m. in North Adams. In South County, Fairview Hospital is administering vaccinations on-site at the hospital Monday through Friday from 9 a.m. to 2 p.m.
TESTING: "Stop the Spread" testing sites are open at three Berkshire Health Systems locations. Tests will be conducted for any reason, with the state picking up the cost. To schedule a test, call the toll-free hotline, 855-262-5465, from 8 a.m. to 4:30 p.m. daily.
Locations are: Pittsfield, 505 East St., St Luke's Square, adjacent to BHS Urgent Care Center; North Adams, 98 Church St., next to the city library; Great Barrington: 475 Main St. Tests can also be obtained through CVS by filling out a form online.
JOIN US: Quality local journalism, like you find in The Checkup, needs your support. When you and your family subscribe to us, that's the fuel we need to keep reporting the essential news you want. Join us. Help us build our community. We are offering a 30-day free trial to readers of The Checkup.
Material from the State House News Service was included in this report.