DALTON — Dicken Crane has been blown away by the amount of support he's received since a small mountain of his hale bales holding a political endorsement was destroyed in a fire Friday night.
"The story got picked up by almost every news service and it was much of a surprise," Crane, owner of Holiday Brook Farm, said Monday morning. "We've received so much support and there are so many people that wanted to help."
Two different GoFundMe pages have already been created to help Holiday Brook Farm. One of the campaigns has raised almost $2,000 and the other around $700. Crane wants to use the money to help others.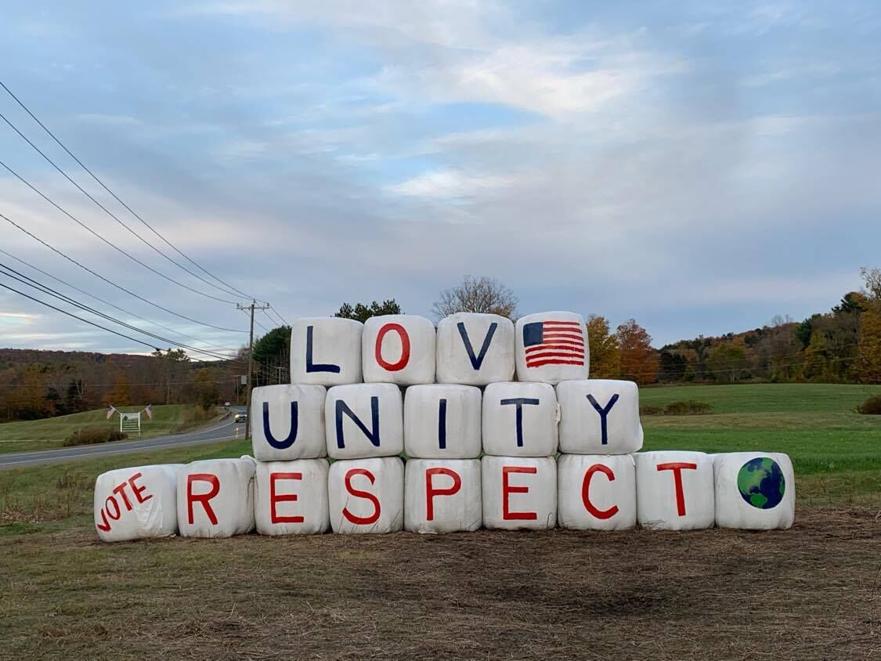 "We're hoping there is a good way to pour that desire to help into good places," Crane said. "There is a lot of need out there greater than ours. We really appreciate how people are feeling, and we're going to channel it where it can do the most good."
Dalton police said Saturday that they had arrested a man in connection with the fire. Lonnie Durfee, 49, of Dalton is due in Central Berkshire District Court on Tuesday to answer a charge of burning personal property.
The bales that were destroyed in the fire Friday night had been painted with a message supporting the Democratic ticket of Joe Biden and Kamala Harris. The bales with the message were standing on the south side of Route 9 across from Holiday Brook Farm, in a field near Cleveland Road.
No one was hurt in the fire, which for a time forced travel delays on Route 9.
On Sunday afternoon, Crane put up a new display on his farm. This time, the bales spelled out "love," "unity," and "respect."
"Hopefully the rebuild shows the respect, unity and love we are trying to promote — not fighting words," Crane said. "We don't want this to be an opportunity to create divisiveness."