PITTSFIELD — Bound to a fence on Columbus Avenue and across the street from Durant Park, a great serpent winds over a freshly painted mural.
The serpent in question is "The Snake Dragon." It's a creation from the mind of Re'ssan Moore, a student from the Conte Kids Club. As he explains it, the concept for this dragon is that it came from the underworld, as opposed to some other dragons he's worked on that have come from other dimensions, for instance.
There is also a rider on the dragon, "a little marshmallow guy who got set on fire," trying to find new things above ground. The rider shares some striking similarities with Moore, in that they both like playing football and basketball and, aptly, they both really like marshmallows.
But the "Snake Dragon" isn't just on the mural because it looks cool — it provides an important function. It stretches across the entire mural, and its body cuts the board into sections for other artists to paint in.
"I started with the dragon and then we did more detail with the dragon," Moore said. "Then everybody filled it in."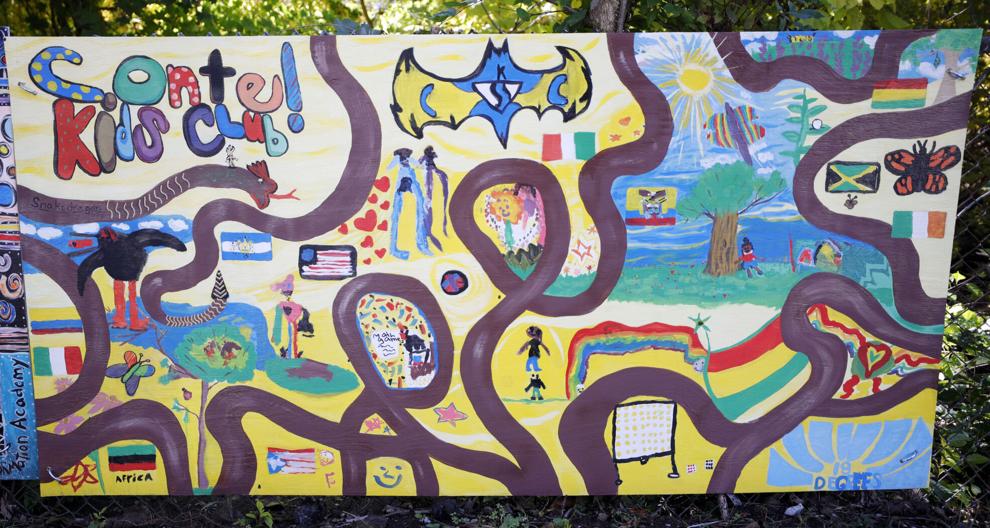 Those other artists were 15 students from the Conte Kids Club, a childcare program that offers students a space before and after classes at the Conte Community School. It took them about six weeks to complete the painting, which is part of the West Side Mural Project. The mural was hung on Sept. 26.
The Conte Kids Club is operated by 18 Degrees, a local childcare organization.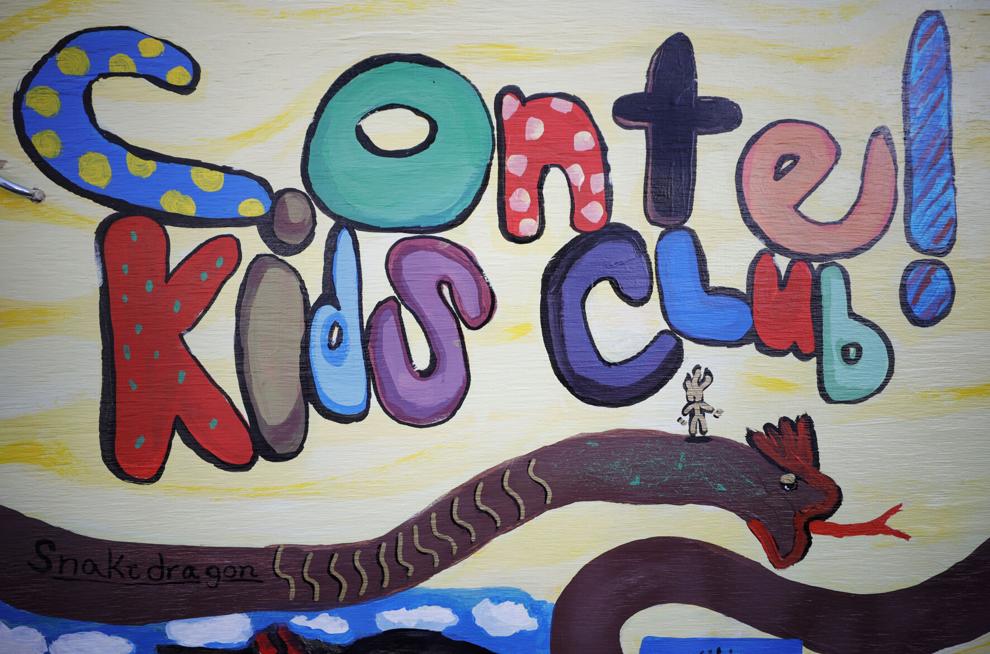 The students were led by Stephanie Quetti, a local artist who works with the Pittsfield Community Garden Project. Quetti said the mural was meant to reflect the activities that students are engaged in at the Conte Kids Club and things that were important to them. They worked on the mural in intervals while also working in the community garden over the summer.
This led to a picture of "math games" played on an erasable white board and a soccer ball, among other things.
The mural also shows likenesses of family, friends, characters from games that the students enjoy. There are also scenes from the garden at Conte Community Elementary School, including where the students found a monarch butterfly egg and watched it mature through the cycle of life. The mural also showcases several flags, including ones from Jamaica, Colombia and El Salvador.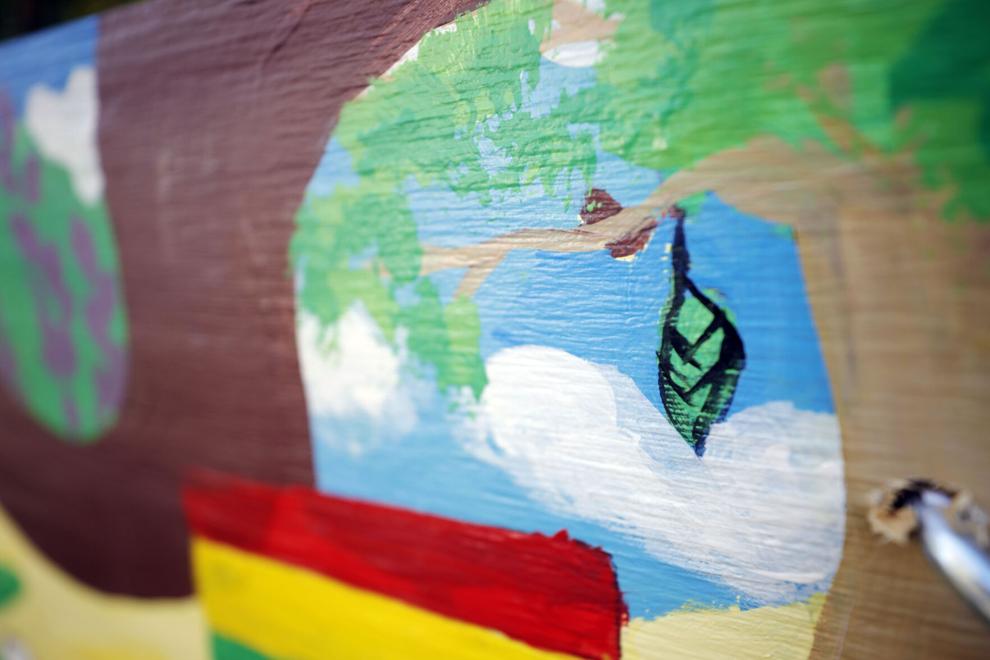 Jaylani Lopez made her own marks on the mural: a rainbow butterfly, a puzzle and the flag from El Salvador. Lopez, whose parents were born there, said the flag was meaningful to her.
"It's my family's flag," Lopez said.
It was Quetti's latest foray into community art, which offers a unique opportunity to see people express themselves, she said.
"I love sharing that with other people," Quetti said. "Watching people who don't know how to paint come out of their shell a bit."
Quetti provided occasional tips to the students, working with two to three students at a time as they chipped away slowly to complete the mural. She helped Moore mix paint to make the color for the "snake dragon", and helped Lopez complete her contributions as well.
In many cases, the advice was to keep it simple and not worry about looking realistic, she said.
"You've got to sit back, squint your eyes and make a suggestion of what's there," she said.
That led to the kids truly using their imagination for the piece, complete with levitating people and animals with unique color schemes among peaceful visions, like a girl relaxing by a nearby tree.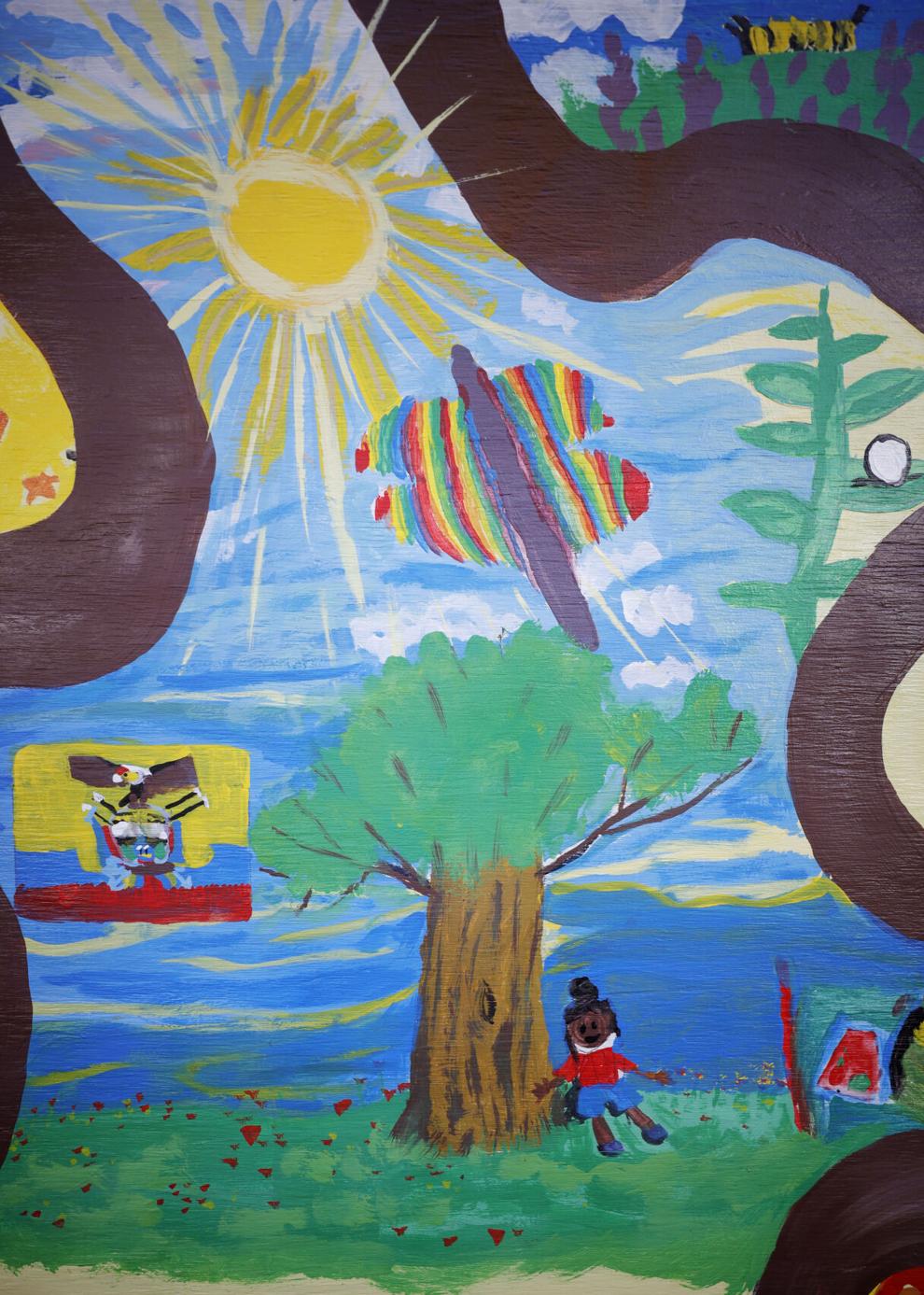 "It's a pure form of art that doesn't question itself," Quetti said.
Lopez said that if she could make another mural, she would. Her vision so far is to have hearts in the corners of it, then figure out what to fill in later. Moore said he wanted to do another too, if he got the chance, and wanted to get input from the other kids that worked on it.
"I'd probably ask them if they wanted to do a theme, like space or dinosaurs," Moore said.
Quetti would love to see the kids get a chance to make another mural, and stressed the importance of introducing them to art early.
"If you don't include young people now, you won't have artists in the next generation," Quetti said.